What's happening with the US economy
2:31 p.m. ET, August 23, 2019
National Farmers Union: Trump is "making things worse, not better"
The National Farmers Union issued a statement today regarding China's tariffs on US goods.
Roger Johnson, president of the National Farmers Union, said President Trump was making things worse for farmers.
Read Johnson's statement:
"It's no surprise that China is slapping even more tariffs on American products. Every time Trump escalates his trade war, China calls his bluff — and why would we expect any differently this time around? And it's no surprise that farmers are again the target. In just the past three years, US soybean exports to China have fallen nearly 80 percent, and once these tariffs kick in, things are likely to get worse. Things have been difficult for farmers long before this trade war rolled around. Farmers are making half of what they were in 2013, and they've taken on record levels of debt just to keep their doors open. Chronic overproduction continues to push commodity prices down, and extreme weather events and higher temperatures caused by climate change have made the job of growing food just that much more challenging. But instead of looking to solve existing problems in our agricultural sector, this administration has just created new ones. Between burning bridges with all of our biggest trading partners and undermining our domestic biofuels industry, President Trump is making things worse, not better." 
2:07 p.m. ET, August 23, 2019
Stocks are way up, year to date. Today not so much
With two hours left at the end of another long week, US stocks are down about 2%. It's been another rough day. But look at the year-to-date performances of three primary indices:
2:09 p.m. ET, August 23, 2019
This recession warning keeps flashing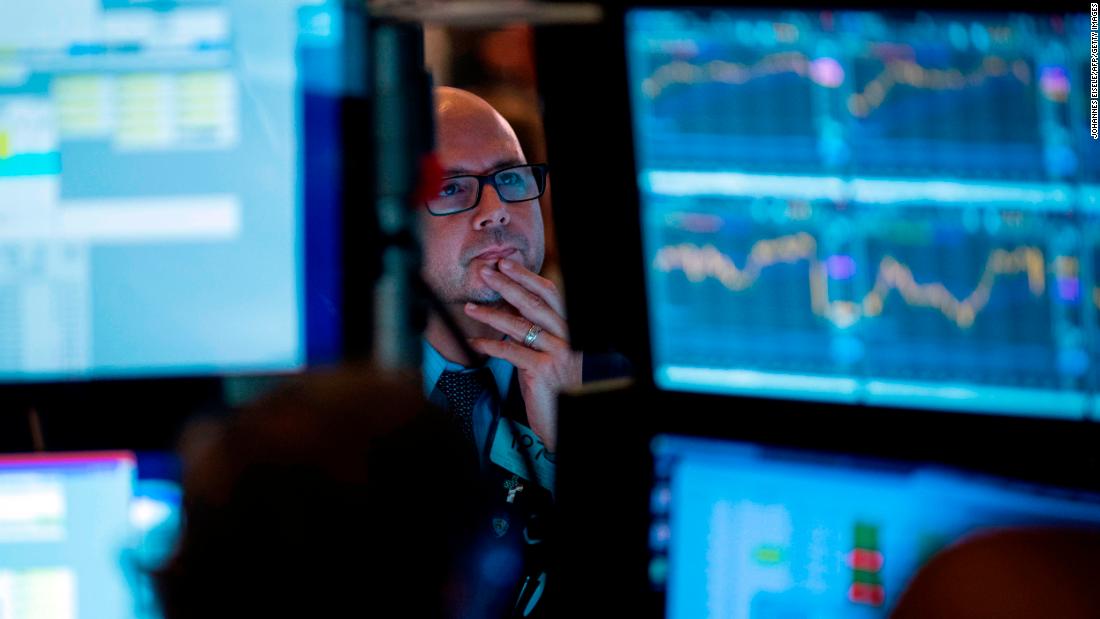 The bond market is trying to tell us something: The yield curve keeps inverting, flashing a warning sign that a recession could be coming.
And the yield curve inverted again today. An inverted yield curve is when shorter-term rates are higher than longer-term bond yields. This doesn't happen often. Before this month, the key 2 year/10 year rates hadn't inverted since 2007, just before the Great Recession.
Why does this matter? Inverted yield curves have preceded every US recession in the modern era.
Smart take: Yield curve inversions are a sign of just how nervous investors are about the immediate outlook for the economy. They are demanding higher rates for short-term loans, which is not normal.
Typically, investors expect to get paid a higher rate of return when they are lending money for a longer period of time, because the risks are higher.
3:07 p.m. ET, August 23, 2019
The Fear & Greed Index has moved to extreme fear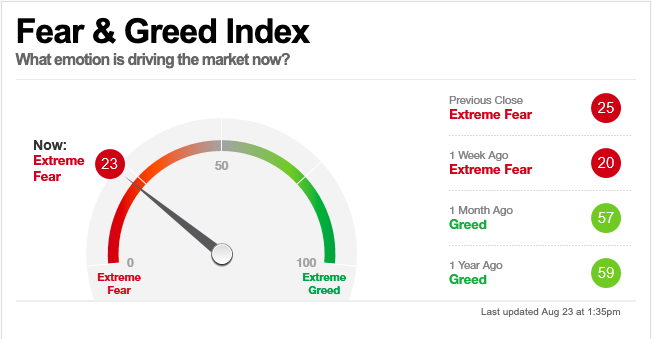 The CNN Business Fear & Greed Index, which uses seven market indicators to calculate a measure of investor sentiment, has moved from fear to extreme fear.
That's not surprising. Markets are rocky. The VIX index of volatility is up 25% today.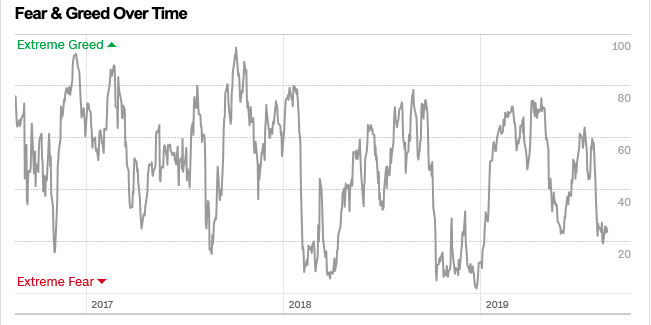 1:40 p.m. ET, August 23, 2019
Why Trump can't order American business to do anything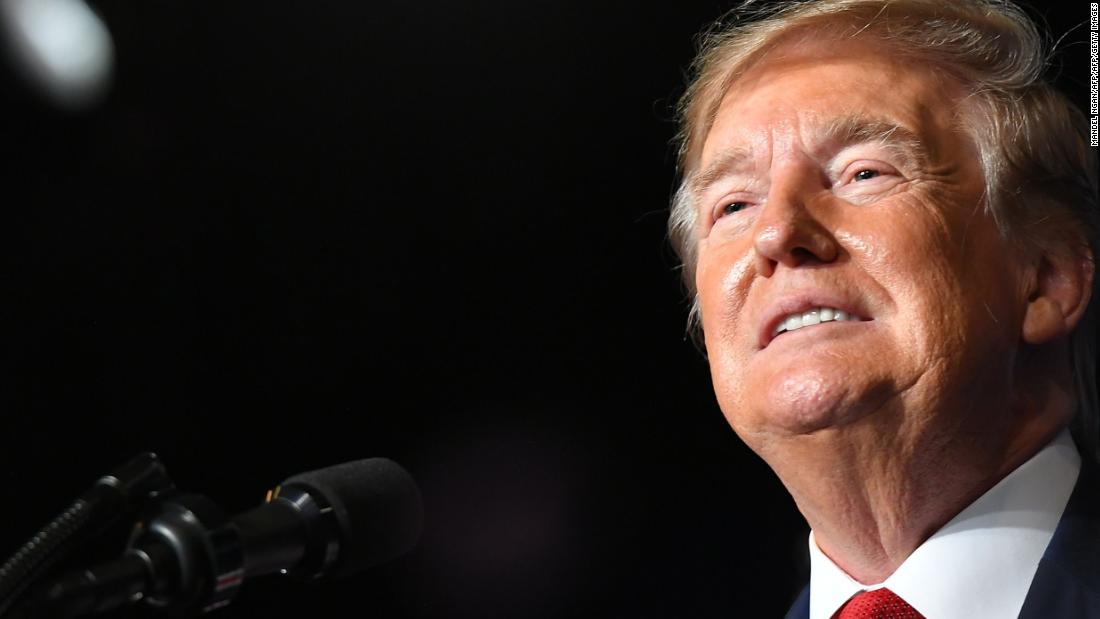 President Trump has a lot of power to make things happen in this country.
But being president does have its limits. The job is president, not dictator, after all.
And again on Friday morning, Trump showed he doesn't totally grasp that crucial difference — as he took to Twitter to protest $75 billion in new tariffs imposed by China. 
In a series of tweets, Trump said, "Our great American companies are hereby ordered to immediately start looking for an alternative to China, including bringing our companies HOME and making your products in the USA."
Here's the thing: Trump can't order American business to do anything. There's a reason the business world is known as the "private sector" — because it's not owned or controlled by the government (aka the "public sector.") We don't have state-run industry (or media). The President of the United States can't "order" privately held business to do, well, much of anything.
Now, that doesn't mean that Trump can't have any influence. Every CEO will be apprised of Trump's tweets — if they haven't already been — and some, in an effort to cozy up to Trump or because they agree with him about the threat posed by China, will look for ways to divest in the country.
But that's very different than companies having to look for alternatives to China because the President said so. They, uh, don't.
1:14 p.m. ET, August 23, 2019
Dow plunges more than 500 points
1:14 p.m. ET, August 23, 2019
US and China must return to the negotiating table, Chamber of Commerce official says
Myron Brilliant, executive vice president and head of international affairs at the US Chamber of Commerce, is encouraging the United States and China to not give up on trade talks.
In a new statement, Brilliant said:
"The US business community has for many years called out the lack of progress in addressing China's unfair trade practices. The US Chamber has been on the front lines of efforts to resolve these challenges through negotiation and encouraging tough action by the United States government. Despite our concerns, the 40-year old trade relationship between our two countries has been for the most part productive, constructive, and mutually beneficial. US companies have been ambassadors for positive changes to the Chinese economy that continue to benefit both our people.  
While we share the President's frustration, we believe that continued, constructive engagement is the right way forward. Time is of the essence. We do not want to see a further deterioration of US-China relations.
We urge the administration and the government of China to return to the negotiating table to complete an agreement that addresses concerns over technology transfer practices, intellectual property enforcement, market access, and the globally damaging impact of Chinese domestic subsidies."
1:01 p.m. ET, August 23, 2019
Why Trump's tweet about Jerome Powell is wrong
President Trump's tweet stating that Federal Reserve chief Jerome Powell did "nothing" at an annual economic symposium in Jackson Hole, Wyoming, is wrong, CNN's Allison Kosik reported.
Here's why? It would be inappropriate for the central bank to take any action before their meeting in September, Kosik noted.
12:12 p.m. ET, August 23, 2019
President Trump is meeting with his trade team
As he scrambles to respond to China's announcement of retaliatory tariffs, President Trump is huddling with his trade team at the White House currently, a person familiar said. 
Trump is aiming to unveil his response to China by the afternoon.
In a series of tweets shortly after China's announcement, Trump angrily ordered all US companies to begin the process of ending business with China – but it is unclear how he could turn that decree into a policy response.