What's moving markets today
4:51 p.m. ET, January 28, 2019
US sanctions on Venezuelan oil company will ripple across energy market
The US Treasury's sanctions on Venezuela's state-owned oil company Petroleos de Venezuela, S.A., Monday could drive up crude prices and squeeze American refineries.
The United States is Venezuela's biggest and most important oil customer, accounting for 39% of the OPEC nation's deliveries last year, according to ClipperData. Venezuela was the fourth-biggest source of foreign oil that flowed into America last October.
American refineries take in hundreds of thousand of barrels of Venezuelan oil each day. The sanctions could hurt both the United States and Venezuelan economies.
US Treasury Secretary Steven Mnuchin said that Gulf Coast refineries have cut back their dependence on Venezuelan oil in recent months. "I don't expect people will see an impact at the gas pumps," he said.
The sanctions are part of an attempt to force President Nicolas Maduro to cede control of the country to opposition leader Juan Guaido.
The move "will help prevent further diverting of Venezuela's assets by Maduro and preserve these assets for the people of Venezuela," Mnuchin said in a statement.
4:10 p.m. ET, January 28, 2019
Dow falls 209 points but markets bounce off worst levels of the day
Wall Street started the week on a negative note, but the losses could have been much worse.
The Dow fell 209 points, or 0.8%, on Monday in the wake of dreary results from major companies. The index had been down as much as 413 points earlier.
The S&P 500 declined 0.8% and Nasdaq dropped 1.1%.
Caterpillar (CAT) declined 9% after posting its biggest earnings miss in a decade. The economic bellwether blamed the results on the slowdown in China. 
Nvidia (NVDA) plunged 14% after slashing its fourth-quarter sales guidance on deteriorating growth, especially in China. 
US oil prices plunged 3.2% to $51.99 on growth concerns. However, oil trimmed its losses modestly in electronic trading after the Trump administration announced sanctions against Venezuela's state-owned oil company. 
4:10 p.m. ET, January 28, 2019
Waiting on iPhone sales
Apple (AAPL) warned earlier this month that its holiday earnings would be a big miss. The big reveal will come Tuesday at 4:30pm ET, when the company reports earnings for the most recent quarter.
Apple CEO Tim Cook said that its revenue would miss the high end of its earlier guidance by as much as $9 billion due to weak iPhone sales. Cook said the miss was primarily because of a slowdown in China.
It's true that the US economy's China woes are mounting.
Chipmakers Nvidia (NVDA) and Intel (INTC) have both warned the trade war with China is taking its toll.
But some analysts worry that iPhone sales are falling because of increased competition from cheaper manufacturers — not just trade tensions.
Apple shares are down about 30% from when the company last reported earnings.
12:00 p.m. ET, January 28, 2019
Midday market update: Stocks tumble on dreary earnings; Oil gets crushed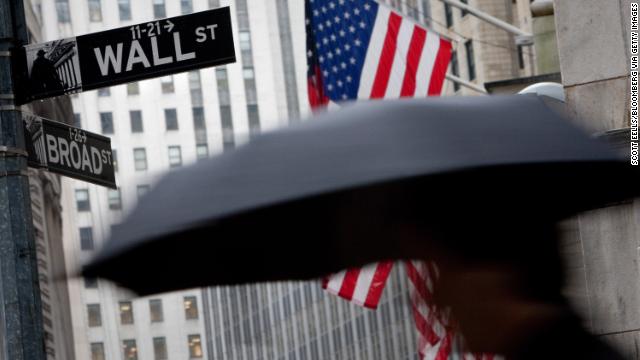 Caterpillar and Nvidia teamed up to put investors in a foul mood Monday.
At midday, the Dow was down 365 points, or 1.5%.
The S&P 500 declined 1.3%.
And the Nasdaq fell 1.7%.
Caterpillar's (CAT) biggest earnings miss in a decade spooked Wall Street. The fact that Caterpillar pointed to trouble in China is reinforcing worries about slowing growth in the world's second-biggest economy. Caterpillar shares slumped 9%. Industrial companies like Boeing (BA), General Electric (GE) and 3M (MMM) all stumbled as well.
Nvidia (NVDA) also cast a shadow over the tech sector. The chip maker's stock plunged 14% after it cut its fourth-quarter sales outlook. Deteriorating growth, especially in China, was blamed.
Crude oil, which is very sensitive to swings in the economy, is not taking the developments well. US oil prices plunged 4% to $51.55. The selloff knocked oil stocks like Chevron (CVX) and ConocoPhillips (COP).
1:14 p.m. ET, January 28, 2019
PG&E surges on report that it could avoid bankruptcy
Shares of Pacific Gas & Energy (PCG) jumped by as much as 15% before retreating following a report that the troubled energy firm might avoid bankruptcy.
Trading of the stock was temporarily halted. The report says an investor group has offered PG&E a $4 billion plan to avoid bankruptcy. The company declined to comment on the report.
PG&E, California's largest utility company, announced two weeks ago that it planned to file for bankruptcy on January 29.
The bankruptcy process will allow it to shed some of its debt and to pay billions of dollars in damages following the devastating 2018 California wildfires. It will also allow the company to stay in business to provide gas and electric service to its customers.
Last week, the utility was cleared for a 2017 fire in Sonoma County. The Tubbs fire scorched 37,000 acres and destroyed more than 5,600 structures in the wine country region.
PG&E might still be on the hook for damages tied to last year's Camp Fire, which was the most destructive wildfire in California history. 
10:32 a.m. ET, January 28, 2019
Nvidia's dismal day, in one chart
Nvidia shares slid more than 16% Monday after the chipmaker slashed its fourth-quarter sales outlook because of weakness in China.
11:06 a.m. ET, January 28, 2019
Money going back into stock mutual funds for first time in 4 years

Have investors started to sour on ETFs? According to TrimTabs Investment Research, more than $7.5 billion has plowed into US and global stock mutual funds this month, with US funds taking in $3.4 billion of that.
If American funds finish the month with inflows, it will be the first time that's happened since February 2015. Mom and pop investors pulled $90 billion from US and global stock funds in December as the market tanked. That was the largest monthly withdrawal on record.
The rebound for mutual funds is a win for active money managers who pick stocks instead of blindly betting on indexes, as many ETFs do. Investors have fallen in love with passive ETFs over the past few years because they have lower fees and also have tended to do better than mutual funds.
But US stock ETFs have shed more than $14 billion in January even as the market has bounced back. That's the biggest monthly drop since last February -- when the Dow plunged more than 1,000 points twice in a span of a few days.
9:42 a.m. ET, January 28, 2019
Dow slides 300 points after Caterpillar's biggest earnings miss in a decade
The biggest week of earnings season is starting on a gloomy note.
Caterpillar (CAT), a reliable economic bellwether, shocked Wall Street with its biggest earnings miss in a decade. Caterpillar blamed its disappointing results on "lower demand" in China.
Nvidia (NVDA) added to the gloom and doom by slashing its fourth-quarter guidance, sending the stock plunging by 17%. Nvidia similarly cited deteriorating conditions, particularly in China.
Growth concerns also hurt commodities, with US oil prices sliding nearly 3% to $52.14 a barrel. 
The selloff comes after the Dow closed narrowly higher last week, notching its fifth straight weekly gain.
8:50 a.m. ET, January 28, 2019
Brazil's Vale plunges 10% after deadly mining collapse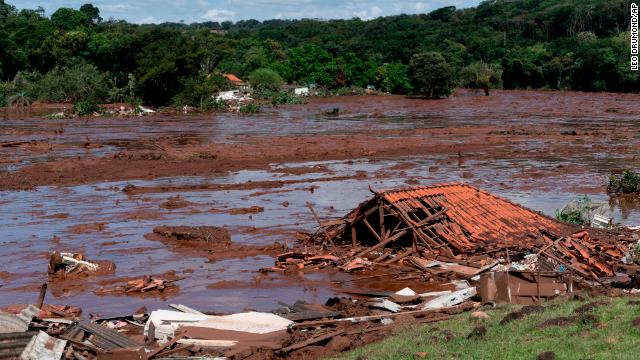 Mining giant Vale is facing a backlash from shareholders after the deadly collapse of a dam at a Brazilian mine that it manages.
New York-listed shares of Vale (VALE) tumbled 10% in premarket trading on Monday after officials said at least 58 people have died due to the Friday incident at the Feijao iron ore mine. Another 305 people are still missing.
Brazilian authorities confirmed on Sunday that Brazil-based Vale was responsible for the dam collapse. However, the exact cause of the incident and extent of Vale's responsibility have yet to be determined.
More than $260 million of Vale's funds have been frozen to compensate the government for rescue operations and to support victims. Vale has also been fined $99 million for damages and repairs.
Vale suspended its stock buybacks, dividends and executive bonus plans.
"The company deeply regrets the accident and is making every effort to provide relief and support to those affected," Vale said in a statement.