Wall Street rallies on coronavirus optimism: April 8, 2020
By CNN Business
Updated
6:38 a.m. ET, April 9, 2020
6:38 a.m. ET, April 9, 2020
4:28 p.m. ET, April 8, 2020
Bill Gates speaks about coronavirus on LinkedIn livestream
From CNN Business' Shannon Liao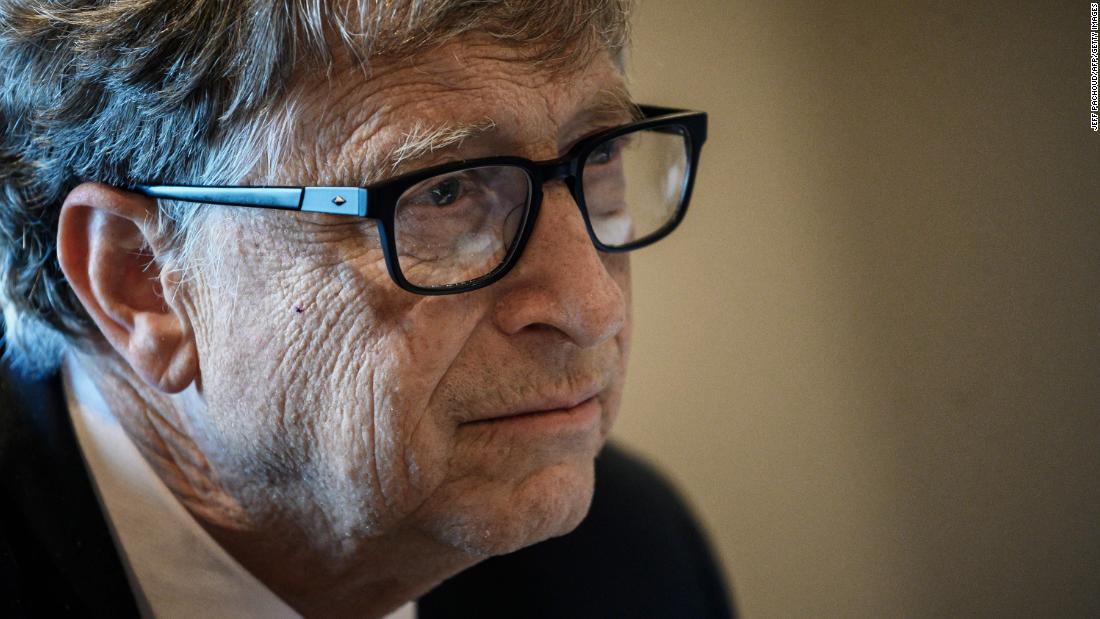 Microsoft founder and philanthropist Bill Gates took to LinkedIn on Wednesday to discuss coronavirus. "This scenario was a nightmare I was worried about," he said during a livestream. He referred to his previous talks calling for more preparation in case of a pandemic.
"The US unfortunately let a level of infections come in in February that meant that we couldn't be like Taiwan or South Korea in terms of catching it early and never having a large number of cases," said Gates. "So we've had to do very drastic measures to get the number of cases down."
He said that a number of places across the United States have done well in implementing stay at home measures. "It's a mistake not to have the entire country take these extreme measures," he said. "It's understandable that people find this shocking."
Gates also predicted it would take the world about 18 months to recover, as that's the timeline for a potential vaccine. "Until you've got that vaccine widely used, life will still be not back to normal," he said, adding that things might be semi-normal by June. But he expects large public gatherings still likely won't be allowed.
Responding to a LinkedIn user's question about whether the economy could recover its lost jobs, Gates said: "The government did not do its duty to prepare for this well in advance but now people are focused on it and we can see different countries responding in different ways."
4:05 p.m. ET, April 8, 2020
Dow tops 23,000 for the first time in a month
From CNN Business' Anneken Tappe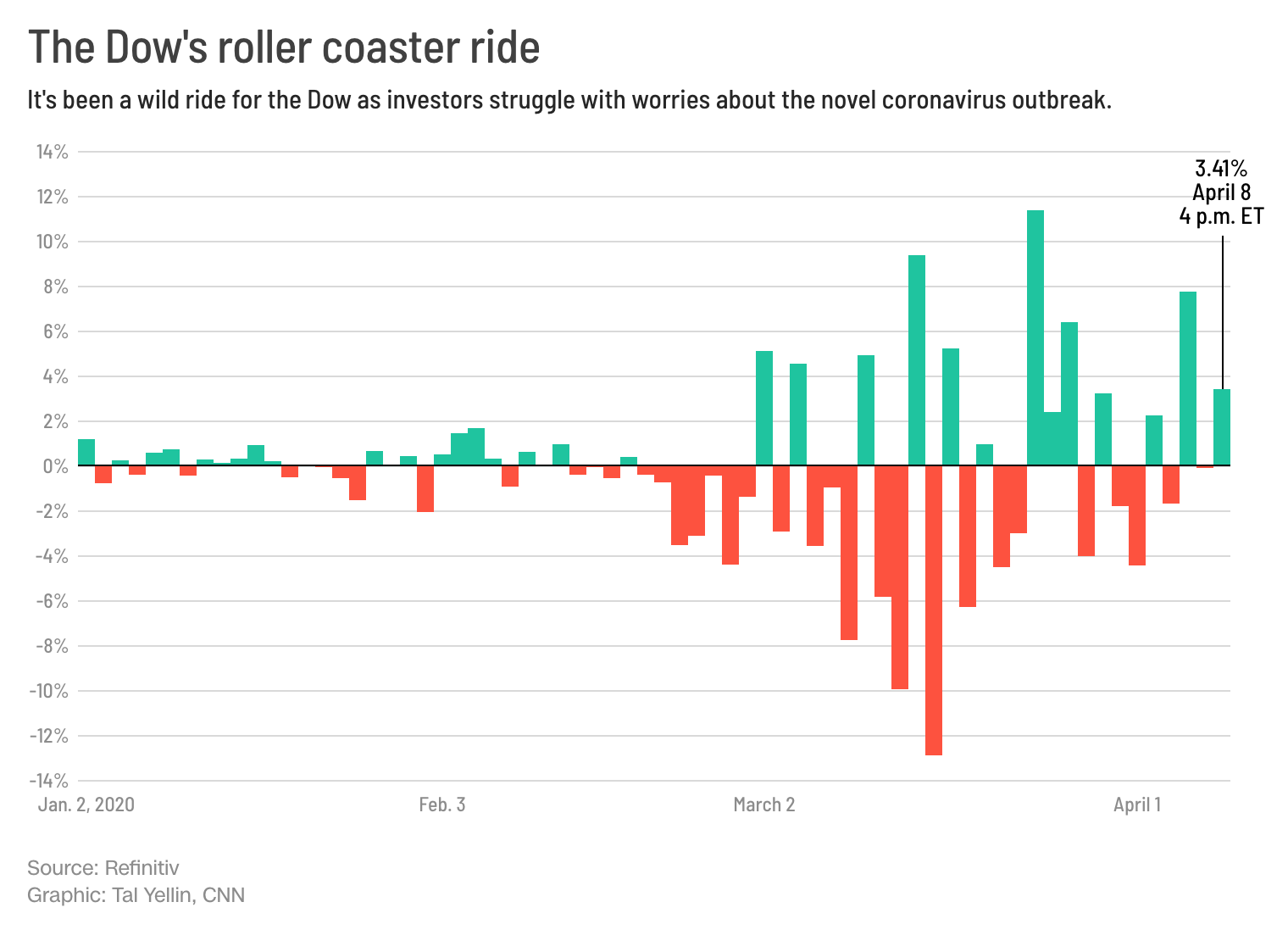 US stocks ended higher on Wednesday, buoyed by investors' optimism about slight improvement in new coronavirus infections data.
The Dow closed up 3.4%, or 780 points. It was its first close above 23,000 points in nearly a month.
The S&P 500 finished 3.4% higher.
The Nasdaq Composite closed up 2.6%.
3:49 p.m. ET, April 8, 2020
Tomorrow's jobless claims are expected to show another 5 million Americans out of work
From CNN Business' Anneken Tappe
It's that time of the week again: Weekly jobless claims are due Thursday.
Economists expect 5.25 million Americans filed for unemployment benefits for the first time in the week ended April 4. That would be down from 6.6 million in the prior week, but still the second-largest number on record.
"Another fresh record high in jobless claims could be the straw that breaks this recent stock market rally's back," said Edward Moya, senior market analyst at Oanda.
Jobless claims have become the most-watched economic data point. That's largely because it shows the fallout from the coronavirus pandemic on a weekly basis -- rather than just monthly.
Over the past two weeks alone, nearly 10 million Americans have filed for initial unemployment benefits. But companies are continuing to lay off and furlough workers, so the pain is unlikely to end soon.
2:44 p.m. ET, April 8, 2020
Airbus cuts back production as airlines defer deliveries
From CNN Business' Chris Isidore
European aircraft maker Airbus announced Wednesday it would cut production by about a third, as the troubled airline industry is being forced to defer deliveries due to the plunge in air traffic.
Airbus said the reduced schedule was designed "to adapt to the new coronavirus market environment." The company delivered only 122 of the 182 planes it built during the quarter because of "customer requests to defer deliveries," it said.
It will now build about 40 of the A320 each month, down from 60 per month of its best-selling single-aisle jet. The A330 will produce two a month from nine, and the A350 production has been scaled back to six a month from between nine and 10.
Airbus has temporarily halted production at numerous plants in Europe and North America due to health concerns. The reduced production schedule will be in place when the plants resume work. Rival Boeing, which reports its deliveries and orders next week, also has temporarily stopped building commercial jets as well.
More than half the 22,000 planes in the global commercial airline fleet have been grounded in the crisis, according to tracking firm Cirium, and that number is climbing as airlines slash their schedules, or cancel all flights in some cases, due to a combination of travel restrictions and passengers' health concerns.
1:23 p.m. ET, April 8, 2020
Stocks are up but we've seen bear market rallies before: JPMorgan Asset Management strategist
From CNN Business' Anneken Tappe
Stocks are up and on track for a third straight day of gains.
The S&P 500 is now up more than 20% from its low point on March 23. But is this the end of its bear market?
Not so fast. "Bear market rallies are something you see before the market recovers," Samantha Azzarello, global market strategist at JP Morgan Asset Management, told Alison Kosik on the CNN Business' Digital live show Markets Now. 
At the height of the 2008 financial crisis, there were 11 rallies before the market bottomed out and fully started to recover in March 2009, she said.
"We need to internalize how negative the data will be in Q2," Azzarello said. The market could drop again when the data surprises on the downside, she added.
The first data points since the coronavirus outbreak swept across America didn't look good: nearly 10 million people filed for initial unemployment benefits over the past two weeks.
But the magnitude of job losses was likely already priced in.
"What I don't think has been priced in is that negative Q2 GDP number," Azzarello said. How bad that number will be depends on how long the economy is shut down.
Negative earnings surprises aren't really priced in yet either, she said, because there is so little clarity for companies and investors. Businesses pulled their profit guidance over the past months, as they cannot predict how bad the fallout will be for them.
Still, Azzarello isn't advising clients to leave the stock market behind.
"We're advising clients to get back to plan," Azzarello said. "But have we hit the bottom? Is it time to load up on stocks ? Certainly not." If the market gyrations have changed investors' portfolios, she dded, they should get back to the allocations they intended.
1:55 p.m. ET, April 8, 2020
Fashion business could be changed forever by coronavirus fallout
From CNN Business' Anneken Tappe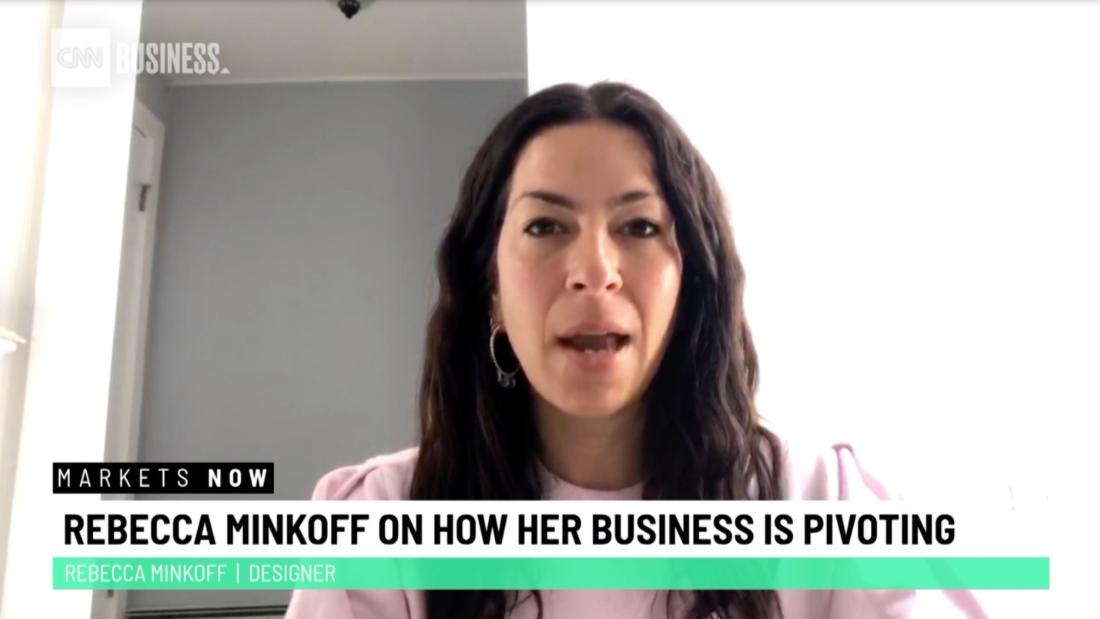 The fashion industry could be altered forever following the changes it is going through because of the coronavirus outbreak.
"We had to very quickly pivot as a company," said Rebecca Minkoff, designer and co-founder of the Female Founder Collective, on the CNN Business' digital live show Markets Now.
Even though her eponymous fashion label's supply chain hasn't been affected at all, some retailers stopped honoring previously placed purchase orders.
"I think the relationship will be forever changed," Minkoff said, adding that designers might become stricter in terms of how deals with retailers are structured.
Minkoff also had to furlough some staff, but hopes to hire them back after the outbreak is over.
1:17 p.m. ET, April 8, 2020
Banks haven't done their part in small-business lending yet, former Labor Secretary says
From CNN Business' Anneken Tappe
Small businesses are hit particularly hard by the coronavirus crisis. Many are facing issues on payments, including payroll.
Many small businesses are running the risk of going down," former US Labor Secretary and author Robert Reich told Alison Kosik on CNN Business' digital live show Markets Now.
The government's economic relief package is intended to provide aid for these smaller businesses. But so far, the money hasn't gotten into the right pockets.
"This program actually relies on the big banks," Reich said, but they haven't yet done their part, he added.
Banks are saying that they haven't gotten clear instructions from the Small Business Administration and Treasury Department. Meanwhile, the SBA says banks are dragging their feet, Reich said.
"The government was not prepared, and I understand it's very hard to get these programs going," he added. "But you can't just wave a magic wand and get money into people's hands."
12:53 p.m. ET, April 8, 2020
Delta will stop booking middle seats
From CNN Business' Chris Isidore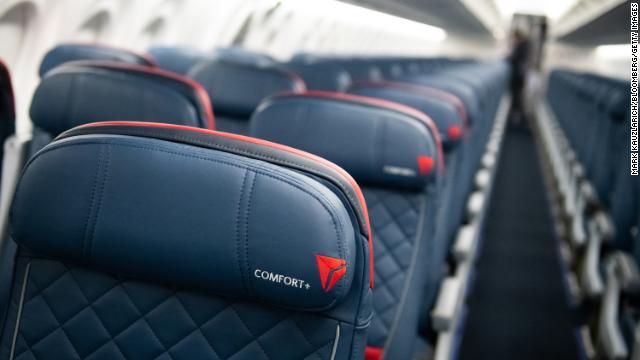 Delta said it will no longer book the dreaded middle seat on flights through the end of May in an effort to allow for social distancing.
Delta said it is also pausing automatic, advance seat upgrades.
"These will now be processed at the gate – still in priority order – to allow gate agents to determine how to best seat customers while considering social distancing and aircraft weight-and-balance restrictions," said the airline.
Delta and other airlines have already been slashing schedules and reporting a low level of passenger traffic on flights. For example, Delta CEO Ed Bastian told Delta employees that it would be reducing its schedule by 80% in April due to the lack of demand, that it expects second quarter revenue to be down 90% and that on March 28, it carried only 38,000 customers, versus its normal late-March Saturday traffic of 600,000.