What to watch on the final day at Davos
8:35 a.m. ET, January 22, 2019
Bank of America CEO: Get ready for bank mergers in the US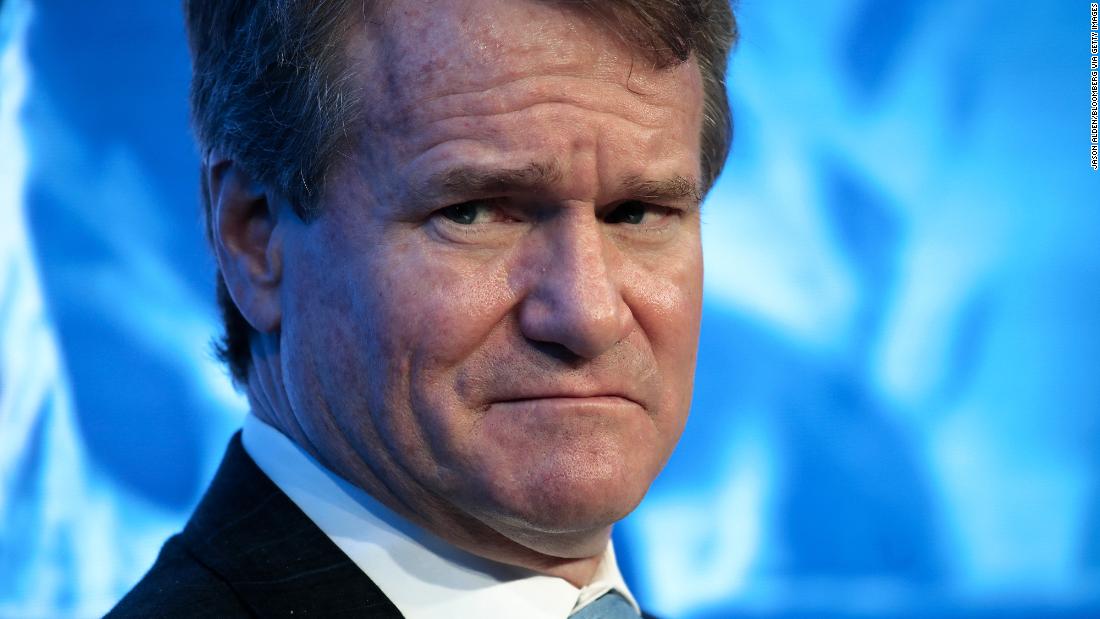 Bank of America CEO Brian Moynihan thinks a round of bank mergers in the United States could produce a competitor that rivals his firm in terms of scale.
"The emergence will come out of the consolidation of another round ... which still has to happen in the United States," he said during a panel discussion on Tuesday.
Moynihan also spoke about the challenge of doing business across international borders at a time when restrictions on foreign direct investment are increasing:
The question of operating across jurisdictions comes down to a country saying, 'I want to control the outcome for my citizens. And that takes decades to work through. The reality is, there's going to be great opportunities in those decades. There's going to be some bumps."
7:03 a.m. ET, January 22, 2019
Energy expert on US shale: 'I told you so'
Fatih Birol made a big call at last year's Davos. Now he's taking a victory lap.
The executive director of the International Energy Agency predicted last year that US oil production would skyrocket.
"We had a very bullish prediction and many people told us it was too bullish … so I said that we may revise it," he recounted during a panel discussion Tuesday.
"We did revise it, but upwards," he said.
"If anybody thinks we have seen the impact of shale evolution fully, he or she is making a big mistake," Birol added.
The US became the world's largest oil producer last year, surpassing Russia and Saudi Arabia. America's oil output soared by more than 2 million barrels per day in 2018, the biggest jump ever recorded by any country.
4:19 a.m. ET, January 22, 2019
Who's speaking at Davos on Tuesday
Tuesday features discussions by a big lineup of executives, entrepreneurs and government leaders. Among them:
Former Indian central bank governor Raghuram Rajan, Alphabet CFO Ruth Porat, Blackstone chairman and CEO Stephen Schwarzman and Bank of America CEO Brian Moynihan — Shaping a New Market Architecture
Microsoft CEO Satya Nadella — Shaping Globalization 4.0
JP Morgan CEO Jamie Dimon and Citigroup CEO Michael Corbat
Brazilian President Jair Bolsonaro
Media bosses Stephen Adler of Reuters and Marty Baron of the Washington Post, with journalist Matthew Caruana Galizia of Malta — Media Freedom in Crisis
CNNi live: Julia Chatterley interviews UPS chief executive David Abney and Richard Quest interviews Mexico's economy minister, Graciela Marquez Colin, as well as Microsoft President Brad Smith and UBS Chairman Axel Weber.
6:53 a.m. ET, January 22, 2019
Quest takes to the ice to explain the world's economic challenges
From Brexit to the trade war, how will world leaders maneuver through the unchartered economic territory that lies ahead?
CNN's Richard Quest suited up with Davos' professional ice hockey team to try to figure out how to stay upright in the middle of economic turmoil.
The lesson, according to Quest: "If everyone pushes in the same direction instead of trying to pull it all apart, the global economy stands some chance of staying on its own two feet."
2:27 p.m. ET, January 21, 2019
Brazilian President Bolsonaro in Davos: We're open for investment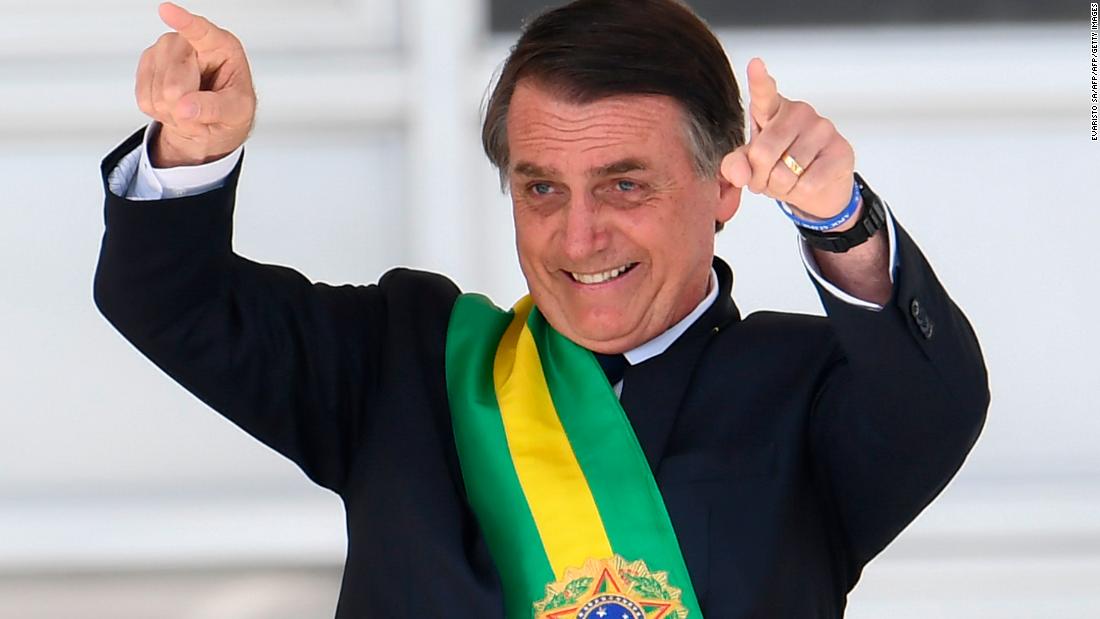 Far-right Brazilian President Jair Bolsonaro, elected in October, said he came to Davos to send a message to the global community. He is scheduled to speak on Tuesday.
Bolsonaro gave an impromptu press conference at his hotel when he arrived:
We want to show that we can be a country that is safe for investment, especially when it comes to agribusiness. This is very important to us." 
2:37 p.m. ET, January 21, 2019
CEOs say the trade war is killing business confidence
There's a sharp drop in confidence among global CEOs, according to a new survey from audit giant PwC.
The share of chief executives who think the global economy will slow over the next year has jumped to nearly 30% from 5% in 2018, according to a survey of 1,300 top business leaders. It was published to coincide with the beginning of WEF.
Some of the reasons cited for the confidence dip include rising populism, policy uncertainty and trade conflicts.
Bob Moritz, global chairman at PwC, says:
CEOs' views of the global economy mirror the major economic outlooks, which are adjusting their forecasts downward in 2019. With the rise of trade tension and protectionism it stands to reason that confidence is waning."
4:22 a.m. ET, January 22, 2019
Saudi Arabia is full of potential investments, Kingdom Holding CEO tells CNN
The company founded by Saudi Arabia's most prominent global investor plans to invest more of its money at home — $1 billion, in fact, over the next six months.
Kingdom Holding CEO Talal Ibrahim Al Maiman tells CNN Business' Emerging Markets Editor John Defterios that he believes "there are better opportunities in Saudi Arabia and the region today."
The country is attempting to repair its reputation with foreign investors after the murder of journalist Jamal Khashoggi.
12:56 p.m. ET, January 21, 2019
IMF warns of the world's fading fortunes
The International Monetary Fund released Monday its updated economic outlook with a dire warning: The world's economy is slowing and it could get much worse if countries keep fighting over trade.
The agency lowered estimates for growth in 2019 by 0.2 percentage points to 3.5% — its second downward revision.
The biggest risks are the unresolved trade war between the US and China, and the possibility of Britain exiting the European Union without a deal.
"After two years of solid expansion, the world economy is growing more slowly than expected, and risks are rising," IMF Managing Director Christine Lagarde said Monday, adding the "risk of a sharper decline in global growth has certainly increased."
Eye on China
Specifically, concerns over China's slowing economy were confirmed. The world's second biggest economy grew at its slowest pace in almost three decades in 2018, expanding 6.6%, according to official data published Monday. That's the weakest annual performance since 1990.
The deteriorating situation in a market that businesses around the world rely upon for growth is having a widespread impact. It has spooked investors and prompted warnings from top companies like Apple (AAPL).
12:56 p.m. ET, January 21, 2019
Wither the 'Davos dream:' Globalization faces challenges at WEF 2019
The rise of populism and nationalism is threatening the "Davos dream" of open markets and globalization that the week-long conference aims to cultivate.
Julia Chatterley, who is anchoring "First Move" on CNN International this week from Davos, previews the challenges facing this year's forum.