CNN sues the Trump administration over Acosta ban
6:00 p.m. ET, November 13, 2018
CNN sued the Trump administration. What's next: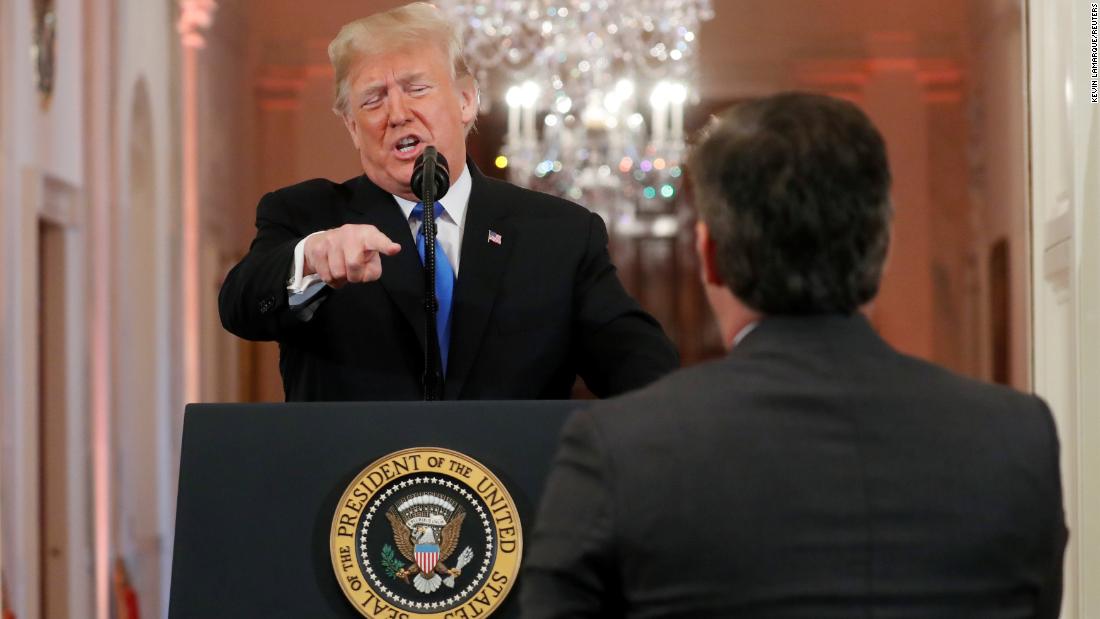 CNN filed a lawsuit against President Trump and several of his aides, seeking the immediate restoration of chief White House correspondent Jim Acosta's access to the White House.
Here's what we know:
CNN and Acosta's lawsuit to restore his White House access has sent shockwaves across the media industry.
Lawyers for the Trump administration are now working on a response.
CNN and Acosta are seeking an immediate hearing to obtain a temporary restraining order and a preliminary injunction.
A judge is reviewing the complaint.
There was no hearing on Tuesday, but one will likely take place on Wednesday.
3:54 p.m. ET, November 13, 2018
GOP chairwoman says Acosta still has White House access. But he doesn't.
Parroting CNN's motto, "facts first," GOP Chairwoman Ronna McDaniel called the network's First Amendment lawsuit a "political stunt" and said Acosta still has access to the White House through a daily pass.
"Every one of his colleagues still has access to the WH, as does the reporter himself via a daily pass. #FactsFirst," McDaniel wrote on Twitter.
In fact, as CNN said in court documents Tuesday, the White House denied Acosta's application for a day pass on November 8, the day after his hard pass was revoked following the post-midterms news conference.
And on a Presidential trip in Paris over the weekend, the White House and the Secret Service continued to deny Acosta access to press events -- including at a ceremony that he had acquired separate credentials to cover from the French government – according to the suit.
In a signed declaration, CNN Washington Bureau Chief Sam Feist wrote that "reliance on daily passes" to access other unscheduled events on the White House grounds like "gaggles" and off-camera briefings was "impracticable at best, impossible at worst."
3:48 p.m. ET, November 13, 2018
CNN lawyer: The White House cannot get away with this
"This is a very, very important case," famed lawyer Ted Olson, who is representing CNN, told Brooke Baldwin on Tuesday afternoon. Acosta's press pass was suspended this time, but who might be next? "This could happen to any journalist by any politician," Olson said.
3:57 p.m. ET, November 13, 2018
Sam Donaldson says Acosta was acting appropriately
Several current and retired reporters from competing news organizations are named in court documents to bolster CNN's defense of Acosta, with two submitting signed declarations. Sam Donaldson, a former chief White House correspondent for ABC who covered White Houses as far back as President John F. Kennedy, wrote in a declaration that he was not aware of any prior situation in which a White House correspondent's hard pass was revoked.
Further, Donaldson wrote,
In my opinion, based on my two decades of experience and the hundreds of White House press conferences in which I have participated, Jim Acosta's conduct and questioning of the President were appropriate and within norms of professional conduct for journalists generally and for a White House reporter specially."
In another declaration, the Washington bureau chief for The Dallas Morning News, Todd J. Gillman, also a board member of the White House Correspondents' Association, describes the application process and the abilities derived from a hard pass for the building, and calls the credential "critical for anyone who reports regularly on the White House."
In its lawsuit, CNN also cites the public backing and corroboration delivered by NBC's Peter Alexander, The Daily Caller's Chuck Ross and Reuters' Jeff Mason in the aftermath of the post-midterms news conference.
2:46 p.m. ET, November 13, 2018
Before filing the lawsuit, CNN first reached out privately to John Kelly
Before resorting to a lawsuit over Jim Acosta's press pass, CNN sought to resolve the dispute privately.
Acosta's pass was suspended last Wednesday, the 7th. The following day, according to the suit, CNN president Jeff Zucker wrote to chief of staff John Kelly and requested that it be reinstated. Zucker's message said that "no complaints were raised with CNN and there was no attempt to reach anyone at CNN before taking this unlawful action."
Zucker also noted that the White House had not attempted to reach anyone at CNN prior to the revocation of Acosta's pass, and called the move part of a "pattern of targeted harassment" against the network, the lawsuit says. 
The next day, Friday the 9th, CNN sent a formal letter to the White House repeating the request and warning of a possible lawsuit.
Several days went by. So "we really had no choice but to sue," one of CNN's outside attorneys, Ted Boutrous, said in an interview. "We didn't want to have to go to court. We wanted to just report the news. Mr. Acosta wants to report the news. CNN wants to report the news."
3:56 p.m. ET, November 13, 2018
Acosta describes how the White House's actions have affected him
In a signed declaration submitted along with the motions Tuesday, Jim Acosta defended his coverage of the White House and described several instances in which his lack of a credential has made him unable to do his job.
"I have always endeavored to conduct myself as a diligent but respectful reporter who asks probing but fair questions," Acosta wrote.
"The revocation of my White House press credential not only destroys my ability to perform my current job, it will follow me for the rest of my career. My reputation and my future career prospects have all been significantly harmed if not completely devastated." 
Acosta wrote that he and his family have had to take "additional security measures" after receiving death threats "regularly, aimed at my work covering the President." 
"This has frightened both me and my family and required us to take additional security measures in our daily lives," he said.
3:56 p.m. ET, November 13, 2018
CNN seeks a temporary restraining order
CNN's David Shortell reports from the U.S. District Court for the District of Columbia:
CNN has officially asked a judge to force the White House to immediately restore Jim Acosta's press credentials. The move -- known as a request for a temporary restraining order and a preliminary injunction -- came as part of the lawsuit CNN filed earlier Tuesday in DC federal court, alleging that the revocation of Acosta's press pass last week violated his First Amendment rights and his rights to due process.
Lawyers for CNN asked the court to hold a hearing on their request to immediately restore the pass before Wednesday. No hearing has yet been scheduled. 
3:28 p.m. ET, November 13, 2018
Fox analyst says CNN has a strong case
Judge Andrew Napolitano, the top legal analyst at Fox News, is predicting that CNN v. Trump will be resolved "quickly," and in CNN's favor.
"The only grounds for revoking the pass are, is the person a danger to the physical security to the president or his family? Obviously -- Acosta may have been an irritant to the president -- but he was hardly a danger to him," Napolitano said on Fox Business on Tuesday morning. "So I think CNN's got a very good case. I think this will be resolved quickly. I don't expect a jury trial. I think it will either be settled or CNN will prevail on motion."
Napolitano's analysis was notable because many commentators on Fox have been harshly critical of Acosta's aggressive questioning of the president.
1:11 p.m. ET, November 13, 2018
ACLU says Trump's move is 'un-American'
Media law experts and advocacy groups lined up on CNN's side shortly after the lawsuit was filed on Tuesday morning.
George Freeman, the head of the Media Law Resource Center, said CNN "has a very strong case," because "the president's retaliation against Acosta was for no appropriate reason, let alone a constitutionally required compelling reason."
The Reporters Committee for Freedom of the Press and the Georgetown Law's Institute for Constitutional Advocacy and Protection jointly filed what's known as a "friend of the court" brief in support of the lawsuit. It said the White House's suspension of Acosta's press pass "tramples on the Constitution" and aims to "chill the constitutionally protected speech and newsgathering activity of other journalists whom the public depends upon to question government officials vigorously and to report candidly on the responses."
The ACLU put it this way:
"It is un-American and unlawful for the president to expel a reporter from the WH briefing room for doing his job. It shouldn't take a lawsuit from CNN to remind the president of the First Amendment."