CNN sues Trump and White House aides
3:28 p.m. ET, November 13, 2018
Fox analyst says CNN has a strong case
Judge Andrew Napolitano, the top legal analyst at Fox News, is predicting that CNN v. Trump will be resolved "quickly," and in CNN's favor.
"The only grounds for revoking the pass are, is the person a danger to the physical security to the president or his family? Obviously -- Acosta may have been an irritant to the president -- but he was hardly a danger to him," Napolitano said on Fox Business on Tuesday morning. "So I think CNN's got a very good case. I think this will be resolved quickly. I don't expect a jury trial. I think it will either be settled or CNN will prevail on motion."
Napolitano's analysis was notable because many commentators on Fox have been harshly critical of Acosta's aggressive questioning of the president.
1:11 p.m. ET, November 13, 2018
ACLU says Trump's move is 'un-American'
Media law experts and advocacy groups lined up on CNN's side shortly after the lawsuit was filed on Tuesday morning.
George Freeman, the head of the Media Law Resource Center, said CNN "has a very strong case," because "the president's retaliation against Acosta was for no appropriate reason, let alone a constitutionally required compelling reason."
The Reporters Committee for Freedom of the Press and the Georgetown Law's Institute for Constitutional Advocacy and Protection jointly filed what's known as a "friend of the court" brief in support of the lawsuit. It said the White House's suspension of Acosta's press pass "tramples on the Constitution" and aims to "chill the constitutionally protected speech and newsgathering activity of other journalists whom the public depends upon to question government officials vigorously and to report candidly on the responses."
The ACLU put it this way:
"It is un-American and unlawful for the president to expel a reporter from the WH briefing room for doing his job. It shouldn't take a lawsuit from CNN to remind the president of the First Amendment."
3:30 p.m. ET, November 13, 2018
CNN lawsuit assigned to Timothy J. Kelly
Per CNN's David Shortell, the case has been docketed and assigned to Judge Timothy J. Kelly, a Trump appointee.
Judge Kelly "was appointed to the United States District Court for the District of Columbia in September 2017," according to his bio. A graduate of Duke University and Georgetown University, he previously served as a top lawyer to U.S. Senate Judiciary Committee Chairman Charles E. Grassley.
11:47 a.m. ET, November 13, 2018
Read CNN's lawsuit
You can find the full complaint here.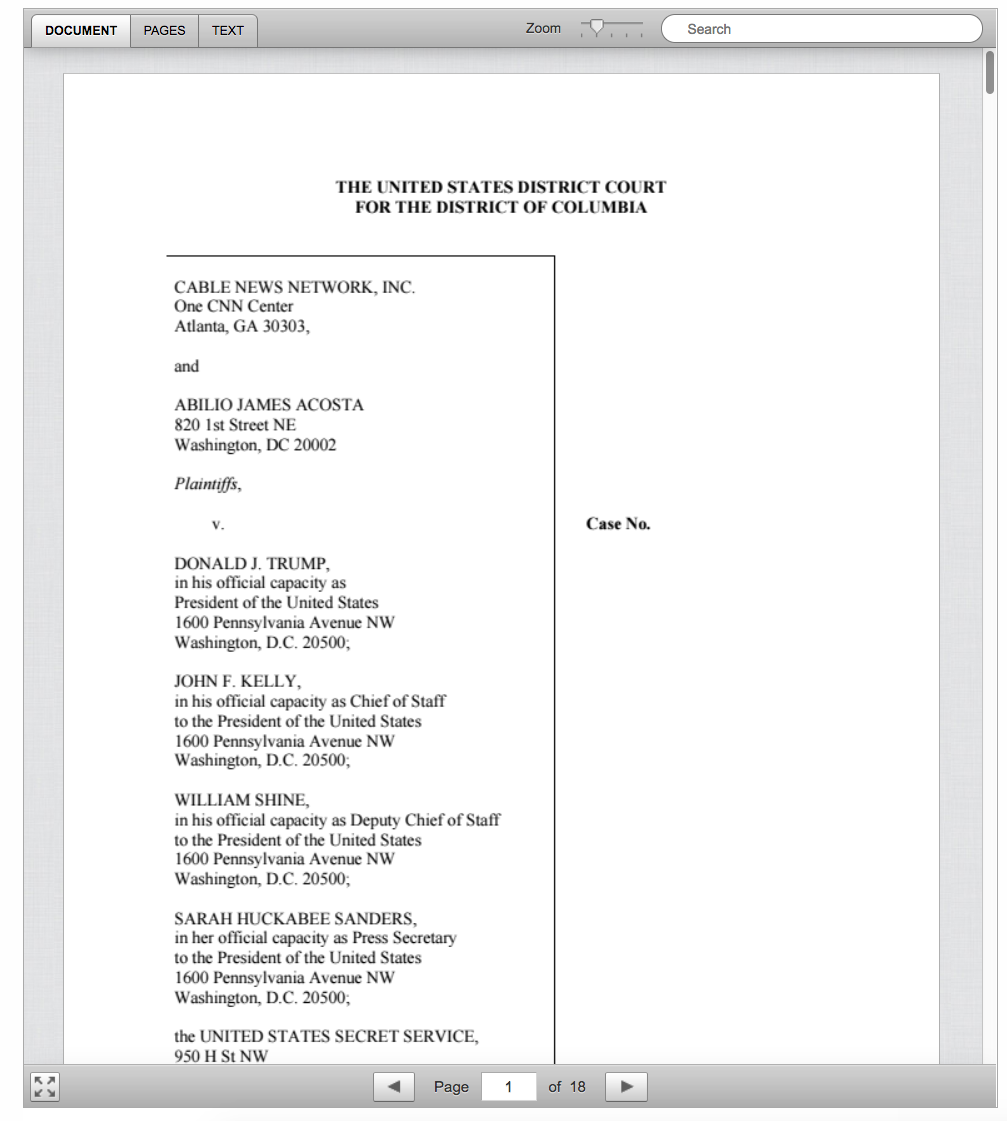 11:26 a.m. ET, November 13, 2018
Stelter: The White House is missing the point
The White House's initial response to the lawsuit does not address the substance of the case. Instead, Sarah Sanders is strongly objecting to Acosta's style – saying that he acted unprofessionally at a press conference last week – and arguing that there needs to be a "check on this type of behavior."
Different White House reporters have different styles. But CNN's suit is about the process of giving and revoking press passes. The suit says the defendants "had no legal or rational justification to revoke Acosta's credentials." The argument that Acosta wasn't sufficiently respectful "is not sufficient as a matter of law," the suit alleges.
11:27 a.m. ET, November 13, 2018
Sarah Sanders responds to the CNN suit
The White House press secretary Sarah Sanders claims CNN is "grandstanding" by suing. In a response to the suit on Tuesday morning, the administration said it will "vigorously defend" itself.
This is her statement:
"We have been advised that CNN has filed a complaint challenging the suspension of Jim Acosta's hard pass. This is just more grandstanding from CNN, and we will vigorously defend against this lawsuit.
CNN, who has nearly 50 additional hard pass holders, and Mr. Acosta is no more or less special than any other media outlet or reporter with respect to the First Amendment. After Mr. Acosta asked the President two questions—each of which the President answered—he physically refused to surrender a White House microphone to an intern, so that other reporters might ask their questions. This was not the first time this reporter has inappropriately refused to yield to other reporters.
The White House cannot run an orderly and fair press conference when a reporter acts this way, which is neither appropriate nor professional. The First Amendment is not served when a single reporter, of more than 150 present, attempts to monopolize the floor. If there is no check on this type of behavior it impedes the ability of the President, the White House staff, and members of the media to conduct business."
10:13 a.m. ET, November 13, 2018
White House Correspondents' Association: We "strongly support" CNN
The White House Correspondents' Association just released a statement about CNN's lawsuit against President Trump.
WHCA President Oliver Knox said the association "strongly supports CNN's goal of seeing their correspondent regain a US Secret Service security credential that the White House should not haven taken away in the first place."
This is not the first time the WHCA has supported CNN in recent days. After Jim Acosta's pass was yanked last week, the group called the move "out of line" and "unacceptable." "We urge the White House to immediately reverse this weak and misguided action," the association added.
Here's the group's full statement today: