What's happening at Berkshire Hathaway's annual meeting 2019
11:20 a.m. ET, May 4, 2019
Berkshire Hathaway posts quarterly profit, but it has a Kraft Heinz problem 
Berkshire Hathaway's latest earnings came out in conjunction with the company's annual shareholder meeting this weekend. Here's a quick look at the numbers -- and an unusual admission about its investment in Kraft Heinz (KHC).
Net income was $21.7 billion, compared to a loss of $1.1 billion
Operating income up 5.5% from a year ago to $5.6 billion
Cash rose 2% from December to $114.1 billion
But Berkshire (BRKB) disclosed a bit of a bombshell in its 10-Q filing with the SEC about its nearly 27% stake in troubled food giant Kraft Heinz. Berkshire said that it did not report any income from Kraft Heinz because it doesn't have enough data from the company.
"As of May 3, 2019, Kraft Heinz has not filed its 2018 Form 10-K with the Securities and Exchange Commission. In addition, Kraft Heinz has not made its financial statements for the first quarter of 2019 available to Berkshire. Accordingly, Berkshire does not have the necessary financial information to determine its share of the earnings and other comprehensive income of Kraft Heinz for the first quarter of 2019. As a result, Berkshire's first quarter 2019 earnings and other comprehensive income exclude such amounts."
During a walk-around with CNN's Poppy Harlow and other reporters Saturday morning before the Berkshire shareholder meeting, Buffett said that the news is "very unusual" and suggested that it may be due to a dispute that Kraft Heinz is having with its auditor PwC.
9:35 a.m. ET, May 4, 2019
Warren Buffett makes the rounds
The "Oracle of Omaha" got a rock star's reception before he and Berkshire vice chair Charlie Munger answer questions from investors.
9:59 a.m. ET, May 4, 2019
Plant-based food craze isn't slowing down DQ
Beyond Meat (BYND) just had a scorching debut on Wall Street and Impossible Foods is having trouble keeping up with demand for its plant-based burgers. But Berkshire-owned Dairy Queen, or DQ for short, isn't shy about serving up guilty pleasures like burgers and ice cream.
"We looked at plant-based proteins a few years ago but the timing wasn't right," said DQ CEO Troy Bader. "There may be a time for it but with some trends you don't want to lead."
Still, Bader acknowledged that consumers are trying to eat in a more healthy manner. And while you shouldn't expect DQ to start selling vegan burgers any time soon, the company has been mixing up its menu a bit to cater to people who may be counting calories.
8:19 a.m. ET, May 4, 2019
Buffett says it's 'long overdue' for women to be considered investing gurus
Berkshire Hathaway's (BRKB) annual shareholder meeting isn't the only investor event going on in Omaha this weekend.
A group of top female investors held what they dubbed the Variant Perspectives Conference on Friday at the Hilton across the street from the CHI Health Center where the Berkshire gathering was taking place...and Buffett showed up.
Buffett said it was "long overdue" for a conference led by women investors, adding that "track records should open doors." He also said:
The stock doesn't know who owns you."
Barbara Ann Bernard, founder and chief investment officer of Wincrest Capital and one of the Variant event's organizers, told me she was thrilled that Buffett showed up and noted that after years of not having many high profile women at Berkshire, the company now has four female directors on its board.
"Men are not the problem. They are the solution," Bernard said.
Bernard noted that hedge funds run by women have outperformed a broader index of funds over the past few years. That's proof that more women deserve a chance to be portfolio managers.
"This isn't a pity party," she said. "The issue is scale. We need more mentors."
8:20 a.m. ET, May 4, 2019
Benjamin Moore CEO is bullish on housing
The housing market has done extremely well over the past few years thanks to low interest rates and steady job growth. That's great news for paint giant Benjamin Moore, the Berkshire-owned company that competes with Sherwin Williams (SHW), PPG (PPG) and Behr.
But Benjamin Moore CEO Dan Calkins said that there is one problem. A well-publicized shortage of workers in the housing industry means that sales could be even better than they already are -- even though he said the housing market is "hot."
8:21 a.m. ET, May 4, 2019
Berkshire's running apparel unit Brooks is on fire
Jim Weber isn't worrying about the athleisure trend. The CEO of Berkshire Hathaway-owned sneaker and apparel company Brooks Running, said that his firm is stealing share of much larger companies like Nike (NKE) and Adidas (ADDYY) because it is focusing on hardcore runners.
Weber said sales grew 26% last year and the company has continued to gain momentum so far in 2019. Brooks shoes are more popular at specialty running stores and outdoor sports chains REI and Academy Sports than mall-based retailers like Foot Locker (FL) and Finish Line.
But Brooks clearly is doing fine by courting serious runners. Weber said the company has added nearly 2 million customers in the past year and they are proving to be loyal.
Weber said the company generated about $500,000 in sales at the Berkshire shareholder meeting last year. And based on the long line outside the Brooks booth in Omaha Friday, it looks like a lot of Berkshire shareholders realize that running is a smart thing to do after eating Berkshire-owned Dairy Queen and See's Candies.
4:35 p.m. ET, May 3, 2019
Who will run Berkshire when Buffett is no longer around?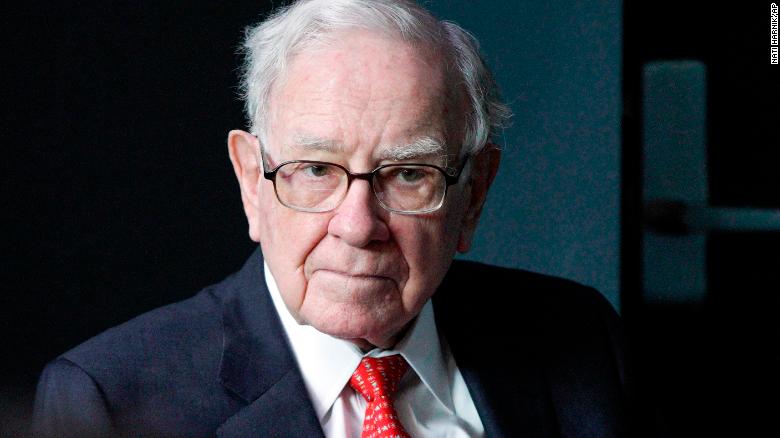 It's a question that needs to be answered. How do you replace the irreplaceable?
Warren Buffet is 88 and won't be the CEO of Berkshire Hathaway (BRKB) forever. Vice chairman Charlie Munger is 95. Someone younger will need to take over.
Odds are, the duties will be split by four top Berkshire executives:
Greg Abel, CEO of Berkshire Hathaway Energy Company
Ajit Jain, Berkshire Hathaway's insurance chief
Ted Weschler and Todd Combs, Berkshire Hathaway's top investment managers
For what it's worth, few expect any major changes at Berkshire after Buffett retires or passes away. All of the heads of insurance businesses now report to Jain and the non-insurance execs report to Abel.
Both Jim Weber, the CEO of Berkshire running shoe subsidiary Brooks, and Dan Calkins, the new CEO of paint giant Benjamin Moore, told me at the shareholder meeting Friday that reporting to Abel isn't too different than having Buffett as a boss.
Abel lets his managers run their business with little interference, but he's there for them as a sounding board for key decisions. They both said that Abel is a big proponent of the "decentralized" approach Buffett is known for when running his businesses.
That means Berkshire Hathaway's corporate culture should live on even after Buffett is gone.
3:16 p.m. ET, May 3, 2019
On the ground at the 'Woodstock for Capitalists'
Berkshire Hathaway's (BRKB) annual shareholder meeting takes place in a giant arena in Omaha. CNN Business' Paul La Monica is in the exhibit hall, where investors and fans alike can see products from dozens of Berkshire-owned companies, like Coca-Cola (KO) and Duracell.
Here's what it's like on the ground:
Berkshire owns nearly 27% of Kraft Heinz (KHC). The stock has plunged nearly 20% this year.
Coca-Cola is one of Buffett's favorite stocks.
Berkshire Hathaway bought the battery company in 2014.
2:51 p.m. ET, May 3, 2019
Greetings from Omaha!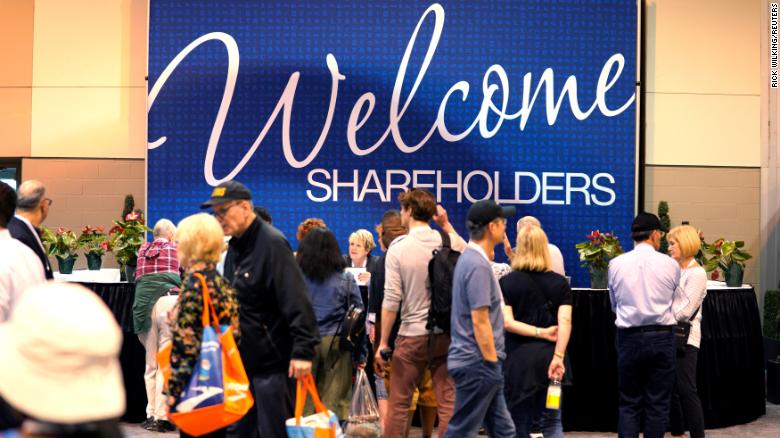 Tens of thousands have descended on this Nebraska city to watch Warren Buffett talk about the market and economy at the Berkshire Hathaway (BRKB) annual shareholder meeting Saturday.
Here are some of the likely talking points for Buffett and Berkshire vice chairman Charlie Munger.