Amazon cancels New York City headquarters
4:44 p.m. ET, February 14, 2019
Former Goldman Sachs CEO defends Amazon, criticizes progressive backlash
Former Goldman Sachs CEO Lloyd Blankfein is defending Amazon and criticizing the progressives who opposed the tech company's decision to build a headquarters in NYC.
Blankfein has been more active on Twitter since leaving the investment bank at the end of last year. He recently fought with Senator Bernie Sanders on the merits of stock buybacks.
4:03 p.m. ET, February 14, 2019
Citi still plans to move most of its employees out of Long Island City
Before: Citigroup had said it would move 1,100 New York employees out of its iconic building in Long Island City ahead of schedule in order to make room for Amazon.
Now: The bank says it still plans to relocate most of its employees even though Amazon has scrapped plans to build out a headquarters in Queens.
From a spokesperson:
"While these transitional plans may change, our long-term plans to relocate most of our current employees in Long Island City to other New York metropolitan area locations have not changed."
Citi's lease at One Court Square is up in 2020, and it has been trying to pare down its real estate in New York.
The bank in 2015 began to move its HQ from midtown Manhattan to two huge buildings in the Tribeca neighborhood of lower Manhattan. That spot will eventually house 12,000 Citi employees.
3:41 p.m. ET, February 14, 2019
New York Governor Cuomo to State Senate: This is your fault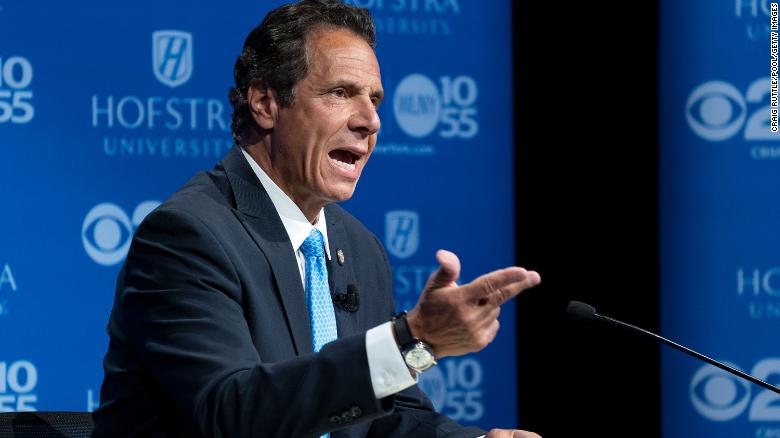 New York Governor Andrew Cuomo once joked that he would change his name to "Amazon Cuomo" to win its HQ2 and the 25,000 jobs the company would bring along with it.
On Thursday, Cuomo, who steered New York's winning bid for Amazon, blamed New York State Senate leaders for pushing Amazon (AMZN) away.
The New York State Senate has done tremendous damage. They should be held accountable for this lost economic opportunity," he said in a statement.
Cuomo said "a small group politicians put their own narrow political interests above their community."
Cuomo took a different tack that New York City Mayor Bill de Blasio, who blasted Amazon earlier on Thursday for reneging on its commitment.
"We gave Amazon the opportunity to be a good neighbor and do business in the greatest city in the world. Instead of working with the community, Amazon threw away that opportunity," de Blasio said.
6:14 p.m. ET, February 14, 2019
Let's start a conversation about 'vulture capitalism,' says NYC official
New York City public officials have criticized Amazon (AMZN) for refusing to negotiate with local opponents over HQ2.
New York City Council Speaker Corey Johnson chimed in on Thursday, saying he is eager to work with companies that are "willing to engage with New Yorkers and work through challenging issues."
Johnson said he hoped Amazon's reversal would start a "conversation about vulture capitalism and where our tax dollars are best spent," a reference to the subsidies Amazon would have received for coming to New York.
"I know I'd choose mass transit over helipads every day," he said.
4:54 p.m. ET, February 14, 2019
It's business as usual in Arlington, Virginia
The chair of the Arlington County Board says it's business as usual in Northern Virginia, which was supposed to split Amazon's HQ2 with Long Island City in Queens.
That means Crystal City can still expect 25,000 Amazon workers over time, as planned.
4:57 p.m. ET, February 14, 2019
Alexandria Ocasio-Cortez: New Yorkers defeated 'Amazon's corporate greed'
Rep. Alexandria Ocasio-Cortez, a public face of the opposition to Amazon's planned move to New York City, celebrated the company's reversal on Twitter.
"Today was the day a group of dedicated, everyday New Yorkers & their neighbors defeated Amazon's corporate greed, its worker exploitation, and the power of the richest man in the world," she said.
6:14 p.m. ET, February 14, 2019
New Jersey governor to Amazon: Come to Newark
Amazon said there are no plans to "reopen the HQ2 search at this time" after dropping New York.
But that isn't stopping New Jersey Governor Phil Murphy from pushing Amazon to give Newark — one of the 20 finalists for the company's second headquarters — another look.
"New Jersey is open for business, and now more than ever, Newark is the clear choice as the next presence for Amazon corporate offices," Murphy said in a statement through his press secretary.
"Amazon now has the opportunity to join in Newark's story of a city on the rise."