All 12 boys and soccer coach rescued from Thai cave
3:39 a.m. ET, July 8, 2018
Boys love soccer, have been invited to World Cup final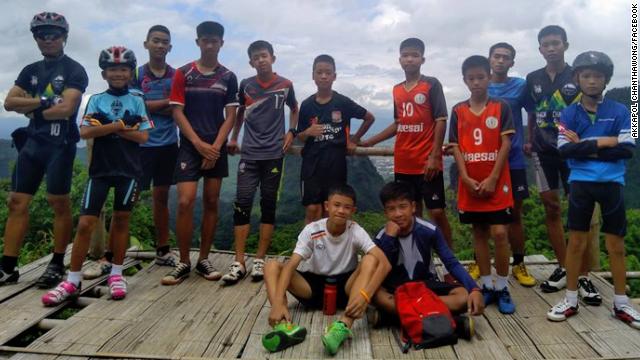 This image of the boys emerged early in the search to find them. It shows the Wild Boar soccer team on one of their regular outings.
The boys live in Mae Sai, a small town in northern Thailand, very close to the border with Myanmar.
The boys, aged 11 to 16, love playing soccer and reportedly asked rescuers inside the cave about the World Cup.
In a letter to the Thai Football Association Thursday, FIFA president Gianni Infantino invited the boys to attend the World Cup final in Moscow.
If, as we all hope, they are reunited with their families in the coming days and their health allows them to travel, FIFA would be delighted to invite them to attend the 2018 World Cup final in Moscow as our guests. I sincerely hope that they will be able to join us at the final, which will be undoubtedly be a wonderful moment of communion and celebrations.
3:12 a.m. ET, July 8, 2018
Governor: Fight against 'water and time'
Rescuers are not taking any chances with the boys' safety. The rescue mission to bring the boys and their coach out will be deliberate and methodical.
But Chiang Rai's Governor Narongsak Osotthanakorn said says it's still a race against time.
"We have two obstacles; water and time. This what we have been racing against since day one.
"We have to do all we can, even though it is hard to fight the force of nature. All we need is a suitable time window, when all conditions are right to carry out the operation. We have been waiting for this right moment."
4:16 a.m. ET, July 8, 2018
United team ready to bring kids home
A post on the Royal Thai Navy SEAL Facebook page shows hands clasped together, with the caption "We the Thai Navy SEALS along with the international diver team, are ready to bring the soccer team home!"
It adds the word "Hooyah," which is the SEALs' battle cry; similar to the US Marines' famous shout of "Oorah."
The rescue team is comprised of five SEAL divers and 13 international divers, Chiang Rai Governor Narongsak Osotthanakorn said.
The earliest they're expected to emerge is 9 p.m. local (10 a.m. ET).
"They will come out separately. Each person will be escorted by two officers," Osotthanakorn said.
It includes the two British divers who found the boys last Monday, a Thai Navy official said.
2:48 a.m. ET, July 8, 2018
Hospital prepares to accept boys
Already weak from spending more than two weeks underground, the boys are expected to be exhausted by the time they're brought out of the cave.
In recent days, rescuers and emergency workers have been staging drills outside the cave's entrance. An area has been cordoned off to clear the way for paramedics to wheel the boys out on stretchers.
Officials have announced that the road leading to Chiang Rai Prachanukroh Hospital will be cleared from 3 p.m. Sunday to allow access for ambulances.
2:42 a.m. ET, July 8, 2018
Water levels low enough to walk out?
Rescue teams have been constantly pumping water out of the cave system, in a race against time before the return of heavy rain forecast for Sunday.
Water levels in parts of the cave are now "low enough to walk through," said Chiang Rai Governor Narongsak Osotthanakorn.
In three of the main chambers -- Chambers One, Two and Three -- water levels have dropped significantly, and in "parts have receded as much as 30 cm (11.8 inches) -- considered the lowest level for the past 10 days," he said.
Divers are expected to escort the boys through the tunnels one by one. Once they reach the command center, the boys will be handed over separate specialist rescue teams, who will assist them through Chambers One and Two, according to a Thai navy official with knowledge of the rescue operation.
2:30 a.m. ET, July 8, 2018
How a lack of oxygen is affecting the Thai soccer team
Low oxygen levels are adding extra urgency to efforts to get the boys out.
Deep underground and sealed in by the floodwaters, oxygen levels in the cave have plummeted dangerously low, to just 15%, Thai Navy Seal chief Rear Adm. Aphakorn Yoo-kongkaew said late last week.
According to the US Department of Labor's Occupational Safety and Health Administration, the "optimal range" of oxygen needed in the air a person breathes in order to maintain normal function is between 19.5% and 23.5%.
Lower levels can result in hypoxia. Read more here.
2:03 a.m. ET, July 8, 2018
Official: Thai PM to travel to site Monday
Thai government spokesman Lt. Gen. Sansern Kaewkamnerd confirmed to CNN that the country's Prime Minister, Gen. Prayut Chan-ocha, is traveling to the rescue site to meet the boys' families and to oversee the rescue operation.
He's expected to arrive July 9.
2:03 a.m. ET, July 8, 2018
Eager to see daylight again
The 12 boys and their coach are aware that the rescue operation has begun, Chiang Rai Governor Narongsak Osotthanakorn said. Their families have also been told, he added.
Rescuers are confident the boys are strong enough to make the hours-long journey out of the cave. They've been fed packs of energy gel since they were found deep inside the cave on Monday, July 2.
Oxygen levels inside the cave are low, but tanks have been dispersed along the route out. Concerns about access to adequate supplies were raised on Friday when a former Thai Navy SEAL died when he ran out of air on his way out of the cave.
1:36 a.m. ET, July 8, 2018
Boys send notes to their parents
On Saturday the boys were able to send the first personal messages to their parents in two weeks.
In a joint letter they said, "don't worry, everybody is healthy," and asked their teachers not to give them too much homework.
In separate notes to their families, written in faint blue ink on lined paper, many boys told their parents they loved them. 
Titun, the youngest member of the trapped Wild Boar soccer team, said he wanted to eat fried chicken.
His father told CNN when his soccer-mad boy comes home he can have anything he wants.
​