Sri Lanka attack death toll rises to 290
4:45 p.m. ET, April 21, 2019
A memo warning of an attack was circulated in advance, police source says
Before the blasts on Sunday, a memo warned of a potential attack and requested heightened security, a police source tells CNN.
The memo was dated April 11 and was signed by Sri Lanka's deputy inspector general of police.
Sri Lankan Minister of Telecommunication Harin Fernando tweeted a picture of the memo on Sunday.
"Some intelligence officers were aware of this incidence. Therefore there was a delay in action. What my father heard was also from an intelligence officer. Serious action need to be taken as to why this warning was ignored. I was in Badulla last night," he wrote.
CNN obtained a copy of the memo. Here's what it says:
April 11, 2019
 
Director/ Ministerial Security Division
Director/ Judicial security division
Director/ Retired presidents security Division
Acting Director/ Diplomatic security Division
Acting Director/ Retired presidents security Division
 
INFORMATION OF AN ALLEGED PLAN ATTACK
 
Reference to the letter of the defence ministry with regard to the above and the statement of IGP dated 2019.04.09 ref : STAFF05/IGP/PS/OUT/2860/19,
 
2. We would like to draw your special attention to the a page no 2 to 4 of the statement of the State Intelligence service stating that information has been received regarding an alleged plan of  suicidal attack by the leader of  ' Nations Thawahid Jaman ' Mohomad Saharan .
 
3. According to information of that statement ,would like you to give special attention and inform your staff to provide special security measures to the areas covered by your division. 
 
Priyalal Dissanayake
Deputy Inspector General of Police
4:22 p.m. ET, April 21, 2019
This is what Sri Lanka looks like in Google Maps
When you look at Sri Lanka in Google Maps, you see red dots with exclamation points marking the locations where the attacks happened on Sunday -- in the cities of Colombo, Negombo and Batticaloa.
Clicking on one of those red dots yields phone numbers for emergency services, including the police hotline, the fire department, ambulances and tourist police.
There's also a hotline to assist families of foreign nationals who have been affected by the attacks. The victims include citizens of at least eight other countries in addition to Sri Lanka.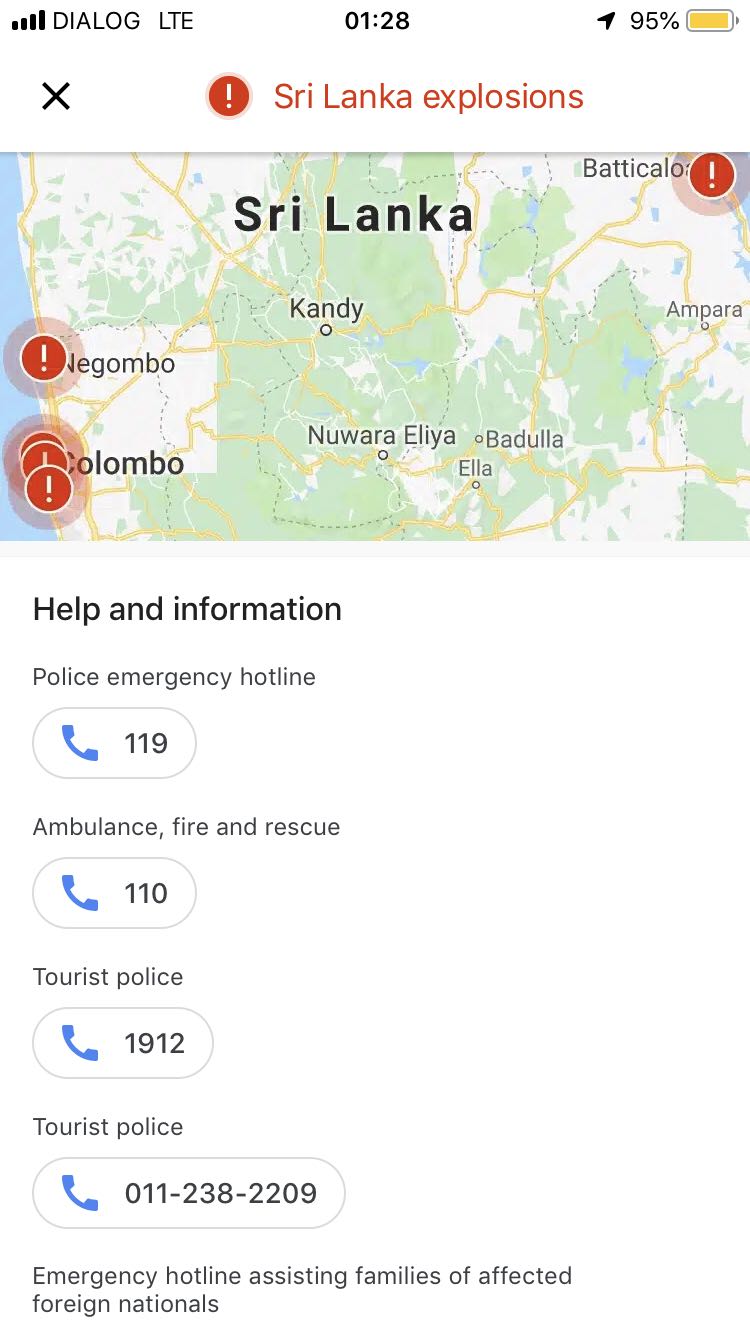 4:12 p.m. ET, April 21, 2019
DHS says it's not aware of any threats in the US right now
The Department of Homeland Security said it's not aware of any credible or active threats in the United States as of now.
In a statement responding to the attacks in Sri Lanka, Homeland Security Acting Secretary Kevin McAleenan said the department is monitoring the situation and "doing all it can to protect the homeland from potential violent extremists."
"DHS stands resolutely with persons of every faith who look to worship in safety and peace. We will continue our work with partners around the world to ensure that all are able to worship without fear," the statement read.
As a precaution, the New York Police Department is implementing heightened security measures at houses of worship across the city. New York State police are also increasing patrols at religious institutions.
2:12 p.m. ET, April 21, 2019
Mike Pence calls the blasts 'an attack on Christianity'
US Vice President Mike Pence called the attacks in Sri Lanka "an attack on Christianity & religious freedom everywhere," and said that he and President Donald Trump were monitoring the situation.
".@POTUS and I are monitoring the horrific attacks on those celebrating Easter in Sri Lanka. Our hearts & prayers are with the victims & their families. This atrocity is an attack on Christianity & religious freedom everywhere. No one should ever be in fear in a house of worship," Pence wrote on Twitter.
1:50 p.m. ET, April 21, 2019
Facebook say it's working to remove content that violates its standards
No one has claimed responsibility for the attacks yet, and the Sri Lankan government blocked social media sites, including Facebook and Instagram, while investigations are taking place.
Facebook has been working to identify and remove content that violates its standards, according to a statement from a company spokesperson. The company also said it was working to support law enforcement and first responders.
Here's the statement in full:
"Our hearts go out to the victims, their families and the community affected by this horrendous act. Teams from across Facebook have been working to support first responders and law enforcement as well as to identify and remove content which violates our standards. We are aware of the government's statement regarding the temporary blocking of social media platforms. People rely on our services to communicate with their loved ones and we are committed to maintaining our services and helping the community and the country during this tragic time."
1:40 p.m. ET, April 21, 2019
Hotels are being asked to heighten security
Sri Lanka's Tourism Development Authority has requested that hotels in the country take maximum measures to strengthen security.
Three luxury hotels in Colombo, the Cinnamon Grand, Shangri-La Hotel and The Kingsbury, were targeted in the blasts on Sunday morning. By the afternoon, a hotel in front of the Dehiwala Zoo in Dehiwala-Mount Lavinia had also been attacked.
The agency also urged the public to refrain from sharing unverified information about the attacks.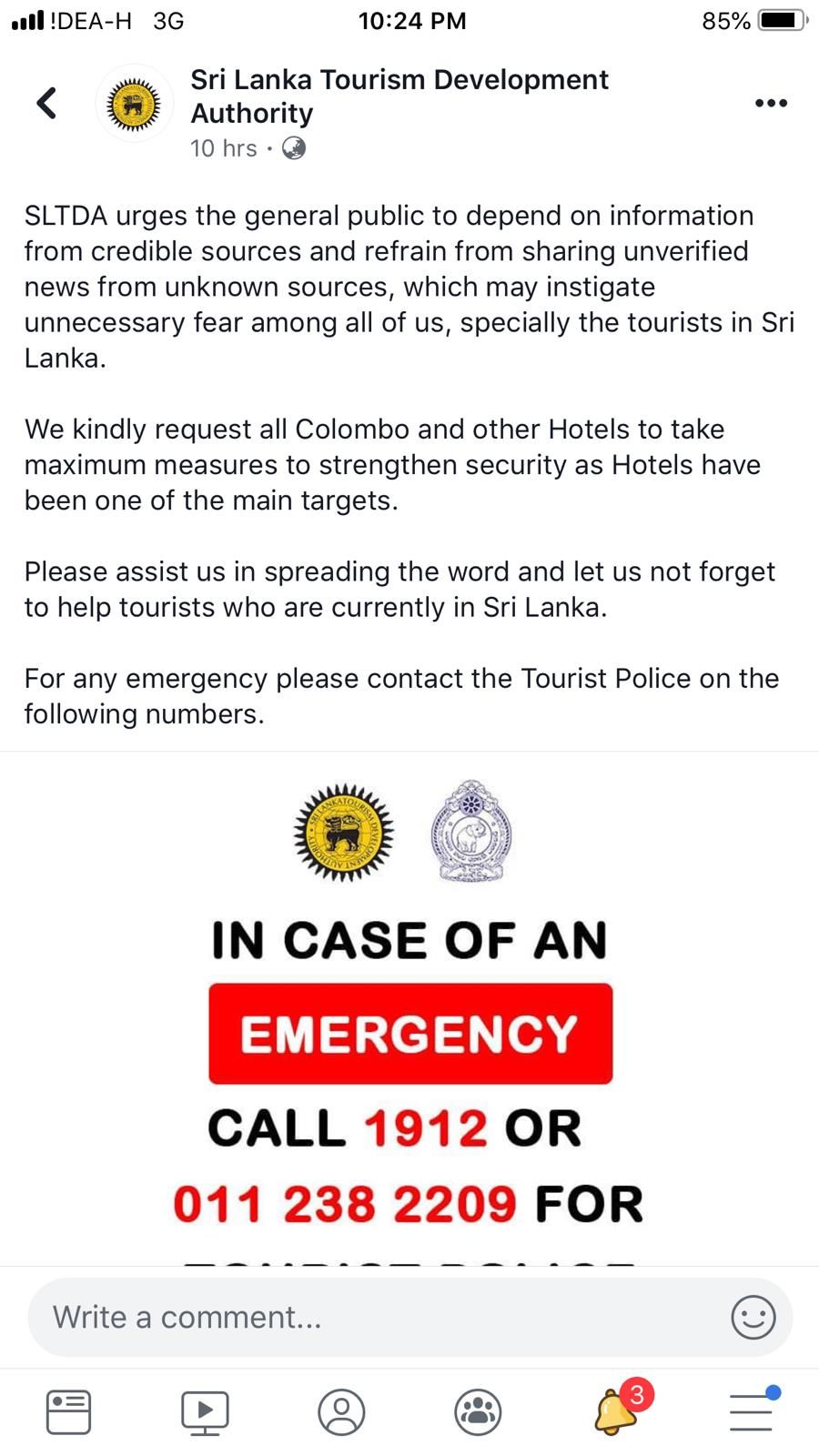 1:18 p.m. ET, April 21, 2019
The Eiffel Tower will go dark in honor of the victims
The Eiffel Tower will turn off its lights starting at midnight tonight to pay tribute to the victims of the attacks in Sri Lanka.