North and South Korean leaders hold historic summit: Highlights
12:46 a.m. ET, April 27, 2018
How Kim Jong Un got Moon Jae-in to step across line into north
Moon Jae-in briefly crossed the military demarcation line (which divides the two sides of the demilitarized zone) from South to North during his first encounter with Kim Jong Un.
It was an impromptu decision by both sides, a spokesman for Moon explained.
The spokesman said Moon complemented Kim on his courage by crossing into the South. When he asked Kim when it would be possible for him to visit the North, Kim said: "Maybe this is the right time for you to enter the North Korean territory."
12:14 a.m. ET, April 27, 2018
What South Koreans think about the summit
CNN talked to South Koreans to get their thoughts about the historic summit with North Korean leader Kim Jong Un.
Here's what they told us:
Jay Kang, 39, shoe store owner
"Both North and South Korea should be united one day. Both sides have their own disadvantages. It limits the size of the country, the population. It limits our resources and natural resources. The retail market for example is not big enough for an internal economy expansion. If we are looking to export, we need to grow. Why not start by growing our own country?" 
Lee Byung-gil, 50
"I'm welcoming it. I think that it is a good opportunity to start a conversation. I cannot predict the results. The kinds of reactions that they have shown so far … They weren't faithfully fulfilling the promises. Instead of expecting any big results, I think it is important to take first steps."
Lee Hee-young, 58 
"Although I am one of the Korean citizens who think North and South Korean must be unified, I have much worries. North Korean leader Kim Jong Un has murdered his uncle and murdered his own half-brother. I am worried whether we will be able to have a good conversation with such a fearsome person like that through the inter-Korean summit. However, North Korea and we are brothers, and I think the way to go and to survive is North and South Korean unification."
Seo Dong-woo, 20
"You gotta meet at least once to talk some good things and to be able to talk about things they couldn't talk before, so I think it's a good opportunity. I think good results will come out. I think we'll be a step closer to peace."
11:46 p.m. ET, April 26, 2018
Who's at the table for the first inter-Korean summit meeting
Six people were seen at the round table inside the meeting room at the start of today's summit.
On the North Korean side, Kim Jong Un sat alongside his sister Kim Yo Jong and top government official and former spy chief Kim Yong Chol.
Flanking Moon Jae-in were Suh Hoon, the head of South Korea's spy agency, and Chief Presidential Secretary Im Jong-Suk.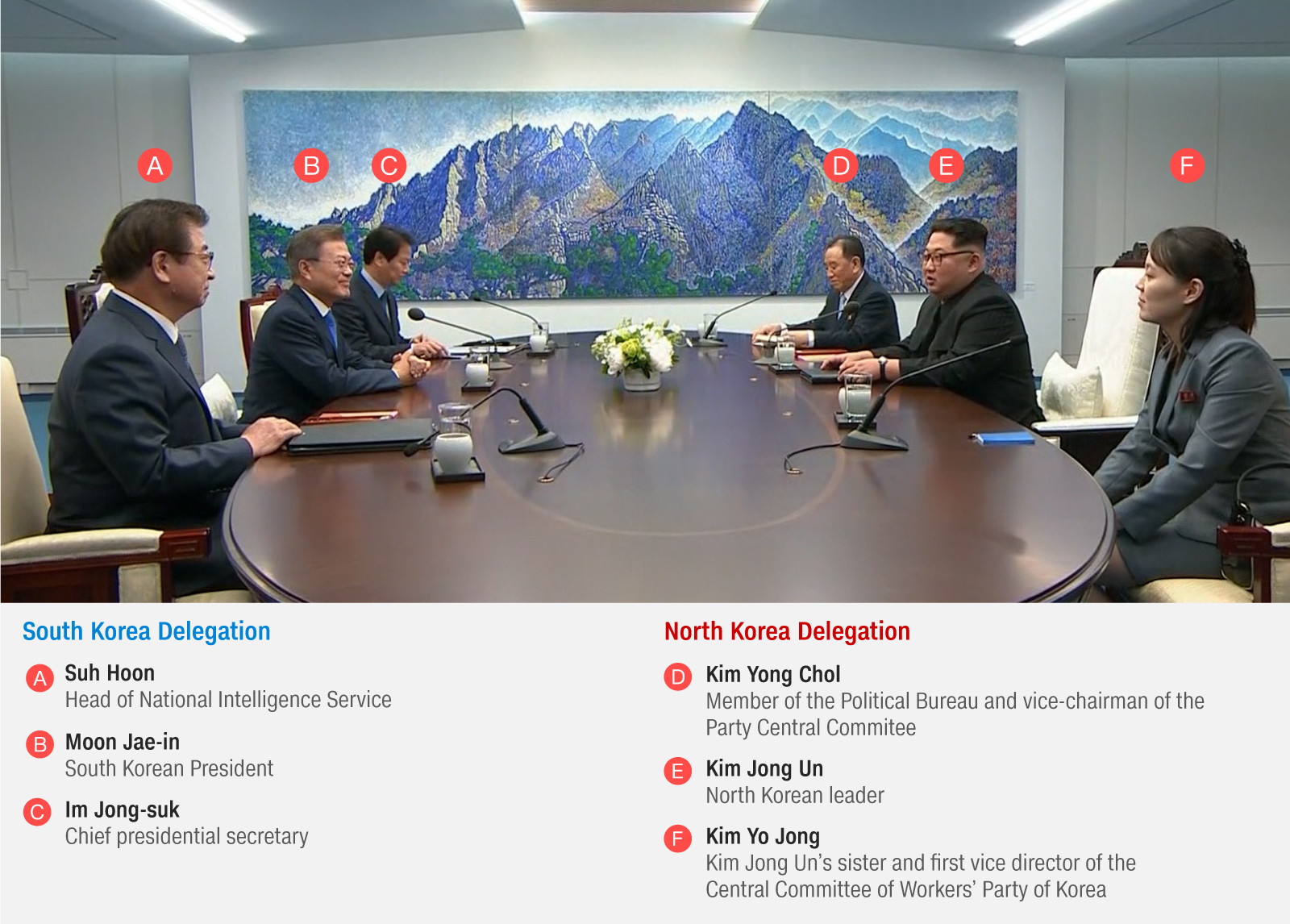 11:34 p.m. ET, April 26, 2018
Instant analysis: What the experts are saying about the summit's first moments
Adam Cathcart, editor of SinoNK.com and a lecturer at Leeds University:
Both Kim Jong-un's written inscription and opening statement upon arrival seemed to emphasize the need for a new beginning -- which is surely pragmatic, but also makes me wonder to what extent it is a means of trying to put North Korea's nuclear weapons into the category of "old and established conflicts" which need not be revisited in the interests of forging new cooperation.It's also interesting that trying to start with a clean slate internationally in 2018 in some ways runs counter to what he has been doing domestically, to an almost clinical extent, namely associating himself fully with his predecessors and in full alignment with North Korea's own history.
Adam Mount, director of the Defense Posture Project at the Federation of American Scientists:
Moon Jae-in has a vision of peaceful coexistence with North Korea. It is the right vision. Over time, the United States and South Korea can as allies deter and contain, disarm and reform the regime -- but this is only possible if we commit ourselves to a long term strategy to do so. The success of this summit will not be known today but will depend on the reactions from Washington and Pyongyang over the coming days and weeks. North Korean cheating and US ambivalence has caused the collapse of all previous openings.
Anwita Basu, analyst at The Economist Intelligence Unit:
The two leaders will focus primarily on prospects of lasting peace on the Korean Peninsula. Moon Jae-in will prioritize denuclearization today and will try to establish pressure points as will Kim. Economic cooperation will certainly be touched upon but this will be used as an exercise by both the leaders to get a sense of where the other stands in terms of compromise. The stakes are high and a fall-out at this stage will certainly make it impossible to draw a lasting peace accord. 
11:53 p.m. ET, April 26, 2018
The view from South Korea, China and Japan
Friday's summit will be viewed from different angles by Asia's various regional powers. Here's a snapshot:
South Korea
From CNN's Paula Hancocks near the DMZ:
A peace deal is something the Blue House has specified they want to happen. South Korea would be happy if Moon Jae-in at the end of the day could say, yes, we declare an end to war.
China
From CNN's Matt Rivers in Beijing:
There is absolutely concern here in China that they are not going to have a seat at the table. Let's say things go well today. Let's say that the meeting between Kim and Trump goes well. Do negotiations over the North Korean nuclear program consist of those three countries alone? That would be something that China would be very upset by. So they're doing everything they can to make suer they're influencing North Korea in whatever way they can.
Japan
From CNN's Junko Ogura in Tokyo:
Japan has applauded South Korea's efforts in organizing today's inter-Korean summit and says it expects "positive discussions" in order to solve issues such as "abductions, nuclear and missiles," Chief Cabinet Secretary Yoshihide Suga said at a regular news conference on Friday.
11:55 p.m. ET, April 26, 2018
Kim Jong Un is off to lunch
Kim Jong Un has traveled back to the North Korean side of the demilitarized zone as the two sides break for lunch. He entered a black Mercedes-Benz limousine surrounded by bodyguards, which then drove across the military demarcation line -- with the guards running beside the vehicle.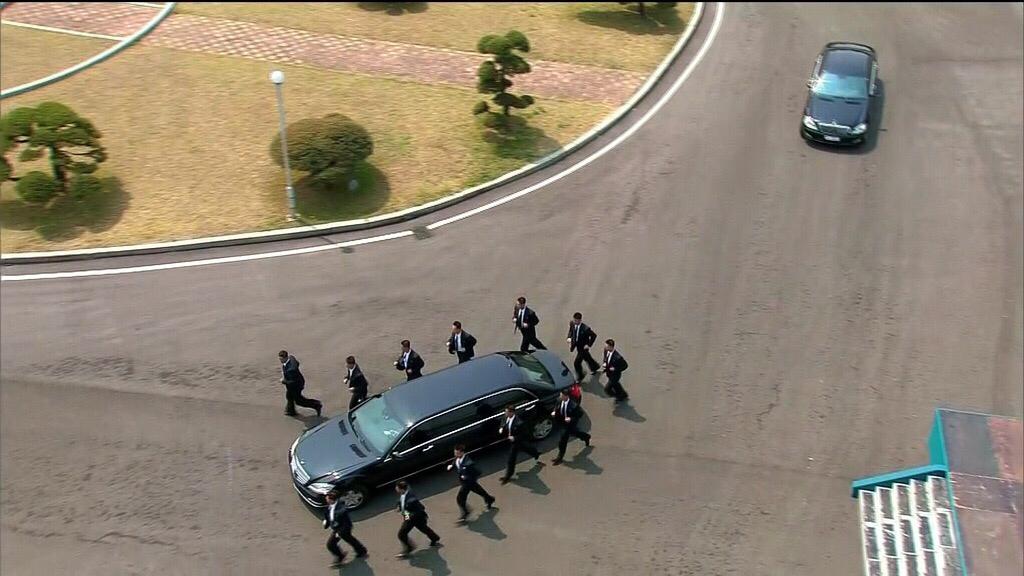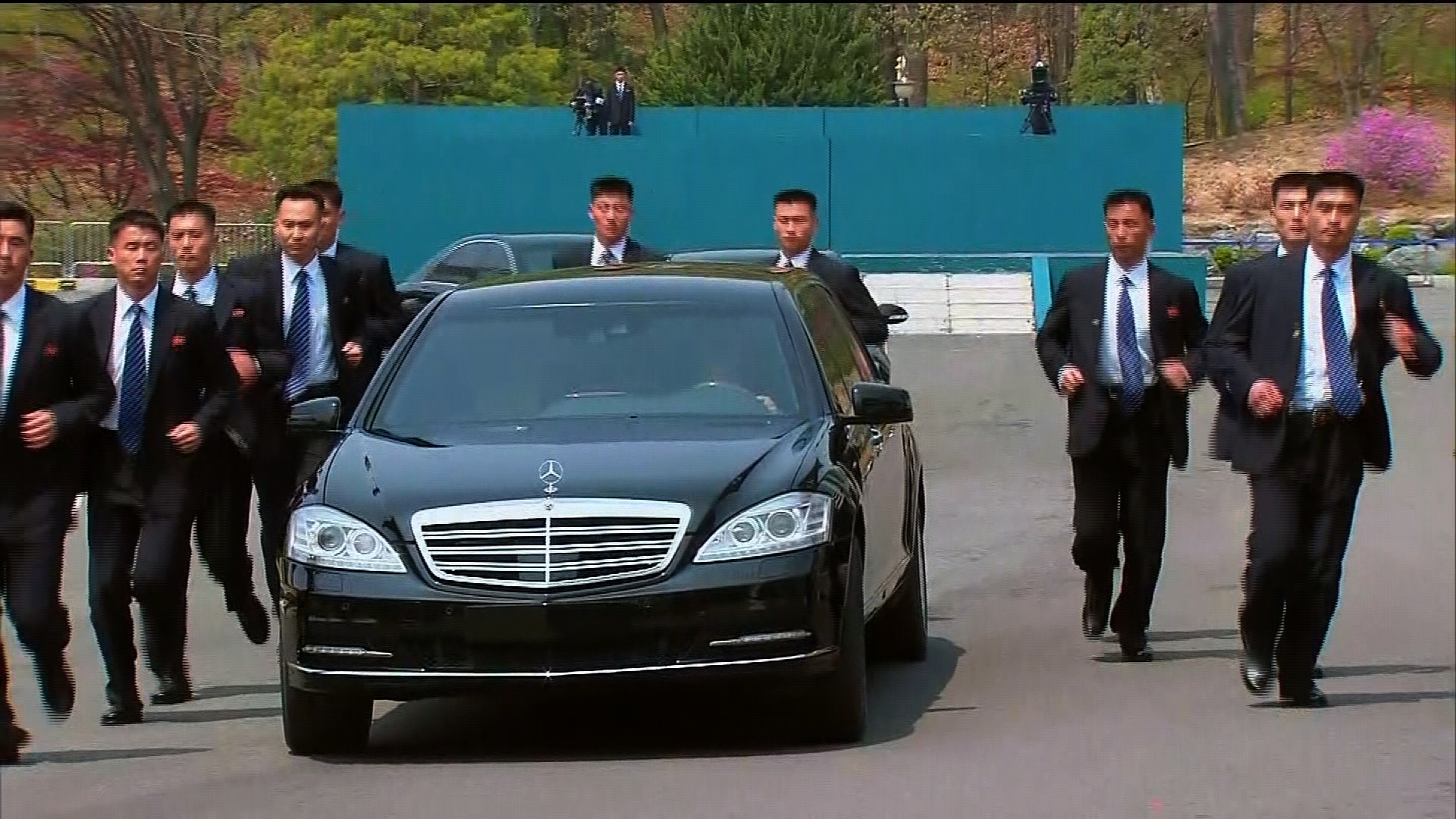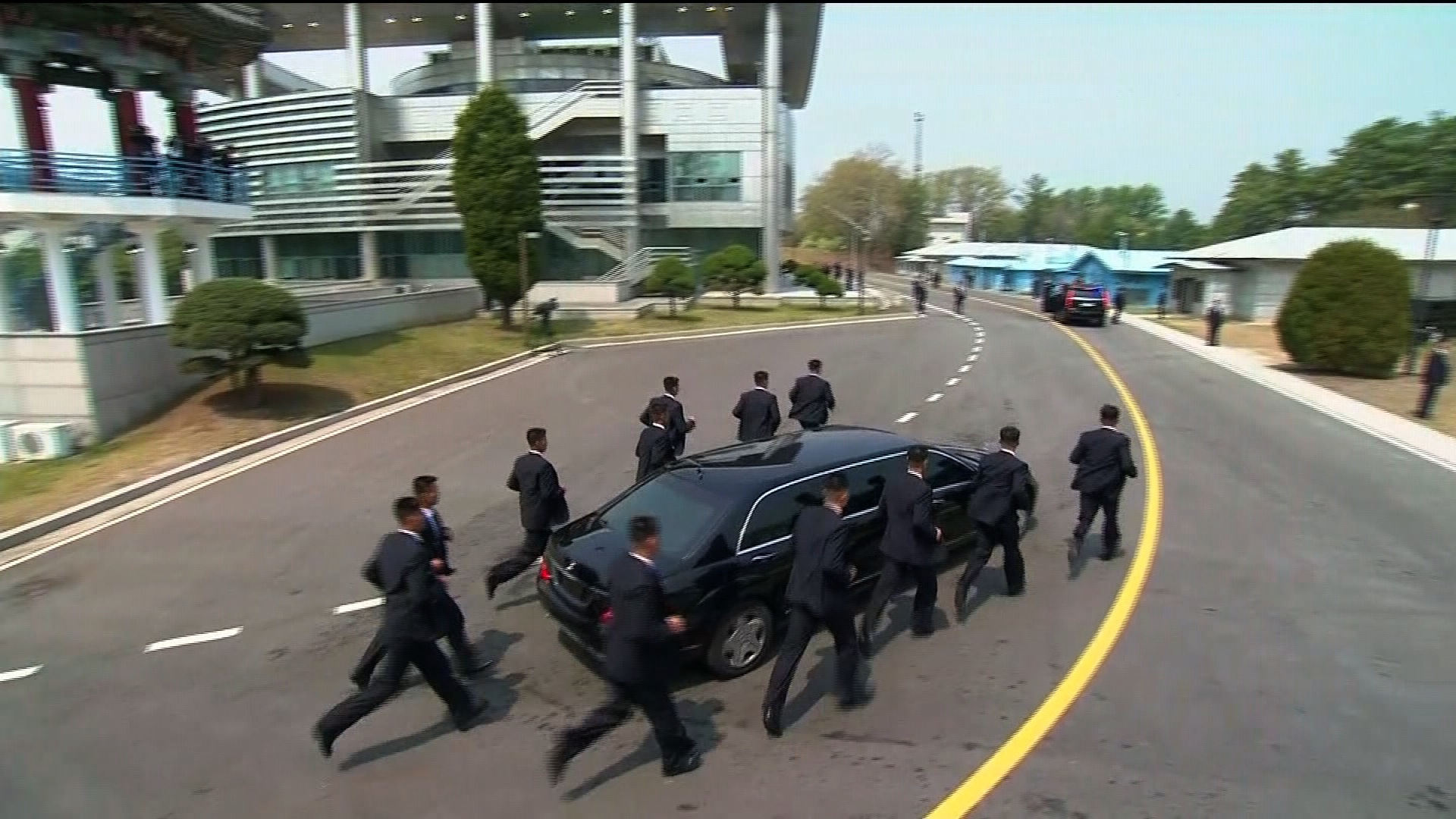 CNN's Will Ripley, who has traveled to North Korea more than a dozen times, said Kim's security detail is both impressive and intimidating.
Even at events that he MIGHT attend in Pyongyang, they surround the perimeter of the building and conduct hours-long extensive security checks for everyone attending, including confiscating all phones. I remember going to a concert once, going through five hours of security, and Kim Jong Un never showed up.
11:01 p.m. ET, April 26, 2018
Here's what happens after the first closed-door meeting
Kim and Moon are expected to go their separate ways for lunch, and then meet up again to plant a pine tree from 1953 (the year the Korean War armistice was signed).
The pine tree is a symbol of strength but also mindfulness in Tae Kwon Do, a Korean form of martial arts, because it grows strong roots below ground and high above it.
10:41 p.m. ET, April 26, 2018
The military demarcation line is now a "symbol of peace," Moon says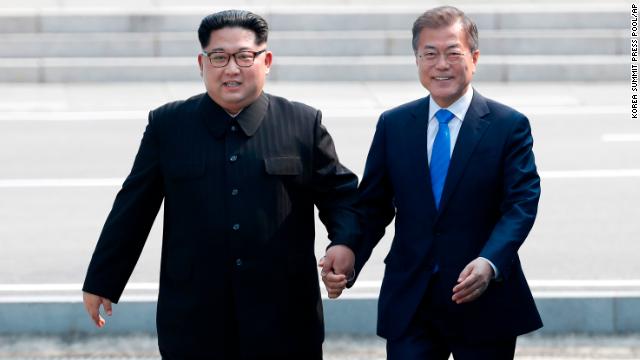 South Korean President Moon Jae-in said that as North Korean Leader Kim Jong Un crossed the military demarcation line (MDL), it became a symbol of peace, as he made his opening remarks at the beginning of the first inter-Korean summit in more than a decade.
"Chairman Kim, for the first time in our history you crossed the military demarcation line," Moon told Moon told North Korean leader Kim Jong Un and North Korean delegation as they began talks. "The military demarcation line is no longer a symbol of division but a symbol of peace."
"I would like to pay tribute to the courageous and bold decision made by you chairman Kim to arrange our meeting," he said.
Moon echoed Kim's assertion that their encounter was extremely important and that expectations on both of them were very high. "I believe our encounter is extremely important for all of us and that of course means there is a huge burden on our shoulders," Moon said.
He went on to say that after not speaking for so long, he could talk to the North Korean leader the entire day.
"Over the past seven decades we weren't able to communicate, so I think we can talk the whole day today," Moon said, drawing laughs from Kim.
11:08 p.m. ET, April 26, 2018
Who's who at the inter-Korean summit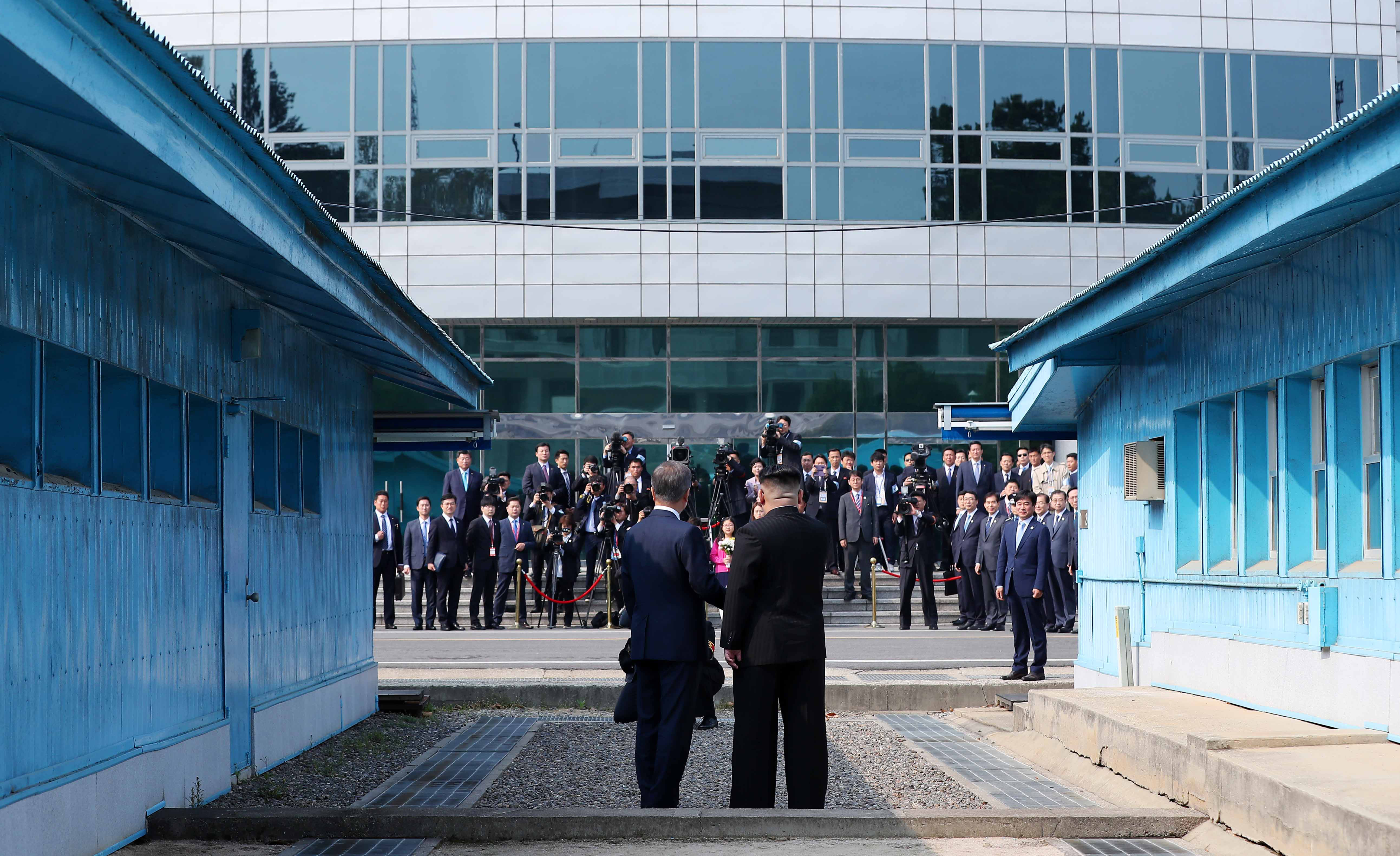 Kim Jong Un and Moon Jae-in brought delegations with them for today's talks. Here are some of the key people on both sides.
Kim's side:
Kim Yong Nam, North Korea's ceremonial head of state. Kim was part of the delegation that traveled to the opening ceremony of the Winter Olympics in South Korea in February.
Kim Yong Chol, vice-chairman of the Party Central Committee of the Workers' Party of Korea (WPK). He was previously the country's spy chief and is widely believed to have masterminded the sinking of a South Korean navy ship that killed 46 sailors in 2010. He led the North's delegation to the closing ceremony of the Winter Games.
Kim Yo Jong, Kim Jong Un's sister. She is the first vice director of the Central Committee of the WPK and runs the country's Propaganda and Agitation Department. In February, Kim became the first member of her family ever to travel into South Korea since the Korean War, leading her country's delegation to the Winter Olympics. She personally extended an invitation from Kim Jong Un to Moon Jae-in to travel to North Korea.
Moon's side:
Chung Eui-yong, South Korea's national security chief. Chung led the delegation that traveled to Pyongyang last month to meet with Kim Jong Un ahead of today's summit. He then traveled to Washington to brief US President Donald Trump on his meeting with Kim.
Suh Hoon, the head of the South Korean National Intelligence Service. Suh was also a member of the delegation sent to Pyongyang and went with Chung to Washington.
Cho Myoung-gyon, the head of South Korea Unification Ministry.
Kang Kyung-wha, South Korea's foreign minister.
Song Young-moo, South Korea's defense minister.