Dozens killed in Christchurch mosque attack
12:50 p.m. ET, March 16, 2019
Shooting suspect visited Pakistan in 2018
A hotel owner confirmed to CNN that Christchurch shooting suspect Brenton Tarrant visited Pakistan in October 2018.
"He was a regular tourist," owner Syed Israr Ahmed told CNN. "All I remember was that he was a fan of local food. He would leave the hotel in the morning and come back in the evenings." 
Ahmed owns Osho Thang Hotel in Pakistan's northern town of Nagar. He posted a picture of Tarrant online when he visited the hotel but has since removed it.
Six Pakistanis were among the 49 people killed in the mass shooting on Friday, Pakistan's Foreign Ministry confirmed.
12:38 p.m. ET, March 16, 2019
New Zealand Police Association supports call for gun law changes
The New Zealand Police Association says it fully supports Prime Minister Jacinda Ardern's calls to change the country's gun laws.
"Jacinda Ardern has said emphatically that New Zealand's gun laws will change and that now is the time for that change," Police Association President Chris Cahill said in a statement.
Cahill added that the debate that New Zealand is about to have on access to certain firearms should be short and swift.
"There is no place in the upcoming debate for the radical gun lobby which has made its presence felt in previous attempts to make our country safer," he said. "That input undoubtedly contributed to the rejection of most of the select committee recommendations on tightening our gun laws."
He continued:
"We have seen what happens in the United States when gun radicals are involved. Nothing. That is not good enough for New Zealand."
New Zealand's weapons legislation is considered more relaxed than most Western countries outside of the US. Gun owners do need a license but they aren't required to register their guns -- unlike in neighboring Australia.
That said, gun-inflicted deaths are relatively low in New Zealand. 
11:40 a.m. ET, March 16, 2019
UK official calls on tech companies to stop video of attack from spreading
United Kingdom Home Secretary Sajid Javid called the livestreaming of the New Zealand attack "absolutely repellant," and called on tech companies to do more to stop the video from spreading.
"Online platforms have a responsibility not to do the terrorists' work for them," Javid wrote in an article for The Daily Express on Saturday.
He added that the attacker filmed the shooting "with the intention of spreading his ideology."
"Allowing terrorists to glorify in the bloodshed or spread more extremist views can only lead to more radicalisation and murders," Javid said.
Javid also called upon people to stop viewing and sharing the "sick material."
He mentioned a new policy proposal that will be introduced in the UK to ensure that tech companies that don't "clean up their platforms" would have to answer to the law.
11:17 a.m. ET, March 16, 2019
Far-right Italian official: Only extremism that 'deserves attention' is Islamic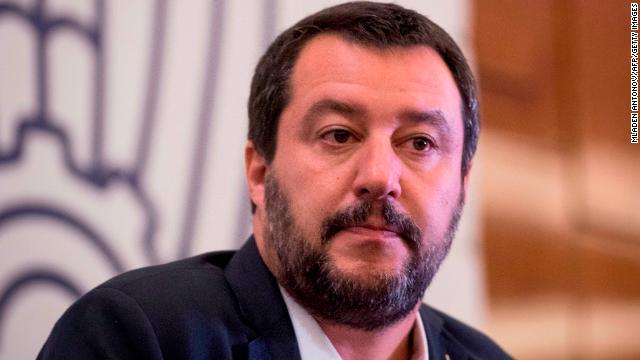 Italy's Minister of the Interior Matteo Salvini was asked whether attacks like the one in New Zealand could happen in his home country because of his aggressive, anti-immigrant rhetoric.
"The only extremism that deserves attention is the Islamic one," Salvini said on Friday.
The far-right politician added that while any violence linked to extremists should be condemned, other forms of extremism like the right-wing extremism that inspired the New Zealand attacks were just "nostalgia."
"The fringes of the extreme right and the extreme left represent nostalgia, removed from world and from time, deserving of moral condemnation," Salvini said. "If there is an extremism for which I set the goals of the acts I sign at the Ministry of the Interior, it is extremism of an Islamic mould."
Salvini has clashed with the European Union over his extreme stance on immigration.
9:13 a.m. ET, March 16, 2019
Syrian refugee among the dead
Khaled Mustafa, a refugee from Syria, was killed in the attack on Friday, Syrian Solidarity New Zealand said on its Facebook page. He was with his two sons during Friday Prayers when the shooter opened fire.
"Khaled Mustafa is a Syrian Refugee who has come with his family (wife and three children) to NZ, which they thought was the safe heaven, in 2018," Syrian Solidarity New Zealand said. "One of Khaled's two sons has gone under a six hour operation last night in Christchurch Hospital." 
The group's spokesperson, Ali Akil, told New Zealand news media company Stuff that he had spoken to Mustafa's wife, who was "devastated and deeply horrified." He added that she did not wish to speak with the media during this time, Stuff reported. 
9:10 a.m. ET, March 16, 2019
Synagogues close in New Zealand on "police advice"
Synagogues and Jewish community centers in New Zealand are reportedly being closed on Sunday, following Friday's shooting attack at two mosques in Christchurch.
"For the first time in history synagogues in NZ are closed on Shabbat following the shocking massacre of Muslims in Christchurch," Israeli politician Isaac Herzog tweeted Friday.
Herzog added that "the Jewish Agency and the NZ Jewish Council stand in solidarity with the bereaved families. We are united in fighting violent hatred and racism." Herzog was recently elected chairman of the Jewish Agency for Israel.
The Wellington Jewish Community Centre on New Zealand's North Island informed worshipers that on Facebook that the center would be closed on "police advice."
"The Wellington Jewish Community Centre will be closed and all activities suspended tomorrow Sunday 17 March on Police advice. Community members should check their email and our member Facebook group for more information and updates. We hope to have an update Sunday," the center wrote.
8:10 a.m. ET, March 16, 2019
Events cancelled as New Zealand sport responds to tragedy
Few countries are more closely associated with sport than New Zealand - but sporting events are taking a back seat this weekend after Friday's terror attack.
A cricket test match between New Zealand and Bangladesh, due to be held in Christchurch's Hagley Oval on Saturday, was cancelled. Bangladesh players had been staying in a hotel in the city when the attacks took place, but the team confirmed all players were safe.
The Plunket Shield, a domestic cricket competition, was also decided with a round of fixtures to go. Canterbury were still in contention to win the trophy, but agreed to withdraw from the running after the attack.
"This isn't about cricket; it's about something much bigger and much more important than that. It's about life, it's about respect; it's about family and community," New Zealand Cricket CEO David White said in a statement.
A rugby game between the Highlanders and Crusaders, due to be played at Dunedin's Forsyth Barr Stadium, was also cancelled. The 28-year-old shooter had been living in Dunedin, a city about 225 miles from Christchurch, New Zealand's Prime Minister Jacinda Ardern said.
New Zealand's world-leading rugby team, the All Blacks, also shared condolences after the attack.
8:51 a.m. ET, March 16, 2019
Police move flowers from memorial to lay outside mosque that is taped-off from the public
Police in Christchurch have been receiving praise on social media for their response to Friday's attack.
One video, which has been liked over a thousand times, shows police officers taking flowers from a memorial into their police car so they can place them outside Al Noor mosque, which is taped-off from the public.
Meanwhile, Canterbury Police - who represent the region to which Christchurch belongs - have thanked people for donating food.
"Cantabrians are so generous," they wrote. "The family assistance centre at Hagley College has more than enough food! Thank you to everyone who has supported its efforts so far but no more food is required at this stage."
7:47 a.m. ET, March 16, 2019
Suspect "visited Bulgaria last year"
More details about the shooting suspect's travels throughout Europe are emerging.
28-year-old Brenton Tarrant, who appeared in court Saturday, visited Bulgaria between November 9 and 15 of last year, Bulgarian Prosecutor General Sotir Tsatsarov told journalists on Friday, according to state news agency BTA.
Tarrant arrived in Sofia on a flight from Dubai, rented a car the next day and toured cities connected with Bulgarian history, Tsatsarov said according to BTA. He added that the New Zealand attack suspect had a very good knowledge of the region's history.
"Our task is to collect information about Brenton Tarrant's whole visit to Bulgaria and whether he has any ties with Bulgarians," Tsatsarov said according to BTA. "According to the preliminary information, the Australian had a tourist visa".
Tsatsarov also told journalists that after leaving Bulgaria, Tarrant went to Romania, traveling from there to Hungary by car.
Turkish officials also told CNN on Saturday that the suspect had spent an extended period of time in Turkey.