Dozens killed in Christchurch mosque attack
12:39 a.m. ET, March 15, 2019
Explosive devices were attached to vehicles
New Zealand police commissioner Mike Bush told reporters that there were multiple improved explosive devices attached to vehicles as part of the attack.
Bush said these had been "made safe by the defense force."
"This goes to the seriousness of the situation," he said.
He said that police were not assuming the situation was limited to Christchurch at this stage.
12:39 a.m. ET, March 15, 2019
New Zealand police have four people in custody
New Zealand police commissioner Mike Bush said police have arrested four people in the wake of Friday's attacks on two Christchurch mosques.
Three of those in custody were men and one was a woman, Bush said.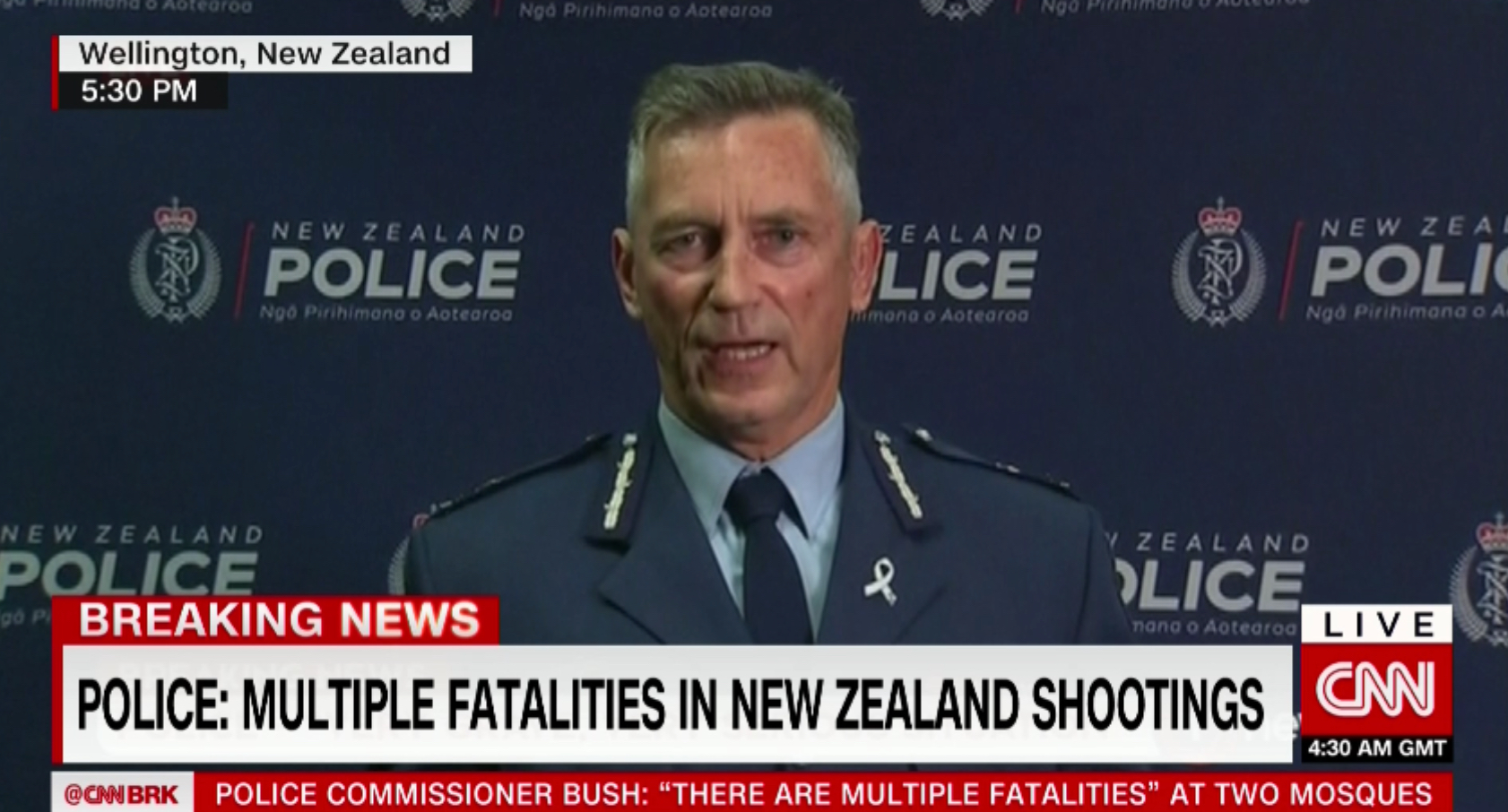 12:27 a.m. ET, March 15, 2019
What we know so far about the Christchurch mosque shootings
New Zealand police are expected to hold a press conference in under ten minutes, but here is the information we have so far of the Friday afternoon attacks in New Zealand.
Two mosques were attacked by at least one gunman in Christchurch, beginning at around 1.40 p.m. local time, causing multiple fatalities.
Police say they have one man in custody but can't rule out other gunmen still on the run. They say it is still an "active situation."
Witnesses said one gunman was "white, aged in his 30s or 40s and wearing a uniform."
Police have not released a death toll yet. They are telling mosques across New Zealand to shut their doors until told the situation is safe.
Christchurch is on shut down with no people being allowed in or out of government buildings or schools. People are being told to stay off the streets.
Prime Minister Jacinda Ardern has described the shootings as "one of New Zealand's darkest days."
Police have asked social media users to not share a video believed to show one of the shootings in graphic detail.
12:17 a.m. ET, March 15, 2019
Christchurch mayor: "This is still an active situation"
In a message posted to Facebook, Christchurch mayor Lianne Dalziel has said all government facilities remain on lockdown.
"This is still an active situation, the police are still doing everything that they can to get the situation under control," she said.
"We're not letting people in and we're not letting people out," she said.
Dalziel assured all parents whose children were inside the city's school that they were safe.
"There's a lot of speculation happening right now and all we can do is trust the police to do what they do best," she said.
1:04 a.m. ET, March 15, 2019
"The biggest mosque in all of Christchurch," says local journalist
Journalist Chris Lynch, a radio host on New Zealand station ZB Radio, told CNN that one of the shootings had occurred at "the biggest mosque in all of Christchurch" and described it as "very peaceful."
Lynch went on to describe how there is "literally nobody on the street" right now, adding that the scene was "quite stunning in some respects."
He described Christchurch as a "very peaceful city" that is still getting over the devastating 6.3 magnitude earthquake that hit in 2011.
"That (earthquake) brought all the skyscraper buildings down and this is one of the reasons why people are fearful, I feel," he told CNN.
12:04 a.m. ET, March 15, 2019
New Zealand police: Don't share video of the shooting
Police has asked social media users to stop sharing graphic footage circulating online relating to the incident in Christchurch.
"We would strongly urge that the link not be shared. We are working to have any footage removed," the New Zealand police said.
Police earlier told CNN they were "aware" of a specific video, but were unable to confirm or deny its veracity.
The disturbing video which has not been verified by CNN, purportedly shows a gunman walking into the mosque and opening fire.
CNN is choosing not to publish additional information regarding the video until more details are available.
11:57 p.m. ET, March 14, 2019
Watch New Zealand Prime Minister Ardern's speech
Speaking to the media on Friday, NZ PM Jacinda Ardern said migrants and refugees could have been caught up in the attack.
"They have chosen to make New Zealand their home and it is their home. They are us," she said.
New Zealand police are due to speak to the media in less than 10 minutes.
11:54 p.m. ET, March 14, 2019
Bangladesh cricket team almost caught up in mosque shooting
The Bangladesh cricket team was just pulling up at one of the two targeted mosques as the attack began, the team's coach told CNN.
A video posted to Twitter showed the Bangladesh sportsmen walking away from the mosque as a police car heads in the opposite direction, sirens wailing.
The team were due to play against the New Zealand team in the coming week, but local media reporting the match has been cancelled.
11:44 p.m. ET, March 14, 2019
New Zealand only has a small Muslim population
Just 1% of New Zealand's population of almost five million are Muslim, according to government statistics, less than 50,000 people in 2013.
"Muslims are the most rapidly growing religious group in New Zealand with the population increasing six-fold between 1991 and 2006," according to Victoria University of Wellington research.
In comparison, New Zealand has a much higher population of Christians, including Catholics, Anglicans and Presbyterians, as well as Hindu and Buddhist citizens.