Dozens killed in Christchurch mosque attack
9:26 a.m. ET, March 15, 2019
New York City and state increase security around mosques
New York City Mayor Bill de Blasio and New York Gov. Andrew Cuomo both announced increased police presence at mosques around the city and state following the terror attack in New Zealand.
"New Yorkers heading to prayer can be confident that their city will protect them," de Blasio said.
Cuomo said that the city "stands with the Muslim community as we always have and always will."
"At a time of great division, we will stand up to hate in all its forms and do everything in our power to protect the safety and wellbeing of all New Yorkers," he said in a statement.
10:30 a.m. ET, March 15, 2019
What we know so far about the New Zealand terror attack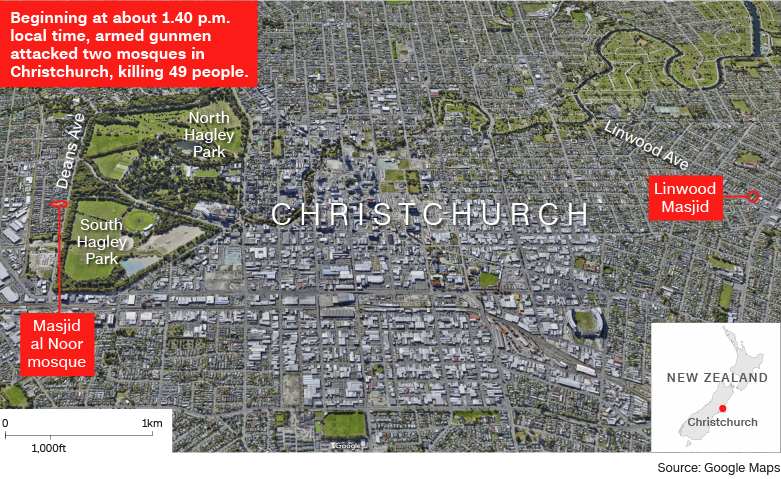 At least 49 people were killed and 20 seriously injured in two mass shootings at mosques in the New Zealand city of Christchurch.
Here's what we know so far:
The victims: Forty-one people were killed at the al Noor mosque. Seven people died at the Linwood mosque, and one person died from their injuries in hospital.
The suspect: Police said a male in his late 20s has been charged with murder and will appear at the Christchurch court Saturday morning local time.
The manifesto: In a social media post just before the attack, an account that is believed to belong to one of the attackers posted a link to an 87-page manifesto that was filled with anti-immigrant, anti-Muslim ideas and explanations for an attack. The manifesto was not signed.
11:38 a.m. ET, March 15, 2019
How 2020 Democrats are reacting to the mosque shootings
A growing number of Democratic candidates running for US President in 2020 have tweeted prayers for the victims of the attack, and condemned acts of hate and violence.
Cory Booker
John Delaney
Kamala Harris
Amy Klobuchar
Bernie Sanders
Jay Inslee
Elizabeth Warren
Beto O'Rourke
Julian Castro
Kirsten Gillibrand
Pete Buttigieg
8:57 a.m. ET, March 15, 2019
White House official on New Zealand attack: This "seems to be a terrorist attack"
National security advisor John Bolton expanded upon the White House's statement on the attack on New Zealand mosques, which he characterized as "what seems to be a terrorist attack" and a "hate crime."
Bolton said the US is "very concerned" and is following the events "very closely." 
He told reporters Friday morning:
"We're obviously greatly disturbed on what seems to be a terror attack, this hate crime in New Zealand. We've been in touch with our embassy overnight, we're still getting details, but the State Department and others are following up on it."
Bolton continued, "We're very concerned, we're going to cooperate with New Zealand authorities to the extent we can if there's any role we can play, but we're obviously following the events there very closely."
7:51 a.m. ET, March 15, 2019
Donald Trump tweets "warmest sympathy" after "horrible massacre"
US President Donald Trump has tweeted in response to the attack.
His message follows an earlier White House statement in response to the mass shootings at New Zealand mosques that left 49 dead.
"The United States strongly condemns the attack in Christchurch. Our thoughts and prayers are with the victims and their families. We stand in solidarity with the people of New Zealand and their government against this vicious act of hate," said the statement.
Global leaders have also been sending messages of support. "On behalf of the UK, my deepest condolences to the people of New Zealand after the horrifying terrorist attack in Christchurch," British Prime Minister Theresa May wrote on Twitter. "My thoughts are with all of those affected by this sickening act of violence."
"All our thoughts for the victims of heinous crimes against the mosques of Christchurch in New Zealand and for their loved ones," French President Emmanuel Macron added.
7:39 a.m. ET, March 15, 2019
Tributes outside mosque attacked in 2017
Flowers and messages have been left outside London's Finsbury Park Mosque, which suffered its own tragedy in 2017 when a man deliberately drove a van into pedestrians outside, killing one Muslim worshiper and injuring several others.
7:31 a.m. ET, March 15, 2019
"Shame on the people who have promoted this kind of hate"
Speaking on CNN Talk, political commentator Ayesha Hazarika said that, as a Muslim, she is "sickened and frightened" by the attacks.
"We have a culture, a media and social media culture, that not only tolerates hatred to Muslims but celebrates it," she said. "Shame on the people who have promoted this kind of hate.
"I have friends who have contacted me saying they're scared to go to mosques. Today is a dark day," said Hazarika.