India election results: Modi declares victory
8:25 a.m. ET, May 23, 2019
BREAKING: Rahul Gandhi's Congress Party concedes defeat in India elections
The leader of the main opposition Congress Party has conceded defeat in India's elections.
"I don't want to color the decision of the people of India and to get into what went wrong," Rahul Gandhi said during a news conference at his party's HQ. "The people of India have decided that Narendra Modi will be the next prime minister."
"Today is not the day to go into details of this mandate. Today is the day we wish him all the best and hopefully he will look after the interests of this country."
8:00 a.m. ET, May 23, 2019
Modi thanks India as results roll in
Prime Minister Narendra Modi tweeted his thanks to the nation as early election results indicated a big win for his party.
"Thank you India," he wrote. "The faith placed in our alliance is humbling and gives us strength to work even harder to fulfil people's aspirations."
7:49 a.m. ET, May 23, 2019
World leaders congratulate Narendra Modi
A host of world leaders have congratulated Narendra Modi after early vote counts show the BJP taking a decisive lead in India's election.
The US Ambassador to India, Ken Juster, tweeted his congratulations to Modi, writing: "The United States looks forward to working closely with our strategic partner #India."
Chinese President Xi Jinping sent a letter to Modi congratulating him on his "electoral victory," according to a statement from India's External Affairs ministry.
Indian news agency ANI reported that Russian President Vladimir Putin sent a telegram to Modi in connection "with the convincing victory of the BJP at the general parliamentary elections."
The King of Bhutan, Jigme Khesar Namgyel Wangchuck, also congratulated the Prime Minister in a phone call, according to ANI.
Nepal's Prime Minister, K P Sharma Oli, congratulated Modi for a "landslide election victory."
Afghan President Ashraf Ghani tweeted: "Congratulations to Prime Minister Narendra Modi on a strong mandate from the people of India."
Australia's Minister of Foreign Affairs, Marise Payne, sent her congratulations "to the people of India on your successful general election."
7:28 a.m. ET, May 23, 2019
Modi poised to secure resounding victory
Indian Prime Minister Narendra Modi is poised to secure a stunning victory in the country's general elections, defying expectations of even his own party, early results show. 
Though only a handful of seats have been officially called, Modi's Bharatiya Janata Party-led National Democratic Alliance (NDA), which needs 272 seats in the next parliament to form a government, is leading in 349 seats. The main opposition Congress Party, in contrast, is only leading in 50 seats.
Full results are expected to emerge in the next few hours.
The result follows a polarizing election during which Modi and the BJP portrayed the incumbent less as an economic reformer -- the main message in the 2014 elections that first brought Modi to national office -- and more as a muscular nationalist firmly rooted in the Hindu right wing movement, a turn that made many liberals and minority Indians nervous.
Read more here.
6:35 a.m. ET, May 23, 2019
Hindu nationalist leader looks set to defy critics with thumping majority
A bitterly contested election campaign appears poised to give Prime Minister Narendra Modi and his Hindu nationalist Bharatiya Janata Party (BJP) a resounding mandate.
The collective opposition, meanwhile, look set to be relegated to a smaller portion on the benches in the lower house of the Parliament.
For the last three decades, India had been governed by a series of broken and temperamental coalitions. Modi's entrance in 2014 broke the streak when his party won 282 seats out of a total of 543 elected seats. A party needs to pass the halfway mark of 272 to comfortably form a government. 
If trends turn to concrete results, the victory will supersede expectations set by even the BJP -- and will be compared to the last such victory in 1984 when Rajiv Gandhi (the father of current Congress Party leader, Rahul Gandhi) from the Congress Party tacked up a total of 426 seats.
Gandhi's extraordinary win had come after the assassination of his mother and sitting Prime Minister, Indira Gandhi in 1984.
India's politics have been dominated for more than 50 years by a single party -- Congress. And Modi's rhetoric of building a Congress-free India seems to have resonated with voters. The party was decimated to just 44 seats in 2014 and is leading in just 50 constituencies today. 
The BJP -- initially under a different name -- emerged in the '70s as an alternative to the grand old party of India but remained weak till the '90s. Multiple leaders have slowly built its ranks and consolidated power in the party.
In a highly charged election campaign which lasted for more than five weeks, Gandhi's Congress expounded on the failures of the incumbent government and Modi campaigned on his image as India's one and only solution for a strong leader.
A definitive result is expected to emerge in the next few hours.
6:31 a.m. ET, May 23, 2019
Your election questions answered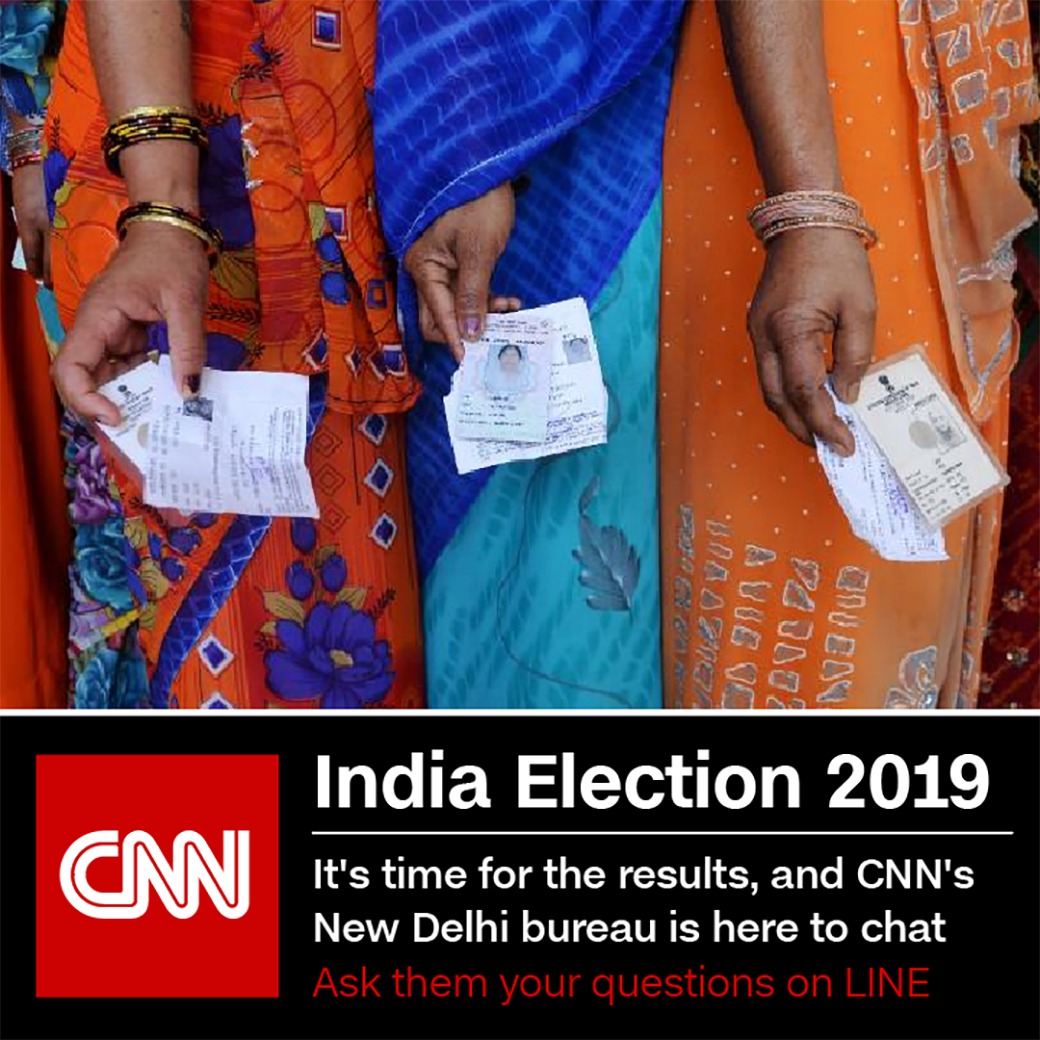 CNN's New Delhi Bureau Chief Nikhil Kumar answered your questions about India's election on LINE. Here are the highlights from that chat.
Q: What are the major issues in the election?
Heading into the election, there was much discussion about the economy, about whether Modi had delivered on the economic promises he made when he first won national office in 2014. Many experts say, for example, that the joblessness plaguing India's young people -- something he'd promised to fix -- has worsened. Roughly 12 million young Indians enter the workforce each year, but they too often struggle to find work.
There are also signs of growing distress in India's farm sector. But these and other issues were overshadowed by nationalism and national security -- Modi presented himself as a protector of the nation, not the would be reformer we saw in 2014. And it appears to have worked. It's something that has worried many liberals and Indians who belong to religious minorities -- Modi belongs to the Hindu right wing movement, many members of which see India as an exclusively Hindu nation.
Q: Why is India's election system so complex, and have there been any problems so far?
It's a long and complicated process, yes -- but then look at the numbers involved: some 900 million Indians were eligible to vote. Making sure they could do so safely and securely meant installing around a million polling stations. Around ten million officials were involved in overseeing the exercise. There were thousands of candidates.
We're still waiting for final numbers but early reports suggest around 600 million actually voted -- a massive number, which helps explain the complex electoral process.
Q: How does this matter to the outside world?
It matters a lot. India has a massive population, around 1.3 billion, many of whom are very young: most Indians are under 25. They live in what is an increasingly important economic power. Who governs them, how they are governed, matters immensely to the wider world.
Q: How will these results affect the Muslim minority in India?
Many Indian liberals and minorities have been very worried about the rise of Modi and his Hindu nationalist BJP. Here's a good piece from this morning, by my colleague Swati Gupta, that explains their fears well: they've often faced violence as Hindu nationalists have gained the upper hand politically. Read more on that here.
Q: How will results affect India's diplomatic relations?
If current early trends hold and the BJP wins, then we should see a continuity: We'll have the same Prime Minister, and he's largely been in charge of foreign policy here. Look for more efforts to try to build India's profile in the region -- there's a debate about just how much Modi has succeeded here, but it's something that he's often talked about.
Q: What would be Modi's main agenda if he were elected?
In 2014, he portrayed himself as an economic reformer. But this time, with big questions about whether he lived up to that image in his first term, he's campaigned more as a popular nationalist. Hindu nationalism was a big theme this time. So what does that mean? Many here worry that it means the hardline Hindu right wing fringe will be emboldened -- and that we could see a further erosion of India's secular foundations.
6:10 a.m. ET, May 23, 2019
Pakistan test-fires a missile as trends show Modi on course for majority win
Pakistan announced on Thursday that it had successfully test-fired a Shaheen II ballistic missile, which can carry both conventional or nuclear payloads.
Tensions between the two nuclear-powered South Asian adversaries had been heightened in the run-up to the election.
Following a deadly terrorist attack on Indian paramilitary troops in the Indian-controlled Kashmir district of Pulwama in February, Modi launched airstrikes across the Line of Control, the de facto border separating India and Pakistan.
While Modi said they were targeting a terrorist training camp, Pakistan disputed that version of events and denied the existence of a militant camp there.