Riot police clash with protesters as Hong Kong march descends into violence
9:14 a.m. ET, July 27, 2019
Organizer: 288,000 people protested in Yuen Long
An estimated 288,000 marched in Yuen Long today to protest against excessive violence used against demonstrators, according to organizer Max Chung.
Chung said he came to that estimate using Google Maps, calculating the area of the street and the number of protesters.
Unlike in previous protests there will be no estimate from the Hong Kong police. Saturday's march was officially illegal and as such was not counted by law enforcement.
Chung said he called on Hong Kong's police to remember why they joined the force in the first place. "They are here to protect the citizens of Hong Kong," he said.
9:08 a.m. ET, July 27, 2019
Where the protests have taken place so far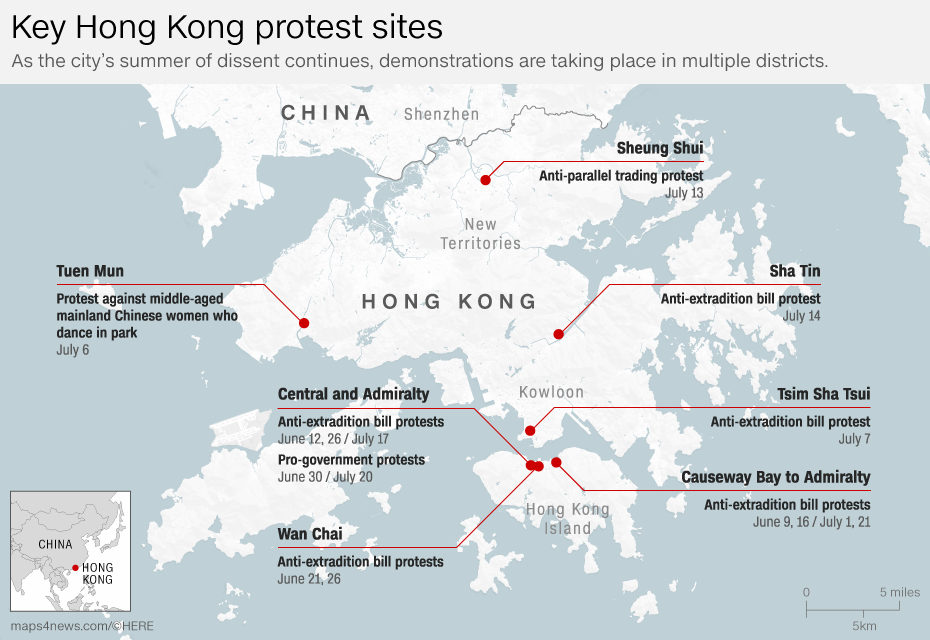 Located less than 10 kilometers (6 miles) from Hong Kong's border with China, Yuen Long is closer to the mainland city of Shenzhen than it is to Hong Kong's iconic Victoria Harbor.
The area is known for smuggling, both of goods and people, while decades of police operations to combat triads, which operate on both sides of the border, have failed to stamp out organized crime in the area.
It is the latest part of Hong Kong to host the protests which have spread across the region over the past two months.
12:32 p.m. ET, July 27, 2019
Some marchers begin to head home, but others dig in for the long haul
There is an ongoing standoff between a few hundred Yuen Long protesters and the Hong Kong police outside the town's subway station.
Some of the remaining marchers have built a barricade between them and lines of riot police, with metal barriers and plastic bollards.
It's unclear what precisely will happen next, though many protesters now appear intent on digging in for the long haul. Almost everyone in the crowd is wearing protective gear and yellow hardhats.
Many other demonstrators though are already on their way home. Despite earlier scenes of violence, many vowed to come back out again tomorrow for Sunday's protest on Hong Kong Island.
One protester who was attempting to make his way home told CNN that demonstrations would continue on whatever happens during the next few weeks.
"Next year, the election, it's the most important time in Hong Kong. Because if we lose that election, Hong Kong may be lost to the Chinese government," the protesters said.
8:24 a.m. ET, July 27, 2019
Hong Kong has been split apart by the protests
Not everyone in Hong Kong is in support of the pro-democracy demonstrators.
Up to 53,000 pro-government protesters filled Tamar Park on June 29, according to police estimates. They held placards and shouted slogans expressing support for Hong Kong police, who many pro-democracy protesters accuse of using excessive force.
Pro-democracy protesters showed up as well, leading to scuffles and confrontations between the two groups.
Last weekend, the pro-government, pro-police protesters marched again in a "Safeguard Hong Kong" rally, in which speakers condemned violence by the pro-democracy protesters. Police estimates say up to 103,000 people attended.
The protests have revealed and deepened a generational rift in Hong Kong society, leading to family feuds and social media spats. This disconnect between the two groups has complex roots -- in national identity, a disparity in living standards and economic opportunity, as well as differing political values.
12:33 p.m. ET, July 27, 2019
Police warn remaining protesters: "Disperse or we may use force"
Crowds are rapidly thinning in Yuan Long but a few hundred core demonstrators remain, refusing to back down.
They're surrounded by a large group of fully-equipped riot police, who are shinning flashing lights on demonstrators.
At 8 p.m. the police raised a blue flag, ordering protesters to leave.
"This meeting or procession is in breach of the law. Disperse or we may use force," read the flag.
Umbrella Movement protest leader Joshua Wong said on his official Twitter that he was still on "the frontline."
8:01 a.m. ET, July 27, 2019
Protest leader urges demonstrators to leave as night falls
Local parliamentarian and pro-democracy advocate Ray Chan has told protesters to head home as the sun sets in Hong Kong.
Hundreds of demonstrators are still on the streets despite a concerted police effort to clear the Yuen Long marchers who gathered this afternoon.
On his official Twitter, Chan told protesters to "leave ... at your first opportunity."
"Do not worry about paying train fare," he said. "You can pay when you arrive. Single journey tickets are also available from volunteers."
It isn't just police who are concerning protest leaders. There are worries about a possible repeat of last weekend's violence, when white-shirted men believed to be connected to triad gangs indiscriminately beat commuters at Yuen Long station with long sticks.
7:43 a.m. ET, July 27, 2019
Why Hong Kong's young protesters feel they're running out of time in fight for democracy
When protesters in Hong Kong targeted the Chinese government's headquarters in the city, social media users in China were united in outrage.
"The dignity of our motherland won't be allowed to be trampled," one person wrote on Weibo, the country's highly-censored equivalent to Twitter, while another warned the young protesters that "playing violently is how you seek death."
A third commenter sought to reassure others, writing that "the central government promised that Hong Kong won't be changed for 50 years. There's only 28 years left before Hong Kong becomes part of (China)."
That 2047 deadline, on which the clock began ticking after the United Kingdom handed Hong Kong over to China in 1997, is at the forefront of the minds of the mostly young protesters who have been taking to the streets for almost two months now, in increasingly violent confrontations with police and pro-government groups.
What began as protests over a now-suspended extradition bill have broadened to cover a host of demands, including calls for greater democracy and more government accountability, that many feel they are running out of time to achieve.
Even as democratic values have increasingly come under threat around the world, and many voters in democracies are increasingly expressing apathy or despair, young Hong Kongers are determined to continue a fight for freedom which began decades ago under British rule, before time runs out and Hong Kong becomes just another Chinese city.
"Liberate Hong Kong, the revolution of our times," protesters chanted on Saturday in Yuen Long.
Read more here.
8:18 a.m. ET, July 27, 2019
This is the eighth consecutive weekend of protests in Hong Kong
This summer, protests have become the norm in Hong Kong.
Saturday's protest in Yuen Long marks the eighth consecutive weekend of large-scale rallies, which began peacefully but have turned violent and bloody in recent weeks.
Here's a look back at Hong Kong's summer of discontent:
June 6: An estimated 3,000 lawyers hold a silent march against the bill.
June 9: As many as 1 million people protest the bill, according to organizers -- the biggest march since the city was handed back to China in 1997.
June 12: On the day of the extradition bill's second reading, protesters block government buildings, occupy the streets, and clash with riot police.
June 16: An estimated 2 million protesters march according to organizers, demanding a full withdrawal of the bill and Lam's resignation.
June 21: Thousands of protesters surround the police headquarters, blocking officers from leaving.
June 26: Hundreds of protesters march to foreign consulates, urging the countries' leaders to support them at the G20 summit.
July 1: Protesters storm the Legislative Council building, a drastic break from the otherwise largely peaceful demonstrations against the bill so far.
July 6: Large crowds protest in Tuen Mun -- but this time, it's not only about the bill.
July 13: A march against the practice of parallel trading on the border with China results in scuffles between protesters and police.
July 17: Thousands of elderly Hong Kongers march against the bill and in support of the young pro-democracy protesters.
July 21: Tens of thousands of protesters march through central Hong Kong, and later clash with riot police. As crowds return home, a mob armed with metal rods attacks protesters in Yuen Long subway station.
7:36 a.m. ET, July 27, 2019
Protesters falling back, divided on when to leave
Bombarded by tear gas, the Yuen Long protesters have slowly begun to fall back in the direction of the subway station.
As they retreated, they chanted, "Protect Hong Kong" and "Time for revolution."
There were calls through the crowd for everyone to "leave together," but not everyone was in agreement.
As night fell, one protester told CNN that everyone was furious at the government and many would be reluctant to head home.
"All the people are angry at police, government and gangs," the protester said.