Hong Kong protests over China extradition bill
10:40 p.m. ET, June 11, 2019
'We are not China,' say protesters
Protestor Marco Leung, 23, a philosophy student, says if the law passes there will be no difference between Hong Kong and mainland China.
"We are not China. We want to protect ourself. If the law goes through, there is no difference between Hong Kong and China. That's why we are all out here on a Wednesday in the morning -- just to say no to this f**king law. 
We are citizens, we belong here. The police shouldn't be against the citizens. Police should protect the citizens, not the government."
10:34 p.m. ET, June 11, 2019
Hong Kong police call on protesters blocking roads to disperse or threaten 'appropriate force'
Hong Kong police are calling on protesters who have barricaded roads around the legislative building to disperse as soon as possible, or they will take "appropriate force." 
In a statement, police say protesters who are blocking traffic have damaged police and private cars, "exceeding the definition of Peaceful Protest."
They are calling for "people who have barricaded these vehicles to leave as soon as possible, or we will take appropriate force to rescue those who are trapped."
"Also, we see mass crowd gathering on Lung Wo Road and near Tim Wa Avenue, ready to break our defense line. I am also calling on these people to disperse as soon as possible or we will, with no choice but to take appropriate force to protect our defense line. 
I reiterate this is not a call to clear the (protest) crowd. Our goal is to rescue those who are trapped."
Earlier, police raised the red "stop or we will use force" flag on Harcourt Road.
10:28 p.m. ET, June 11, 2019
Roads completely closed to traffic
Protesters have completely blocked several roads in downtown Hong Kong, preventing traffic from accessing.
Hong Kong's Transport Department said that Tim Wa Avenue and Tim Mei Avenue in both directions are temporarily blocked to all traffic.
Lung Wo Road between Edinburgh Place and Expo Drive and Harcourt Road in both directions are also blocked.
The Transport Department urged the public to plan their journey in advance and pay attention to TV and radio announcements.
"Use non-road based public transport means as far as possible and to avoid driving to the affected areas," the notice said.
10:32 p.m. ET, June 11, 2019
Foreign governments issue Hong Kong travel warnings
Foreign governments have issued travel warnings in connection with the Hong Kong protests.
On June 11, the US Consulate General in Hong Kong issued an alert advising citizens to avoid the June 12 demonstrations and keep a low profile.
"The groups intend to protest the proposed changes to the Fugitive Offenders Ordinance," the notice says.
"Protests on June 9 were overwhelmingly peaceful, but isolated clashes between a small minority of the protesters and the police took place in the early hours of the following morning."
Similar advice was issued by the UK's Foreign and Commonwealth Office, which told its citizens to remain vigilant and follow the advice of local authorities.
"Further demonstrations may take place in the coming weeks and you should be aware that such demonstrations can close off large sections of the city and affect public transport," the FCO's travel advisory says.
Other governments to issue Hong Kong travel advisories include Singapore, Thailand and Taiwan.
10:23 p.m. ET, June 11, 2019
Hong Kong protest movement organizers appeal for peaceful demonstrations
The leaders of the main movement opposing the extradition bill are appealing to protesters around the Hong Kong Legislative Council to "not confront police." 
The Hong Kong Civil Human Rights group says its official protest has not yet started -- and is asking those gathered to remain calm.
According to CNN teams on the ground, Wednesday's protesters -- who have taken the roads around the government building -- are so far are made up of people in their twenties and younger, from multiple groups such as Youngspiration and HK Indigenous, who started their protest Tuesday night.  
The Civil Human Rights group -- a coalition of activists and opposition leaders -- are calling for a peaceful but forceful demonstration.
They have set up a screen where they will show proceedings from inside the Legislative Council, where a second reading of the bill is set to start at 11 a.m., local time (11 p.m. ET.)   
Representatives of the Civil Human Rights group were heard by CNN reinforcing to protesters that they are a "peaceful group and they will not go head to head with police."
10:23 p.m. ET, June 11, 2019
Young people make up the vast majority of the crowd
Almost all protesters are high school or university age, and more or less there is an equal gender ratio. Most protesters are wearing black or white and many have their faces covered with masks.
A core near the fronts have helmets and goggles and many are wearing heavy duty workman's gloves.
Protesters are filling the roads around the Legislative Council building as leaders call for umbrellas and zip ties to be passed through the crowd to build a barricade a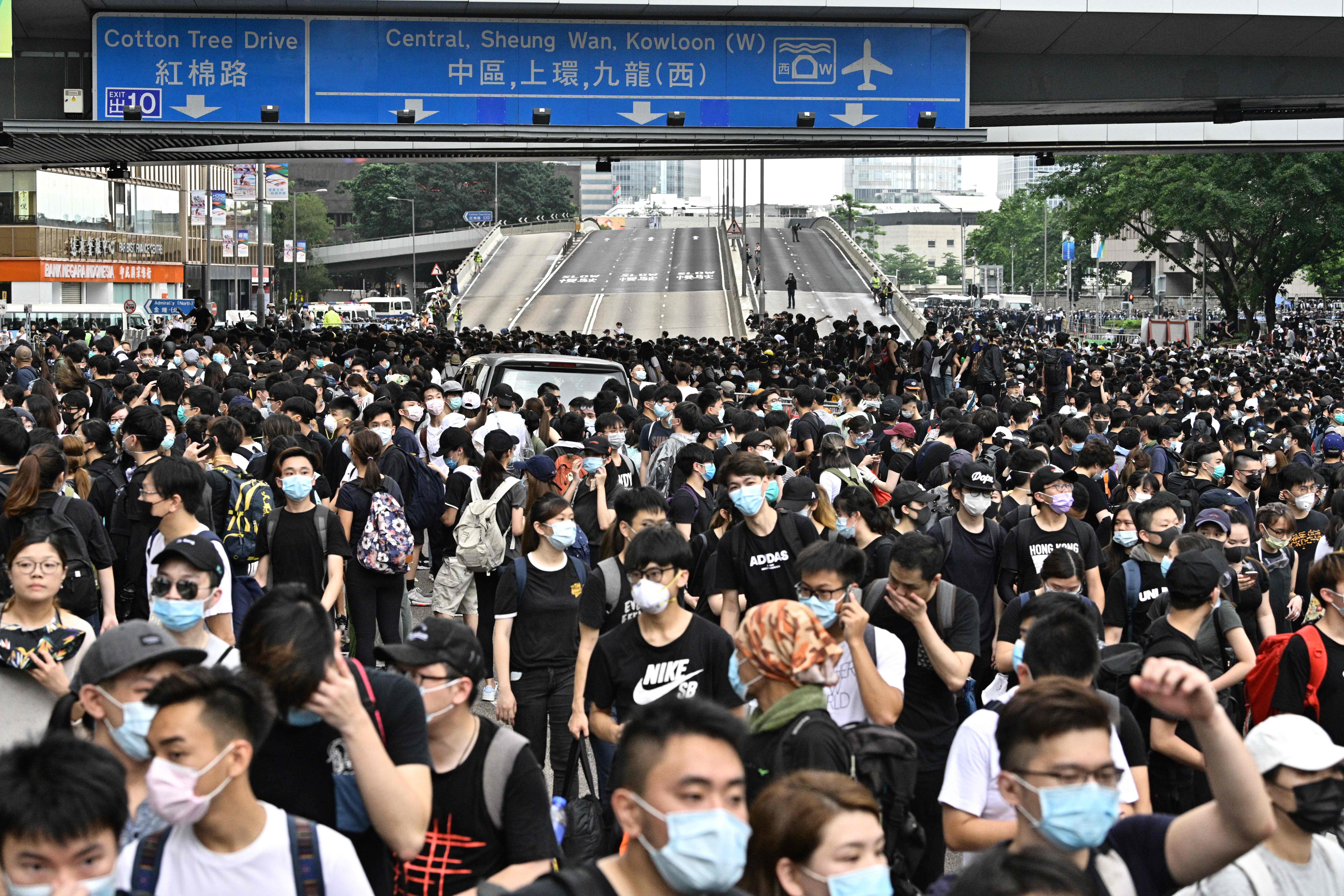 10:07 p.m. ET, June 11, 2019
Independence groups protesting
Multiple groups are protesting today.
Localist political parties Youngspiration and Hong Kong Indigenous started their demonstration Tuesday night and their supporters are among those who took the roads today.
Hong Kong Indigenous is a pro-independence political group whose former convener Edward Leung was jailed for six years for his part in violent demonstrations in the city in February 2016.
Leung was banned in 2016 by electoral officials from taking part in the city's Legislative Council elections, over concerns he would continue to promote Hong Kong independence.
According to Hong Kong's mini-constitution, known as the Basic Law, the city is an "inalienable" part of China and any advocacy to the contrary is strictly outlawed.
Read more on that here.
9:47 p.m. ET, June 11, 2019
Does the extradition law really spell the death of Hong Kong? Some businesses say yes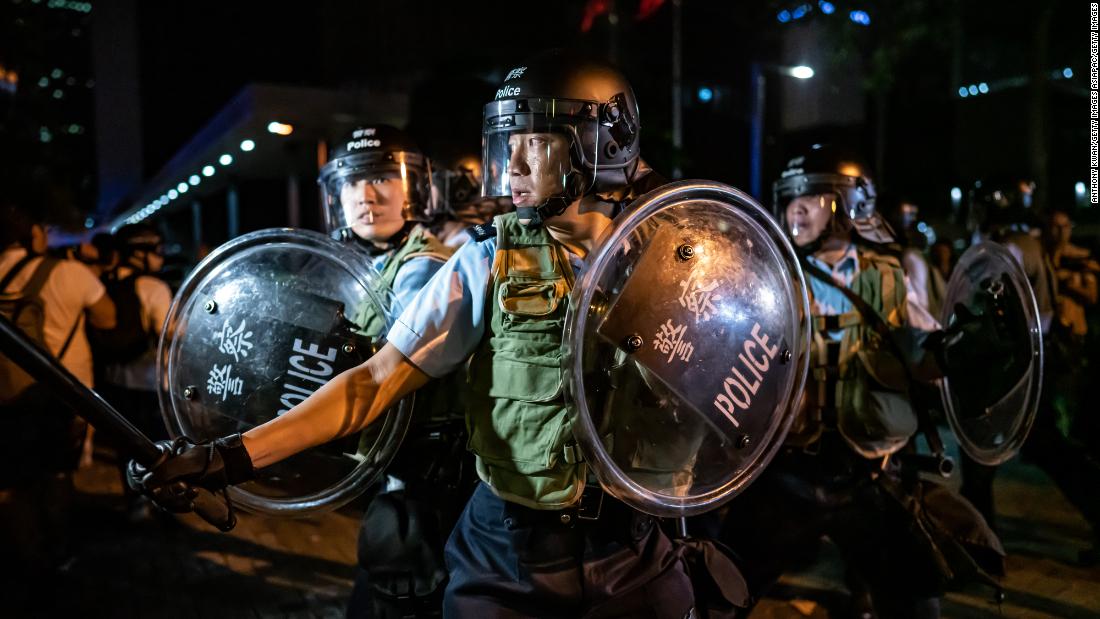 Hong Kong is a city built for business.
Seized by the British after the first Opium War ended in 1842 and used as a base for trade in drugs and other products, in the late 20th century Hong Kong became a leading global financial center and gateway to the giant Chinese economy.
The handover of the city to China in 1997, however, prompted fears that model would collapse.
Two years before that looming date, Fortune magazine ran a notorious cover warning of the "death of Hong Kong," lamenting that the "the world's most aggressively pro-business economy" was being handed to Communist China.
It's a death knell that's been repeated countless times but never come true.
Yet a controversial bill that would allow extradition to China, which prompted as many as a million people to protest in Hong Kong on Sunday, could change this for one simple reason.
This time the challenges facing Hong Kong are seen as a direct threat to its business community.
9:31 p.m. ET, June 11, 2019
Up to 5,000 riot police deployed to Hong Kong protests
CNN teams on the ground report that tens of thousands of protesters are blocking roads around the Hong Kong legislative council building ahead of a second reading of a controversial extradition bill.  
Up to 5,000 police in riot gear have been deployed to guard the building. 
Authorities raised a red flag warning protesters to stop charging or they would use force. Wednesday's action follows mass protests on Sunday against the bill which would allow China to extradite suspected lawbreakers.
Video from CNN shows riot police moving inside the Legislative Council building.