Hong Kong protests over China extradition bill
5:09 a.m. ET, June 12, 2019
Footage shows tear gas being fired into the crowd
5:22 a.m. ET, June 12, 2019
Police use rubber bullets, bean bags, call protest a 'riot'
From CNN's Ben Westcott and Caroline Kwok
Commissioner of Hong Kong Police Steven Lo Wai-chung has confirmed that police have used a range of weapons -- including rubber bullets -- to suppress protests in the city center.
Alongside rubber bullets police have used tear gas, batons, pepper spray, pepper-spray solution and bean-bag rounds on Wednesday, Lo confirmed.
Lo defended the use of the heavy-duty emergency weapons by labelling the protest "a riot."
He said the protesters had attacked police lines and left officers with "no choice but to start to use force." He added that the pro-democracy protesters had used sharpened iron bars and bricks, resulting in injuries to a number of officers.
He urged residents not to enter the city's Admiralty area.
4:58 a.m. ET, June 12, 2019
Many protesters retreat into Hong Kong's malls
From CNN's Julia Hollingsworth and Ben Westcott
As the police continue to push back along Harcourt Road, many of the protesters have retreated into the nearby Pacific Place and Queensway shopping centers.
Police have used so much tear gas that it has set off the fire alarm inside the Queensway mall.
Even streets away, protesters are still able to feel the effects of the tear gas from around the Legislative Council.
The walkway above Harcourt Road, next to the government building, has now been cleared by police.
5:46 a.m. ET, June 12, 2019
Tear gas was a game changer in 2014. Will it be the same in 2019?
From CNN's Helen Regan and James Griffiths
It's the first time since the Umbrella Movement in 2014 that police have fired tear gas at protesters in Hong Kong.
Then, in the evening of September 28, police fired multiple rounds of tear gas at protesters, who had been gathering around the Legislative Council building all day.
The images of tear gas being used against young students galvanized the movement and the next day hundreds of thousands of people came out in support -- ultimately leading to the 79 day occupation of key areas in the city.
CNN's James Griffiths said: "Tear gas is what took Occupy from a student protest to a mass movement."
Read more about the return of Hong Kong's Umbrella Movement here.
5:38 a.m. ET, June 12, 2019
What the protesters are saying
From CNN's Julia Hollingsworth
Long Chen, 25, came out on Sunday to protest, and has been in Admiralty since 12 p.m. local time. He's planning to stay until 8 or 9 p.m., but he expects others to stay overnight. "Hong Kong people don't trust the Chinese government," the maintenance worker told CNN.
Sean, a 20-year-old business student who would not give his full name, had tried to cross the Harbor to Tsim Sha Tsui to get supplies, including gloves and helmets. But said he and his friends were blocked by police. "They're trying to cut off the supply," he said.
He said he would stay out as long as it takes, but said today's protest wouldn't be Occupy 2.0 as the protest was less organized than in 2014, and the government was less willing to listen. "We don't have any leaders this time," he said, wearing a blue face mask over his mouth. "This is our last hope."
Karry Yu, a 30-year-old office worker, said she bought around 10 umbrellas which she tossed down from an overpass to fellow protestors to help protect them from tear gas. "It's a critical moment for the Hong Kong people," Yu said.
Chants of "Hong Kong ga yao!" ("Hong Kong add oil!") ring out from the crowd.
5:36 a.m. ET, June 12, 2019
Police retake Tim Wa Avenue
From CNN's James Griffiths
Police have now retaken Tim Wa Avenue, which was temporarily held by protesters who appear to have been pushed towards Queensway -- which runs roughly parallel to Harcourt Road.
Tim Wa is not a major road but is significant because it joins to the entrance of the Legislative Council. It also runs parallel to the Chinese People's Liberation Army Forces Hong Kong building.
The crowd on the overpass is shouting abuse at police.
Both sides are currently regrouping.
Follow where the protests are taking place with this map: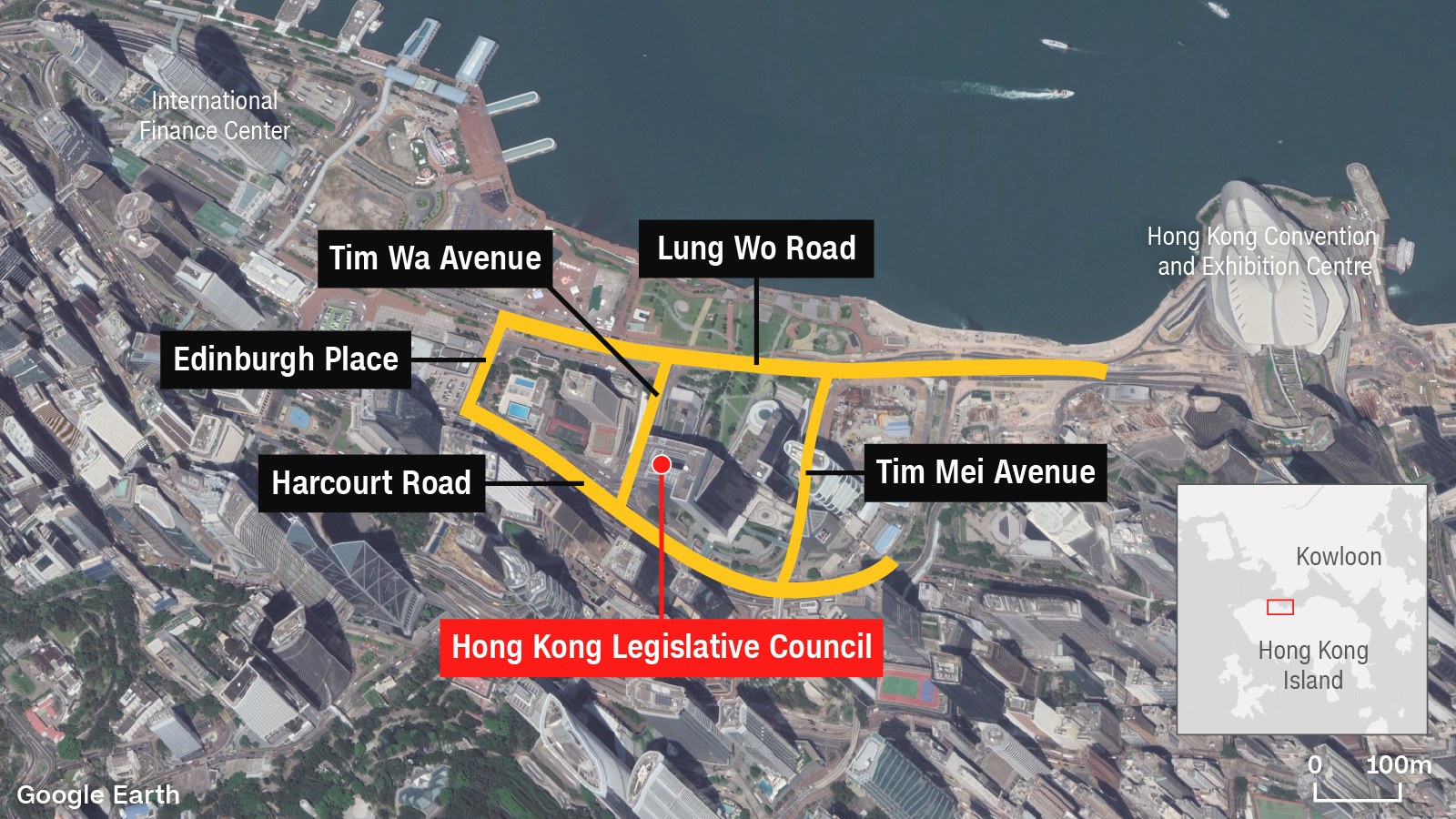 4:22 a.m. ET, June 12, 2019
Police push back protesters with batons and tear gas
From CNN's James Griffiths
Police reinforcements are building up en masse at Lung Wo Road. They are pushing back towards Tim Wa Avenue, which is under the control of protesters.
A tear gas warning went up before police charged protesters on Tim Wa with batons and pepper spray.
Police pushed past central government gate and reinforcements are pouring out now onto Tim Wa Avenue.
More tear gas has been fired.
4:18 a.m. ET, June 12, 2019
Young protesters say 'this has happened before'
From CNN's Ella Hurworth and Zoe Sottile
University student Issac Lai and his friends have been at the protests since 6:30 this morning. He said they ran to Admiralty MTR station when police began to use tear gas.
When asked how he felt about the legislature delaying the debate on the bill, Lai said it was "horrible."
He said they probably won't rejoin protests any time soon as it's "too dangerous" and they don't have any protection.
Also in the MTR, a university student who declined to give her name, said that "the worst thing" about the police countermeasures was the feeling it had "happened before."
"We know the result. We're still doing this, and we put our lives at risk. We don't have any choice," she said.
Protesters could be seen running away from Tamar Park after police fire multiple shots of teargas.
4:13 a.m. ET, June 12, 2019
Police fire tear gas on protesters
CNN's James Griffiths, Eric Cheung and Yuli Yang
Hong Kong police have fired tear gas as protesters rushed the front lines outside the Legislative Council.
Police have now set up a line of defense inside the building while protesters have taken temporary control of Tim Wa Avenue.
Protesters in Tamar Park are shouting to get people prepared with water and protection.