Blue dye, tear gas and petrol bombs on Hong Kong's 13th straight weekend of unrest
11:37 p.m. ET, August 31, 2019
That's the end of our live coverage for now. You can catch up on the full story here.
10:28 a.m. ET, August 31, 2019
Clashes move to Kowloon
Police have announced that they are now dispersing protests on the Kowloon side of the city, across the bridge from Hong Kong Island, where most of the day's protests took place. They said protesters were throwing petrol bombs at Nathan Road in Tsim Sha Tsui, and that police were using "appropriate force" to disperse the protestors.
Police also remind the members of the public in the area to stay tuned to the latest situation, keep their windows shut and stay indoors, if necessary. 
8:58 a.m. ET, August 31, 2019
What it's like on the ground
From CNN's Helen Regan
Every few minutes the air rings out with an explosion as police release another tear gas round. Small fires burn every few hundred meters, and the air smells of tear gas, burning rubber and petrol.
It's tense on Hennessy Road in Causeway Bay, as water cannon vans and lines of riot police make their way down the road. Meanwhile small groups of protesters charge forward throwing petrol bombs and banging poles. It's loud with chants, metal clanging and the sirens of the police vans.
In one heated moment, police fired rounds of tear gas and rubber bullets, and protesters charged and retreated. But the stand-off is back on now, as both sides regroup.
8:43 a.m. ET, August 31, 2019
Standoff between police and protesters
From CNN's Helen Regan
Police and protesters are in a standoff on Hennessy Road outside Hysan Place.
Police fired teargas and rubber bullets as protesters advanced towards them, some throwing petrol bombs.
A large riot vehicle armed with water cannon also sprayed water in protesters' direction.
8:38 a.m. ET, August 31, 2019
Police charges push protesters back
From CNN's Helen Regan
Protesters have been pushed into Causeway Bay and are continuing eastward on Hennessy Road as police continue to advance.
The huge police presence is moving much faster than in previous weeks, aided by water cannon, tear gas and protesters' own quick retreat.
It's unclear where protesters are heading. On previous occasions they have sought to frustrate police by constantly changing location, causing significant disruption while staying a step ahead the authorities.
8:13 a.m. ET, August 31, 2019
Multiple protesters detained
From CNN's Helen Regan and Eric Cheung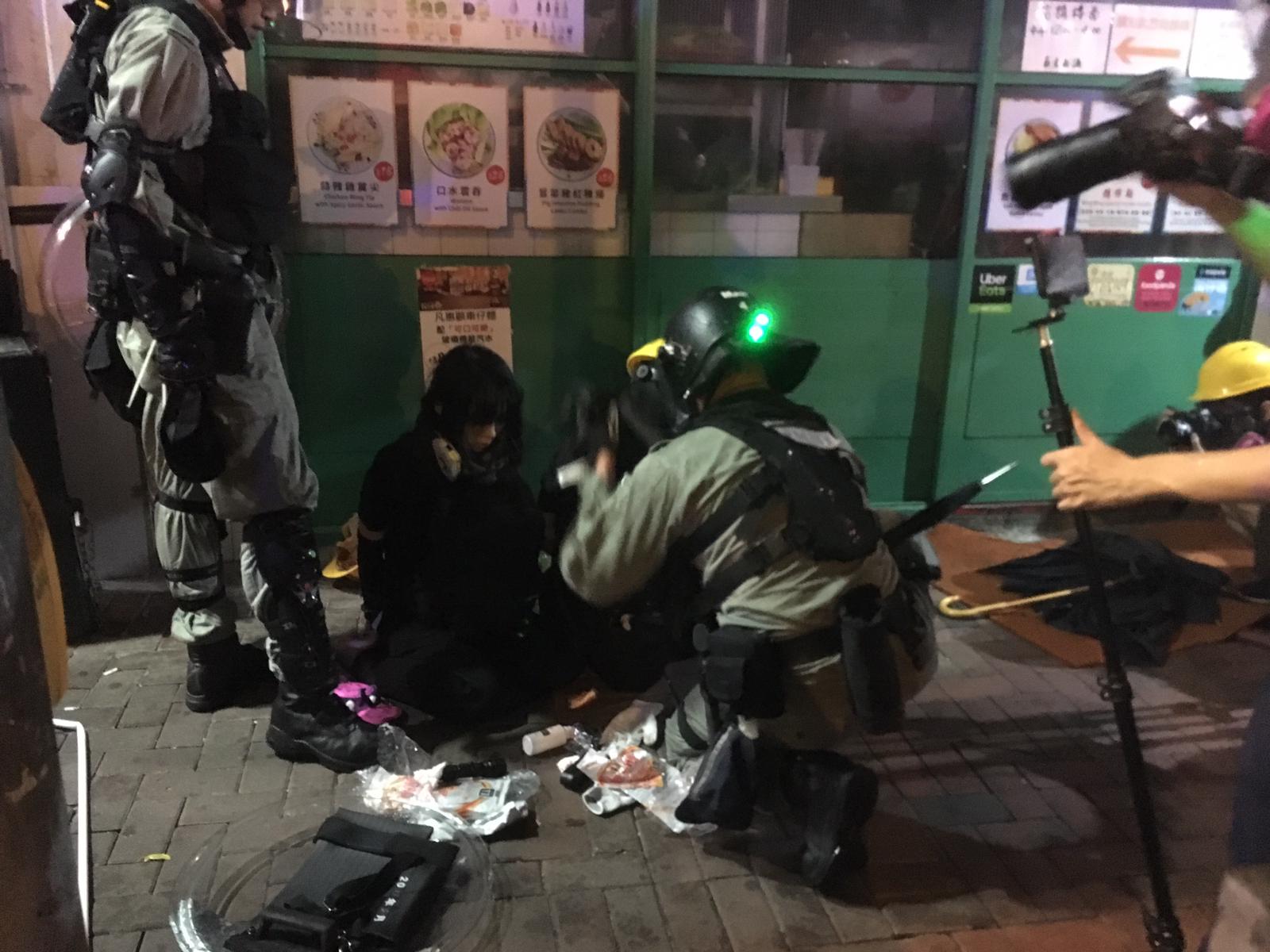 Riot police clearing Hennessy Road have caught several protesters who were fleeing east.
Police could be seen searching detained protesters' bags -- one was carrying an American flag -- and piling them into a van.
The number of police deployed tonight, as well as the use of blue dye to mark protesters, may suggest they are planning to make many more arrests.
8:00 a.m. ET, August 31, 2019
Police advance through Wan Chai as fire put out
From CNN's Helen Regan
The large fire set by protesters on Hennessy Road has been extinguished. Riot police are now heading east through Wan Chai and towards Causeway Bay, where the main group of protesters has retreated.
There are hundreds of police on the streets, supported by two large riot trucks armed with water cannon.
7:37 a.m. ET, August 31, 2019
Protesters set fire to barricades
From CNN's Helen Regan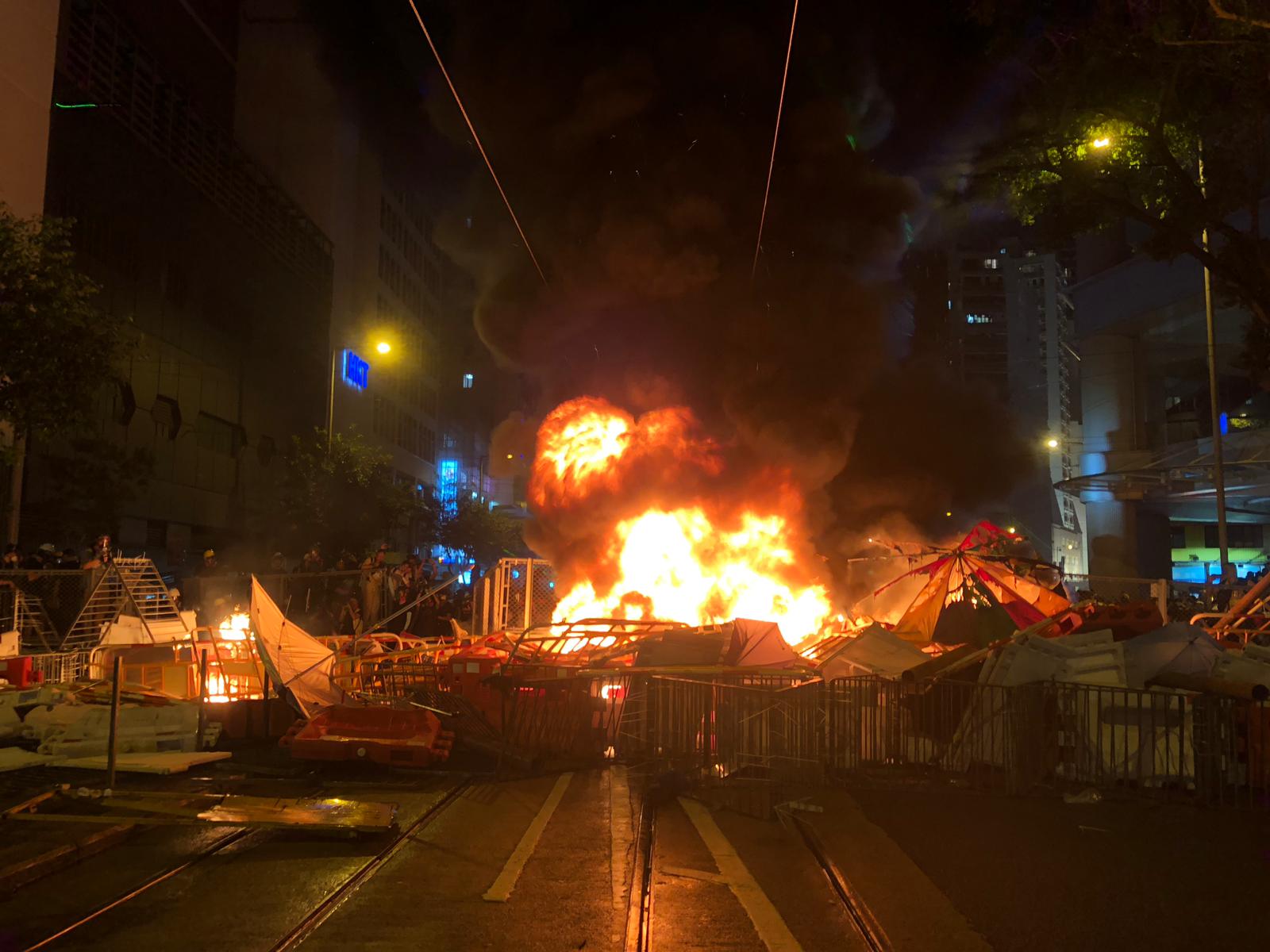 Protesters on Hennessy Road in Wan Chai, where many retreated from police clearance operations in nearby Admiralty, have set fire to a large pile of barricades and umbrellas.
The heat coming off the blaze is immense, and it's unclear whether the blaze could go out of control. Thick black smoke was filling the air as the flames licked an electric tram wire overhead.
7:35 a.m. ET, August 31, 2019
Here's what happened today
Hong Kong's thirteenth consecutive weekend of protests devolved into violence as the sun began to go down. Here's what happened earlier:
Wildcat protests replace canceled march: A major rally planned by the Civil Human Rights Front, which organized previous large-scale marches, was denied permission by police. People instead took to the streets for smaller wildcat marches in multiple areas.
Petrol bombs thrown at police: Protesters who gathered in Wan Chai near police headquarters threw water balloons filled with paint and petrol bombs onto the building.
Police fire tear gas and water cannon: Outside the main government offices on Harcourt Road and Tim Wa Avenue, where a large crowd of protesters had blocked the road, police fired tear gas and a water cannon to clear them. Protesters responded with petrol bombs and bricks but eventually scattered.
Blue dye used: For the first time, police fired blue dye from water cannon trucks. Such dye often stains clothes and skin, potentially marking protesters for identification later.