Hong Kong grounds all flights as protest paralyzes airport
6:28 a.m. ET, August 12, 2019
Stranded traveler: "It took an hour to get out of the arrivals hall"
Ben, a British expat who landed in Hong Kong at 4.20 p.m. on a Cathay Pacific flight from Cebu in the Philippines, said airport staff gave no warning of the chaos awaiting travelers trying to leave the airport. 
"It was wall-to-wall people chanting, 'Don't trust HK police' and providing maps of MTR stations that had been attacked in the last couple of days, and where people had been beaten up by the police," he said. 
Once through customs, Ben, who asked that CNN withhold his full name, said it took him an hour to battle through the arrivals hall. "Normally, it takes 10 minutes," he said.
Travelers stranded at the airport: The taxi stand was shut and Ben couldn't get on the Airport Express train, leaving him with few options to leave the airport.
"If you're waiting for that train, you're going to have to wait for an hour-plus, if not more," he said, describing a huge crowd waiting to catch the train, which takes 25 minutes to reach the city center.
"We weren't given any advice (after landing)," he said. "I'd seen on various WhatsApp groups what was going on, but there was nothing from airport staff warning what we were going to face." 
In the end, Ben left the airport terminal and walked up to the highway until he saw a taxi that dropped someone off.
6:24 a.m. ET, August 12, 2019
Chinese government condemns "terrorism" in Hong Kong
China's top office in charge of Hong Kong affairs issued a stern warning to the city on Monday, following violent clashes between protesters and police over the weekend.
Speaking at a press conference in Beijing, Yang Guang, a spokesman for the Hong Kong and Macao Affairs Office, claimed "heartless" protesters had thrown petrol bombs at police.
"Hong Kong's radical demonstrators have repeatedly attacked police officers with extremely dangerous tools," he said. "They have already constituted serious violent crimes and have begun to show signs of terrorism. This is a gross violation of the rule of law and social order in Hong Kong, which is endangering the lives and safety for Hong Kong citizens."
Use of the term "terrorism" in describing the most recent protests caused considerable alarm among many in Hong Kong. Central government and local officials have so far ruled out the People's Liberation Army (PLA) intervening to help control the protests, but all pointed to a section of the city's de facto constitution which allows the Hong Kong government to request their help for the "maintenance of public order."
6:15 a.m. ET, August 12, 2019
Airport crowds begin trickling out, but thousands still remain
With many expecting the police to show up at the airport, protesters are beginning to trickle out, and it's now a little easier to move around.
But thousands still remain, with crowds of people in both the arrivals and departures halls.
Many tell CNN they are trying to head home. There is a widespread fear of clashing with police -- which may be heightened after a weekend of intense violence, when police fired tear gas to disperse protesters in several parts of the city.
6:13 a.m. ET, August 12, 2019
Protesters demand "an eye for an eye" after a woman was shot in the eye yesterday
The slogan "an eye for an eye" is plastered all over the airport, on posters and in graffiti. It's a reference to the female protester whose eye was injured during clashes with the police on Sunday.
Police fired tear gas in several parts of the city Sunday to disperse protesters. One female was seen being treated by paramedics after she was hit in the face by an alleged police beanbag round.
Unconfirmed reports that she had potentially lost an eye circulated Monday, stoking outrage at the police. Protesters called for an "evil police eye for an eye" demonstrations to be held in response -- with the airport as the primary target.
Earlier today, a police spokesperson said there wasn't enough evidence to determine the cause of the injury to the woman's eye and that police won't investigate unless someone files a report on the incident.
6:02 a.m. ET, August 12, 2019
Many protesters head for the exits
There are long queues for any form of transport away from Hong Kong International Airport, as both tourists and protesters attempt to leave. Many protesters are fleeing in advance of an expected police clearance operation, which some fear could be violent.
The demographics at the airport protest have mostly been older and more peaceful than the young radical protesters who have characterised recent street battles with police. On Telegram, the encrypted messaging app which protesters use to coordinate and document the protests, people shared maps of the airport with suggested evacuation routes.
"Police are going to arrive at six so we need to get out of here. We're saying we'll go together. They will just attack us and bring out the tear gas," one 30-year-old protester told CNN.
Earlier police would not rule out using tear gas at the airport.
Nikita, a 20-year-old student, said she too would head home. She had come to the airport thinking it was safer than being on the streets, where forceful police tactics have been criticized by protesters, but now feared she might be tear gassed.
Some protesters may choose to stay at the airport and defy police attempts to remove them. Younger protesters were seen heading to the main terminals even as some began to quit, and masked and helmeted people could be seen in the main arrivals hall.
5:58 a.m. ET, August 12, 2019
Hong Kong officials call for protesters to clear the airport
Frank Chan, Hong Kong's transportation chief, told reporters that officials are calling for people to quickly leave the airport for safety reasons. 
"For the safety of airlines, tourists and staffs, we call for people at the airport to quickly leave the airport for our staff to continue the operation," said Chan. "We can only return to operation after considering tourists' and staff's safety."
"The Hong Kong airport is important for the logistic and transport industry. It is easy to lose, but it is really hard to build up the reputation," he said.
He added that the traffic jams and grounded flights are causing inconvenience, emphasizing that there are about 200,000 tourists coming to Hong Kong every day -- a key part of the city's economy.
There have been signs that the travel industry is taking a hit -- between June 16 and July 13, during which time there were several huge demonstrations, flight bookings to Hong Kong from Asia fell by 5.4% on the same period last year, according to analysis firm ForwardKeys.
5:57 a.m. ET, August 12, 2019
Airport protesters: "Sorry for the inconvenience but we're fighting for survival!"
Protesters have plastered posters, flyers and even spray-painted graffiti all over the airport.
One makeshift sign reads: "Sorry for the inconvenience but we're fighting for survival!"
Another says: "Shame on the cops." The sign refers to the police officers who protesters are accusing of brutality, corruption, inaction, and use of excessive force.
All departing flights, and several incoming flights, have been canceled because of the airport shutdown.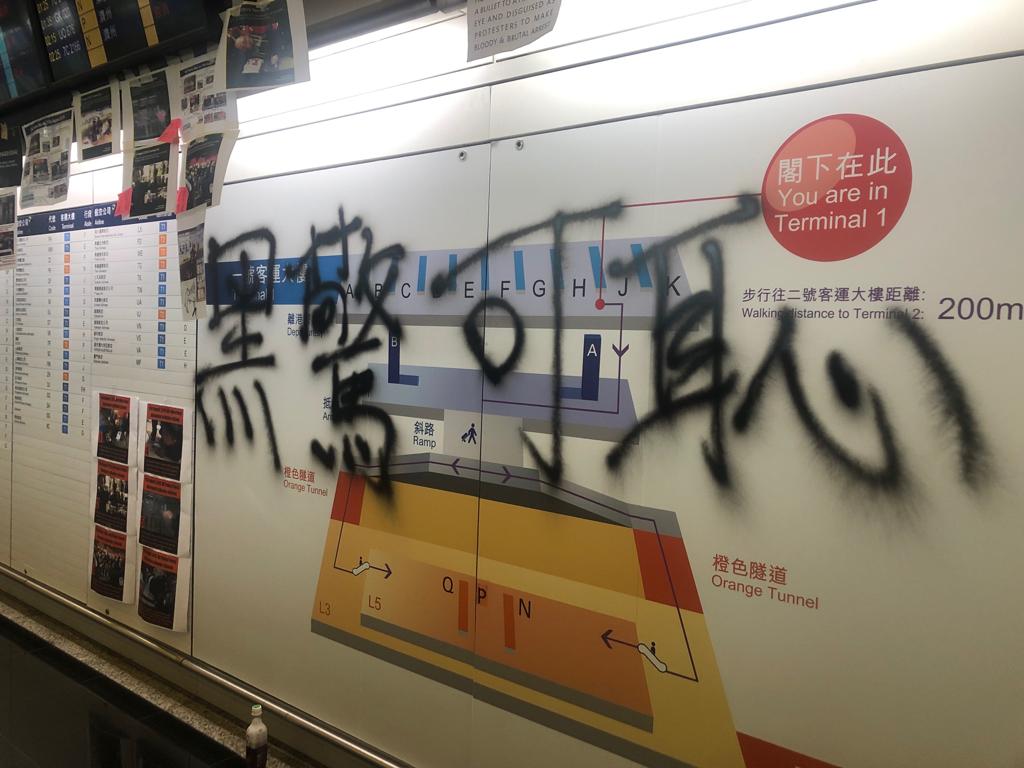 5:55 a.m. ET, August 12, 2019
Why Hong Kong's young protesters feel they're running out of time in fight for democracy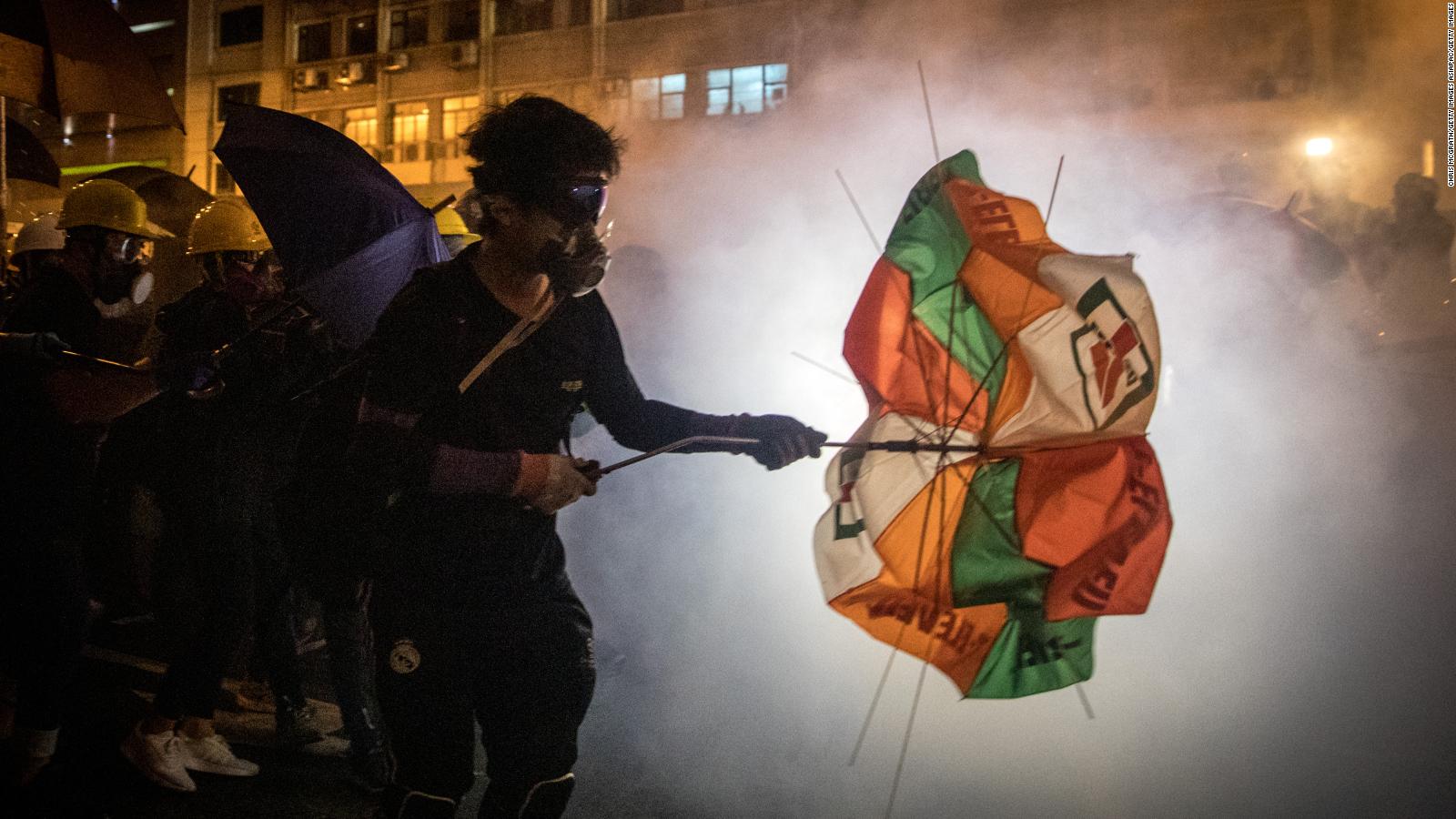 When protesters in Hong Kong targeted the Chinese government's headquarters in the city last month, social media users in China were united in outrage.
"The dignity of our motherland won't be allowed to be trampled," one person wrote on Weibo, the country's highly-censored equivalent to Twitter, while another warned the young protesters that "playing violently is how you seek death."
A third commenter sought to reassure others, writing that "the central government promised that Hong Kong won't be changed for 50 years. There's only 28 years left before Hong Kong becomes part of (China)."
A looming deadline: That 2047 deadline, on which the clock began ticking after the United Kingdom handed Hong Kong over to China in 1997, is at the forefront of the minds of the mostly young protesters who have been taking to the streets for over two months now, in increasingly violent confrontations with police and pro-government groups.
What began as protests over a now-suspended extradition bill have broadened to cover a host of demands, including calls for greater democracy and more government accountability, that many feel they are running out of time to achieve.
Even as democratic values have increasingly come under threat around the world, and many voters in democracies are increasingly expressing apathy or despair, young Hong Kongers are determined to continue a fight for freedom which began decades ago under British rule, before time runs out and Hong Kong becomes just another Chinese city.
"Liberate Hong Kong, the revolution of our times," the slogan of the protests has become.
5:54 a.m. ET, August 12, 2019
Cathay Pacific warns staff of "zero tolerance" with protests
Cathay Pacific, Hong Kong's flag-carrier airline, has told its employees that it has "has a zero-tolerance approach to illegal activities" and will comply with China's ban on staff who have protested.
The memo from the company's CEO, Rupert Hogg, warned that "there will be disciplinary consequences for employees who support or participate in illegal protests. These consequences could be serious and may include termination of employment."
On Friday, China's Civil Aviation Administration ordered Cathay to ban staff who have participated in and support the protests from doing "all air transport duties related to flights to and from the mainland."
Hogg's memo also warned employees against posting protest-related content on social media, saying: "You should not post anything that breaches privacy of colleagues, constitutes bullying or harassment or could bring Cathay Pacific Group into disrepute."