Flights resume after second night of chaos at Hong Kong airport
2:48 p.m. ET, August 13, 2019
UK foreign minister condemns Hong Kong violence
UK Foreign Minister Dominic Raab on Tuesday said he is concerned by "what's happening in Hong Kong and the worrying pictures of clashes between police and protesters at the airport."
"As I said to Carrie Lam during my call last week, we condemn the violence and encourage constructive dialogue to find a peaceful way forward," Raab tweeted.
2:19 p.m. ET, August 13, 2019
Here's what the protesters want
Tuesday marked the second day that protesters gathering at Hong Kong's airport prompted flight cancelations.
But the demonstrations have a much longer history: Protests kicked off in earnest in June to oppose to a now-shelved extradition bill.
About the bill: The measure would have would allowed China to extradite Hong Kong citizens. Critics worry China would use the bill to prosecute people for political reasons and that it would erode freedoms people in Hong Kong have. While the bill was suspended in June, Hong Kong's leader has not formally withdrawn it.
Beyond the bill: While the first days of protests were all about the bill, the movement has expanded. Protesters are now demanding an investigation into police brutality and long-running calls for greater democracy and political reform.
2:46 p.m. ET, August 13, 2019
Trump claims Chinese government is moving troops to Hong Kong border
President Trump addressed the situation in Hong Kong in a pair of tweets Tuesday.
He said in one tweet that US intelligence says "the Chinese Government is moving troops to the Border with Hong Kong. Everyone should be calm and safe!"
In another tweet, Trump said, "Many are blaming me, and the United States, for the problems going on in Hong Kong. I can't imagine why?" (Note: It's not clear what Trump is referring to.)
1:01 p.m. ET, August 13, 2019
Protesters detain reporter for Chinese state-run tabloid
A man who was detained by protesters and zip-tied to a luggage cart has been identified as a mainland Chinese reporter for state-run tabloid newspaper Global Times, according to the editor-in-chief of the outlet.
"Fu Guohao, reporter of GT website is being seized by demonstrators at HK airport. I affirm this man being tied in this video is the reporter himself. He has no other task except for reporting. I sincerely ask the demonstrators to release him," Hu Xijin, editor-in-chief of Chinese and English editions of the Global Times, tweeted. 
Hong Kong TV channel iCable, a CNN affiliate, reported that the man was wearing a yellow high visibility vest and that protesters were demanding to see his press ID, while shouting "gangster" at him. 
According to local reports, protesters pinned him to the ground, seized his belongings and draped an "I love HK Police" T-shirt over him, as others tried to step in and stop the violence.
Here is the editor's tweet:
12:35 p.m. ET, August 13, 2019
UK official offers support to Hong Kong citizens
A senior British Conservative politician has called for Hong Kong citizens to be given full UK nationality as a way to reassure them they are supported by the UK amid ongoing protests.
Parliament member Tom Tugendhat, chair of the UK government's House of Commons Foreign Affairs Committee, said Tuesday the UK should consider extending "full citizenship rights to the HK Chinese."
"This should have been done in 1997 and is a wrong that needs correcting," Tugendhat tweeted.
He said the UK has obligations under the Sino-British Joint Declaration.
"Under the Sino-British Joint Declaration the HK Special Autonomous Region has a separate status until 2047 - 50 years after reunification with China. The Basic Law provides the constitutional underpinning of HK's status. The question now is: what should the world do?," he tweeted.
12:26 p.m. ET, August 13, 2019
How the clashes between police and protesters unfolded
Police have come and gone from Hong Kong's airport after clashes with protesters.
Here's how the chaos unfolded:
Riot and tactical police clashed with protesters outside the airport. Their arrival created a brief window for paramedics to finally evacuate an unconscious man to an ambulance. The man was accused by protesters of being an undercover police officer and detained for several hours.
After ambulances left, there were brief clashes between police and protesters as the cops too attempted to leave.
Protesters were stymied by barricades they had thrown up themselves at entrances to the airport, thinking police would attempt to clear them from the area. This meant the authorities had a major numerical advantage and they were eventually able to break through the crowd.
But not before one police officer was isolated and attacked by protesters, during which he appeared to draw his side arm and point it at them.
Tactical officers wearing black without markings were the last to leave, after making several arrests outside the airport and deploying pepper spray multiple times.
12:24 p.m. ET, August 13, 2019
Video showed protesters beating an officer. He then pulled a weapon.
Video from tonight's clashes showed a police officer being assaulted by protesters at the airport.
The video — taken by the Wall Street Journal's Mike Bird — appeared to show the officer pull a weapon on the protesters to get them to stop.
Watch the video:
12:21 p.m. ET, August 13, 2019
At least 4 people detained in clashes
CNN witnessed at least four protesters detained and put into police vehicles before being driven away.
All police vehicles that arrived to the airport about an hour ago in tour buses have now left the airport, CNN crews on the ground report.
The tactical response unit was the last group of officers to leave the airport after clearing the roads for the larger police buses.
12:12 p.m. ET, August 13, 2019
What the chaos at the Hong Kong airport looked like
Chaos unfolded at Hong Kong's airport late on Tuesday night, when riot police clashed with protesters who flooded the airport to rally against a proposed law, which would have seen people extradited into mainland China's opaque justice system.
The police have started retreating, but here's a look at what the unrest looked like at the height of the chaos: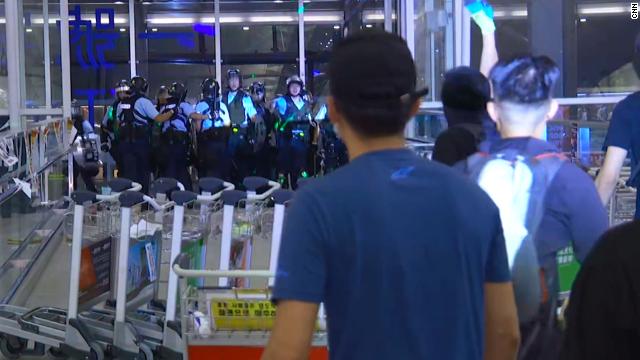 And here's video from in front of the airport: