Flights resume after second night of chaos at Hong Kong airport
10:13 a.m. ET, August 13, 2019
Beijing's intervention "inevitable" if Hong Kong can't restore order, state media editor says
As protesters continue to block Hong Kong International Airport, the editor of Chinese state media tabloid Global Times has again warned of a possible military crackdown.
Editor Hu Xijin said on his official Twitter account that it would be best if "Hong Kong can restore order by itself."
"(But) if the development of the situation suggests there is no such hope, Beijing's intervention will be inevitable," he said.
"It's a hard choice, but once it becomes the decision, it will be a firm one"
Beneath his tweet, he posted pictures of Chinese armored personnel carriers.
10:06 a.m. ET, August 13, 2019
Long queues for few remaining customer service workers
At the Hong Kong International Airport customer service counter, just a few frontline workers are trying to address a long line of angry passengers.
Some travelers are even approaching journalists in an attempt to get more information about what is going on with their flights.
One woman trying to get home to Milan, Italy, said she couldn't contact anyone at Cathay Pacific to tell her what was happening.
See the lengthy queue for yourself:
9:58 a.m. ET, August 13, 2019
Where the Hong Kong airport protest stands
Just after 9.30 p.m. local time (9.30 a.m. ET), there is no end in sight to the protests which have crippled Hong Kong International Airport for the second day in a row.
Thousands of protesters are still occupying the airport -- blocking access to departure gates and sitting in the arrivals halls.
Here's what has happened:
Second day of airport protests: Hundreds of demonstrators began pouring into the airport early in the day after disrupting flights the night before.
Safe from Hong Kong's police: Protesters said they were targeting the airport because they didn't believe police would attempt to clear it when it was full of passengers and tourists, leaving it a safe space to demonstrate.
Airport disrupted: Dozens of outgoing flights have been canceled, with passengers unable to reach others because of protester barricades. Most incoming flights are still on schedule but some have also been canceled.
Passengers frustrated, angry: Some delayed travelers say they support the protests, while others were infuriated by the loss of time and money from the delays. "I don't know if we can fly," one 16-year-old Italian traveling with his family said. "It was a very expensive holiday, and we wanted to have the best time."
Alleged undercover police officer zip-tied: A man accused of being an undercover police officer has been held and tied up by demonstrators, without conclusive evidence. After fainting in a press of people, protesters accused him of faking.
9:47 a.m. ET, August 13, 2019
Asia flight bookings to Hong Kong plunge 33% in last four weeks compared to same period in 2018
New data from flight booking analyst firm ForwardKeys shows a "dramatic drop" in Asia bookings to Hong Kong during the ongoing pro-democracy protests, the company said in a statement.
What's the damage: In the 27 days between July 14 and August 9, flight bookings from Asia -- not including mainland China and Taiwan -- fell by 33.4% from the same period last year.
"There is now clear evidence that the protests have reversed a positive travel trend in which bookings for the first six and a half months of the year were up 6.6% on 2018," the statement said.
"The situation in Hong Kong has deteriorated substantially in the past eight weeks and particularly so in the past four," said ForwardKeys spokesperson David Tarsh.
What caused the fall in bookings: For the eight-week period from June 16 to August 9, flight bookings fell by 20% from last year, the company said. During that time, a mass protest of reportedly two million people took to the streets, the Legislative Council building was stormed by protesters, riot police fired tear gas and rubber bullets in increasingly fraught confrontations with protesters, a mob attacked protesters in Yuen Long and police fired tear gas in multiple subway stations. There have also been hundreds of arrests and dozens of injuries.
Long-haul flights affected too: There is also evidence that the protests are now affecting long-haul bookings to Hong Kong, with a 4.7% drop between June 16 and August 9 from last year, the company found.
Numbers could get worse: ForwardKeys, which analyses over 17 million flight bookings a day, says the numbers do not include the protests at the airport on Monday when all flights were canceled after demonstrators occupied the airport.
9:13 a.m. ET, August 13, 2019
Alleged undercover policeman faints. Protesters say he's "faking"
The man who Hong Kong airport protesters accused of being an undercover policeman appears to have collapsed.
Amid demonstrators yelling that he was "faking it," paramedics put him on oxygen and attempted to take him away.
But the protesters wouldn't allow it. A 60-year-old security guard at the scene said he had never seen anything like it before in Hong Kong.
Asked if they were worried the man might not be faking it, protesters said they didn't care.
"So they shut down Hong Kong? Good! We are ready for it, we want it," one male protester said.
9:06 a.m. ET, August 13, 2019
The power of protest art
Hong Kong's airport is plastered with posters, flyers, and drawings -- examples of the widely-disseminated protest art that informs, inspires and, at times, offers light relief. 
The political art has taken on a distinct style, from design to distribution. Banners are not just plastered onto main roads -- they are sent directly to residents via Bluetooth and Wi-Fi almost immediately after they are created.
The graphics serve multiple purposes; some advertise upcoming protest marches, others contain subversive criticism of the authorities and many encourage unity and stamina.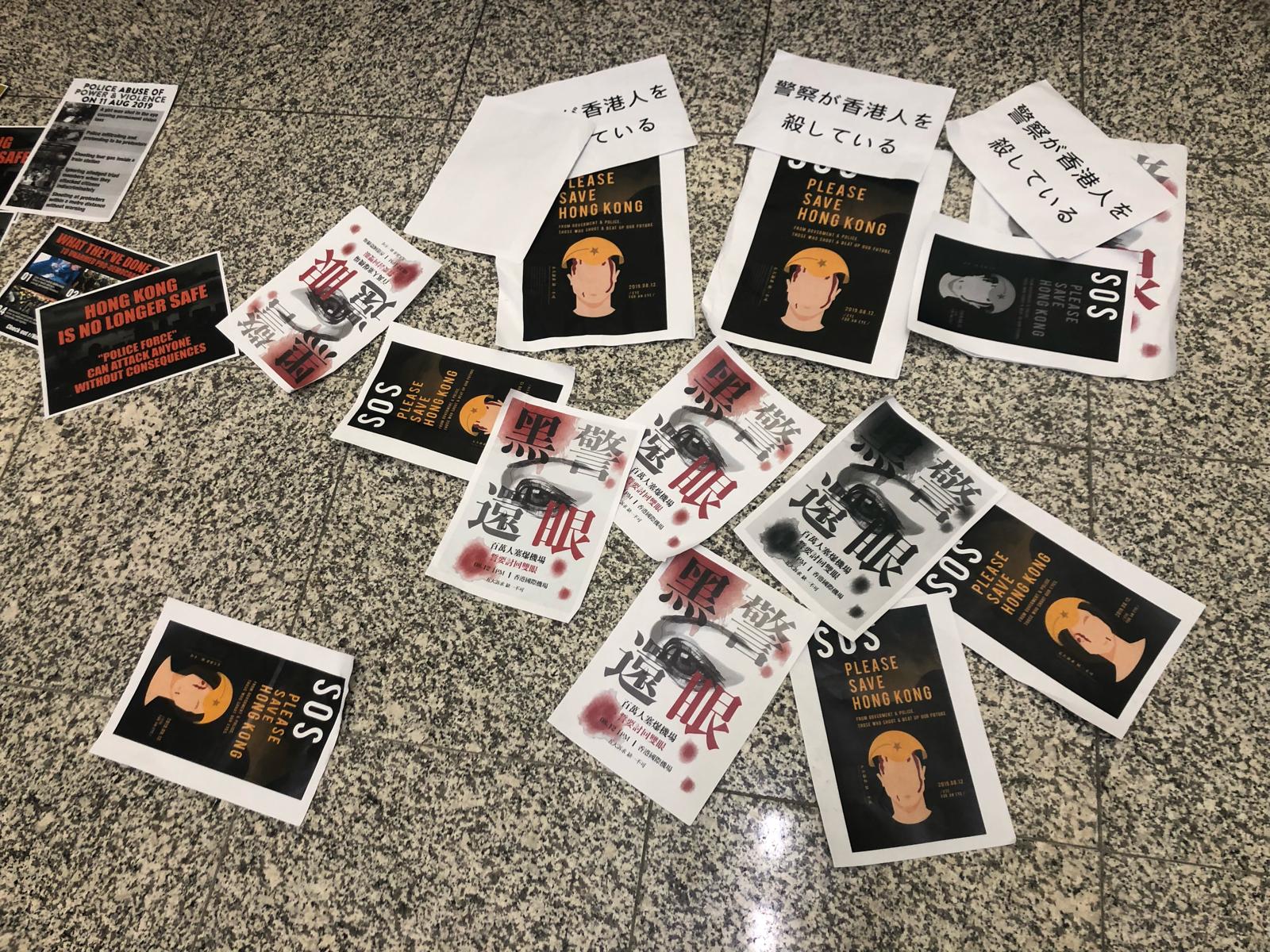 "Be water": A key theme of protesters' posters is the ability to "be water," a phrase inspired by martial arts icon Bruce Lee that encourages fluidity and adaptability to any situation. This is in stark contrast to the 2014 protests, which remained in one area of the city as protesters set up camp against the authorities.
"An eye for an eye": A newly emerging poster theme depicts a woman with an eye missing, a reference to an injury suffered during Sunday night's clashes with police. Many protesters at the airport on Monday also wore eyepatches in reference to the woman's injury.
Read more here.
8:52 a.m. ET, August 13, 2019
Lack of information leaves passengers confused
It's no surprise that passengers are confused.
Despite the airport suspending all check-ins, some flights appear to still be going ahead, albeit with delays.
At the in-town check-in on Hong Kong Island, many passengers are staring at the flight departure boards, where only some of the flights showed up as being canceled. On the airport's website, there are still outgoing flights that appear to be going ahead Tuesday night. 
Like at the airport, in-town check in is closed — but passengers are still able to travel on the Airport Express.
And different airlines are giving different advice. On its website, HK Express says passengers should check the latest flight information, and advises that flights may even leave earlier than scheduled. 
Hong Kong Airlines said that check-in services at the airport have been suspended until further notice and said it was "monitoring the situation closely and may make adjustments to our flights at short notice."
Air Asia said it was also "closely monitoring the situation in Hong Kong" and "strongly advised" passengers to check your flight status "from time to time."
And China Airlines said that "due to airport operation, partially flights to/from Hong Kong International Airport have been cancelled on 12AUG and 13AUG."
Cathay Pacific, meanwhile, has a message on its website urging customers not to travel to the airport and to postpone non-essential travel on Tuesday and Wednesday.

8:52 a.m. ET, August 13, 2019
You can't get a flight out of Hong Kong airport. But you can still buy dinner
On Monday night the airport's usually booming hospitality sector was dead quiet, with booths and tables taken over by demonstrators.
But 24 hours later, they're mostly open and full of customers.
Apart from a long line in the arrivals level for Starbucks, things seem pretty orderly at the eateries -- an island of calm amid the chaos
At Crystal Jade, a popular Hong Kong restaurant chain, one person in line complained about waiting for more than 20 minutes for a table.
8:44 a.m. ET, August 13, 2019
Protesters zip-tie man they accuse of being undercover policeman
A man accused of being an undercover policemen has had his wrists zip-tied together by young demonstrators.
It came after an hour-long stand-off between protesters and airport workers who tried to protect the man.
Airport security and pro-democracy district counselors are attempting to defuse the situation. It is symbolic of a growing paranoia of demonstrators after undercover policemen, dressed as protesters, were used on Sunday to surprise and arrest some of their number.