Hong Kong protests enter 11th consecutive weekend
3:41 a.m. ET, August 18, 2019
Tens of thousands of protesters turn Victoria Park into sea of umbrellas
The rain has started to pour in Hong Kong but that hasn't put off the thousand of protesters currently in Victoria Park.
Protesters are huddling under thousands of multi-colored umbrellas in the park, which is so full that many are spilling out onto the surrounding streets.
Protesters have also begun to peacefully march out of the park along Gloucester Road, carrying banners and chanting.
3:36 a.m. ET, August 18, 2019
Protest organizers call for resignation of police commissioner 
During a speech at the rally in Victoria Park, a spokesperson from protest organizers, the Civil and Human Rights Front (CHRF), called for both the chief commissioner of police and the secretary of security to step down. 
"Recently we are witnessing considerable level of police brutality against Hong Kong people. People have lost faith in the police," the CHRF said.
"The original intention of the anti-extradition bill is to resist the authoritarian rule of China, to prevent Hong Kong people living under fear. However the recent reaction from the police has threatened the personal safety of Hong Kong people."
At about 3:10 p.m. local time (3:10 a.m. ET) organizers announced that the park was now full and police had closed Gloucester Road, one of the main arteries leading from the park.
3:18 a.m. ET, August 18, 2019
What to wear if you want to stay safe in the protests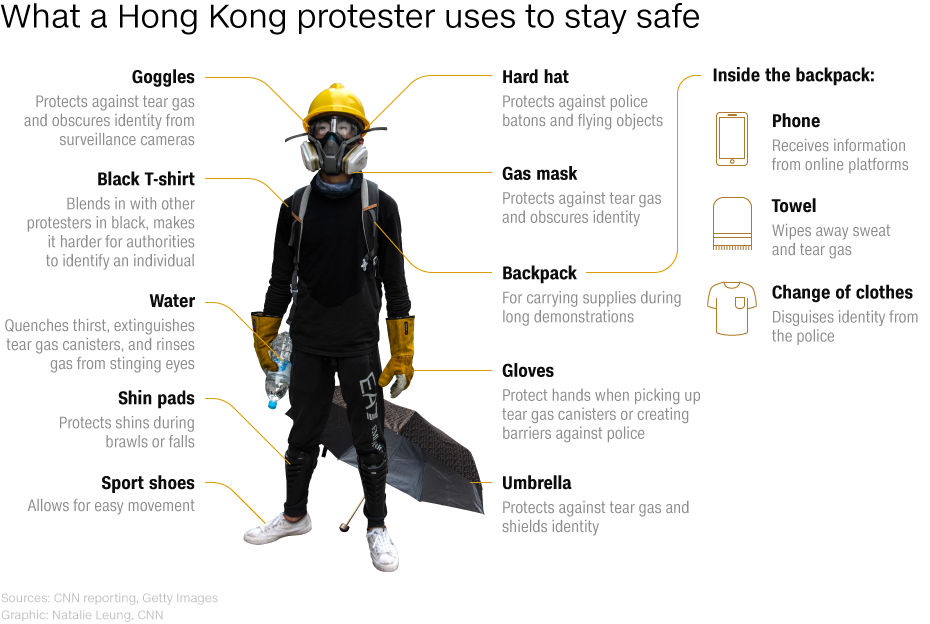 Protesters have been on the streets for more than two months now, facing off against police, tear gas, rubber bullets, and pepper spray nearly every week.
By now, the protesters -- mainly young people and students -- are seasoned pros, and arrive at protests decked out in gear. Here are some of the items to bring and wear if you want to stay safe at a protest:
Goggles protect your eyes from tear gas, which irritates and burns the skin and eyes. These are also useful if you don't want to be easily identified.
Gas masks aren't cheap but they provide crucial protection against tear gas.
Hard hats also offer protection against police batons and flying objects -- protesters have thrown everything from bricks to plastic bottles during clashes with police.
Water is a must -- heat stroke and dehydration are real threats in the sweltering summer. Water can also extinguish tear gas canister and rinse the gas from your eyes during clashes.
Umbrellas have become a protest symbol, perhaps inspired by 2014's months-long pro-democracy protest, dubbed locally as the "Umbrella Revolution." They can act as shields against tear gas and unwanted cameras.
Sport shoes, shin pads, gloves, towels, and a change of clothes aren't a must -- but they add small degrees of comfort during unpleasant protests.
3:11 a.m. ET, August 18, 2019
Pro-democracy veteran: Government needs to listen to protesters
Pro-democracy lawmaker, and veteran protester, Leung Kwok-hung, who is more commonly known as "Long Hair," was among the crowds in Victoria Park Sunday.
He told CNN that he believes more than 1 million people will join today's rally.
"I think the majority of the Hong Kong population demand there be an independent investigation about all the conflicts and legislation of the extradition law," he said.
"The first thing the government needs to do is to listen to the people and do what they demand."
As Hong Kong enters its 11th consecutive weekend of anti-government protests, the city is waiting anxiously to see if both protesters and police can avoid the violent clashes that have characterized recent weeks.
Police have not given permission for protesters to march out of Victoria Park to Chater Garden in Central District as planned, raising the possibility for clashes if groups to decide to push ahead.
3:03 a.m. ET, August 18, 2019
Subway station crowded with protesters
Crowds of people heading to the protest in Victoria Park are filling up the subway station in Admiralty district -- one of the main transit points between Kowloon and Hong Kong Island.
This is the queue for the eastbound Island Line at Admiralty station, as protesters head to Tin Hau or Causeway Bay to join the protest.
The Mass Transit Railway (MTR) corporation issued an alert Sunday warning that large numbers of passengers were causing overcrowding at station platforms and that "Island Line trains might not stop at certain stations." It cautioned passengers that longer wait times at some stations are expected.
2:52 a.m. ET, August 18, 2019
Police warn Hong Kong residents about protest over text message
Hong Kong police have sent SMS message to members of the public advising them of today's protest in Victoria Park.
"Police appeal," the message reads. "Major public event at Victoria Park this PM, stay tuned to media and police updates."
The messages come after local broadcaster RTHK reported that police would be sending out alerts during mass demonstrations to raise awareness and for safety reasons.
Police said that due to the high number of people in Hong Kong -- 7.5 million live in the city -- that residents may get the messages at different times during the day, according to RTHK.
2:49 a.m. ET, August 18, 2019
Today's march is all about peace
Today's mass demonstration was organized by the Civil and Human Rights Front (CHRF), which organized the two mass anti-government rallies in June that attracted two million participants, according to organizer estimates.
The slogan for today's march is "Peaceful, Rational, and Non-Violent Protesters Stand Out" -- a clear response to the violence at the airport on Tuesday night.
At the airport, a mob detained a man accused of being an undercover cop, even after he appeared to lose consciousness. The incident shocked many Hong Kongers, including many of those who support the protest movement.
Today will be a key test of whether traditional democrat groups can regain control of the momentum and reframe the narrative, away from violence and back to large-scale peaceful protest.
2:47 a.m. ET, August 18, 2019
"I'm here to peacefully fight for my rights"
Former journalist Everett, who now works in PR, says that he's joining the protest in Victoria Park today to fight peacefully for his rights.
Everett wears a sign on his forehead asking Carrie Lam, Hong Kong's Chief Executive, to step down, and says he's against any violence during the protests.
"Misconduct of police ... its an even worse problem than the extradition bill," he said.
Hong Kong protests initially kicked off 11 weeks ago in opposition to a proposed bill that would have allowed extradition to mainland China. In the ensuing weeks protesters' demands have expanded to include an independent inquiry into police misconduct, dropping of riot charges and to free arrested protesters, Lam's resignation, and greater democratic freedoms in the semi-autonomous Chinese city.
Everett says the violence at the airport on Tuesday, when a mob detained a man accused of being an undercover cop, cost the protesters, but he believes they haven't lost their way.
2:36 a.m. ET, August 18, 2019
And they're off
Thousands of protesters have streamed into Victoria Park ahead of today's rally, which is expected to start at 2:30 p.m. local time (2:30 a.m. ET). Many are here despite the humidity and heavy rain.
The majority of the crowd are dressed in black, the color scheme that has become a signature of the pro-democracy movement.
What happens after the initial rally is unclear. Police denied organizers permission to march from the park through the city to central Hong Kong, a common route that's often used during big demonstrations.
Previous attempts by police to deny organizers permission to march have failed to prevent demonstrators from following pre-planned routes.
Organizers called the decision to deny the march "unreasonable."
The Civil and Human Rights Front (CHRF)'s Bonnie Leung said the group expects a huge turnout and is urging protesters to gather nonviolently.