Hong Kong protesters storm government building over China extradition bill
2:14 a.m. ET, July 1, 2019
What Hong Kong's colored police warning flags mean
Inside the Legislative Council building, which protesters are trying to storm, police have held up a red flag, meaning: Stop charging or we use force.
The police have a color-coded system of warning flags:
Yellow: Police cordon, do not cross
Red: Stop charging or we use force
Black: Warning -- tear gas
Orange: Disperse or we fire
2:10 a.m. ET, July 1, 2019
Police officers: Stop charging or we use force
Police officers inside the Legislative Council have put up a red banner that reads, "Stop charging or we use force."
On the other side of the glass window, protesters are trying to break in. They have rammed the walls and windows with steel rods and carts -- and have succeeded in cracking the thick glass.
2:16 a.m. ET, July 1, 2019
Police ask July 1 march organizers to postpone annual protest
At a police press conference around 2 p.m., Senior Superintendent Kong Wing-Cheung announced that authorities had asked the organizers of the July 1 pro-democracy march to postpone.
It followed a morning of clashes between protesters and riot police, hours before the annual demonstration was even due to begin at 3 p.m.
A small group of protesters has even attempted to break into the Hong Kong Legislative Council by using a metal trolley as a battering ram.
In response to the unexpected violence, police said they had suggested the march organizers to either postpone the protest or change the route.
According to Kong, the protest organizers refused.
Hundreds of thousands are expected to take the streets later Monday, in what organizers hope will be the largest protest against the extradition bill since June's record-breaking turnout.
1:55 a.m. ET, July 1, 2019
Protesters unable to force entry to Legislative Council building for the moment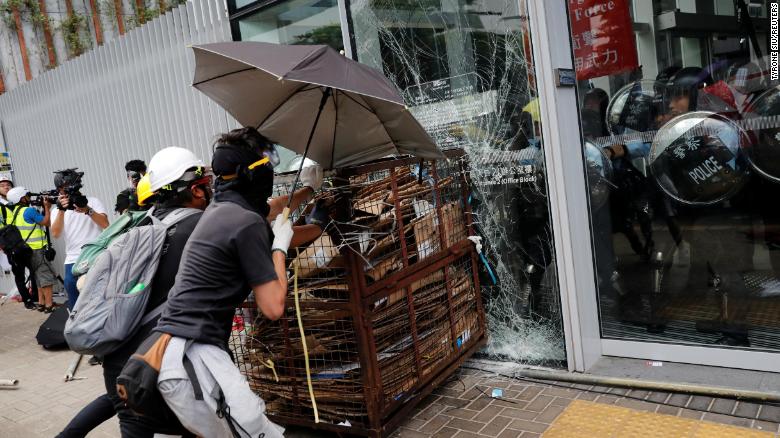 Protesters are trying to break into the Legislative Council building in Hong Kong, but the walls and windows are holding firm.
The thick, reinforced glass windows are cracked from when protesters rammed them with metal carts and rods, but they have yet to give way.
There are unconfirmed reports that additional police units armed with riot gear are heading to intercept the protesters.
2:11 a.m. ET, July 1, 2019
Police fire pepper spray at protesters trying to break into Legislative Council
Riot police are firing pepper spray at protesters who are attempting to break into the Hong Kong Legislative Council building, the center of the city's government.
Several hundred, mainly young, masked protesters are leading the charge, in what marks the most significant escalation since June 12, when as many as 5,000 riot police fired rubber bullets during violent clashes with protesters.
Protesters are still using a metal cart to ram their way into the building, but the glass door is holding for the moment.
There are reports on protesters' Telegram groups of police armed with riot gear, including bean bag guns and rubber bullets, heading to intercept the protesters.
3:26 a.m. ET, July 1, 2019
Hong Kong protesters trying to break into government headquarters in major escalation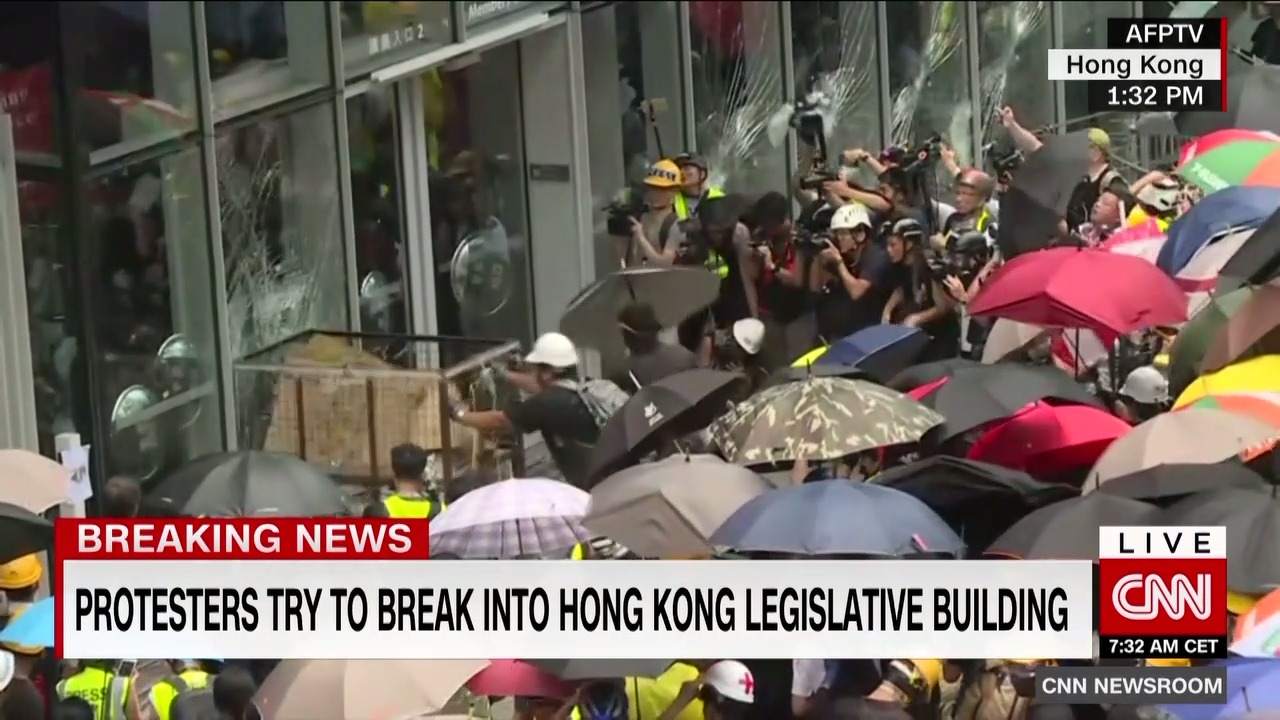 A number of the anti-extradition bill protesters waiting outside Hong Kong's Legislative Council building are attempting to force their way inside.
Images from the scene show demonstrators using a metal cart as a battering ram in an attempt to smash through the front entrance.
Images show riot police rushing to the scene in a bid to prevent the protestors from entering.
Hong Kong pro-democracy legislators Claudia Mo and Lam Cheuk Ting had been trying to discourage the protesters from storming the government building.
But angry demonstrators appear to have ignored their advice.
Watch the moment here:
1:18 a.m. ET, July 1, 2019
Hong Kong anti-extradition bill protests have gone international
In the lead up to July 1 protests, Hong Kong protesters have tried to take their message to the world.
After a successful crowd-funding effort, pro-democracy groups published full-page advertisements in international publications such as the New York Times and the Washington Post.
They called on world leaders at the G20 summit in Japan on June 28 and 29 to raise the issue with Chinese President Xi Jinping.
There were even groups of Hong Kong activists who protested in Osaka itself, close to the G20, and in Grand Central Terminal in New York.
There have been some small rewards for their efforts.
Ahead of the G20, the Chinese Foreign Ministry said that it would not allow any questions on the Hong Kong protests.
But in his first meeting with China's Xi, Japanese Prime Minister Shinzo Abe raised the issue, according to the Japanese Foreign Ministry.
1:31 a.m. ET, July 1, 2019
Protesters crowdfunded $640,110 for newspaper ads
Hong Kong protesters last week crowdfunded more than HK$5 million ($640,110) to buy full-page ads in major international newspapers including the New York Times and The Australian.
The ads, which came out ahead of the G20 summit in Osaka, urged readers and world leaders to support the full withdrawal of the controversial extradition bill.
But the man behind the campaign -- a 29-year-old developer using the pseudonym Tony Lo -- says he was just the man at the keyboard.
"I executed the people's idea. We executed the idea together -- I just pushed the button," Lo said.
Earlier today, Lo was with protesters on the front lines as they clashed with police officers, who Lo says used pepper spray.
"I'd rather get injured today and arrested under Hong Kong law, than get arrested under Chinese law," he said. "It's not even a choice for me.
"If I had the choice, I wouldn't be doing this under the blazing sun, fighting with police. I don't have a choice right now -- it's the fight for our freedom, our autonomy and our future."
2:20 a.m. ET, July 1, 2019
13 Hong Kong police injured by protesters, officials say
Hong Kong police say 13 officers were injured when protesters threw an unidentified liquid at them in a clash on Monday morning.
The injured officers were sent to hospital, according to a statement released by police. 
Officers said a group of protesters had blocked the road and charged at a police cordon.
"Police officers at the scene were injured and among them, some experienced difficulty in breathing and had swollen and itchy skin. Thirteen officers were sent to the hospital for treatment. The case was taken up by the Organised Crime and Triad Bureau," the police statement read. 
CNN's team on the ground saw police charging at protesters in the same incident.