Hong Kong protesters form human chain across city
By Jessie Yeung and Ivana Kottasova, CNN
Updated
7:50 a.m. ET, August 26, 2019
12:31 p.m. ET, August 23, 2019
12:23 p.m. ET, August 23, 2019
Hong Kongers link arms to show solidarity with protest movement
Hong Kong's pro-democracy demonstrators formed a human chain across the territory on Friday evening in a show of solidarity for the city's protest movement.
Starting from around 8 p.m. local time (8 a.m. ET), thousands of people began holding hands, forming chains along three subway lines to form the "Hong Kong Way."
The action was planned to coincide with the 30th anniversary of the "Baltic Way," a historically significant peaceful demonstration against Soviet occupation.
On August 23, 1989, an estimated 2 million people formed a 600 kilometer (372 miles) human chain across the three Baltic states of Estonia, Latvia and Lithuania.
Friday's protest was a peaceful event. At some places, people were singing and chanting pro-democracy slogans.
Protests have been happening for more than two months in Hong Kong.
Initially, the focus was on a now-suspended extradition bill that would have allowed China to extradite people from the territory.
Since then, demands have expanded to include calls for democracy and political reforms.
10:40 a.m. ET, August 23, 2019
Hong Kong's Lion Rock lights up
Lion Rock hill, which is one of Hong Kong's most famous views, was illuminated on Friday, as pro-democracy protesters gathered there to form a human chain.
Lights from its peak were visible from across the city as demonstrators used their phones as torches.
10:31 a.m. ET, August 23, 2019
People cover an eye in solidarity with injured protester
People attending Friday's protests once again made the gesture of covering one of their eyes, in solidarity with a woman whose eye was badly injured on August 11.
Demonstrators claim she was hit by a police projectile. Her injury has since become one of the symbols of the protest movement, with many supporters wearing face patches or masking an eye with a hand.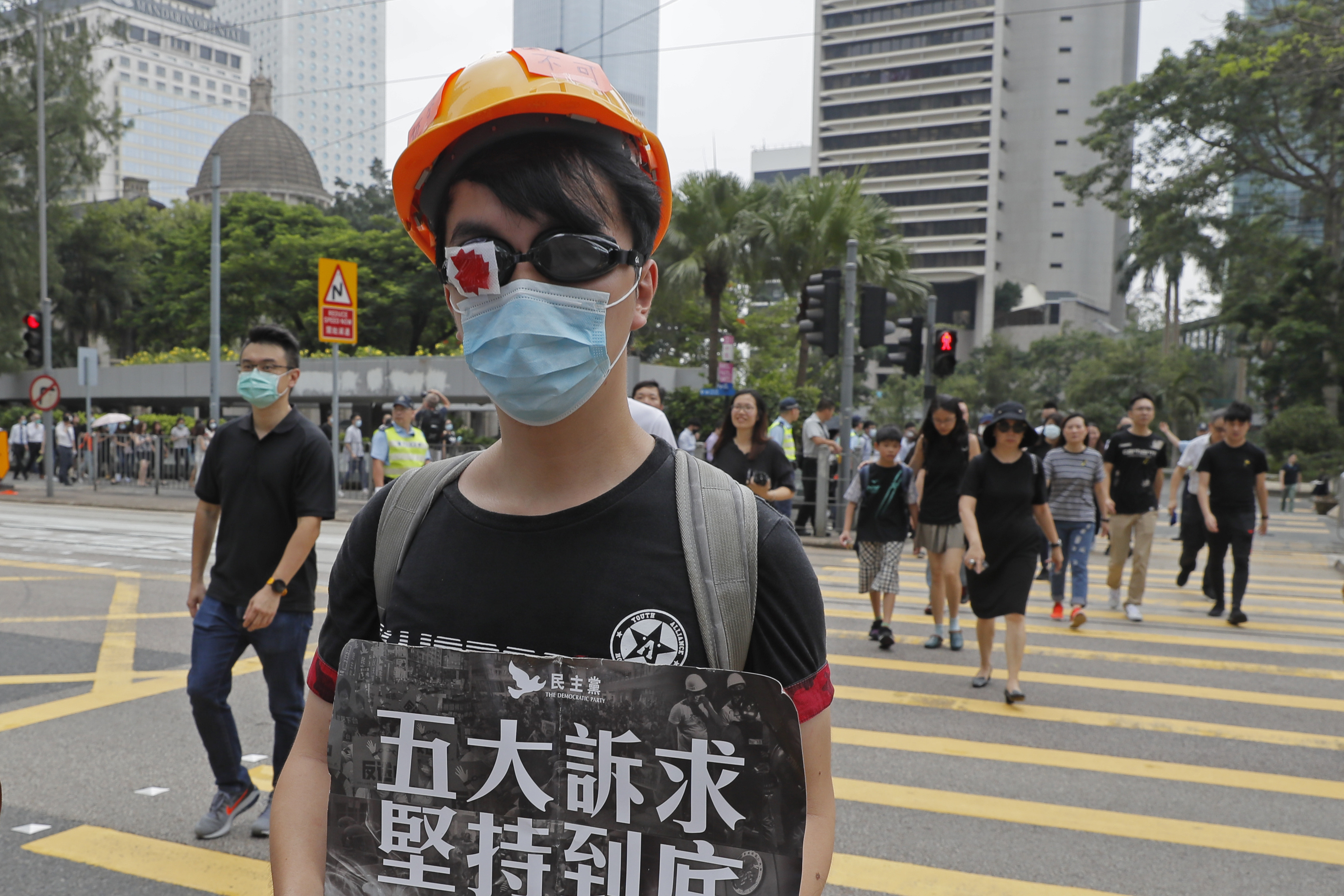 10:09 a.m. ET, August 23, 2019
"It's just so hopeless"
From CNN's Julia Hollingsworth
Felix Wong, 33, has been coming to the protests for months. She has been at most of the weekend demonstrations in the past few weeks. It's tiring, she said.
"Especially mentally, because you feel like every time you fight, it's just getting worse, more people getting arrested, people getting beaten.
"We have to fight for democracy, we have to fight for a better system, the system is breaking down, the police, they are abusing their powers, that's why we have to fight for our rights," she said.
At one point in the evening, Wong started crying. She said that in the last couple of months she has been getting upset easily.
The most devastating thing, she said, is when people try to portray her and other peaceful protesters as violent. News articles and the scenes around her often bring tears to her eyes.
"It's just so hopeless, we just keep asking for the same thing, we try every way... we just need to keep encouraging each other," she said.
Wong and her friend were carrying foreign-language signs thanking people around the world for their support.
9:24 a.m. ET, August 23, 2019
Hong Kong residents of all ages are on the streets tonight
From CNN's Julia Hollingsworth
People of a wide variety of ages are demonstrating in Hong Kong tonight, joining the human chain lining the city's streets.
Cheung, a 59-year old surveyor who would only give his first name, came with a friend. He said he has been joining the protests for a while and intends to keep going until the government agrees to the protesters' demands.
Cheung and his friend said they liked the idea of the human chain. "It's quite meaningful, it's symbolic," he said.
He recognizes he is something of an outlier when it comes to age.
"Most of the guys who are studying in universities, almost 100%... are pro-democratic... for people of our age, it's 50-50, or 70-30, people care more about their wealth, money," he added.
9:08 a.m. ET, August 23, 2019
Protesters are singing and chanting
From CNN's Julia Hollingsworth
The atmosphere is joyful in some parts of city. Protesters are waving illuminated phones and singing songs from the Les Miserables musical, reading the lyrics from sheets of paper.
Demonstrators gathered on Queensway are chanting to fellow protesters who are lined up on the bridge above. Their chants include: "Liberate Hong Kong," "Time of Revolution" and "We have five demands."
The gatherings have an upbeat vibe. People appear optimistic and there is a sense of community, as strangers befriend each other while forming the chain.
However, when a car flying a Chinese flag drives by, people start yelling and giving it the thumbs-down gesture.
A number of taxis have been spotted driving around the city displaying Chinese flags -- something that has not happened on this scale during previous protests.
8:34 a.m. ET, August 23, 2019
People fear being identified by the government
From CNN's Julia Hollingsworth
Some protesters at tonight's event are covering their faces and guarding their identities.
Chan, a 27-year-old student who wouldn't share his last name, said he has been coming to the protests almost every week. On Friday, he was wearing a mask, reflective glasses and a hard hat.
"The Hong Kong government has many CCTV (security) cameras in the streets and they can easily track people who come to the protests," he said. "I am covering my face to protect my friends, my family and all people related to me."
8:11 a.m. ET, August 23, 2019
Protesters starting to link hands for human chain
Long lines of people are starting to form in the Admiralty district of Hong Kong, forming part of the planned human chain that protest organizers say will extend along Hong Kong's three major subway routes -- the Island Line, Tsuen Wan Line and Kwun Tong Line.
Demonstrators were also seen gathering at Tsim Sha Tsui station, on Johnston Road in Wanchai and along Queensway.