Hong Kong protests: Riot police fire tear gas at protesters for second consecutive day
12:15 p.m. ET, July 28, 2019
Our live coverage of the protests on Hong Kong Island has concluded, but you can read more about the ongoing crisis here.
11:38 a.m. ET, July 28, 2019
Most protesters are heading home before the last train
Most protesters appear to be leaving and heading into the Sheung Wan subway station, in time to catch the last train home.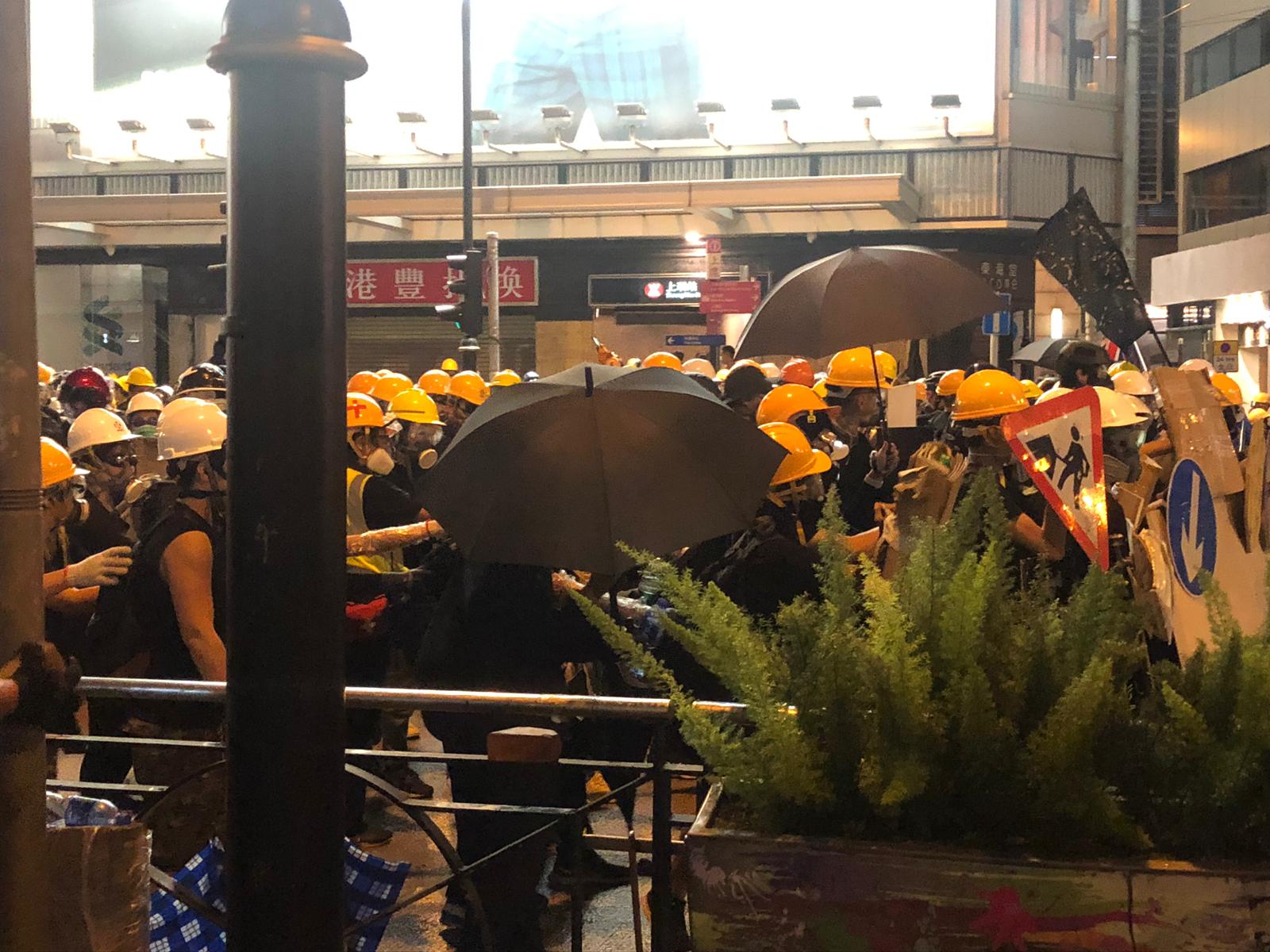 Over the past two chaotic months, protests have typically ended by 12:30 a.m., before the final trains leave -- young protesters don't want to get separated, or risk being stranded and picked up by police.
Some protesters have been ducking into the MTR station intermittently all night for cover from the tear gas before heading back out for another push.
But this time it seemed for real.
In the end, the police's tactics had paid off: protesters had been corralled into one area, surrounded on all sides, with only the subway station as an exit. Most protesters now appear to be on the MTR home.
11:20 a.m. ET, July 28, 2019
Street battles and tear gas have become the new normal
It was a tense night in Hong Kong on Sunday as the city's streets once again became a battle ground between police and protesters.
Tear gas is everywhere: Once a last resort, tonight tear gas is being deployed constantly — every time police lines push forward, or when protesters get too close, or sometimes seemingly for little reason.
The streets around the Sheung Wan district, where police and protesters are still facing off, are fogged by the toxic, burning gas. It's also seeping into people's homes through windows and air conditioning units in this highly residential area.
Protesters push back: The hundreds of remaining protesters are still determined and seem buoyed by the police response. It's been a back-and-forth tonight, with skirmishes breaking out every 20 minutes or so. Chants, the beating of sticks and shouts fill the air. 
Civilians caught in the mix: Meanwhile, passersby are trying to get home, but find themselves blocked by the protesters and police. One man told CNN reporters on the ground that he was trying to get his family home, and asked for directions to a safe space.
No end in sight: The atmosphere is tense and there's a sense that protesters are not following a plan — they will stay out and continue this fight, which they call their last chance.
11:10 a.m. ET, July 28, 2019
Here's what the police's rubber bullets look like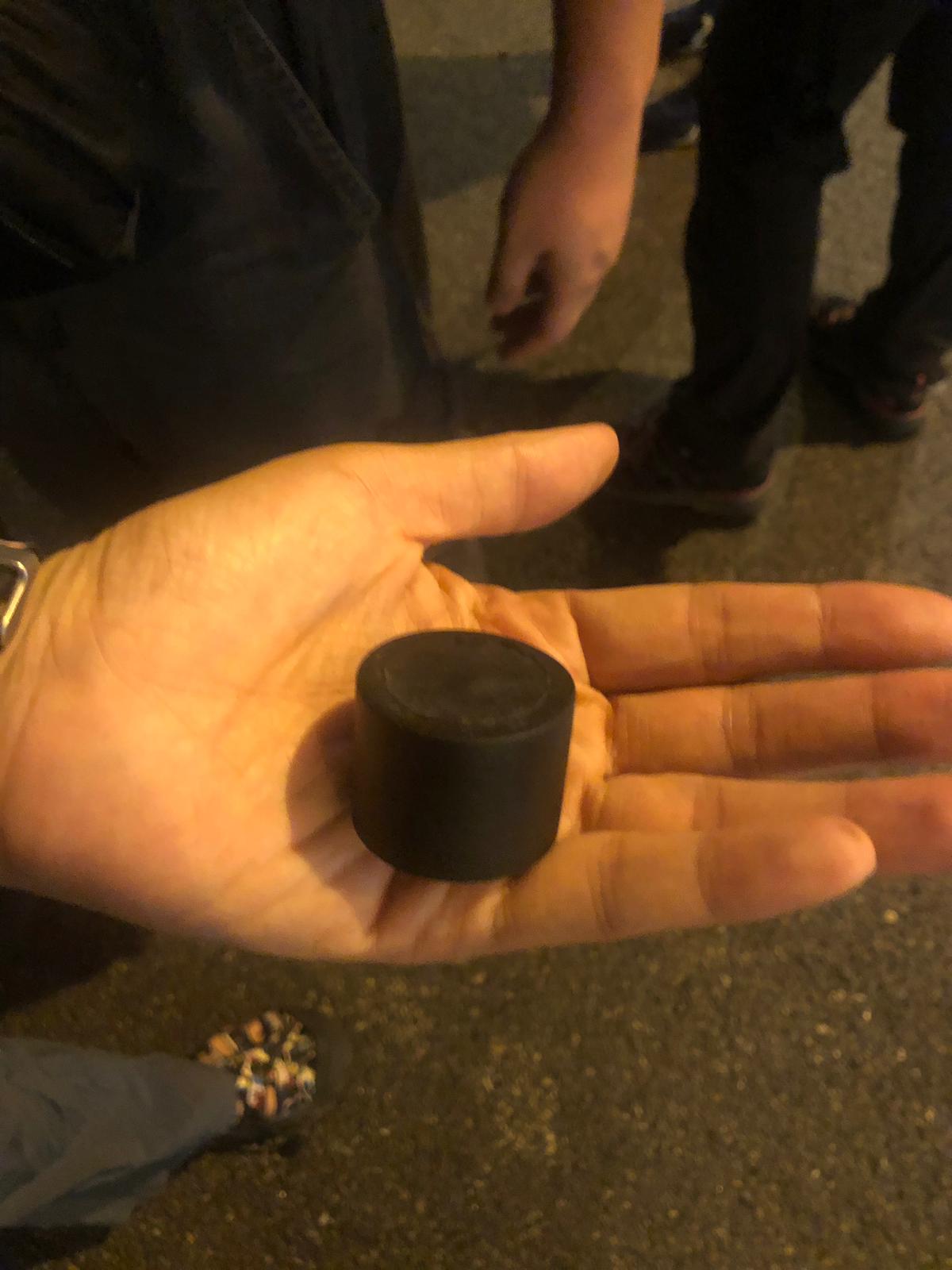 Riot police aren't just firing tear gas in Sheung Wan as they try to disperse crowds -- they're also firing rubber bullets.
The bullets may be nonlethal, but their size and weight can make quite a painful hit. Images on social media from the past few protests have shown protesters and journalists sporting purple, palm-sized bruises on their chests and arms after being hit by these bullets.
11:29 a.m. ET, July 28, 2019
The extradition bill has been suspended -- so why are people still protesting?
The protests began about two months ago over a controversial bill that would allow extradition from Hong Kong to China. But the bill has been suspended and called "dead" by the government -- so why are people still protesting?
Their list of demands has grown as the violence has escalated. Here are some of them:
The full withdrawal -- not just suspension -- of the bill
The resignation of Hong Kong's Chief Executive Carrie Lam
A third-party independent investigation into perceived police brutality
The government retraction of the term "riots," which were used to describe the protests
The dismissal of all charges against arrested protesters
Universal suffrage (Hong Kong does not have full democracy)
11:07 a.m. ET, July 28, 2019
Here's your 11 p.m. catch up
It's now the eighth weekend of protests in Hong Kong -- and it looks like it may be a long night as police and protesters push back and forth.
Here's what's happened since our last catch up:
Sheung Wan in lockdown: Riot police have been firing tear gas for the past 3 hours to clear protesters, but a hardcore group of protesters remain on the streets. It's been a slow tit-for-tat, with protesters unwilling to give much ground as the police try to press them east.
Protester tactics: The protesters are used to tear gas by now -- footage on social media shows them quickly putting out the gas bombs once they're fired, before the gas has a chance to spread.
Earlier today thousands gathered in Chater Garden, Central, for a police-approved protest. But around mid-afternoon some protesters defied a police ban on marching through the city, and fanned out to Causeway Bay and the West of the city, to protest outside the Liaison Office, Beijing's main base in Hong Kong.
10:54 a.m. ET, July 28, 2019
4 people have been hospitalized
Four people have been hospitalized due to today's protests, according to the Hong Kong Hospital Authority.
They are all stable and being treated at Queen Mary Hospital.
It's been a violent and chaotic weekend -- yesterday's protest in Yuen Long district also saw police and protesters clashing, leaving 23 people hospitalized. As of this morning, most had been discharged except for six.