January 26 coronavirus news
9:30 p.m. ET, January 25, 2020
Canada is "95% sure" of first coronavirus case
Canadian officials say they are "95% sure" the country has its first case of the Wuhan coronavirus, health authorities in the province of Ontario said Friday.
The patient is a man in his 50s who traveled to Wuhan. He flew to Toronto on January 21 and arrived in the city a day later. On the 23rd, he became ill and asked a family member to call emergency services and inform them of the situation, said Dr. David Williams, the Ontario chief medical officer of health.
The patient was immediately taken to hospital and is now in a negative pressure room, which helps stop the spread of germs.
Canadian authorities are calling it a "presumptive confirmed case" because a preliminary test was positive for the Wuhan coronavirus. They are still waiting for confirmation from the national medical laboratory in Winnipeg.
8:51 p.m. ET, January 25, 2020
Xi Jinping says China is facing a grave situation
President Xi Jinping said that China is facing a grave situation over the Wuhan coronavirus epidemic, according to state media.
In a meeting with top officials of the ruling Communist Party, Xi stressed that the government must prioritize people's health.
"Life is of paramount importance. When an epidemic breaks out, a command is issued. It is our responsibility to prevent and control it," Xi said.
8:51 p.m. ET, January 25, 2020
Healthcare workers say medical supplies are running out
Healthcare workers in the Chinese city of Wuhan say hospitals are running low on supplies as they treat an increasing number of patients.
The Chinese central government announced it would send more than 1,200 health workers — as well as 135 People's Liberation Army medical personnel -- to the city in an unprecedented effort to contain the spread of the virus.
Four healthcare workers -- including doctors -- in the city have told CNN of the difficulties facing medical crews on the ground. They have asked to remain anonymous to avoid repercussions.
Through telephone conversations with CNN and posts on Chinese social media, they told of low hospital resources. In private groups online, those identified as hospital staff are coordinating with members of the public to import protective equipment as they treat an increasing number of infected patients.
"In terms of resources, the whole of Wuhan is lacking," one Wuhan-based healthcare worker told CNN by phone. This person said they were looking for more protective clothing, protective goggles and masks. 
 "It's really like we're going into battle stripped to the waist," one healthcare worker added, using a Chinese idiom that equates to "going into battle without armor".
 One hospital staff member claims healthcare workers have resorted to wearing diapers to work so as to avoid having to remove their HAZMAT suits, which they say are in short supply. A doctor on her Chinese social media Weibo page described similar accounts at another Wuhan hospital. 
Read more here
8:43 p.m. ET, January 25, 2020
15 Chinese cities in lockdown, affecting more than 57 million people
Fifteen Chinese cities are now in lockdown as the Wuhan coronavirus continues to spread through the country.
The combined populations of the 15 cities total 57.2 million people.
All 15 of the cities are in Hubei province, of which Wuhan is the capital.
The severity of each lockdown order varies from city to city, but all are experiencing public transport stoppages.
In Wuhan (population 11 million) and nearby Huanggang (population 7.5 million), markets and cinemas are closed, roads are shut, and train stations and airports are closed.
8:38 p.m. ET, January 25, 2020
Shanghai has recorded its first coronavirus death
The Chinese megacity of Shanghai has recorded its first Wuhan coronavirus fatality, according to the country's National Health Commission. More than 30 cases had already been confirmed in the city.
A patient also died after contracting the virus in China's central Henan province, which sits on Hubei province's northeast border.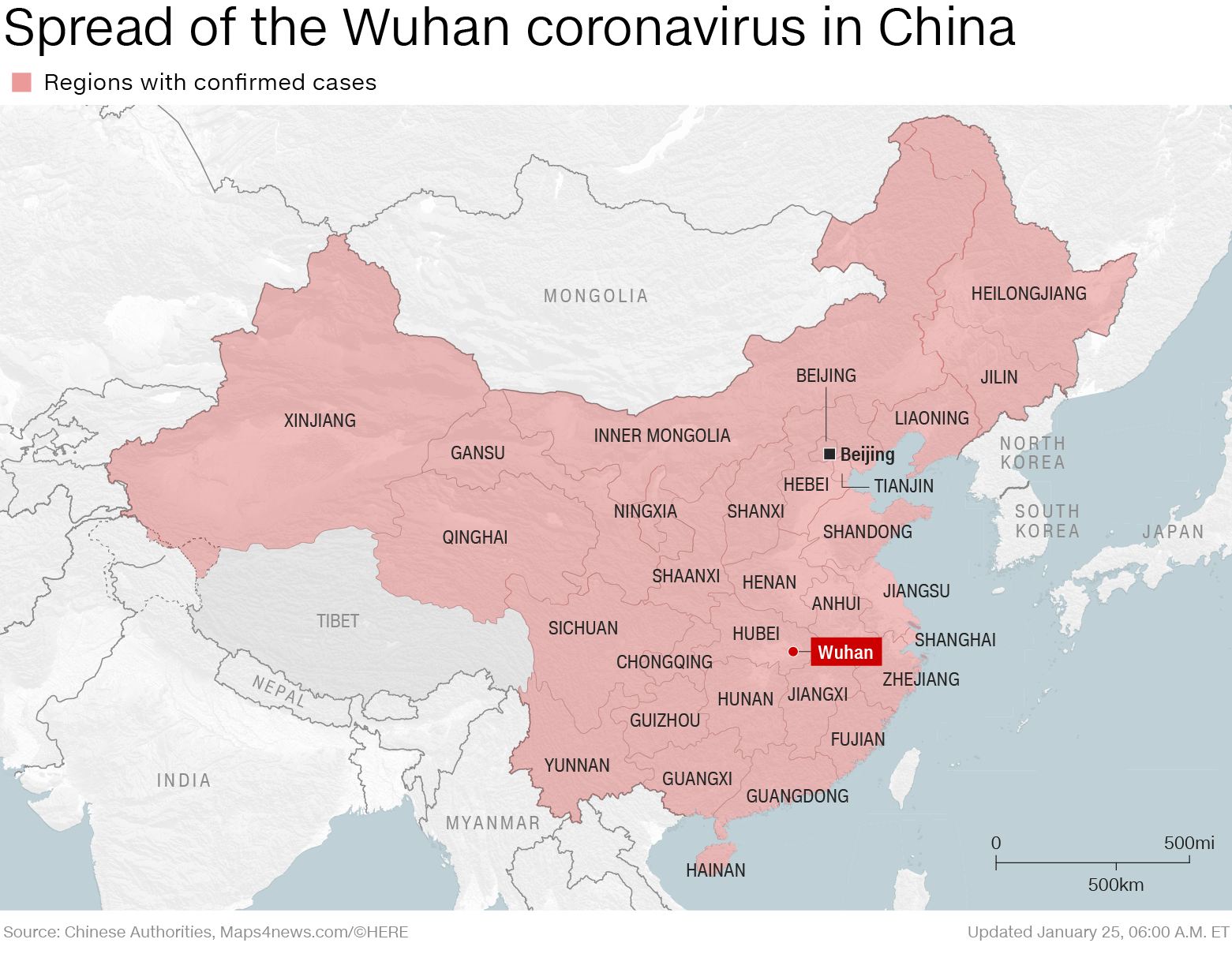 8:37 p.m. ET, January 25, 2020
These three countries have announced efforts to get citizens out of Wuhan
Wuhan, the central Chinese city that is the epicenter of the coronavirus outbreak, is home to about 11 million people -- and because of its central location, it's an important transportation hub.
These three countries have announced efforts to evacuate citizens there:
The United States: The Centers for Disease Control and Prevention says it is involved in a coordinated US government effort to help US citizens leave. The US government is also arranging a charter flight to evacuate diplomats, a US official with knowledge of the matter told CNN Saturday.
France: Foreign Affairs Minister Jean-Yves Le Drian said Friday the government is setting up a bus service to move French nationals out of Wuhan "in conjunction with the local authorities."
Jordan: King Abdullah II has directed that an aircraft be sent to Wuhan to evacuate Jordanians "as soon as possible," according to Jordan's Petra state news agency.
8:21 p.m. ET, January 25, 2020
Hong Kong is closing schools and canceling major events
The semi-autonomous Chinese city of Hong Kong has announced several measures aimed at stopping the spread of the Wuhan coronavirus. Health authorities in the city have confirmed five cases.
The city has extended the Lunar New Year holiday for schools until February 17 to prevent transmission of the virus. Classes were supposed to resume on February 3. Several universities have also suspended classes until February 17:
Hong Kong Polytechnic University: This is the university that was occupied by protesters for days in November, forcing the school to shut its doors.
Hong Kong University: It urged students currently in Hong Kong to stay in the city and asked those outside to "consider not returning ... at this point in time."
Chinese University of Hong Kong: The school also elevated its response level to "emergency" and is advising all personnel to wear surgical masks, especially in crowded areas. It also asked students residing in university housing to return home, with student housing and public areas to undergo a "cleansing process."
The government also announced it will:
Cancel major public events, including Lunar New Year festivities and the Standard Chartered Hong Kong Marathon, which was scheduled for February 8-9. Entry fees will be fully refunded, according to the marathon website.
Cancel all flights and high-speed trains to Hubei province.
Increase the number of people conducting temperature checks at border control points.
8:26 p.m. ET, January 25, 2020
Nearly 2,000 cases have now been confirmed in mainland China
The Wuhan coronavirus continues to spread around the world having already killed dozens of people and infected almost 2,000 in mainland China.
Here's the latest numbers:
As of the end of the day Saturday, 1,975 cases were confirmed in mainland China.
56 people are dead.
38 people outside mainland China have tested positive in the following places: Australia (4 cases), France (3 cases), Hong Kong (5 cases), Japan (3 cases), Macao (2 cases), Malaysia (3 cases), Nepal (1 case), Singapore (3 cases), South Korea (2 cases), Taiwan (3 cases), Thailand (5 cases), United States (2 cases) and Vietnam (2 cases)