January 26 coronavirus news
12:55 a.m. ET, January 26, 2020
American in Wuhan: "I won't leave ... I'm not going to endanger anybody"
Diana Adama, a teacher who has been living in Wuhan for the past 3 months and China for 15 years, spoke to CNN about her experience in the epicenter of the coronavirus outbreak.
"I woke up feeling quite desperate, sad, angry. Most of this is because of a lack of information, and lack of knowing what's going on," she said by telephone.
There are about 1,000 Americans living in Wuhan, according to a CNN source at the local US Consulate.
The State Department has organized for some of those to be evacuated on a flight out of Wuhan. Adama, however, said she would stay.
"I won't leave. Because if I am a carrier, I'm not going to endanger anybody else. And that's just erring on the side of caution."
12:35 a.m. ET, January 26, 2020
The equivalent of almost the entire population of the UK is now under travel restrictions in China
Authorities in the port city of Shantou are enacting a series of measures to lock down the city as part of China's efforts to stop the spread of the Wuhan coronavirus.
The city will suspend all buses, shuttles, taxis and ferries starting at 2 p.m. local time today according to a statement on the Shantou's official government website.
Shantou is the first city in Guangdong province to enact such measures. It has a population of 5.59 million people and is located along China's coast about 1,000 kilometers (621 miles) away from Wuhan, the capital of Hubei and ground zero of the outbreak.
Shantou will ban the all the vehicles, ships and people from entering or leaving the city starting from Monday, except for permitted emergency vehicles or government authorities.
There are now 16 cities that have been either fully or partially locked down, affecting some 62.8 million people -- nearly the same population of the United Kingdom (66.4 million as of mid-2018).
12:06 a.m. ET, January 26, 2020
China may be facing a mask shortage. So it's calling manufacturers back from holiday early
With people rushing to buy face masks to protect themselves from the Wuhan coronavirus, China's central government has asked manufacturers to interrupt their Lunar New Year holiday to resume production.
The holiday is due to run until the end of January. However the Ministry of Industry and Information Technology has asked factories to reopen, according to a report in Chinese state media.
The decision was taken to "guarantee market supply" and "meet the needs of epidemic production and control," according to the report. Thirty factories have now resumed production at a total output of 8 million masks per day, the Ministry is reported as saying.
11:39 p.m. ET, January 25, 2020
Supply of face masks in Hong Kong over Lunar New Year "highly uncertain"
Hong Kong is facing a serious shortage of face masks after fears over the Wuhan coronavirus sparked a surge in demand.
Horace Lau, vice president of Hong Kong's General Chamber of Pharmacies, told CNN the next batch of face masks was not expected to arrive in the city until February.
"The supply of face masks during the Lunar New Year is highly uncertain," he said.
Hong Kong imports most of its face masks from China, Taiwan and Malaysia, Lau added -- so if China stops exports, supply will be even tighter. Deliveries could also be affected by the Lunar New Year holiday in both China and Hong Kong.
Lau said that in his own shop he had sold over 10,000 boxes of 50 face masks in the last week alone. The price of face masks in pharmacies has already started to rise, he added.
11:30 p.m. ET, January 25, 2020
Snakes could be the source of the Wuhan coronavirus outbreak
Snakes -- the Chinese krait and the Chinese cobra -- could be the original source of the new coronavirus.
The many-banded krait (Bungarus multicinctus), also known as the Taiwanese krait or the Chinese krait, is a highly venomous species of elapid snake found in much of central and southern China and southeast Asia.
The study of the genetic code of 2019-nCoV reveals that the new virus is most closely related to two bat SARS-like coronavirus samples from China, initially suggesting that -- like SARS and MERS -- the bat might also be the origin of 2019-nCoV. The authors further found that the viral RNA coding sequence of 2019-nCoV spike protein, which forms the "crown" of the virus particle that recognizes the receptor on a host cell, indicates that the bat virus might have mutated before infecting people.
But when the researchers performed a more detailed bioinformatics analysis of the sequence of 2019-nCoV, it suggests that this coronavirus might come from snakes.
In the case of this coronavirus outbreak, reports state that most of the first group of patients hospitalized were workers or customers at a Wuhan seafood wholesale market which also sold processed meats and live consumable animals including poultry, donkeys, sheep, pigs, camels, foxes, badgers, bamboo rats, hedgehogs and reptiles. However, since no one has ever reported finding a coronavirus infecting aquatic animals, it is plausible that the coronavirus may have originated from other animals sold in that market.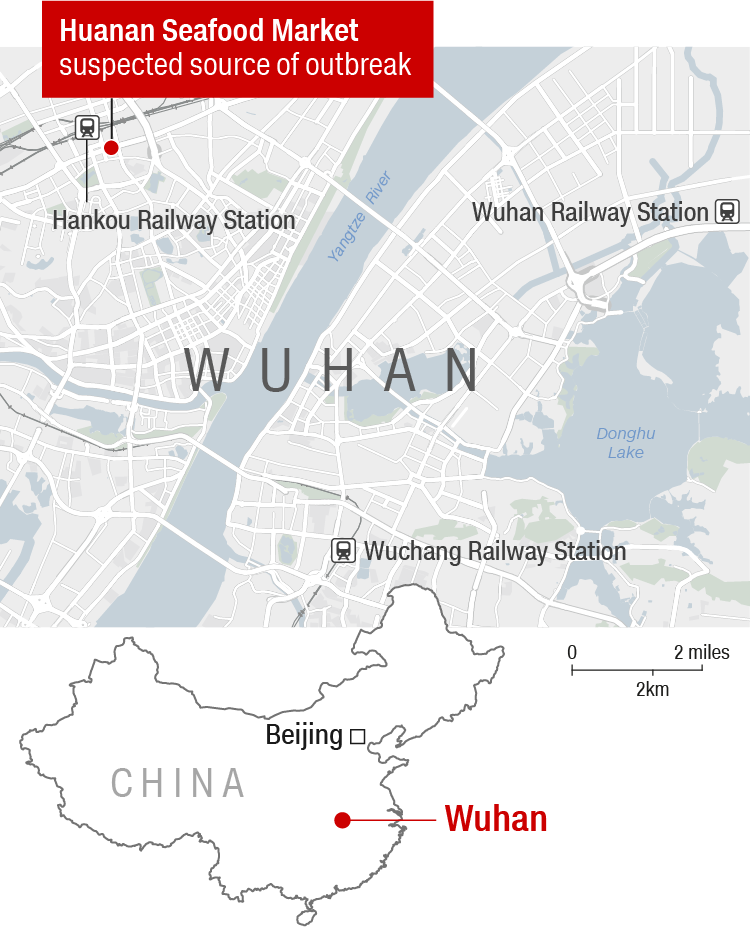 Read more here
11:18 p.m. ET, January 25, 2020
The Wuhan virus is the last thing China's economy needs right now
The world's second-biggest economy grew at its slowest pace in nearly three decades last year as it contended with rising debt, cooling domestic demand and US tariffs -- many of which remain in place despite a recent truce.
Beijing is worried about unemployment, too, and has announced a wave of stimulus measures in recent weeks aimed at preventing mass layoffs.
An outbreak of a deadly new virus is the last thing it needs. 
Read more here.
10:54 p.m. ET, January 25, 2020
OPINION: The World Health Organization should sound the alarm on Wuhan coronavirus
As the Wuhan coronavirus continues to spread around the world, the World Health Organization's decision to hold off on declaring the outbreak "a public health emergency of international concern" is baffling.
The virus, which is similar to the fatal severe respiratory syndrome (SARS), first emerged in Wuhan, China, which has a population greater than New York City. More than 1,900 people have already been infected, and more than 55 people have died.
While Chinese officials have a responsibility to limit the spread of the outbreak, global health officials in Geneva need to take quick action. By declaring a global emergency, WHO would set in motion coordination efforts among various countries and encourage UN member states to institute strict surveillance measures. While some initial panic could result, WHO's leadership would jolt passive governments into action.
In making its decision not to declare a global public health emergency, WHO officials cited a limited number of cases abroad, and strong, preventative containment measures in China. "While this outbreak is an emergency in China, it has not yet become a global health emergency," WHO spokesman Tarik Jasarevic told me.
However, the number of overseas cases are growing rapidly. There are more than 35 cases in more than a dozen countries and territories outside mainland China, including two in the United States.
By WHO's own definition, an international public health emergency is "an extraordinary event which is determined ... to constitute a public health risk to other States through the international spread of disease and to potentially require a coordinated international response." Given what we've seen of the Wuhan coronavirus so far, the threshold for the declaration has surely been met.
Read more here
10:47 p.m. ET, January 25, 2020
Fourth case confirmed in both Malaysia and Singapore
Malaysia and Singapore have both confirmed a fourth case of the Wuhan coronavirus.
Singapore's Ministry of Health said its latest patient is a 36-year-old man from Wuhan who arrived with his family on January 22. He showed no symptoms on his flight to the city-state, but developed a cough on the 23rd and went to hospital the following day.
The newest case in Malaysia is a 40-year-old man from Wuhan who traveled by bus from Singapore to the city of Johor Bahru, located just across the border, on Wednesday, Malaysia's state news agency Bernama reported. The man was traveling with a group of 17 Chinese tourists, including his wife and child. He is currently in stable condition, Bernama reported.
The following places outside mainland China have confirmed cases:
Hong Kong: 5 cases
Thailand: 5 cases
Australia: 4 cases
Malaysia: 4 cases
Singapore: 4 cases
France: 3 cases
Japan: 3 cases
South Korea: 3 cases
Taiwan: 3 cases
Macao: 2 cases
United States: 2 cases
Vietnam: 2 cases
Nepal: 1 case
*Canada has one "presumptive confirmed" case.
10:42 p.m. ET, January 25, 2020
Lunar New Year is normally a huge celebration in China
Yesterday was the first day of the Lunar New Year, the Year of the Rat.
For many Chinese people, the holiday is a once-a-year chance to share a meal and carry bags of gifts from the cities to their families back home. This year, it was originally expected that 3 billion journeys would be made during "chunyun," or spring rush -- the 40-day period from January 9 to February 18 when people travel for Lunar New Year.
But celebrations were considerably smaller this year, as authorities across mainland China, Hong Kong and Macao canceled many large public gatherings in order to help contain the Wuhan coronavirus. 
Eva Kwang, 35, was at Hong Kong's West Kowloon Station on Friday to cancel her family's train tickets to Guangzhou, in southern Guangdong province.
She said she was sad that she couldn't see her family, but was worried about her two children. "I think the safety for us is more important than my dinner with them," she told CNN. "I think I can go back and visit them after maybe one month or two months."