January 25 coronavirus news
10:36 a.m. ET, January 25, 2020
China calls off all tours amid Wuhan coronavirus outbreak
The China Association of Travel Services reports that all tours, including international ones, will be suspended starting Monday.
Domestic group and packaged tours were stopped on Friday.
9:38 a.m. ET, January 25, 2020
Confirmed cases rise to 1,400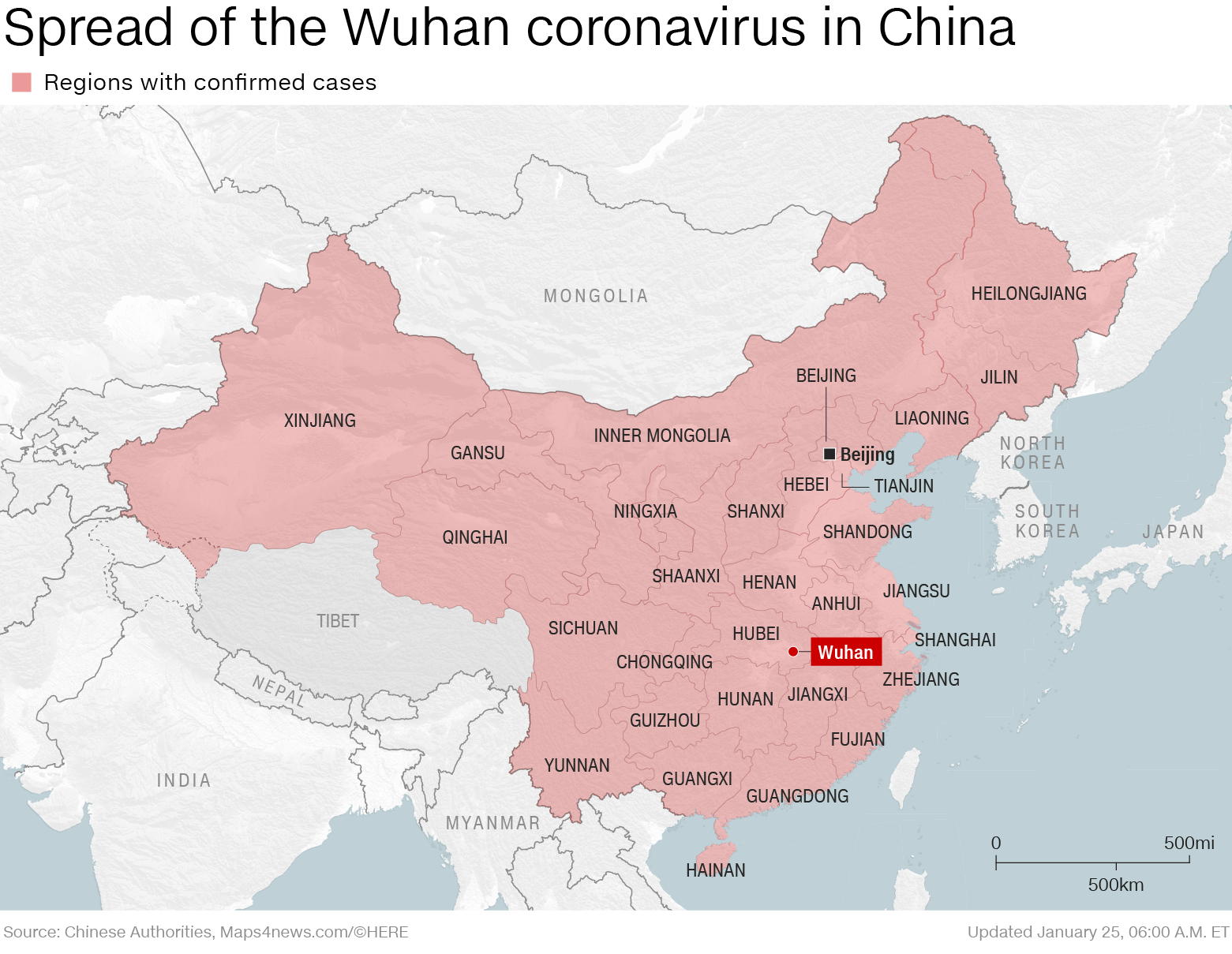 There are now 1,400 confirmed cases of Wuhan coronavirus around the world.
There is one new case in Hubei and two new cases in Hainan, according to Chinese authorities, pushing the total in mainland China to 1,362.
9:15 a.m. ET, January 25, 2020
Where the virus has spread worldwide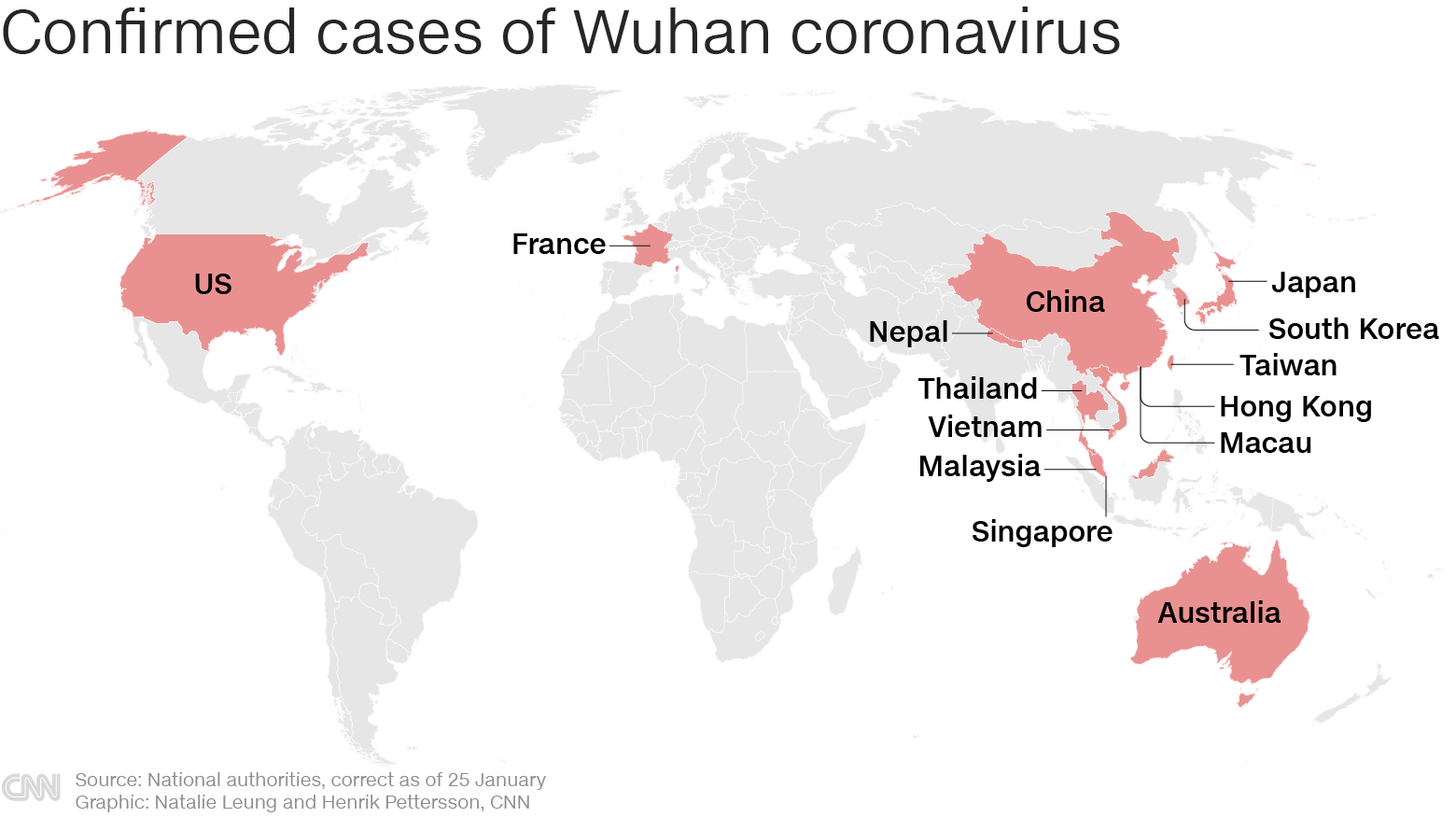 There are 38 confirmed cases of the Wuhan coronavirus in 13 places outside mainland China.
Here's the tally:
Australia -- 4
France -- 3
Hong Kong -- 5
Thailand -- 5
Singapore -- 3
US -- 2
Taiwan -- 3
Macao -- 2
Malaysia -- 3
Nepal -- 1
Japan -- 3
Vietnam -- 2
South Korea -- 2
9:44 a.m. ET, January 25, 2020
French nationals to be evacuated from Wuhan
The French government says it's planning to set up a bus service to move French nationals out of Wuhan.
The country's Foreign Affairs Minister Jean-Yves Le Drian said Friday it is being set up "in conjunction with the local authorities."
"The Consulate General of France in Wuhan has informed French nationals in Wuhan that it plans to set up, in conjunction with the local authorities, a bus service," he said, which would allow French nationals and their families "to leave the city of Wuhan."
Asked by CNN how the evacuation plan would work given the lockdown of Wuhan, a spokesperson for the French Foreign Affairs Department said: "We have sought a solution in agreement with the Chinese, I cannot give more details on the process, but it will work."
8:27 a.m. ET, January 25, 2020
Hong Kong Marathon and other major events are cancelled
A marathon that was due to take place in Hong Kong in a couple of weeks has been canceled by its organizers amid fears of the coronavirus outbreak, organizers' said.
The event's 70,000 participants will get refunds.
This comes as Hong Kong raised its response level to the virus to "emergency," and the city's Chief Executive Carrie Lam said all large-scale events, including the Spring Festival and Lantern Festival, will be canceled.
"Public health is our top priority. To support the government's epidemic prevention efforts, the organiser has decided to cancel the Standard Chartered Hong Kong Marathon originally scheduled for 8 and 9 February," read a statement from the Standard Chartered Hong Kong Marathon on its website and Facebook page Saturday.
Many Facebook users agreed with the decision to cancel the race.
Vivo Wong wrote: "wise decision -- I can't imagine it being an easy decision for the organisers. Health & safety is of utmost importance. There will always be next year."
Several runners posted on social media that they had been looking forward to receiving the race's finisher medal, which commemorates the Year of the Rat.
One user, ImEe LoVe, responded to the organization's Facebook page saying: "please send us the Year of the Rat medal and runners pack. We don't need the refund."
Another user, Matthew Lee, wrote: "Yeah, can we have the medals back. We have prepared for months and at least deserve that part."
7:59 a.m. ET, January 25, 2020
Indian students trapped in Wuhan fear running out of food
Fifty-six Indian students have been trapped in Wuhan for three days, with some afraid to leave their dorm room and fearful of running out of food.
Ganesan Deepshikha, a student at the Wuhan University School Of Medicine, told CNN that the students have been told by the Indian Embassy that they are safe in Wuhan but have not received any assistance.
Normally a transport hub for central China, Wuhan has been closed off from the rest of the country since Thursday -- when the city was placed on lockdown.
Public transport has been shut down and car travel restricted. 
Deepshikha told CNN that 25 to 30 among the group of Indian students at the Wuhan University are refusing to leave their dorm room, despite having only enough food for one more day.
Two campus hospitals at the Wuhan University have been treating patients suffering from Wuhan coronavirus -- with one such hospital just 300 meters from the dorm where the Indian students have sequestered themselves.
9:39 a.m. ET, January 25, 2020
Confirmed cases jump to 1,397 worldwide
China has announced more confirmed cases of the virus, pushing the global total to 1,397.
In mainland China, there are 1,359 confirmed cases, including 41 deaths.
The majority of deaths (39) occurred in Hubei province, one person died in China's northern province of Heilongjiang and one other death was reported in Hebei province, near Beijing.
6:26 a.m. ET, January 25, 2020
15 Chinese cities now in lockdown, affecting more than 57 million people
Fifteen Chinese cities are now in lockdown as Wuhan coronavirus continues to spread through the country.
The combined populations of the 15 cities total 57.2 million people.
All 15 of the cities are in Hubei Province, of which Wuhan is the capital.
The strictness of each lockdown order varies from city to city, but all are experiencing a halt to public transport services.
In Wuhan (population 11 million) and nearby Huanggang (population 7.5 million), markets and cinemas have been closed, roads have been shut, and train stations and airports closed.
5:59 a.m. ET, January 25, 2020
Qinghai Province confirms first case
The western China province of Qinghai has confirmed its first case of Wuhan Coronavirus, according to the local health authority.
The diagnosis brings the total number of people with the virus in mainland China to 1,288.
The only province without a recorded case is now Tibet.