January 24 coronavirus news
10:53 p.m. ET, January 23, 2020
Video shows new hospital under construction in Wuhan
Construction has begun on a new, 1,000-bed hospital in Wuhan dedicated to treating the new coronavirus. According to the state-run People's Daily, the hospital will be ready by February 3.
Similar efforts were put in place in 2003 during the SARS crisis, with a new hospital built in Beijing in less than a week.
10:45 p.m. ET, January 23, 2020
Macao shuts schools amid Wuhan virus scare
Schools in the semi-autonomous Chinese city of Macao will not return after the Lunar New Year break in an attempt to stop the spread of the Wuhan coronavirus.
Two confirmed cases of the virus have been diagnosed so far in the Macao Special Administrative Region.
On Friday, the city's Education and Youth Bureau (DSEJ) posted a statement online confirming that schools will not resume until February 10.
"In response to the outbreak of the novel coronavirus pneumonia in Wuhan, the DSEJ has announced that all non-tertiary education schools in Macao will resume classes on or after 10th February, 2020 (Monday) after the (Lunar) New Year holiday," the statement read. 
"Private tutorial centers and continuing education institutions must also postpone their resumption date to 10th February (Monday) or after. During this period, the DSEJ will continue to closely monitor the development of the epidemic situation and make corresponding arrangements in due course."
10:37 p.m. ET, January 23, 2020
Hong Kong is running out of face masks as people bulk buy
Many pharmacies and other shops in Hong Kong are running low on face masks as residents of the city -- where memories of the 2003 SARS crisis are still very fresh -- bulk buy them ahead of the Lunar New Year break.
According to public broadcaster RTHK, multiple stores have already run out, raising fears that they will not be able to restock before the middle of next week, due to the public holiday, which runs through until Wednesday in Hong Kong.
Hong Kong's Department of Health and the Hospital Authority said in a statement that there was a three-month stockpile sufficient to cover medical workers and patients. The city's Food and Health Bureau is liaising with suppliers at the wholesale level to "ascertain scope for expediting the delivery of and stepping up local supplies."
The city's Consumer Council urged traders not to raise prices of face masks to "outrageous levels" as demand spikes. In mainland China, online retailer Taobao has banned stores from hiking prices.
Pharmacies in Macao have reportedly begun restricting the sale of face masks to 10 per customer.
10:17 p.m. ET, January 23, 2020
China is building a dedicated Wuhan pneumonia hospital in just 6 days: report
Authorities in China are reportedly planning to build a dedicated pneumonia hospital in Wuhan to help treat the hundreds of people affected by the deadly coronavirus in that city.
According to the Beijing News, a state-backed newspaper, the hospital will be a prefabricated, box-type model that can be built in six days. A design plan will be released on Friday, the paper said, with construction due to begin soon afterward in Wuhan's southwestern Caidian District.
During the 2003 SARS crisis, Xiaotangshan Hospital was constructed in six days and seven nights in Beijing. Dedicated to tackling that virus, it was used to treat almost 700 SARS patients, only eight of whom died, a mortality rate of 1.18%, far below the national average.
10:06 p.m. ET, January 23, 2020
The Wuhan virus is the last thing China's economy needs right now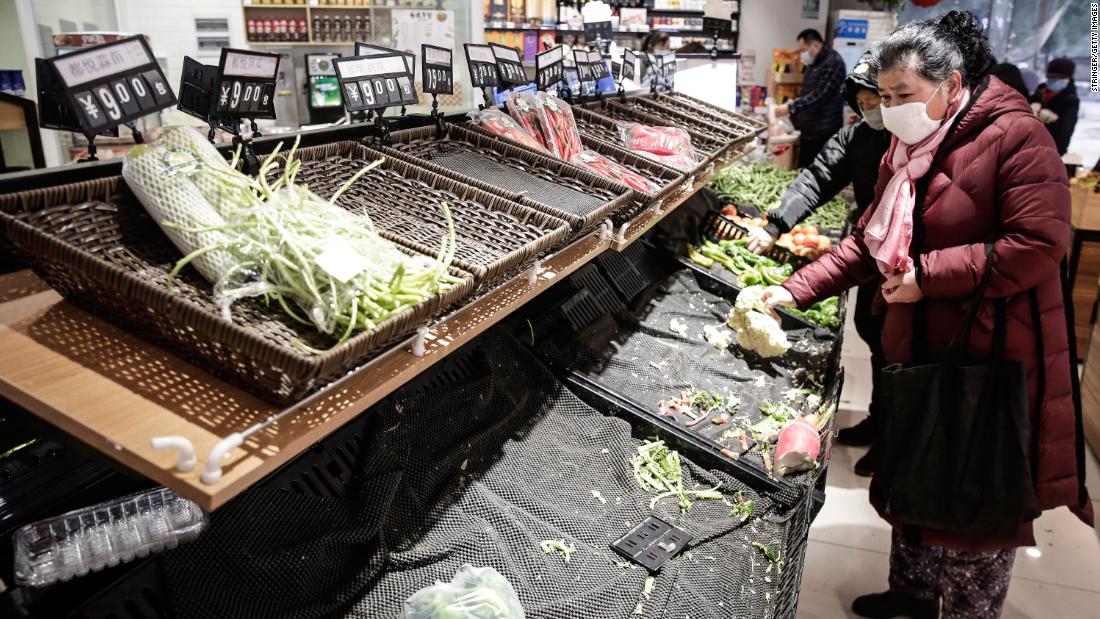 China's economy is slumping and the country is still suffering the effects of the trade war with America. An outbreak of a new and deadly virus is the last thing it needs. 
The Wuhan coronavirus — which has killed 17 people and infected nearly 600 so far — has already roiled Chinese markets and thrown plans for the upcoming Lunar New Year holiday into chaos for millions of people. 
If Beijing fails to contain the disease quickly, it will cause more pain for a country that was already trying to stave off a serious downturn by trying to encourage more consumer spending. An epidemic could have the opposite effect. 
"If you're trying to rebalance the Chinese economy, this is one of the last events you want to see," said Logan Wright, director of China markets research at Rhodium Group.
The world's second biggest economy grew at its slowest pace in nearly three decades last year as it contended with rising debt, cooling domestic demand and US tariffs, many of which remain in place despite a recent truce. Beijing is worried about unemployment, too, and has announced a wave of stimulus measures in recent weeks aimed at preventing mass layoffs.
10:09 p.m. ET, January 23, 2020
The Wuhan virus has spoiled China's Lunar New Year plans
January 25 is the first day of the Lunar New Year, as countries across Asia greet the Year of the Rat.
Celebrations will be considerably smaller in China than in previous years, however, as authorities have canceled many large public gatherings in order to help contain the Wuhan coronavirus.
Authorities in Beijing have canceled all large-scale New Year celebrations "in order to control the epidemic."
"It is decided to cancel all the large-scale events, including temple fairs, in Beijing as of today," the city's Culture and Tourism Bureau said Thursday.
"Citizens shall strengthen the preventative measures and support the decision. We will notify the policy changes with the epidemic development. After organizers will deal effectively with the effect of canceling the large-scale events. And wish all citizens a happy (Lunar New Year)."
Celebrations have also been canceled in Hong Kong, and many other cities have issued guidance to citizens to avoid large public gatherings.
In Wuhan, the city of 11 million at the center of the outbreak, a "temporary suspension" of public transport has been introduced, and people have been told not to leave, meaning they may not see their families during the Lunar New Year period.
This is easier said than done, however, and the scale of the challenge facing authorities tasked with implementing the blockade is immense. By way of comparison, the lockdown is akin to closing down all transport links for a city more than three times the size of Chicago, two days before Christmas.
"The Chinese new year is the most important festival for Chinese. And many of the mobile population, they're coming from rural China to work in Wuhan, and now you ask them not to leave to see their relatives, that is difficult," professor Yuen Kwok-yung, a leading microbiologist, told CNN.
9:23 p.m. ET, January 23, 2020
These are all the Chinese territories affected by the Wuhan virus
So far, 830 cases of the Wuhan coronavirus have been confirmed in mainland China, including 26 deaths.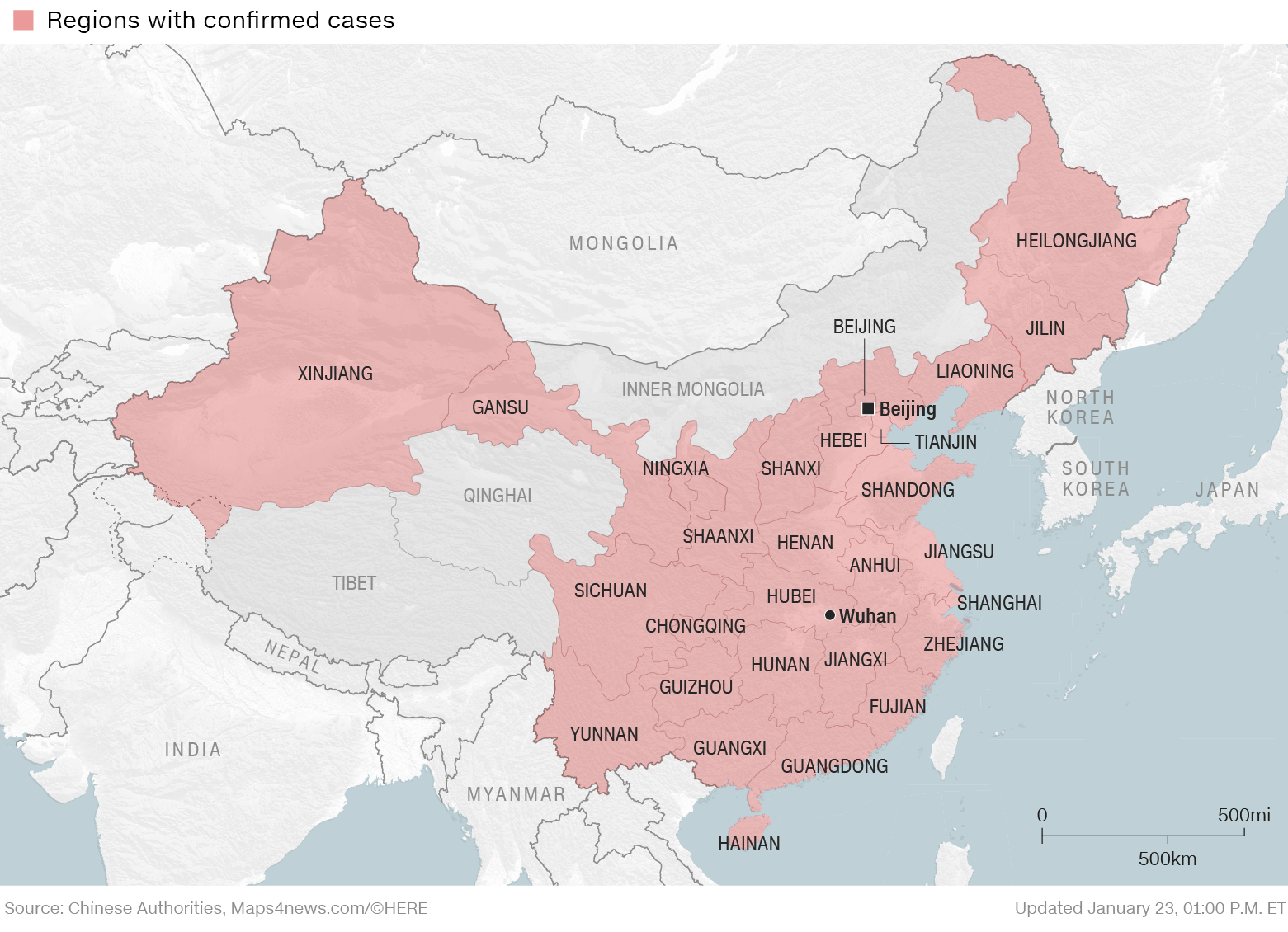 Here's a breakdown of all the affected territories:
Hubei (the province in which Wuhan is located): 549, including 24 deaths
Guangdong: 53
Zhejiang: 43
Beijing: 26
Shanghai: 20
Anhui: 15
Guangxi: 13
Chongqing: 9
Henan: 9
Hunan: 9
Shandong: 9
Sichuan: 8
Jiangxi: 7
Fujian: 5
Hainan: 5
Jiangsu: 5
Tianjin: 5
Heilongjiang: 4, one death
Guizhou: 3
Liaoning: 3
Shaanxi: 3
Gansu: 2
Hebei: 2, one death
Xinjiang: 2
Yunnan: 2
Jilin: 1
Ningxia: 1
Shanxi: 1
9:17 p.m. ET, January 23, 2020
A man diagnosed with Wuhan coronavirus near Seattle is being treated largely by a robot
The first person diagnosed with the Wuhan coronavirus in the United States is being treated by a few medical workers and a robot.
The robot, equipped with a stethoscope, is helping doctors take the man's vitals and communicate with him through a large screen, said Dr. George Diaz, chief of the infectious disease division at the Providence Regional Medical Center in Everett, Washington.
The man, who is in his 30s, was diagnosed with the virus on Monday. He initially went to an urgent care clinic on January 19 and told the staff that he was concerned about possibly having symptoms of the novel coronavirus because he recently traveled to Wuhan, China, Diaz said.
He arrived at Seattle-Tacoma International Airport on January 15, before any health screenings began at US airports, the US Centers for Disease Control and Prevention has said.
The Snohomish County resident was in stable condition Thursday and remains in isolation, Diaz said.
He arrived at the hospital in a special isolated gurney called an ISOPOD and has been treated in a two-bed isolated area away from busy sections of the hospital, the doctor said.
"The nursing staff in the room move the robot around so we can see the patient in the screen, talk to him," Diaz said, adding the use of the robot minimizes exposure of medical staff to the infected man.
9:10 p.m. ET, January 23, 2020
South Korea confirms second case of Wuhan coronavirus
A 55-year-old South Korean who lives in Wuhan is the second person to be diagnosed with the Wuhan coronavirus in South Korea.
South Korea's Centers for Disease Control and Prevention said in a press release that the individual presented symptoms on January 10 and went to see doctors in Wuhan on January 19. He later traveled to South Korea.
On arrival at Seoul's Gimpo airport on January 22, he voluntarily provided information about his health and was tested and confirmed to have contracted the coronavirus on January 24. 
The press release added that 25 people with suspicious symptoms had tested negative for the Wuhan coronavirus so far.