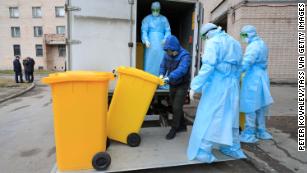 Medical workers outside Mechnikov North-Western State Medical University, where students have been place under quarantine, in St. Petersburg, Russia.
10:04 p.m. ET, March 9, 2020
Our live coverage of the novel coronavirus has moved here.
8:35 p.m. ET, March 9, 2020
US congressman goes into self-quarantine
From CNN's Kaitlan Collins 
Republican Rep. Mark Meadows, President Trump's new chief of staff, is in self-quarantine as a protective measure, his office said. 
"Rep. Meadows was advised this weekend that he may have come in contact with the (Conservative Political Action Conference) attendee who tested positive for COVID-19, now 12 days ago," said Ben Williamson, Meadow's chief of staff.
"Out of an abundance of caution, Meadows received testing which came back negative. While he's experiencing zero symptoms, under doctors' standard precautionary recommendations, he'll remain at home until the 14-day period expires this Wednesday."
Meadows was not scheduled to start his new job this week, an official said. 
Some background: Georgia Rep. Doug Collins, the top Republican on the House Judiciary Committee, Rep. Matt Gaetz of Florida, Sen. Ted Cruz of Texas and Rep. Paul Gosar of Arizona announced that they would self-quarantine after coming into contact with an individual who has been diagnosed with the novel coronavirus at the recent CPAC.
Rep. Louie Gohmert of Texas was told by officials over the weekend that he had also been in proximity to the individual, but he is not planning to self-quarantine, a Gohmert aide tells CNN, details the congressman himself confirmed on Twitter on Monday evening.
8:27 p.m. ET, March 9, 2020
Japan reports 26 additional coronavirus cases
From Chie Kobayashi in Tokyo
Japan's Health Ministry have announced an additional 26 cases of novel coronavirus.
The additional cases bring the country's total to 1,210 confirmed cases.
8:24 p.m. ET, March 9, 2020
Vietnam confirms one new coronavirus case
From journalist Akanksha Sharma in Hong Kong
Vietnam confirmed one new case of novel coronavirus, bringing the nationwide tally to 31, according to a government statement.
The new case is a 49-year old British national who was on the same Vietnam Airlines' flight with a previously confirmed patient who flew from the United Kingdom to Vietnam on March 2. 
He is the eighth British national and the 10th foreign patient confirmed in Vietnam who was on board that flight. 
Of the 31 patients confirmed in Vietnam so far, 16 had been discharged. 
7:45 p.m. ET, March 9, 2020
UK advises its citizens "against all but essential travel to Italy"
From CNN's Mohammed Tawfeeq
The United Kingdom has advised its citizens on Monday "against all but essential travel to Italy, due to an ongoing outbreak of coronavirus," according to a statement from Britain's Foreign and Commonwealth Office (FCO). 
The advisory came after Italy's Prime Minister Giuseppe Conte announced at a news conference on Monday that the whole country of Italy is now on lockdown.
"British nationals remain able to depart Italy without restriction," the FCO said.
"Airports remain open throughout Italy. However, airline schedules are subject to change and some flights are being cancelled," the FCO added.
7:38 p.m. ET, March 9, 2020
Novel coronavirus symptoms usually take 5 days to appear, study says
From Arman Azad
People infected by novel coronavirus tend to develop symptoms about five days after exposure, and almost always within two weeks, according to a study released Monday in the journal Annals of Internal Medicine.
That incubation period is consistent with previous estimates from public health officials, and the findings suggest that 14 days of quarantine are appropriate for people potentially exposed to the coronavirus.
The US Centers for Disease Control and Prevention has used that standard during the current pandemic — recommending, for example, that people self-quarantine for two weeks after traveling to countries with widespread coronavirus transmission, such as Italy or South Korea.
To estimate the incubation period, researchers scoured more than 180 reports of coronavirus in places without widespread transmission of the virus — areas, in other words, where infection was likely due to outside travel.
Because the study was conducted early in the coronavirus epidemic, community transmission at the time was limited to Wuhan, China. That allowed researchers to estimate the "time of exposure" to the coronavirus by determining when a person was in Wuhan — the only plausible source of infection. By comparing travel to Wuhan with the emergence of symptoms, researchers could then estimate an incubation period for the virus: usually about five days, and rarely more than 12.
It's possible, the researchers said, that their study may have focused on more severe cases of the virus – which are likelier to make the news and catch the attention of public health officials. The incubation for mild cases, then, might differ somewhat.
7:26 p.m. ET, March 9, 2020
More than 70% of coronavirus cases in China have recovered, WHO says
From CNN's Jacqueline Howard
Of the 80,000 confirmed coronavirus cases reported in China, "more than 70% have recovered and been discharged," according to the World Health Organization (WHO) in a news conference on Monday. 
WHO Director-General Tedros Adhanom Ghebreyesus addressed the outbreak in his opening remarks, saying it's important to remember "of all the cases reported globally so far, 93% are from just four countries." 
The director-general emphasized that the situation can still be controlled.
"The bottom line is," Tedros said, "we are not at the mercy of this virus." 
7:24 p.m. ET, March 9, 2020
US Treasury Secretary says new economic initiatives will address coronavirus concerns
From CNN's Maegan Vazquez 
Treasury Secretary Steven Mnuchin said oil market changes were a large component in the day's earlier stock market decline.
"Today was an unprecedented move in the oil markets. So we saw an overnight reaction of over down 20% and that's obviously what had a major component today on the stock market," Mnuchin said Monday at a White House press briefing.
Mnuchin also said the US is moving into the economic bumpiness from a good place.
"We couldn't be more pleased that coming into the situation with the coronavirus the US has the most resilient economy in the world. I am in daily conversations with (Fed) Chair (Jerome) Powell. We are committed and we just had a meeting with the President and the economic team," he said.
Mnuchin described what new economic initiatives the President will propose tomorrow.
"There are parts of the economy that are going to be impacted, especially workers that have to be at home … under quarantine or taking care of their family. We'll be working on a program to address that. We will also be working with small businesses that need liquidity through SBA program. We're looking at alternatives at the IRS. We have large tax payments coming up of providing certain relief to companies and individuals for liquidity," he remarked.
"This is not like the financial crisis, where we don't know the end in sight. This is about providing proper tools and liquidity to get through the next few months," Mnuchin added.
7:12 p.m. ET, March 9, 2020
New novel coronavirus guidance will be released Monday night
From CNN's Betsy Klein and Maegan Vazquez 
The Trump administration will soon release guidance on how to keep workplaces, schools, homes and commercial businesses safe from novel coronavirus, Dr. Deborah Birx, coronavirus task force coordinator, said Monday.
She told reporters at a White House press briefing that the guidance will be provided later Monday.
Vice President Mike Pence said the guidance would be posted Monday night on Coronavirus.gov.
Pence went on to say that the administration is "working very diligently to establish a single website where people can go to track all of the cases and where they are emerging."