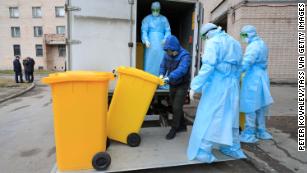 Medical workers outside Mechnikov North-Western State Medical University, where students have been place under quarantine, in St. Petersburg, Russia.
11:14 a.m. ET, March 9, 2020
Amazon says it has removed more than 530,000 items for coronavirus price gouging
Amazon has removed more than 530,000 listings from its marketplace and suspended 2,500 US sellers for coronavirus-related price gouging, the company told a US senator.
The company is also working with state attorneys general to prosecute "the worst offenders," it told Sen. Ed Markey in a letter dated Friday.
The disclosure comes as demand spikes — both online and off — for supplies including face masks, hand sanitizer and cleaning products. CVS and Walgreens have warned of possible shortages.
In its letter, Amazon said it is using a mix of "automated and manual methods" to identify cases of price gouging. 
"Our selling partners submit billions of price changes every week," the letter reads, "and our automated tools scan them on an ongoing basis. We continuously compare the prices submitted by our selling partners with current and historic prices within and outside of the Amazon store. We apply price thresholds and machine learning models to determine whether those prices are fair for our customers."
In light of the coronavirus fears, however, Amazon has stepped up its manual audits with a dedicated team working around the clock — using keywords to search for products that are being unfairly marked up. 
Markey had previously questioned the online retailer about its efforts to combat price gouging, expressing concerns in a March 4 letter saying "corporate America has a responsibility to prevent profiteering."
In a tweet on Saturday, Markey said he was glad to see Amazon's response. "All online retailers need to hold accountable predatory price-gougers who are profiting from panic," Markey said.
11:08 a.m. ET, March 9, 2020
Trump to discuss possible coronavirus economic stimulus options today 
President Trump will sit down today with aides who will present possible economic stimulus options in response to the COVID-19 coronavirus outbreak, an official tells CNN. He returns to the White House this afternoon. 
It's still unclear what exactly will be presented to the President.
11:03 a.m. ET, March 9, 2020
Former White House economic adviser says airlines may need a bailout due to coronavirus
Former Director of the National Economic Council Gary Cohn says that the government will likely need to bail out airlines if the coronavirus crisis persists and that monetary stimulus will not help ease the economic pain. 
"If this crisis lasts another week or two, we should bail out the airlines," said Cohn, who added that government assistance would help prevent major layoffs.
Cohn called the Fed's decision for an emergency rate cut ineffective.
"You can't fight an emotional and psychological war with financial easing," Cohn said.
11:05 a.m. ET, March 9, 2020
Another cruise ship held off the Florida coast for coronavirus concerns
A second Florida cruise ship has been issued a "no sail" order following coronavirus concerns.
The Caribbean Princess has received a temporary "no sail" order from the Centers for Disease Control and Prevention after the agency learned that two crew members transferred from another ship that previously had at least one guest test positive for coronavirus, according to Princess Cruises.
One crew member transferred more than two weeks ago and the second crew member transferred more than 10 days ago. Both crew members are showing no symptoms and are remaining in their single-occupancy staterooms.
The Caribbean Princess departed Port Everglades on a 10-day Panama Canal, Costa Rica and Caribbean voyage on March 1 and is currently scheduled to end on March 11, per Princess Cruises. 
Now, the Caribbean Princess will make a brief stop at Grand Cayman for test kits and then set sail for Florida. The ship is expected to remain anchored off the coast of Florida until the "no sail" order is lifted by the CDC. 
This is the second ship to be held off the coast of Florida. The Regal Princess was held under similar circumstances on Sunday. Two crew members on that ship were tested for coronavirus and after the tests came back negative, the ship was allowed to dock and passengers were allowed to disembark.
10:56 a.m. ET, March 9, 2020
New York court bars certain visitors
The Southern District of New York is banning visitors who have recently traveled to specific countries from the courthouse.
The ban applies to....
People who have visited to China, South Korea, Japan, Italy and Iran in the last 14 days
Others who have had contact in the past two weeks with those who have traveled to those areas
Anyone who has been asked to self-quarantine
Anyone diagnosed with COVID-19
There is no expiration for the order. 
Anyone attempting to enter in violation of the order will be denied entry by a court security officer, according to the order.  
10:42 a.m. ET, March 9, 2020
US House Speaker will meet with other leaders about coronavirus response
Speaker of the House Nancy Pelosi will meet with committee chairs in her office tonight to discuss the legislative response to coronavirus, her office told CNN.
Pelosi and Senate Democratic Leader Chuck Schumer sent a letter last night detailing the legislative steps they want taken.
10:34 a.m. ET, March 9, 2020
There are now coronavirus cases in more than 100 countries and territories
The number of countries and territories with confirmed cases of novel coronavirus has surpassed 100, according to a report Sunday by the World Health Organization. 
In the 24 hours prior to the report, eight places reported their first cases — including Bulgaria, Costa Rica and the Maldives.
Sunday's report also marked the first time the number of daily cases in China fell below 50 since the early days of the outbreak.
The number of new cases reported outside of China in the previous 24 hours was roughly 80 times higher than cases reported inside China — more than 3,600 new cases, the report says.
10:27 a.m. ET, March 9, 2020
New York City mayor says there's a "high bar" for closing schools
New York City Mayor Bill de Blasio said there's a "high bar" for closing public schools during the coronavirus outbreak.
He told CNN that temporary closures of specific schools where coronavirus cases are found are possible — but he said he doesn't anticipate mass closures.
"I don't want to see mass closures, I want pinpoint response," he said on CNN.
Asked if New York City could see the kinds of lockdowns that have been put into place in parts of Italy, de Blasio said it's a "possibility," but added this:
"It's a possibility, but I do think people are getting a little bit ahead of ourselves and we should be careful," he said.
10:26 a.m. ET, March 9, 2020
Trump administration is reconsidering a possible coronavirus stimulus package, officials say
The Trump administration is reconsidering the possibility of major economic stimulus legislation, a senior Administration official told CNN, even though President Trump and Larry Kudlow both indicated Friday the White House wasn't interested in such a move.  
"Congress is sharing a lot of ideas. Up to the President," the official said. 
A separate Administration official told CNN that Trump aides continued discussing possible targeted stimulus ideas over the weekend. The official noted that nothing is finalized or nearing the point where they are ready to announce it. 
The ideas still include possible relief for the hospitality and/or travel industries. Trump has also heard from Republican allies, including over the weekend to push for a payroll tax holiday, the official said. 
The official said they expected Trump to continue going after the Federal Reserve.