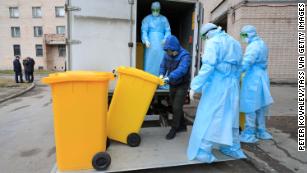 Medical workers outside Mechnikov North-Western State Medical University, where students have been place under quarantine, in St. Petersburg, Russia.
7:47 a.m. ET, March 9, 2020
Six dead in Italy prison riots after visits suspended due to coronavirus
Six prisoners have died in a Modena prison after riots broke out in several Italian jails following the suspension of visits to curb the spread of the coronavirus, according to authorities.
Riots occurred on Sunday in Modena, Frosinone, Naples, Pavia, Alessandria and Foggia prisons, according to a statement by the Italian justice ministry. The disturbances ended on Sunday evening.
"The protests concerned the coronavirus emergency, as well as the measures issued by the government to reduce the risk of infection and protect those who lives and works within the prison," the statement wrote.
During the Modena prison riot, prisoners occupied the entire prison including the infirmary where they got hold of various drugs including methadone, the director of the Italian penitentiary system, Francesco Basentini, said in an interview Monday.
Two of the dead died of an overdose, one of inhalation of toxic smoke and three died after all the inmates were moved to another prison -- those deaths are still being investigated.
Basentini explained that a prison in Salerno, in southern Italy, was the first to riot last Saturday, leading to a "wave" of revolts.
In Modena, all inmates have been moved to nearby buildings as the prison is unusable, according to the ministry.
Italian lockdown: This comes after a Sunday decree put most of Italy's north under lockdown in a bid to contain the virus. While Modena is not affected by the lockdown, restrictions have been imposed throughout the rest of Italy, including the suspension of events at cinemas, theaters, museums and sports arenas.
This comes as Italy has recorded 7,375 cases and 366 deaths, the most fatalities outside mainland China.
7:40 a.m. ET, March 9, 2020
Japan's Nippon Professional Baseball League delays start of season
Japan's Nippon Professional Baseball League (NPB) will delay the start of the season, originally scheduled for March 20, due to the coronavirus outbreak, it said Monday.
"I personally believe that we have no choice but to postpone at this stage … We are aiming to open the season in April," NPB Commissioner Atsushi Saito said at a press conference.
The 12-team league had been playing its pre-season games without fans because of the virus.
The league last postponed the start of its season in 2011 after the Fukushima Daiichi Nuclear Plant was damaged by a tsunami.
7:30 a.m. ET, March 9, 2020
China cuts airport fees as coronavirus slams aviation industry
China has announced a range of measures to support airlines amid the coronavirus outbreak, the country's Civil Aviation Administration said in a statement today.
The policies, which will apply to all domestic and international airlines, include reducing take-off and landing fees by 10%, as well as waiving parking fees, the statement read. Airlines will also be exempted from paying the Civil Aviation Development Fund, it said.
The administration will also provide subsidies for projects aimed at expanding investment in the construction of infrastructure facilities, and will facilitate work resumption by shortening the time needed for official approval.
It will also allow airlines greater flexibility in adjusting flight plans in response to market demand, the statement added.
7:18 a.m. ET, March 9, 2020
Iran grants 70,000 prisoners temporary leave due to virus
Courts across Iran have granted eligible inmates furlough as part of the measures to contain the spread of the virus, judiciary chief Hojatoleslam Ebrahim Raeisi said according to semi-official Tasnim News Agency on Monday.
Prisoners with underlying illnesses have been given priority in being granted leave, Raeisi added.
CNN cannot verify whether the furloughs have been carried out yet.
Last Tuesday, Iran announced it would temporarily release more than 54,000 prisoners in an attempt to prevent the virus spread, according to the country's semi-official news agency ISNA citing judiciary spokesman Gholamhossein Esmaili.
7:10 a.m. ET, March 9, 2020
Evacuation flight for foreign diplomats in North Korea has landed in Russia
An evacuation flight with foreign diplomats who were quarantined in North Korea has landed in Vladivostok with 103 people onboard, a source on the flight told CNN.  
The source agreed to speak to CNN on condition of anonymity, due to the sensitivity of the situation. 
French and German embassies in North Korea will be temporarily closed, according to the British Ambassador for North Korea, Colin Crooks. Crooks tweeted that the British Embassy would remain open. 
CNN previously reported foreign diplomats had been kept in complete isolation since early February, amid concerns about the potential spread of novel coronavirus inside North Korea. The exact number of foreign diplomats stationed inside the country is unknown, but is estimated to be just a few hundred. 
North Korea has not confirmed a single case of the virus inside the country, but global health experts have warned the country is highly susceptible to an outbreak given its close proximity to China and limited medical capabilities.
7:04 a.m. ET, March 9, 2020
NATO staff member tests positive
A NATO staff member working at its Brussels headquarters has tested positive for the virus, according to its press office.
"The staff member had come back from a holiday in northern Italy, felt unwell at the end of last week, and was tested due to the onset of fever-like symptoms," according to a statement from the alliance.
It added that the staff member has self-isolated and immediate work colleagues have been working from home since the results came in.
NATO said that it has taken preventative measures, based on World Health Organization (WHO) guidance, "these include the temporary suspension of certain staff travel, encouraging staff to work from home, and the temporary suspension of group visits to NATO HQ in Brussels."
Belgium tally: As of Monday morning, Belgium has 169 confirmed cases and no deaths.
6:52 a.m. ET, March 9, 2020
French Central Bank downgrades growth forecast due to coronavirus uncertainties
The French Central Bank, or Banque de France, downgraded its growth forecast for the first quarter from +0.3% down to +0.1% -- a steep drop that suggests the coronavirus is now hitting European economies beyond Italy.
A statement from Francois Villeroy de Galhau, governor of the bank, cites "strong uncertainty about future production linked to coronavirus" for the revised forecast.
"This shock of uncertainty first affects the sectors exposed to China, either via their supplies or via their customers (tourism, luxury). But it also reaches services in France where demand has slowed down due to the measures taken to contain the epidemic: transport, accommodation and catering, events and temporary work," the statement said.
"This slowdown is potentially severe but temporary; its duration will depend on the sanitary measures necessary in China as in Europe."
The bank also urged calm: The statement asked the public to "have our eyes wide open but keep a cool head."
"Getting over this shock depends on us, together," it added.
6:42 a.m. ET, March 9, 2020
United States Forces Korea employee tests positive for coronavirus
A construction worker contracted by the United States Forces Korea (USFK) has tested positive for the coronavirus, making this the eighth USFK-related patient.
The worker is a Korean citizen, and is currently in isolation at his off-base residence as directed by the Korea Centers for Disease Control and Prevention (KCDC), said a USFK press release.
"KCDC and USFK health professionals are actively conducting contact tracing to determine whether anyone else may have been exposed," said the release.
The other USFK cases include an American soldier, his spouse, and two other dependents of service members stationed in the southern city of Daegu.
6:32 a.m. ET, March 9, 2020
An oil price crash and the coronavirus combined to create "complete pandemonium" in global markets
Global markets are plunging after the implosion of an alliance between OPEC and Russia caused the worst one-day crash in crude prices in nearly 30 years, fueling panic triggered by the escalation of the coronavirus epidemic.
A look at the markets' tumble:
S&P 500 (SPX) futures plunged as much as 5% Sunday evening, triggering a limit that prevents futures from trading below that mark. 
Dow (INDU) futures are down more than 1,200 points, or about 4.9%. 
Nasdaq Composite (COMP) futures were down 4.8%.
Australia's S&P/ASX 200 ended 7.3% lower on Monday, the index's biggest plunge since October 2008.
Japan's Nikkei 225 (N225) sank 5.1%.
Hong Kong's Hang Seng (HSI) lost 4.2%.
China's Shanghai Composite (SHCOMP) shed 3%.
The yield on the 10-year Treasury note, meanwhile, fell below 0.5%, hitting record lows.
What triggered this? The panic began after Saudi Arabia shocked oil markets by launching a price war. The kingdom is trying to retake global market share after Russia refused Friday to go along with OPEC's efforts to rescue the oil market from a plunge in demand caused by the coronavirus outbreak.
What does this mean? Investors are waking up "shell shocked," wrote Stephen Innes, chief market strategist at AxiCorp, in a Monday research note. He described the panic as "complete pandemonium."
Global markets have also been battered in recent days. About $9 trillion was wiped off global stocks in nine days, Bank of America said in a research note after US markets closed deep in the red again on Thursday.
Read more about it here.