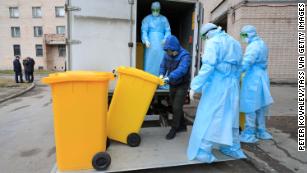 Medical workers outside Mechnikov North-Western State Medical University, where students have been place under quarantine, in St. Petersburg, Russia.
6:49 p.m. ET, March 9, 2020
Trump says coronavirus "blindsided the world"
President Donald Trump said his administration will hold a briefing to discuss a possible payroll tax cut and the effects of coronavirus.
He went on to say that they will "explain what we're doing on an economic standpoint." 
"We have a very strong economy but this came — but this blindsided the world, and I think we've handled it very, very well. I think they've done a great job," he said.
6:53 p.m. ET, March 9, 2020
Trump administration to propose payroll tax cut and hourly wage relief
President Donald Trump said that members of his administration's coronavirus task force would be meeting with Congress to discuss a payroll tax cut relief and relief for hourly workers.
"We are going to be asking tomorrow, we're seeing the Senate. We're going to be meeting with House Republicans, Mitch McConnell, everybody discussing a possible payroll tax cut or relief, substantial relief," Trump told reporters at a briefing Monday.
"We're also going to be talking about hourly wage earners getting help so that they can be in a position where they're not going to ever miss a paycheck," he added.
Trump added that he is working with leaders in the cruise ship and airline industry "very strongly" for potential relief from coronavirus-related losses. 
"We want people to travel to certain locations and not to other locations at this moment," he said. "We're working with the industries."
Trump also said the administration is in communication with the hotel industry, saying that "some places actually will do very well," but others may not. 
6:41 p.m. ET, March 9, 2020
Trump attends coronavirus briefing
President Donald Trump, Vice President Mike Pence and other members of the White House's coronavirus task force have arrived in the briefing room to speak to members of the press about coronavirus.
The briefing, originally scheduled for 5:30 p.m. ET, was twice postponed.  
The briefing comes the same day that two lawmakers in recent contact with Trump announced they would self-quarantine.
It also comes hours after the Dow closed down more than 2,000 points and Trump had a meeting on potential economic stimulus measures.
6:34 p.m. ET, March 9, 2020
DC mayor says federal government needs "to step it up" on coronavirus response
Washington Mayor Muriel Bowser said Monday that the federal government needs to "step it up" in their response to the novel coronavirus.  
Speaking with CNN's Wolf Blitzer on "The Situation Room," Bowser said DC specifically needed assistance from the federal government with "how we procure supplies that support the testing that our public health labs are doing."
"We will need to have that support from them and we need it right now," she said.
Bowser stressed that the DC government would approach any changes to regular city operations by "following the science" and "making sure that any decisions we make will actually keep people safer."
6:25 p.m. ET, March 9, 2020
Boston cancels St. Patrick's Day Parade over coronavirus concerns
Boston is canceling their 2020 St. Patrick's Day Parade "out of an abundance of caution" due to concerns over coronavirus, the city's mayor announced Monday. 
"In collaboration with Congressman Lynch, Councilors Flaherty and Flynn, Senator Collins, Representative Biele, and David Falvey from the South Boston Allied War Veterans Council, the St. Patrick's Day Parade is being cancelled," Mayor Martin Walsh said in a statement.
Walsh went on to say that the "decision is being made out of an abundance of caution to ensure that we are doing what is needed to keep the residents of Boston safe and healthy."
6:18 p.m. ET, March 9, 2020
Rhode Island announces state of emergency due to coronavirus outbreak
Rhode Island Gov. Gina Raimondo has announced a state of emergency because of the coronavirus outbreak.
Rhode Island has three confirmed cases of coronavirus.
There are at least 687 cases of novel coronavirus in the United States, according to the state and local health agencies, governments and the US Centers for Disease Control and Prevention.
Remember: These numbers are constantly being updated as the situation is fluid. 
6:09 p.m. ET, March 9, 2020
Coronavirus briefing is now at 6:30 p.m. ET
The White House now says the coronavirus briefing is delayed and will now begin at 6:30 p.m. ET. 
President Trump is expected to the lead the briefing.
5:59 p.m. ET, March 9, 2020
NASA employee tests positive for coronavirus
Employees at NASA's Ames Research Center in Silicon Valley have been put on a mandatory telework status after an employee has tested positive for coronavirus.
NASA Administrator Jim Bridenstine said although they believe the exposure at the center has been limited, they issued the order out of an abundance of caution.
"Limiting personnel at the center will allow Ames medical personnel and public health officials to determine potential contacts and assess areas that may require additional cleaning and mitigate potential exposure to center personnel," Bridenstine said. "Working with county officials, Ames leadership and medical personnel are working to trace the contacts of the employee and notifying individuals who may have had significant contact with that person."
It is unclear whether this case is included in the state's current count of coronavirus patients.
5:51 p.m. ET, March 9, 2020
A fifth congressman was exposed to CPAC attendee who tested positive for coronavirus
Rep. Louis Gohmert, a Republican from Texas, was called by officials yesterday and was told he had been in proximity of the individual at the Conservative Political Action Conference who tested positive for coronavirus, according to the congressman's aide.
According to the aide, the doctor told him that if he was Gohmert, he'd go back to Washington and observe good hygiene. 
Gohmert is choosing not to self-quarantine.
There are currently five Republican members of Congress who said they were exposed to individuals who have tested for coronavirus. Gohmert is the only one to not self-quarantine. 
One Democrat also came in contact with a constituent who tested positive for coronavirus has shuttered her DC office and is "self-monitoring."