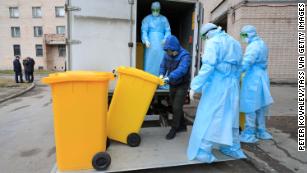 Medical workers outside Mechnikov North-Western State Medical University, where students have been place under quarantine, in St. Petersburg, Russia.
4:53 p.m. ET, March 9, 2020
All of Italy is now on lockdown
The whole country of Italy is now on lockdown, Italy's Prime Minister Giuseppe Conte announced at a news conference on Monday. 
Conte said the measure was taken in order to protect citizens, especially the most fragile individuals. 
4:29 p.m. ET, March 9, 2020
A person in Canada has died from coronavirus
Health officials in British Columbia have confirmed Canada's first death in connection with coronavirus.
The victim is a man in his 80s who had underlying health issues. He is one of two residents infected in a residential care home in North Vancouver.
"This is obviously a very sad day for all of us, but especially for the family and loved ones of the man who passed away," Adrian Dix, British Columbia's health minister, said in a statement.
British Columbia's health ministry announced six new cases of coronavirus on Saturday, two of which were residents of the long-term care home. The other patient is a woman in her 70s and she remains in stable condition.
4:27 p.m. ET, March 9, 2020
Dow logs biggest point-drop in history as stocks tumble
It was a turbulent day in the US stock market, which experienced a massive selloff amid coronavirus fears and a sharp drop in oil prices.
The Dow recorded a new worst point drop on record, overtaking the massive loss from February 27. The index closed down 2,014 points, or 7.8%. It was its worst day since October 2008. 
Stock futures trading was halted following steep losses in the overnight session, which carried into regular trade: Shortly after market open the S&P 500 dropped 7% and triggered a circuit breaker, forcing the New York Stock Exchange to suspend trading for 15 minutes.
Stocks continued the day in the red.
The S&P 500 finished 7.6% down, marking its worst day since December 2008.
The Nasdaq Composite ended down 7.3%. It was its worst day since December 2008.
4:22 p.m. ET, March 9, 2020
Florida congressman says he came into contact with coronavirus patient
Rep. Matt Gaetz, who just returned to Washington from Florida traveling aboard Air Force One with President Trump, just tweeted that he "was informed today that he came into contact with a CPAC attendee 11 days ago who tested positive for COVID-19." 
In a series of tweets, Gaetz's official account said, "While the Congressman is not experiencing symptoms, he received testing today and expects results soon. Under doctor's usual precautionary recommendations, he'll remain self-quarantined until the 14-day period expires this week."
And Gaetz's accounted also noted that his Washington office will be closed during this time. His Pensacola office will stay open.
Pool reporters also traveling aboard the presidential aircraft said they saw Gaetz disembarking from a separate entrance to the plane than the President, which is customary for most travelers aside from the President and his tight entourage.  
CNN has asked the White House for reaction to the announcement. 
4:41 p.m. ET, March 9, 2020
3 members of US Congress are now self-quarantining
Rep. Doug Collins, the top Republican on the House Judiciary Committee, became the third member of Congress to self-quarantine after coming into contact with an individual who has been diagnosed with the novel coronavirus.
Collins announced the decision in a statement Monday afternoon, saying he was notified by the organizers of the annual Conservative Political Action Conference on Monday that they had found a photograph of Collins with the individual who tested positive for coronavirus. 
"While I feel completely healthy and I am not experiencing any symptoms, I have decided to self-quarantine eat my home for the remainder of the 14-day period out of an abundance of caution," Collins wrote.
Two aides to Collins will also self-quarantine, according to an aide familiar with the situation. The aides in question also interacted with the infected person at CPAC at the end of February, and are not experiencing any symptoms.
The Georgia Republican's decision comes after Texas Sen. Ted Cruz and Arizona Rep. Paul Gosar announced over the weekend that they would self-quarantine after coming into contact with the same CPAC attendee.
President Trump, Vice President Mike Pence and a number of other administration officials also attended the conference, but the American Conservative Union, which runs the event every year, said the infected attendee did not come into contact with the President or VP.
4:06 p.m. ET, March 9, 2020
Madrid and two other Spanish cities to close all schools due to coronavirus outbreak
Spain will close all schools, nurseries and universities in areas it has singled out as "high community transmission risk areas" for at least 15 days to avoid spreading coronavirus, Spanish Health Minister Salvador Illa said Monday.
The affected areas include Madrid, and the cities of Vitoria and Labastida in the Basque Country.
"When possible we would like the people in these areas to work from home, we would like the companies to be flexible in terms of working hours, older people should be attended at home and people who suffer from chronic illnesses or serious pathologies should limit their activities outside. People in general should avoid unnecessary travel," Illa said.
3:53 p.m. ET, March 9, 2020
Can you recover from coronavirus?
Absolutely. The vast majority of people with coronavirus survive. 
Last week, the director of the National Institute of Allergy and Infectious Diseases estimated the death rate is "about 2%." 
But the true death rate might be much lower, since some coronavirus survivors might not have been tested and might not have had their cases reported. 
3:49 p.m. ET, March 9, 2020
Los Angeles reports first possible case of community spread coronavirus
Two more people have tested positive for novel coronavirus in Los Angeles County, Health Director Barbara Ferrer announced Monday.
Officials have not been able to trace the source of the first person's infection and it may be the county's first case of community-spread coronavirus, Ferrer said.
The second patient recently traveled to Japan. Both patients are in isolation and their close contacts will be quarantined.
A lab in Los Angeles County has tested about 60 people for coronavirus. That number does not include commercial testing, which started Friday, according to Ferrer.
3:42 p.m. ET, March 9, 2020
Woman in her 60s dies from coronavirus in California
A woman in her 60s is the first coronavirus-related death in Santa Clara County.
The woman, who had been hospitalized for several weeks, is believed to have contracted the virus through community transmission, according to a statement from the county's health department.
This case was previously announced on February 28.
"This is a tragic development. The Public Health Department is taking necessary, carefully considered steps to slow down the spread of the disease and to protect those at greatest risk," said Dr. Sara Cody, health officer for Santa Clara County. "We are facing a historic public health challenge and know this is a very difficult time. Our top priority continues to be protecting the health of our community."