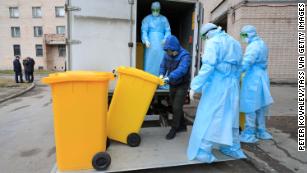 Medical workers outside Mechnikov North-Western State Medical University, where students have been place under quarantine, in St. Petersburg, Russia.
10:13 a.m. ET, March 9, 2020
Princeton University is moving all of its lectures and seminars online
Princeton University in New Jersey will "virtualize" as many activities as it can, such as lectures and seminars, the school said in a statement.
"We are creating, supporting, and mandating alternative ways of meeting our academic and other programmatic requirements in ways consistent with social distancing," the university's president said in a statement.
On Monday, March 23, all lectures and seminars will be moved online. The school added that its encouraging students to consider staying home after the school's Spring Break instead of returning to campus.
"If students choose to remain home after Spring Break, we will make sure that they are able to meet their academic requirements remotely," the school said.
9:59 a.m. ET, March 9, 2020
Why US stock trading took a 15-minute break this morning
Stocks resumed trading at 9:49 a.m. ET, after the New York Stock Exchange halted activity for 15 minutes.
What this is about: The NYSE has a series of "circuit breakers" that will kick in to halt market trading if we see severe declines in the S&P 500 index. It's basically an automatic breather to try and calm market.
There are three levels:
Level 1, when there's a 7% decrease – 15 minute halt
Level 2, when there's a 13% decrease – 15 minute halt
Level 3, when there's a 20% decrease – the market closes for the day
9:50 a.m. ET, March 9, 2020
Trump's tweeting about coronavirus this morning
President Trump is continuing to tweet on the coronavirus response.
He thanked Vice President Pence and the coronavirus task force, and once again praised his decision to shut down travel from parts of the world that had been impacted by the virus. 
"Great job being done by the @VP and the CoronaVirus Task Force. Thank you!" he said in one tweet.
"The BEST decision made was the toughest of them all - which saved many lives. Our VERY early decision to stop travel to and from certain parts of the world!" he said in another.
9:38 a.m. ET, March 9, 2020
Stocks plummet this morning as coronavirus fears grow
Stocks plummeted this morning as worries about the growing global coronavirus pandemic and an oil price race to the bottom weighed on global financial markets.
The New York Stock Exchange halted stock trading for 15 minutes after the S&P 500 fell 7%.
The selloff had begun in overnight futures trading, which was halted after futures contracts dropped nearly 5%.
All this comes after stocks managed to end the last turbulent week in the green. Despite three steep selloffs, the Dow also recorded its best point-gain on record last week.
9:38 a.m. ET, March 9, 2020
New York City officials confirm three additional coronavirus cases
Three additional coronavirus cases were confirmed in New York City bringing the total to 16 confirmed cases, according to Mayor Bill de Blasio's spokesperson Freddi Goldstein.
9:30 a.m. ET, March 9, 2020
Kentucky's first coronavirus patient is a Walmart employee
The first cases of the novel coronavirus in Harrison County, Kentucky are a Walmart employee and a person linked to the employee, Kentucky Governor Andy Beshear said at a news conference today.
However, the governor said while they can't provide details on the linkage, they don't believe the second patient was exposed to the virus at Walmart.
Harrison County officials investigating the case identified people who worked around the Walmart employee and asked six other employees to self-isolate. None of those employees are showing symptoms of the virus, said WEDCO District Health Director Dr. Crystal Miller. 
There are four cases of coronavirus in the state total, Beshear said.
9:24 a.m. ET, March 9, 2020
Top infectious disease doctor says "there's still a lot that's unknown" about coronavirus
Dr. Anthony Fauci, director of the National Institute of Allergy and Infectious Diseases, compared the novel coronavirus to the "pre-pandemic bird flu" and other past outbreaks in an interview with CNN's Alisyn Camerota on "New Day."
"We're gathering information, we're learning a lot, but there's still a lot that's unknown about where this is going, you always almost have a fog of war about it," Fauci said on Monday.
"It's not that different than the very early years of the HIV epidemic, of the anthrax attacks, of the concern about the pre-pandemic bird flu," Fauci said, referring to past outbreaks. "Everything has a little bit of a different twist to it. It's not exactly the same, but there's always that uncertainty that gets people very anxious."
9:20 a.m. ET, March 9, 2020
Finland's president stops staff from shaking hands
The staff of Finland's President Sauli Niinistö no longer shake hands when they meet, in a bid to contain the virus, according to a statement from Niinistö's office.
"As of last week, people no longer shake hands when they meet. Participation in meetings and traveling on government business will be limited to a minimum by using video conference facilities whenever possible. Additionally, no groups of visitors are received at the presidential palace until further notice," the statement wrote.
This comes as officials around the world have been issuing guidance on how to greet people as they scramble to contain the virus.
Read about the bizarre ways in which the outbreak is changing etiquette
9:13 a.m. ET, March 9, 2020
India replaces cell phone ringing tone with coronavirus prevention tips
If you make a call in India, you might get some health tips.
A voice message featuring tips on how to protect yourself against coronavirus has replaced the usual ringing tone for mobile phone users in India.
Nearly 1.2 billion subscribers of telecoms networks, including BSNL, MTNL Reliance Jio, Airtel and Vodafone-Idea, have been hearing a recorded message when they dial out, according to a press release issued by India's Health Ministry.
The voice message begins with a cough. "Always protect your face with a handkerchief or tissue while coughing or sneezing. Wash your hands with soap frequently," the announcement, voiced by a woman, goes on to say.
"Avoid touching your face, eyes, or nose. If someone has cough, fever, or breathlessness maintain one meter distance. If needed, visit your nearest health center immediately," it adds.
In New Delhi, the public service announcement is said in Hindi and then English. It ends when the receiver picks up the call.
India currently has 43 confirmed cases of the virus.