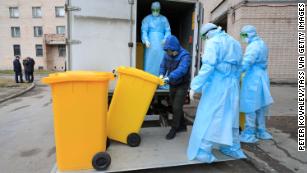 Medical workers outside Mechnikov North-Western State Medical University, where students have been place under quarantine, in St. Petersburg, Russia.
3:22 p.m. ET, March 9, 2020
Most US deaths from coronavirus involve patients 70 or older
The vast majority of US deaths from coronavirus appear to involve patients ages 70 and up, based on broad age range information provided by health authorities.
Officials provided basic age information in only 18 of the 22 US death cases. 
Of those 18, seven were in their 70s, five were in their 80s, three were in their 90s, two were in their 50s and one was in their 60s.
A 19th patient was described as "elderly," but no age range was given.
This is in line with what US Surgeon General Jerome Adams told CNN Sunday about the pandemic in general — that the average age of those who died from the global outbreak of the novel coronavirus was 80, and that the average age of those seeking medical treatment was 60.
3:00 p.m. ET, March 9, 2020
Do people who have recovered from novel coronavirus become immune to it?
It's too early to know for sure. But other coronaviruses, like ones that cause the common cold, might give us clues.
With "common cold coronaviruses, you don't actually have immunity that lasts for very long, and so we don't know the answer with this specific coronavirus," said Dr. Celine Gounder, a professor of medicine and infectious diseases at the New York University School of Medicine.
"If you recover, are you immune? And if you are immune, how long does that last? And that's actually going to be one of the challenges with designing a vaccine is how do you actually cause the immunity to last long enough to protect you."
2:59 p.m. ET, March 9, 2020
New York City mayor says 24 people are in mandatory quarantine
There are now 24 people in mandatory quarantine and 2,019 in voluntary isolation across New York City, according to Mayor Bill de Blasio.
The mayor said city officials have evidence that those in quarantine are "honoring those quarantines."
The mayor said there will be no public school international trips through the end for the school year and nurses are being added to every public school building this week. No international travel is permitted for city employees.
2:46 p.m. ET, March 9, 2020
Ireland cancels all St Patrick's Day parades
Ireland has canceled all of its annual St Patrick's Day parades and is reviewing whether to go ahead with other events scheduled for the holiday, the Irish government said in a statement on Monday. 
Here's the government's statement:
"Due to the unique nature and scale of the St Patrick's Day festivities, in terms of size, the mass gathering of local and international travelers, and the continued progression of community transmission in some European countries, along with the emergence of a small number of cases of local transmission in Ireland, the Government has decided that St Patrick's Day parades, including the Dublin parade, will not proceed. This is based on the advice of the National Public Health Emergency Team. The situation in relation to other events and mass gatherings remains under review and any response will be guided by the NPHET which meets again tomorrow, along with the public health advice."
2:40 p.m. ET, March 9, 2020
Colleges should consider canceling international student travel programs, US health officials say
The US Centers for Disease Control and Prevention urged colleges and universities to considering canceling study abroad trips and other international travel for students.
Institutions of higher education "should consider asking current program participants to return to their home country," the center said in a statement, noting that "students may face unpredictable circumstances, travel restrictions, challenges in returning home or accessing health care while abroad.
Schools should work with public health officials to determine the best way to transport students home.
"All plans for returning study abroad students should be designed to protect participants from stigma and discrimination," the CDC said.
2:30 p.m. ET, March 9, 2020
Israel says anyone entering the country must self-quarantine for 14 days
Israel's Prime Minister Benjamin Netanyahu has announced that anyone entering the country from abroad  —Israeli citizens and foreign nationals alike — must self-quarantine for 14 days. 
Those foreign nationals who are unable to demonstrate to Israeli border authorities that they will be able to self-quarantine for two weeks will not be allowed to enter the country.
"This is a difficult decision, but it is necessary to protect public health — and the public health comes before everything," Netanyahu said in a video statement on Monday. 
"This decision will be in effect for two weeks; at the same time, we are making decisions in order to protect the economy of Israel," he added. 
2:28 p.m. ET, March 9, 2020
How do I know if I have a cold or coronavirus? 
The biggest challenge doctors are facing is telling the difference between a mild infection of coronavirus and a cold or mild flu, said Dr. Daniel Kuritzkes, chief of the Division of Infectious Diseases at Brigham and Women's Hospital.
"The symptoms of mild coronavirus infection are really no different than the symptoms of a cold or mild influenza," he said. "I think right now what we are saying is that the people we would be concerned about are those who are traveling to a country that's considered to be a high-risk country or who have been contact with somebody who has been diagnosed with coronavirus. That's one of the reasons we may be missing other people who don't fall into one of those categories and have very mild disease and the challenges that are until testing more widely available is going to be harder to catch every last case."
Since there is no vaccine for coronavirus, Kuritzkes said the best way to treat yourself, if you have mild symptoms, "is the same way you treat a cold."
4:49 p.m. ET, March 9, 2020
Louisiana reports first presumptive positive case of coronavirus
The Louisiana Department of Health has reported the state's first presumptive positive case of coronavirus, according to a statement from Gov. John Bel Edwards' office.
The Jefferson Parish resident has been hospitalized in Orleans Parish.
"While today is the first time that we can confirm that we have a presumptive positive coronavirus case, Louisiana has been preparing for this moment for many weeks," Edwards said.
The governor will hold a news conference with public health officials later today.
2:13 p.m. ET, March 9, 2020
New Jersey has 5 new presumptive positive cases of coronavirus
New Jersey has 5 new presumptive positive cases of coronavirus, Lt. Gov. Shelia Oliver said Monday afternoon.
The state now has a total of 11 positive cases, Oliver said.
One person was in contact with friends from Milan who did not have the virus, but he did test positive, Department of Health Commissioner Juditih Persichilli said during the same press conference.
At least 24 people are under investigation to be tested, Persichilli said.