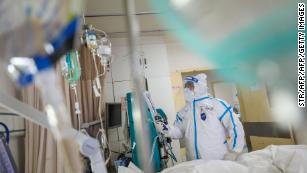 Medical staff checking on a Covid-19 coronavirus patient at the Red Cross hospital in Wuhan in China's central Hubei province.
11:07 p.m. ET, March 8, 2020
Our live coverage of the coronavirus outbreak has moved here.
11:05 p.m. ET, March 8, 2020
Arizona congressman self-quarantines after coming in contact with coronavirus patient at CPAC
Arizona Republican Rep. Paul Gosar said Sunday he is self-quarantining after he was informed that he and members of his staff had been in extended contact with the person at the Conservative Political Action Conference who later tested positive for the coronavirus.
"I am not currently experiencing any symptoms, nor is any member of my staff. However, in order to prevent any potential transmission, I will remain at my home in Arizona until the conclusion of the 14 day period following my interaction with this individual," Gosar said in a statement.
Gosar said he was with the individual for "an extended period of time" and the two of them shook hands several times. Gosar said he has been in contact with the House physician.
He said he is closing his Washington office for this week "out of an abundance of caution."
11:01 p.m. ET, March 8, 2020
Four new presumptive positive cases of coronavirus identified in Georgia
Four new presumptive positive cases of coronavirus have been identified in Georgia, according to a press release from the state Department of Public Health.
The new cases are in three counties and bring the state's total cases to 11.
One of the new cases is in Fulton County, where Atlanta is located, and another is in the Atlanta suburb of Cherokee County, the release said.
Two cases are in suburban Cobb County, but they have no connection to each other, according to the release.
All four people are hospitalized, and the sources of their infection are unknown, the release said.
10:45 p.m. ET, March 8, 2020
Major tennis tournament in California canceled due to coronavirus concerns
The 2020 BNP Paribas Open, a major tennis tournament that would've brought thousands of people to Southern California, was canceled Sunday over coronavirus concerns, according to a tweet from the tournament and the tournament's website.
"The Riverside County Public Health Department has declared a public health emergency for the Coachella Valley after a confirmed case of coronavirus (COVID-19) locally," the tournament's website said. "As a result, the 2020 BNP Paribas Open will not take place at this time due to concerns surrounding the coronavirus and the safety of the participants and attendees at the event. This is following the guidance of medical professionals, the Centers for Disease Control (CDC), and State of California."
The tournament was scheduled to start Monday and last through March 22. Dr. David Agus, a University of Southern California professor of medicine and biomedical engineering, said holding the tournament wasn't in "the public interest of fans, players and neighboring areas for this tournament to proceed."
"We all have to join together to protect the community from the coronavirus outbreak," Agus said.
Tournament director Tommy Haas said organizers are prepared to hold the tournament on another date and "will explore options."
10:44 p.m. ET, March 8, 2020
New presumptive positive case of coronavirus identified in Harris County, Texas
A new presumptive positive case of coronavirus has been identified in Harris County, Texas, according to a press release from Harris County Public Health.
The individual is a woman between the age of 60 and 70 from northwest Harris County, outside Houston, the release said. The new patient is associated with the M.S. A'sara cruise traveling to and from Aswan, Egypt, the release said.
The woman is stable, in quarantine and continuously being monitored by health officials, the release said. There have been at least five other cases identified in Harris County, which includes the city of Houston.
This is the 12th case in the state of Texas.
10:36 p.m. ET, March 8, 2020
Shasta County, California, confirms its first case of coronavirus
Shasta County, California, has confirmed its first presumptive positive case of coronavirus, the county's health and human services agency announced in a press release Sunday.
The patient is a man in his 50s who is recovering in isolation at home, the release said.
He had a history of recent travel and public health staff are working to identify anyone who may have been in close contact with the patient, the release said.
Shasta County is about 200 miles north of Sacramento.
This case brings California's total to 89 confirmed cases.
10:18 p.m. ET, March 8, 2020
Saudi Arabia temporarily suspends air and naval trips with several countries to contain coronavirus
Saudi Arabia announced Sunday it is temporarily suspending flights and naval travel to and from several countries in an attempt to contain the spread of coronavirus, according to the state-run Saudi Press Agency, citing a Saudi Interior Ministry statement. 
The countries included on the suspension include:
United Arab Emirates
Kuwait
Bahrain
Lebanon
Syria
South Korea
Egypt
Italy
Iraq
Saudi Arabia also decided to temporarily suspend "the entry of those coming from those countries, or the entry of those who were there during the 14 days prior to his arrival." SPA said in its report.
10:13 p.m. ET, March 8, 2020
Regal Princess will dock at Port Everglades, Florida
The Regal Princess will dock at 10 p.m. ET at Port Everglades, according to a tweet from Port Everglades.
The US Centers for Disease Control and Prevention has cleared the ship to dock, the tweet said.
Princess Cruises canceled a new sailing of the Regal Princess Sunday after the disembarkation was delayed due to coronavirus testing on two crew members.
The no sail order by Department of Health and Human Resources and the CDC has been lifted, the US Coast Guard told CNN in an emailed statement.
9:47 p.m. ET, March 8, 2020
Father of woman diagnosed with coronavirus attended school function against orders of health officials to isolate, official says
The father of a woman with a presumptive positive case of coronavirus attended a school function with another child Saturday against the orders of health officials to isolate, St. Louis County Executive Sam Page said during a Sunday press conference.
The presumptive positive case in St. Louis County was identified as a woman in her 20s who had recently returned from Italy, a press release issued Saturday said. The only reported case in the state, the woman had fever and respiratory issues, Gov. Mike Parson said.
The woman's father and other family members had been in daily contact multiple times a day since March 5 and knew they were supposed to isolate at home, Page said.
Health officials have since spoken to the father and told him he needs to stay home. They will obtain a court order for quarantine if necessary, Page said.
Page did not know how many people attended the school function or what the possibility for exposure was. The father and other members of the family are not exhibiting symptoms, he said.