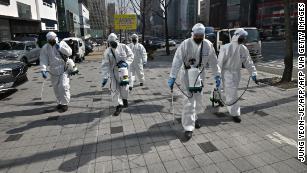 Soldiers spray disinfectant in Seoul. Jung Yeon-je/AFP via Getty Images
12:48 p.m. ET, March 7, 2020
New York governor declares state of emergency
Gov. Andrew Cuomo has declared a state of emergency due to the coronavirus in order to have "a more expedited purchasing and testing protocol," according to a press conference held this afternoon.
"I have officially done a declaration of emergency which gives us certain powers. We're going to be doing purchasing and hiring more staff, especially to help local health departments that are very stressed," Cuomo said.
Cuomo added: "We have a more expedited purchasing and testing protocol and we're going to be doing that."
12:34 p.m. ET, March 7, 2020
California's Madera County confirms case of novel coronavirus
Dr. Simon Paul, of Madera County Public Health, reported one confirmed case of novel coronavirus in Madera County, California, today.
The case is the spouse of a couple that returned from a Princess Cruise voyage and whom California Department of Public Health contacted. The Madera County Department of Public Health (MCDPH) began monitoring the patient on March 5, according to a release from MCDPH.
When the individual developed symptoms, MCPDH coordinated with Madera Community Hospital for medical care and testing, the release said.
According to the release, the patient is currently in stable condition.
By the numbers: This latest case brings the number of people confirmed and presumed to have coronavirus in the state of California to 66.
12:23 p.m. ET, March 7, 2020
Coronavirus cases in New York rise to 21
There are now 21 new cases of coronavirus confirmed in New York, bringing the state-wide total to 76, Gov. Andrew Cuomo announced in a press conference this afternoon.
Here is the state-wide breakdown:
New York City – 11
Westchester County – 57
Rockland County – 2
Nassau County – 4
Saratoga County – 2
12:12 p.m. ET, March 7, 2020
3 new cases of coronavirus confirmed in India
Three positive cases of coronavirus have been confirmed in India today, according to the Health Ministry of India. 
Two cases are from the union territory of Ladakh, with a travel history to Iran and the third case is from the southern state of Tamil Nadu, who recently traveled to Oman.
The total number of coronavirus cases in India is 34.
11:37 a.m. ET, March 7, 2020
US federal court operations altered by the coronavirus
The coronavirus is impacting the operations of some federal courts across the US.
The Ninth Circuit Court of Appeals, which hears cases from nine western states including Washington, as well as a district court in Washington state, which has seen at least 80 cases, have altered some of the procedures as the virus continues to spread.
The appeals court, which has four courthouses including one in Seattle, said it is cancelling all hearings involving multiple judges as well as non-case related meetings, scheduled for next week. 
The court said in an order posted online it was taking this measure "in light of the concerns about community spread of the COVID-19 virus throughout" the region covered by it. 
All scheduled oral arguments in all locations will go forward, the court said.
"Counsel who wish to appear remotely for any hearing may file a motion in that case for such relief," the court said.
The appeals court said it would be assessing the situation early next week.
The Southern District of New York issued an order directing the Metropolitan Detention Center to screen all detainees prior to scheduled appearances at court.
"If the temperature is 100.4 or above, such detainees should not be produced and the Court, forthwith, be notified," Chief US District Judge Colleen McMahon ordered Friday.
11:16 a.m. ET, March 7, 2020
Amtrak cutting some train service between NY and DC as demand drops
Amtrak is making some changes to its schedule because of reduced demand from the coronavirus virus while altering some fees to accommodate travelers.
It announced three Acela trains which run between Washington, D.C., and New York will be suspended beginning Tuesday until the end of May.
"As we are experiencing some reduced demand for our service, we are making temporary adjustments to our schedule, such as removing train cars or cancelling trains when there is a convenient alternative with a similar schedule that will have minimal impact to customers" including the three temporary suspensions, Amtrak said in a statement.
The service also announced – as some airlines have already implemented – a waiving of change fees or on all existing or new reservations made before April 30.
Regarding the actual trains, Amtrak said it is enhancing its cleaning protocols by increasing the frequency of cleaning service on the trains and stations to multiple times a day and even on an hourly basis in some cases. Also it is increasing the use of disinfectants to wipe down handrails, doorknobs and surfaces.
11:02 a.m. ET, March 7, 2020
NBA advises teams to prepare to play without fans due to coronavirus concerns
The National Basketball Association (NBA) has asked teams to begin making contingency plans if they have to play games without anyone in attendance as concerns about the spread of coronavirus increase.
In a memo, which CNN has obtained, the league advised teams to identify "actions required if it were to become necessary to play a game with only essential staff present." Only the league office will decide if a game will be played without fans, media, and/or other typical game attendees.
Los Angeles Lakers all-star forward LeBron James said after the Lakers' 113-103 victory against the Milwaukee Bucks on Friday that he wouldn't play in an empty arena.
"Nah, that's impossible. I ain't playing. If I ain't got the fans in the crowd, that's what I play for. I play for my teammates, I play for the fans. That's what it's all about. If I show up to an arena, and there ain't no fans there? I ain't playing. So, they could do what they want to do," James said.
11:00 a.m. ET, March 7, 2020
Japan coronavirus death toll rises to 13 with a case from Diamond Princess
Japan Health Ministry announced Saturday that a man from Hong Kong linked to the Diamond Princess cruise ship has died from novel coronavirus. 
Information about his age and whether he was the passenger or a crew member has not revealed. 
Japan's death toll from the virus now stands at 13.
10:50 a.m. ET, March 7, 2020
3 new cases of novel coronavirus announced in Georgia
The Georgia Department of Public Health (DPH) reported three additional cases of novel coronavirus in Georgia this morning.
One of the new cases is an individual from Cobb County, who recently returned from Italy, and is isolated at home, according to the Georgia Department of Public Health.
The other individual is from Fulton County and is hospitalized, DPH said. According to DPH, the source of that person's exposure is unclear at this time.
Additionally, DPH is waiting for confirmation on a presumptive positive test for a Gwinnett County resident who recently returned from Italy and was self-monitoring at home. This person is now isolated at home, a release from DPH said.