February 26 coronavirus news
12:08 p.m. ET, February 26, 2020
The US has a stockpile of masks, health secretary says
The US has more masks in the national stockpile than the 30 million Department of Health and Human Services Secretary Alex Azar described yesterday, he told members of the House Appropriations Committee today.
Azar gave the 30 million number when talking to the Senate Appropriations Committee yesterday.
Today he clarified it like this:
"We have 30 million surgical masks. Those would be the gauze tied behind the ear-type masks meant to really protect people from the healthcare workers spreading. We have 12 million N95 NIOSH-certified masks in the stockpile and we have about 5 million N95 masks that I believe may have expired, they're no longer NIOSH-certified."  
Azar did not go into detail about what an expired mask means, or whether it can still be used. NIOSH refers to the National Institute for Occupational Safety and Health.
Azar explained that N95 masks are "mostly for health care workers." 
When asked if the public should access N95 masks, Azar said, "No no, we do not recommend that. We do not recommend that, no," adding the best defense is basic public health hygiene — washing hands for an extended period of time, not touching your face and coughing into your elbow.
Still, he said the stockpile is not enough. "What we have talked about is approximately 300 million additional N95 masks from the emergency supplemental," Azar said.
11:41 a.m. ET, February 26, 2020
Trump administration stands by its coronavirus funding request
The White House and Senate Democrats are at least $6 billion apart when it comes to determining how much funding the federal government needs to combat the coronavirus epidemic.
Soon after Senate Minority Leader Chuck Schumer proposed an $8.5 billion package, a senior Trump administration official told CNN that the administration is "very confident" that its request for $1.25 billion in new emergency funds as part of a $2.5 billion total package will be sufficient to fund the US's coronavirus response.
The official rejected Senate Minority Leader Chuck Schumer's $8.5 billion counter and punched back at Democrats who are calling for significantly higher funding levels to respond to coronavirus.
"The Democrats, as predictable, they try to hop onto a crisis to see if there's a way they can make it a Christmas tree," the official said. "We are very confident that our $2.5 billion request is going to be what we need."
 The official said the administration's request "was carefully developed based on current and expected expenditures and will fully fund our robust all-of-government response to coronavirus. We'll continue working with Congress to get this done."
Remember: It's not just Democrats who are saying the Trump administration's funding request is insufficient. Even Republican Sen. Richard Shelby, the chair of the Senate Appropriations Committee, said Tuesday that he worried that administration was "lowballing" the request.
 And it's possible that pressure will soon come to bear on the administration.
Capitol Hill sources told CNN that the Trump administration has already indicated that they know they will need more money down the line than initially requested. One Republican Senate aide said that while it is true the administration can ask for money whenever they want, the official said it was a strategic mistake for the Trump administration to not ask for a number closer to the Obama administration's Ebola funding request.
 "The naïve thing the administration was thinking was they can ask for what they want now and can come back later," the source said.
11:44 a.m. ET, February 26, 2020
How is the coronavirus spread?
Human-to-human transmission has been confirmed for the Wuhan coronavirus, but experts are now trying to understand who is transmitting it most, who is at most risk and whether transmission is occurring mostly in hospitals or in the community.
When it comes to human-to-human transmission of the viruses, often it happens when someone comes into contact with an infected person's secretions, such as droplets in a cough. 
Depending on how virulent the virus is, a cough, sneeze or handshake could cause exposure. The virus can also be transmitted by touching something an infected person has touched and then touching your mouth, nose or eyes. Caregivers can sometimes be exposed by handling a patient's waste, according to the CDC.
11:29 a.m. ET, February 26, 2020
How can I protect myself from coronavirus?
While there is no cure or vaccine available for the novel coronavirus, there are still measures you can take to help protect your health.
Dr. John Wiesman, the health secretary in Washington state, recommends that you do "what you do every cold and flu season."
You can reduce your risk of infection by...
Avoiding those who are sick
Avoiding touching your eyes, nose and mouth
Washing your hands often with soap and water and for at least 20 seconds
11:30 a.m. ET, February 26, 2020
What are the symptoms of coronavirus?
The novel coronavirus, a cousin of the SARS virus, has symptoms that include a runny nose, cough, sore throat, possibly a headache and maybe a fever, which can last for a couple of days.
For those with a weakened immune system, the elderly and the very young, there's a chance the virus could cause a lower, and much more serious, respiratory tract illness like a pneumonia or bronchitis.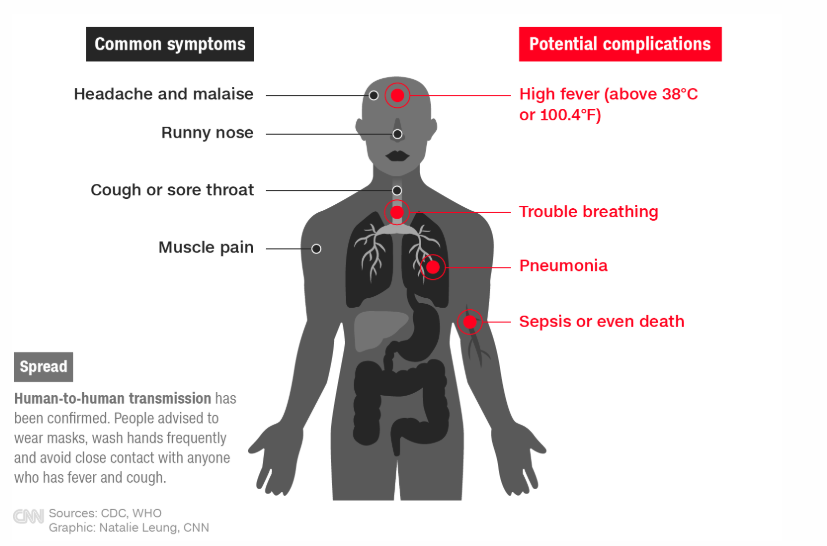 11:13 a.m. ET, February 26, 2020
The US is closely monitoring pharmaceuticals made in China, health secretary says
Department of Health and Human Services Secretary Alex Azar said the Food and Drug Administration is closely monitoring pharmaceuticals made in China during the coronavirus outbreak.
"To date, we are not aware of any expected shortages and we have aggressively, proactively reached out to manufacturers for that information," he said.
Rep. Kay Granger, the ranking member of the House Appropriations Committee, asked Azar during a budget hearing about what the US is doing to ensure the safety of the American drug supply.
The FDA is reaching out to pharmaceutical and device manufacturers, Azar said.
"The latest fruits of that work show that there are 20 pharmaceutical products we are aware of to date at FDA where either the entire product is made in China, or there is a critical active ingredient that is solely sourced within China, so those would be, obviously, the most targeted to be concerned about," he said.
Azar added, "I'm told there are two manufacturers in Hubei province of pharmaceuticals, but fortunately the manufacturer has a large, large stockpile of supply of advanced production there, but we have to be very alert to this and we have to be candid that there could be disruptions in supplies." 
10:44 a.m. ET, February 26, 2020
Every continent except Antarctica has reported coronavirus cases
Brazil announced its first case of coronavirus today, marking the first time the virus has been reported in South America.
The coronavirus outbreak — which started in the city of Wuhan in China — has now spread to six of the world's seven continents. It has not yet reached Antarctica.
Here's a look at the virus across the world:
Africa: Algeria confirmed its first case of coronavirus yesterday. Egypt has also reported a case.
Asia: The vast majority of cases — and deaths — are in mainland China. Cases have been reported throughout Asia, with concentrations in South Korea and on board a cruise ship pocked in Japan. In the Middle East, Iran has reported least 139 cases. The total official number of deaths due to coronavirus in Iran stands at 15.
Australia: The country has confirmed a total of 22 cases of the novel coronavirus as of Saturday, officials said.
Europe: Europe's biggest outbreak is in Italy, where over 320 have been infected and 12 have died.
North America: At least 59 Americans have tested positive for coronavirus, US health officials say. Cases have also been reported in Canada.
10:35 a.m. ET, February 26, 2020
Delta Airlines is temporarily reducing flights to South Korea
Delta is temporarily reducing the number of weekly flights it operates between the U.S. and Seoul-Incheon (ICN), South Korea, due to global health concerns related to coronavirus, the airline said Wednesday in a news release. 
From Feb. 29 through April 30, the carrier will suspend service between Minneapolis/St. Paul and ICN, with the last flight departing MSP for ICN on Feb. 28 and departing ICN for MSP on Feb. 29.
Delta will also reduce to five times weekly its services between ICN and Atlanta, Detroit and Seattle through April 30. The airline's new service from Incheon to Manila, previously scheduled to begin March 29, will now start on May 1. Full schedule details are available on the Delta website.
For customers whose itineraries are affected by the schedule changes, Delta teams are working to help them adjust their travel plans, using partners where appropriate.
Delta continues to offer a change fee waiver for customers who wish to adjust their travel plans for flights between the U.S. and South Korea, China and Italy.
10:22 a.m. ET, February 26, 2020
42 Americans from the Diamond Princess cruise ship have coronavirus
There are 42 cases of Americans with coronavirus who were repatriated to the United States from the Diamond Princess cruise ship in Japan, according to Health and Human Services Alex Azar.
During a budget hearing in DC today, Azar said there are 14 cases involving travel or close contact, three who were repatriated from Wuhan and 42 among Diamond Princess passengers.  
This brings the total of Americans with coronavirus to 59.