February 25 coronavirus news
11:09 a.m. ET, February 25, 2020
These 10 Northern Italian towns are on lockdown
Italy's Lombardy region press office has issued a list of towns and villages that are in complete lockdown, inside the so-called "red zones" created to prevent the spread of coronavirus. 
They are:  
Codogno
Castiglione D'Adda
Casalpusterlengo
Fombio
Maleo
Somaglia 
Bertonico
Terranova dei Passerini
Castelgerundo
San Fioran
What "red zones" mean: Measures in "red zones" include a ban on the public from entering or leaving the zone, closure of train stations and suspension of public transportation, such as buses. 
Italy now has the highest number of coronavirus infections outside Asia, as 54 new cases were detected in the country's north overnight, bringing the total to 283, the Italian civil protection agency said today. The cases are heavily concentrated in the region of Lombardy, where 212 infections have been confirmed. Seven people have so far died from the virus in the country.
Here's a look at the 10 towns: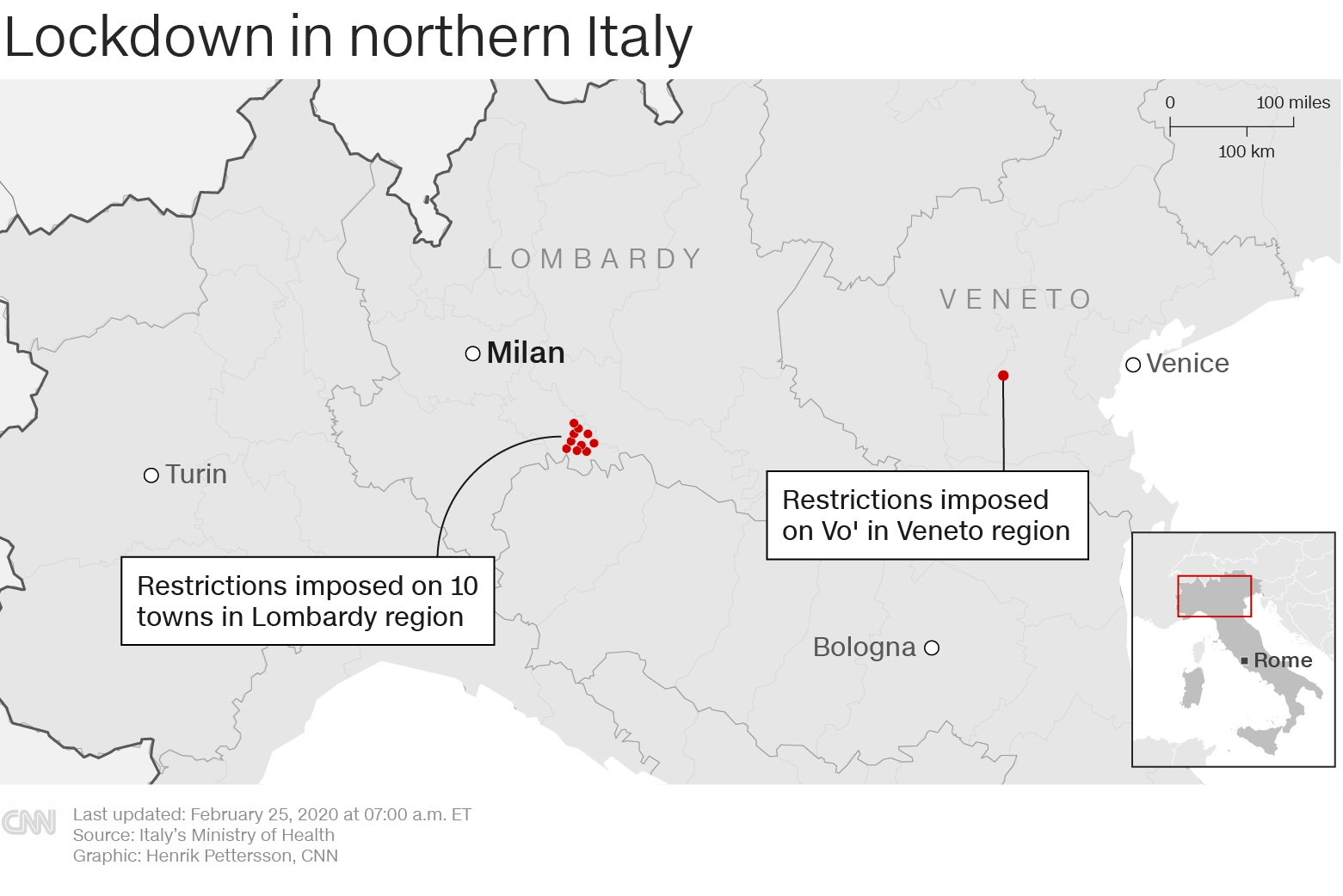 10:13 a.m. ET, February 25, 2020
At least 4 Diamond Princess passengers have died from coronavirus
Japan's Ministry of Health confirmed the death of a 80-year-old passenger from the Diamond Princess cruise ship.
The man died from coronavirus in the hospital. He's the fourth passenger from the ship to die. This also brings the total death toll in Japan to five.
11:09 a.m. ET, February 25, 2020
US senators were briefed on coronavirus today. Here's how they're reacting.
US senators had a classified briefing on coronavirus this morning.
As they left, Sens. Dick Durbin, Richard Blumenthal and Lamar Alexander all said that one aspect of the novel coronavirus that concerns them is its spread across countries around the world.
A key question, Democrat Whip Durbin said, is "whether or not [countries] will be aggressive in quarantine in cases and reduce the spread beyond their borders. We still have to wait to see."
GOP Sen. Bill Cassidy said that at the end of today's briefing, the officials present actually said "it didn't need to be" classified. Sen. Roy Blunt, a Republican, echoed that and said the senators didn't hear anything "top secret."
Durbin also said he believes the Trump administration's request for about $2 billion in additional funds to deal with coronavirus is a "wise allocation" but added that it "may not even be enough" — repeating a warning that other Democrats have also made. 
Durbin then slammed the Trump administration's budget request that cuts funds for health agencies like CDC and NIH as "completely backwards." He said he hopes the president reconsiders as "we've got to anticipate that more resources will be needed." 
GOP Sen. Mike Braun of Indiana said "panicking about this does not make sense," when asked if Americans should be panicked about the coronavirus, pointing to the fact there's only been 14 cases so far in the US — not including those from the cruise ship.
10:52 a.m. ET, February 25, 2020
This region in Italy will suspend Ash Wednesday mass 
The diocese of the Northern Italy region of Emilia-Romagna has ordered the suspension of people attending Ash Wednesday mass, according to the diocese's website.
The region currently has 23 confirmed cases of coronavirus. The number of cases across Italy is currently 283, Angello Borreli, head of Italy's Civil Protection Agency said in a briefing on Tuesday.
What this means: Churches will remain open for private prayer and a prayer will be sent to celebrate in homes at the beginning of Lent, which people can follow on a livestream.
There will be prayers for the sick in particular for people with coronavirus, the diocese's website says. 
10:52 a.m. ET, February 25, 2020
Italian authorities identify first known patient to have caught coronavirus in Lombardy 
Italian authorities have identified what they believe is the first known patient to have caught coronavirus in Italy's northern Lombardy region as a 38-year-old man called Mattia.
Mattia was originally in intensive care for respiratory problems at a hospital in Codogno, but is now at the Policlinico San Matteo in Pavia, about 35 kilometers south of Milan, Italian Civil Protection press officer Juri Pittaluga told CNN. 
Authorities don't believe that this is the case that imported the virus to the region, however. 
Mattia's pregnant wife, called Valentina, has also tested positive for coronavirus and is in the Sacco hospital in Milan, but her health condition is "not worrying at all" Pittaluga told CNN.
11:09 a.m. ET, February 25, 2020
Trump and Schumer are criticizing each other on Twitter about coronavirus
As he prepares for a state banquet in New Delhi, President Trump is lashing out against Senate Democratic leader Chuck Schumer, for criticizing his coronavirus response.
Here's Trump's tweet:
Moments later, Schumer responded, saying: "I didn't just criticize Pres. Trump's pathetic, inadequate funding request I noted his incompetence, how he has no plan to deal with coronavirus. He's dismantled NSC's global health security team, wants to cut CDC by 16%, hasn't appointed 1 person to oversee coronavirus response."
What this is about: Democrats have begun criticizing the Trump administration's coronavirus response, with Sen. Schumer charging the President is "asleep at the wheel" as the threat builds.
On Twitter yesterday, Schumer repeatedly took aim at Trump and his team's response.
Here are a couple of his tweets:
10:53 a.m. ET, February 25, 2020
Iranian official tests positive for coronavirus after appearing ill on TV
Iran's deputy health minister Iraj Haririchi, who appeared on television sweaty and ill to warn Iranians of coronavirus yesterday, tested positive for coronavirus on Tuesday.
In a news conference on national television, Haririchi coughed and wiped sweat using tissues on several occasions. He was later diagnosed with coronavirus, according to state media.
He was standing next to the government spokesman Ali Rabiei to speak about the latest cases of coronavirus in Iran.
Iran is facing the largest coronavirus outbreak in the Middle East, with the second largest number of deaths after China.
Watch the moment:
11:10 a.m. ET, February 25, 2020
Trump privately vents over his team's response to coronavirus — even as he says the virus is under control
President Trump has expressed frustration in recent days about some of the ways his administration is confronting a spreading coronavirus outbreak, according to people familiar with the conversations.
Here are two instances:
Trump was initially upset that some Americans who tested positive for coronavirus were allowed back into the US for quarantine instead of remaining in Asia, though today he acknowledged it was ultimately the right thing to allow them back into the country.
And he's sided with officials in Alabama who have protested a federal government plan to quarantine some patients in the state, despite federal officials insisting it wouldn't pose a threat to residents. 
After both incidents, Trump told people around him he wants to fire those responsible for the decisions, though it doesn't appear anyone has been terminated. Trump hasn't specified particular individuals, venting instead at the broader situation. 
The President's frustration reflects a growing sense among Trump administration officials the coronavirus outbreak will present a greater challenge than previously understood. Trump's instinct is to seal the US off entirely from people who could have the virus, according to people who have spoken to him.
But remember: Trump continues to publicly express confidence in his administration's handling of the crisis and optimism that it will be short-lived.
"I think that whole situation will start working out. A lot of talent, a lot of brain power is being put behind it," he said during a news conference on Tuesday in New Delhi. 
Privately, however, he's lashed out against decisions made by his team and insisted stricter controls be put in place to prevent those with coronavirus — even Americans — from entering the United States.
About the economy: One of the barometers Trump relies on most, the Dow Industrials, plunged 1,000 points yesterday, undercutting Trump's public downplaying of the potential for crisis. Administration officials have been studying for weeks how the virus could affect the American economy, officials said, though their projections have shown only a minor impact. 
Trump has heard a somewhat different story from some wealthy donors and business leaders. As early as mid-January, US CEOs were conveying worry to Trump during the World Economic Summit in Davos at how the virus might affect their supply chains and businesses. He mostly shrugged off those concerns, saying the disease was contained to China.
Trump's administration requested $1.25 billion in emergency funding to address the coronavirus, as well as the ability to tap an additional $535 million in emergency funds already appropriated. The White House requested the funds after initially declaring they weren't necessary. Officials have been receiving calls from concerned lawmakers in recent weeks. 
One administration official said it's possible there could be further requests once the scale of the outbreak is better understood.
10:54 a.m. ET, February 25, 2020
Italian prime minister: "Our precautionary measures are of the utmost rigor"
Italian Prime Minister Giuseppe Conte was optimistic today that the Italian health system could stand up to the coronavirus.
"Our health system is excellent, our precautionary measures are of the utmost rigor and we trust that by virtue of the combined provisions, a health system of excellence and a policy line of health policy of the utmost rigor we will promote a containment effect of the spread of the virus," he said. 
Italy is the site of Europe's biggest outbreak. At least seven people have died and more than 280 people have been infected, with lockdowns in place for some areas.