February 12 coronavirus news
12:05 p.m. ET, February 12, 2020
Dalai Lama cancels all public engagements due to the coronavirus
The Dalai Lama has canceled all his public engagements until further notice due to the "deteriorating outbreak" of the coronavirus, according to a statement from his office.
"His Holiness will not be doing any public engagements for now until further notice due to coronavirus," the Dalai Lama's secretary, Tenzing Taklha, told CNN.
Read the full statement from the Dalai Lama's office:
"An announcement was made recently regarding the ordination ceremony for monks. However due to the deteriorating outbreak of the viral disease (Coronavirus- 2019 nCoV) that originated in China, His Holiness' personal physician as well as consultants have advised a postponement of all public engagement for the time being, and His Holiness has duly agreed to further postpone his public schedule. Hence the ordination ceremony for the monks will be rescheduled and the announcement will be made shortly afterwards. We hope for your understanding in the matter. February 12, 2019."  
1:00 p.m. ET, February 12, 2020
CDC has screened more than 30,000 passengers from China for the novel coronavirus
The US Centers for Disease Control and Prevention has now screened more than 30,000 passengers from China at the 11 airports designated to conduct these enhanced screenings, according to Dr. Nancy Messonnier, director of the CDC's National Center for Immunization and Respiratory Diseases.
On a call with reporters Wednesday, Messonnier said that with the tighter travel restrictions now in place, there are now fewer passengers flying to the United States from China. Those who do are still being asked to self-monitor for 14 days in cooperation with state and local health department, and to limit their activities and stay home during that period. The goal is to be as restrictive as possible while maintaining protections among all Americans, Messonnier said.
The latest update from the CDC, issued within the last hour, indicated that 420 people have now been investigated for the novel coronavirus in 41 states. Of them, 13 have tested positive, 327 negative and 60 are still pending.
The vast majority of cases have been in mainland China.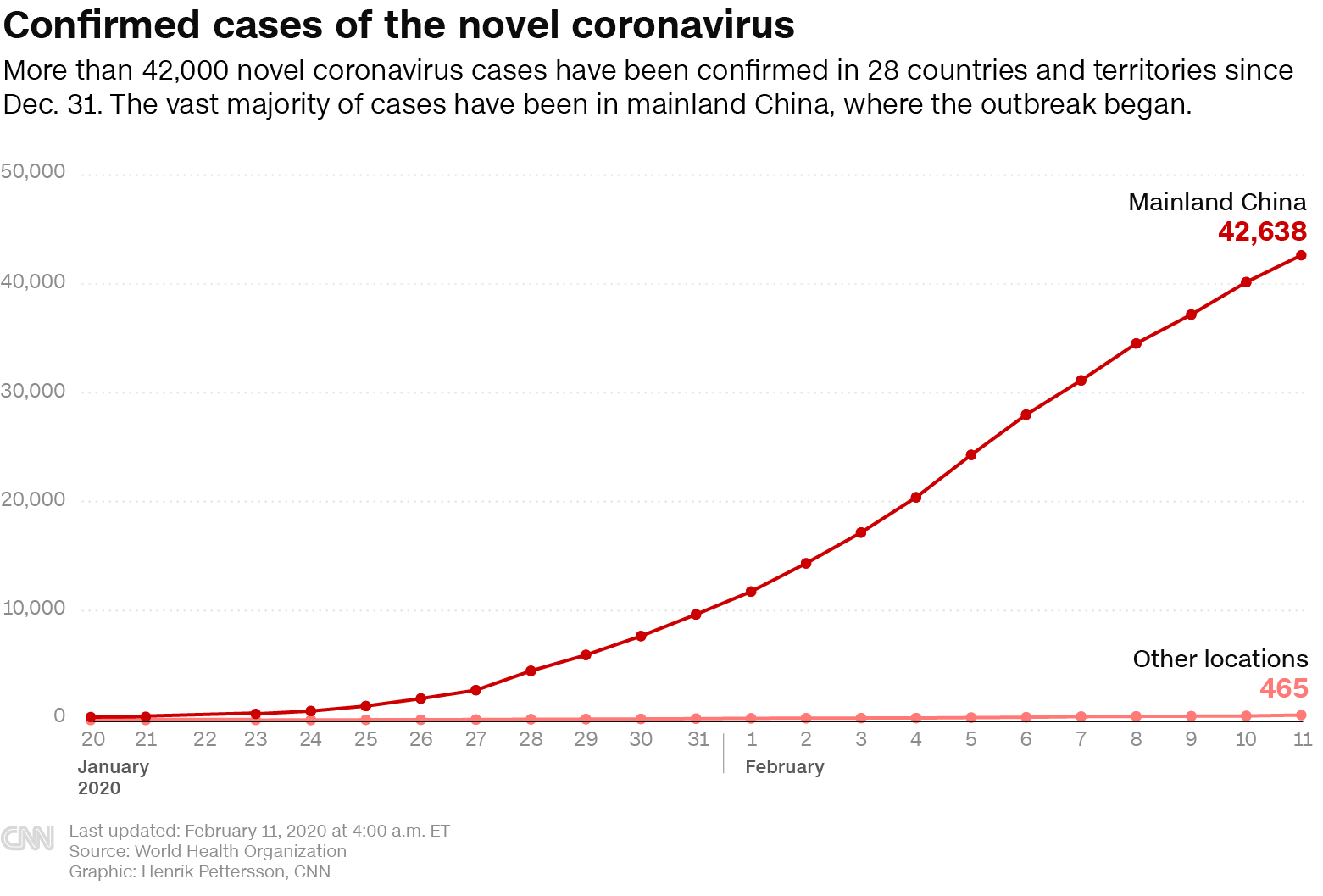 11:31 a.m. ET, February 12, 2020
Small study finds no evidence of mother-to-child transmission of coronavirus
There's currently no evidence the novel coronavirus can pass from a mother to a child in the womb, according to a study published Wednesday in the medical journal The Lancet.
The small, observational study included nine women in Wuhan, China, in their third trimesters of pregnancy. Each woman had a lab-confirmed case of novel coronavirus pneumonia, officially called COVID-19, and was treated from January 20 through January 31. 
Researchers tested amniotic fluid, cord blood and neonatal throat swabs at birth to study the possibility of fetal infection with the novel coronavirus, and all the samples tested negative. All the women had cesarean sections, so it's not clear if the virus could be passed from mother to child during vaginal birth.
All the pregnancies resulted in live births and none of the infants required special pediatric treatment. Four of the mothers experienced preterm labor, but the researchers said the causes weren't related to coronavirus. Pregnancy complications that appeared after the illness began included fetal distress in two cases and premature rupture of membranes in two cases.
The study also found that none of the pregnant women developed severe pneumonia or died as of February 4. Their symptoms, including fever, cough, sore throat and muscle aches, were similar to symptoms in people who aren't pregnant.
Why this is important: This is notable because pregnant women are particularly susceptible to respiratory pathogens and severe pneumonia, the researchers wrote. One study found about half the pregnant women who developed SARS during that outbreak were admitted to the intensive care unit, and during the H1N1 flu pandemic, pregnant women were more likely than the general population to be admitted to the hospital and were at increased risk of complications, the researchers wrote.
Still, researchers said, the case of an infant who tested positive for the coronavirus within 36 hours of birth in early February means special consideration is needed to keep newborns safe if their mothers are infected with the coronavirus.
It's also not clear how the novel coronavirus could affect a fetus in the first or second trimester of pregnancy, the researchers wrote.
11:53 a.m. ET, February 12, 2020
420 people in the US have been investigated for coronavirus
The US Centers for Disease Control and Prevention has listed 420 people under investigation for the novel coronavirus in 41 states, according to an update posted to the agency's website on Wednesday.
Of them, 13 have tested positive, 347 negative and 60 are still pending.
These numbers are cumulative since January 21 and include people with travel history to China, as well as those who have been in close contact with confirmed cases or other people under investigation.
About the confirmed cases: There are seven in California, two in Illinois, one in Arizona, one in Massachusetts, one in Washington state and one in Wisconsin. This includes two instances of known person-to-person transmission – one in California and one in Illinois.
The CDC was previously the only lab in the country that could test for the virus but has since begun shipping test kits to qualified labs so that state and local health departments can conduct their own screening.
11:55 a.m. ET, February 12, 2020
Illinois is the first state with the ability to test for coronavirus
Illinois is the first state with the capability to test patients for the novel coronavirus, according to an announcement Tuesday by the Illinois Department of Public Health.
The US Centers for Disease Control and Prevention, which previously had the only lab in the country that could test for the virus, began shipping test kits to domestic and international labs last week.
"The ability to do this testing will mean we will be able to detect any new cases of novel coronavirus earlier and prevent any possible spread," Evonda Thomas-Smith, the Illinois health department's assistant director, said in a statement Tuesday.
The test can yield results within 24 hours of receiving samples. The state health department is receiving specimens at its laboratory in Chicago and says that two more, in Springfield and Carbondale, are forthcoming.
Some background: Illinois has so far documented two confirmed cases of the novel coronavirus, out of the current total of 13 in the United States.
Last week, the CDC said it planned to distribute roughly 200 test kits to domestic labs and another 200 to international labs. Each test kit can perform 700 to 800 patient samples.
The test is known as a reverse transcriptase polymerase chain reaction test (RT-PCR) and can detect the virus from nasal or oral swabs when used with an existing RT-PCR instrument — the same one often used to test for seasonal influenza, according to the CDC.
Negative results do not preclude infection with the virus and should be combined with clinical observations, patient history and epidemiological information, health officials have said.
According to numbers published Monday, the CDC has investigated 398 people for the novel coronavirus in 37 states since January 21. Most of these people — 318 — have tested negative, and 68 are still pending. The agency is expected to update its "people under investigation" case count later today.
10:39 a.m. ET, February 12, 2020
Singapore confirms three additional cases of coronavirus
Health officials in Singapore have confirmed three additional cases of the novel coronavirus.
According to the Ministry of Health, all three of the newly confirmed patients are Singaporean citizens with no travel history to mainland China. The male patients are 34, 46, and 62 years old.
The Ministry of Health added that the 62 year-old newly confirmed patient worked at DBS bank in the Marina Bay Financial Center. Earlier on Wednesday, DBS evacuated all its staff from its office in the Marina Bay Financial Center following confirmation that its employee had contracted the virus.
Singapore now has 50 confirmed cases of the novel coronavirus. Thirty-five patients remain hospitalized, eight of which are in critical condition. According to the Singapore Ministry of Health, 15 patients have fully recovered from the virus and have been discharged from the hospital.
10:48 a.m. ET, February 12, 2020
Canadian coronavirus patient no longer infectious
Ontario's chief medical health officer said today that a patient with the novel coronavirus has recovered from the virus.
"The case has had two negative tests at least 24 hours apart and is therefore considered to be resolved. This means the individual is no longer infectious with the 2019 novel coronavirus," Dr. David Williams said in a statement. 
Seven cases of 2019 novel coronavirus have been confirmed in Canada, according to government figures. Three of the cases are in Ontario, with four cases in British Columbia.
The Canadian government has warned its citizens against all travel to Hubei province. It said the risk of the new coronavirus spreading within Canada remained low.
10:58 a.m. ET, February 12, 2020
British coronavirus patient, who infected several others, released from London hospital
Steve Walsh, a British patient with the coronavirus who infected several people while traveling, has been discharged from a London hospital after a full recovery, the National Health Service England said in a statement.
"Mr Walsh's symptoms were mild and he is no longer contagious, and poses no risk to the public, he is keen to return to his normal life and spend time with his family out of the media spotlight," Keith Willett, NHS strategic incident director, said in the statement.
Walsh was released from the hospital after testing negative for the virus.
"I'm happy to be home and feeling well. I want to give a big thank you to the NHS who have been great throughout and my thoughts are with everyone around the world who continues to be affected by the virus," Walsh said in the statement.
8:56 a.m. ET, February 12, 2020
Coronavirus "tipping point" is still ahead says German health minister
The spread of novel coronavirus will get worse before it gets better, German health minister Jens Spahn warned at a press conference Wednesday.
"The tipping point has not yet been reached – neither in China, internationally nor in Germany," Spahn said.
He added that the G7 group will hold another conference call Wednesday to coordinate their response to the spread of novel coronavirus.
The group -- which includes the US, Germany, France, Italy, Japan, Canada and Britain -- previously met in early February to discuss coordinating travel regulations and precautions as well as medical research and cooperation with the World Health Organization, the European Union and China.