February 11 coronavirus news
9:22 p.m. ET, February 11, 2020
CNN's live coverage of the novel coronavirus has moved here.
5:49 p.m. ET, February 11, 2020
Worldwide coronavirus death toll rises to 1,107
From CNN's Steven Jiang in Beijing and Larry Register
The Hubei health authority in China reported that 94 more people died of the coronavirus in Hubei province today, raising the death toll in the epicenter since the beginning of the outbreak to 1,068.
This brings the total number of deaths in mainland China to at least 1,105.
The global death toll is at least 1,107, with one death in Hong Kong and one death in the Philippines.
By the numbers: Hubei authorities confirmed an additional 1,638 cases of the virus in Hubei today, which brings the total number of cases in the epicenter of the outbreak to 33,366. The global number of confirmed coronavirus cases is now at least 44,138, with the vast majority of cases in mainland China.
China's National Health Commission is expected to release numbers for all of China's provinces later.
5:23 p.m. ET, February 11, 2020
Royal Caribbean cancels 2 trips from Singapore due to travel conditions
From CNN's Rebekah Riess
Royal Caribbean has cancelled two trips that were set to depart from Singapore on Feb. 15 and Feb. 24 due to "current regional travel conditions," according to a release from the cruise line. 
Guests who were booked to sail on the Quantum of the Seas will receive full refunds, according to the Royal Caribbean release. 
"Royal Caribbean's number one priority is ensuring the health and welfare of our guests and crew while delivering great vacations. We will continue to monitor conditions and will share other itinerary adjustments should they become necessary. The Singapore market remains of great importance to us and we look forward to returning there very soon," the company said in a statement.
5:46 p.m. ET, February 11, 2020
Quarantine ends for all 195 coronavirus evacuees at California Air Force base
From CNN's Sarah Moon
All 195 coronavirus evacuees from Wuhan, China who were staying at March Air Reserve Base in California have completed their 14-day quarantine period, health officials announced in a news conference Tuesday.
There were no cases of coronavirus identified in the group, which arrived at the base in Riverside County on January 29. The 195 individuals completed their final health check Tuesday morning.
Health officials emphasized that they do not have the novel coronavirus and pose no health risk.
"I want to make one thing absolutely crystal clear: these folks do not have novel coronavirus," Riverside County health officer Dr. Cameron Kaiser said.
Twenty-four patients will remain on the base Tuesday because they could not make travel arrangements, Jose Arballo Jr., a spokesperson for the Riverside County Department of Public Health, told CNN.
"Some have already left the base, others are departing soon," Arballo said the the news conference.
Health officials emphasized that these people do not have the novel coronavirus and pose no health risk to themselves, families, or communities.
2:33 p.m. ET, February 11, 2020
Here's a look at where the coronavirus cases are throughout China
The vast majority of coronavirus cases are in mainland China.
There have been a reported 42,708 diagnosed cases of coronavirus in China, with the death toll surpassing 1,017 in China alone, according to Tedros Adhanom Ghebreyesus, director-general of the World Health Organization.
Here's a map showing where the confirmed cases are throughout mainland China, according to WHO data:
One thing to note: These numbers may differ from those reported by Chinese health officials, who report updated totals at different times than the WHO.
1:48 p.m. ET, February 11, 2020
American Airlines extends suspension of flights to and from mainland China and Hong Kong
From CNN's Chris Isidore and Chuck Johnston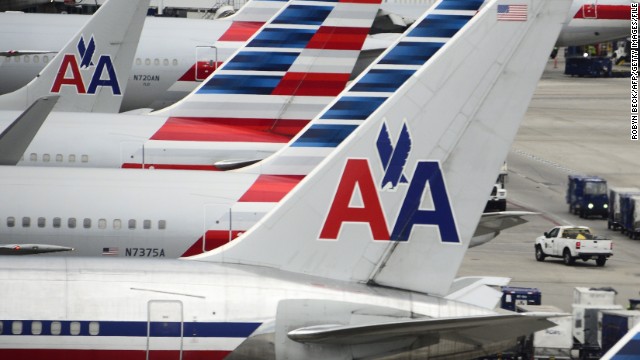 Due to a reduction in demand, American Airlines on Tuesday extended its flight cancellations to and from mainland China and Hong Kong amid the coronavirus outbreak.
According to a company statement, the airline is extending the suspensions between mainland China and Dallas-Fort Worth and Los Angeles through April 24. 
Flights from Dallas to Hong Kong are suspended through April 23. Flights between Los Angeles and Hong Kong are suspended through April 23.
"We will continue to evaluate this schedule and make any adjustments as necessary," the company said.
12:55 p.m. ET, February 11, 2020
More than 5,000 people are still stuck on two ships because of coronavirus fears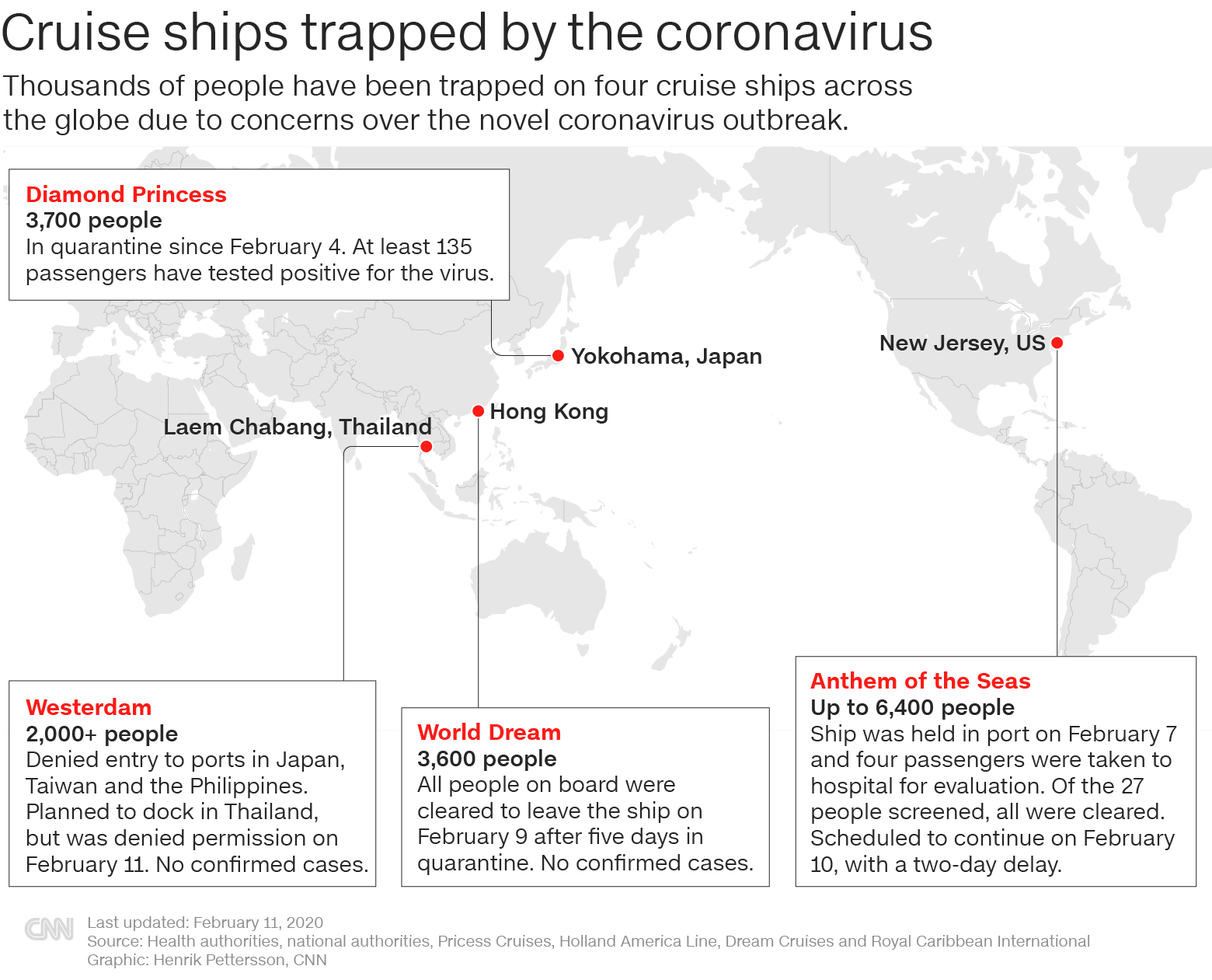 With travel advisories across the globe, four cruise ships were put in some form of lockdown over growing concerns of the novel coronavirus. 
Here's what you need to know about each ship:
3:02 p.m. ET, February 11, 2020
CDC experts offer to study the coronavirus, official says
From CNN's Jamie Gumbrecht and Michael Nedelman
The US Centers for Disease Control and Prevention has provided names for a World Health Organization team traveling to China to study the novel coronavirus epidemic, CDC Principal Deputy Director Dr. Anne Schuchat said during a news conference on Tuesday.
Although US experts have not yet traveled to China to study the novel coronavirus outbreak, "my understanding is the latest discussions, that there's been receptivity" to the offer, Schuchat said.
"It can be very helpful to have outside experts arrive in the midst of an epidemic like this," Schuchat said, noting that China has "great scientists" and public health experts. "Having some fresh eyes, perhaps who have not lost as much sleep over the past month as the individuals in China, can be helpful."
Schuchat said CDC experts could assist with areas such as understanding transmission of the virus, identifying the possible animal origin of the virus and evaluating which measures are most effective to contain the spread of the virus.
Here's a look at the latest confirmed cases (and deaths):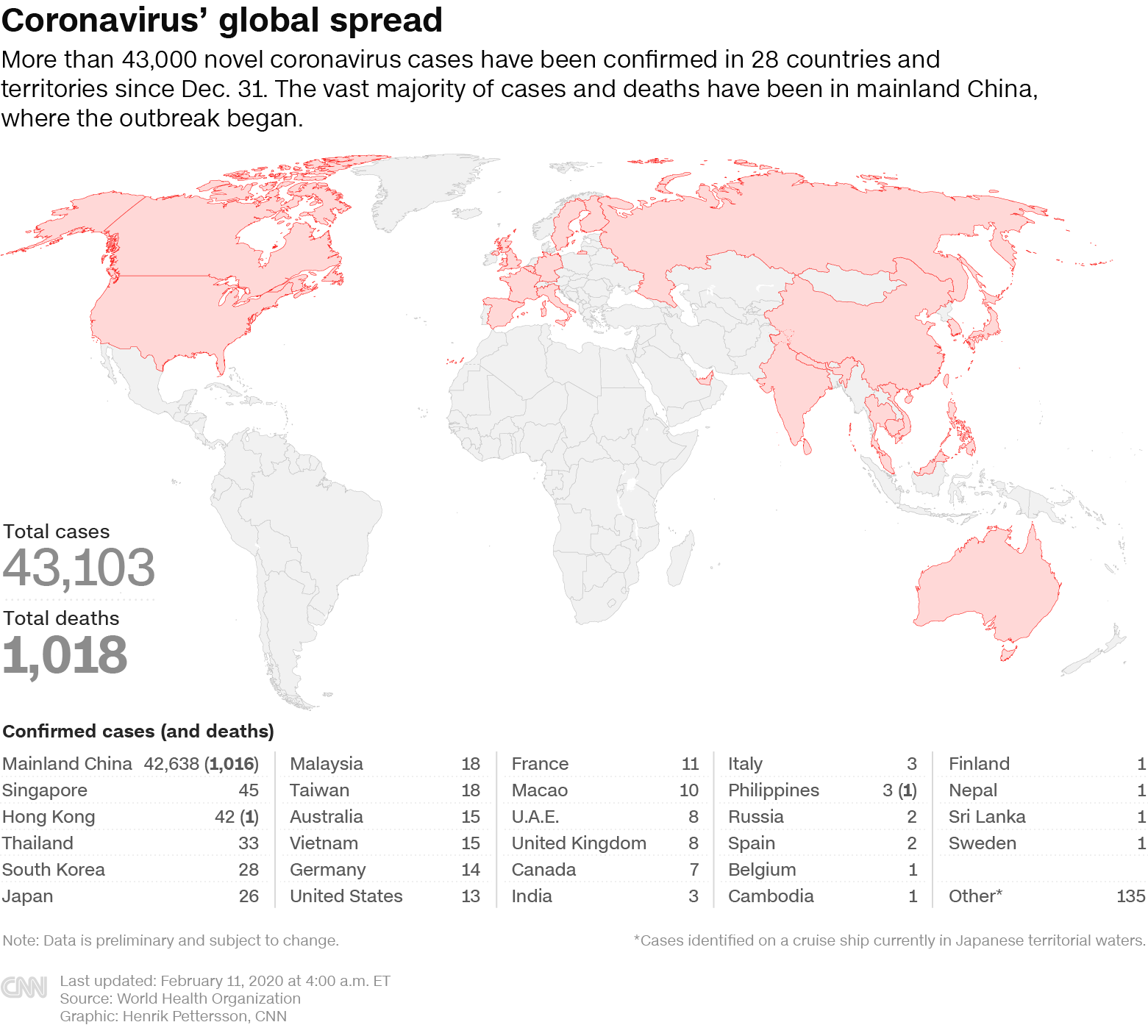 12:02 p.m. ET, February 11, 2020
Two prisoners are being tested for coronavirus in Britain, official says
Two prisoners are being tested for coronavirus in HMP Bullingdon in Bicester, Oxford, north west of London, a UK official told CNN on Tuesday.
The official said the prisoners are only suspected to have the infection at this stage and are being kept in isolation with access being restricted to one wing where the prisoners are.
As the two prisoners are only being tested for coronavirus, it is "impossible" at this stage to say how it was contracted, the official added.