February 9 coronavirus news
4:21 p.m. ET, February 9, 2020
More than 3,600 people will disembark the World Dream cruise ship in Hong Kong after quarantine
More than 3,600 people, which includes crew and passengers, can leave the World Dream cruise ship since being quarantined on February 5 after the health authorities announced that everyone on board had tested negative for coronavirus.
The ship has been docked in Hong Kong.
4:23 p.m. ET, February 9, 2020
3 more cases confirmed in Singapore
Three new cases of the coronavirus were confirmed in Singapore on Sunday, bringing the total number of confirmed cases in Singapore to 43, according to a statement released by the Health Ministry. 
The Health Ministry said it will be working to identify anyone who has come in close contact with those infected. 
"As of 9 February 2020, 12pm, the Ministry of Health (MOH) has confirmed three additional cases of 2019-nCoV infection in Singapore. Contact tracing of the new cases is underway," the Health Ministry statement said.
The three new confirmed cases have "no recent travel history to China," the statement said.
4:25 p.m. ET, February 9, 2020
Brazilians arrive from Wuhan aboard military planes
A group of 34 Brazilian nationals arrived in Brazil's western state of Goias on Sunday after being transported on military planes from Wuhan, China, according to Brazil's Health Regulatory Agency ANVISA.
This came after President Jair Bolsonaro expressed reservations in coordinating their return for fear of contamination.
None of the new arrivals have shown signs of contamination so far, ANVISA reported.
Brazil's government said it has taken strict measures to isolate these repatriated nationals who arrived at Annapolis Air force base in Goias.
They are expected to be quarantined for 18 days and will be in isolation in a so-called "transit" hotel, according to ANVISA.
Goias Gov. Ronaldo Caiado rebutted public criticism that the quarantine measures are draconian.
"Brazil has created a protocol that has become an example to the rest of the world," he told a government news agency.
4:25 p.m. ET, February 9, 2020
20 Germans and their family members arrive in Berlin from Wuhan
Twenty German citizens and their family members landed in Berlin on Sunday after being repatriated from Wuhan, China, via the United Kingdom, the German Foreign Ministry said on Sunday. 
On Twitter, German Minister for Foreign Affairs Heiko Maas said he was "relieved" about their repatriation, which included "many European citizens." He said they would be spending two weeks in quarantine in a Red Cross hospital.
Maas also said: "A big thank you to our British friends for their trust and cooperation," adding the repatriation was "an act of European solidarity that is encouraging for future EU-UK relations post-Brexit."
The German air force tweeted that those on board had been flown from Wuhan on a British chartered plane.
8:33 a.m. ET, February 9, 2020
Opinion: New study an eye-opener on how coronavirus is spreading and how little we know
A study published Friday in the medical journal JAMA found that 41% of the first 138 patients diagnosed at one hospital in Wuhan, China, were presumed to be infected in that hospital.
This is big news. In plain English, it means that nearly half of the initial infections in this hospital appear to have been spread within the hospital itself. This is called nosocomial transmission. (Doctors use big words to hide bad things: Nosocomial means caught it in the hospital.)
What's more, most spread doesn't appear to have been the result of a so-called "super-spreader event," in which a single patient transmits infection to many other people. In these events, a procedure such as bronchoscopy -- where a doctor inserts a tube into the patient's lungs -- can result in many infections.
This would be a concern, but not nearly as much as what appears to have happened: Many health care workers and many patients got infected in many parts of the hospital. What's more, since there's a broad spectrum of infection and only patients who were sick were tested, it's quite likely that there was even more transmission in the hospital.
So, like SARS and MERS -- other coronaviruses -- before it, the Wuhan coronavirus is spreading in hospitals.
7:38 a.m. ET, February 9, 2020
UK registers fourth case of Wuhan coronavirus
A fourth case of the Wuhan coronavirus has been confirmed in the United Kingdom, the country's chief medical adviser said in a statement on Sunday.
"A further patient has tested positive for novel coronavirus in England, bringing the total number of cases in the UK to four," Whitty said in the statement.
"The new case is a known contact of a previously confirmed UK case, and the virus was passed on in France."
The patient was transferred to a specialist NHS center at The Royal Free Hospital in north London.
France on Saturday confirmed five new cases of the virus in the country, all of them British nationals, including one 9-year-old child.
The child recently spent time in a school in the French Alps ski resort of Les Contamines-Montjoie. His classmates will be tested for the virus, France's health minister Agnes Buzyn told reporters.
"I've met with them and their families to inform them on the ongoing procedures. Results should be known in the late afternoon or through the evening, depending on the time the tests were conducted. As soon as these results will be available, we will inform them on the upcoming procedures and follow-up care accordingly," she said.
Two schools that the child attended in the area will shut down next week as a precaution, local officials said on Saturday. 
The five British nationals were infected after they came into contact with another UK citizen who had traveled from Singapore to the ski resort on January 24 for a four-day trip, according to local health official Jean-Yves Grall. That national has returned to the UK.
6:40 a.m. ET, February 9, 2020
Whistleblower doctor to be "remembered as hero" Chinese ambassador to UK says
The doctor who tried to raise the alarm about the coronavirus in Wuhan, Li Wenliang, will be "remembered as a hero," China's Ambassador to the UK Liu Xiaoming said Sunday, as Chinese authorities face fierce criticism on social media for their treatment of Li.
Li died in the early hours of Friday morning local time.
"But he's one of millions of Chinese medical doctors and nurses," Liu said in an interview to the BBC.
"We have so many of them ... put their lives in the forefront of this battle," he added.
The ambassador on his Twitter account earlier paid tribute to Li, writing that he would be "remembered for high responsibility & devotion as a doctor."
Li tried to warn the public about a potential "SARS-like" disease in December 2019, but was questioned by local authorities and later summoned by Wuhan police to sign a reprimand letter in which he was accused of "spreading rumors online" and "severely disrupting social order."
Read more:
6:41 a.m. ET, February 9, 2020
Economic impact on Hong Kong likely to be worse than SARS, financial chief says
Hong Kong's Financial Secretary Paul Chan said tourism and retail sectors would likely take a big hit as visitor numbers from mainland China dramatically fall in the viral outbreak. The impact on the Hong Kong economy could be worse than SARS was in 2003.
"The actual impact of this epidemic on Hong Kong's economy depends on its development, but I believe that the outlook is not optimistic and is likely to be a stronger impact than the that of SARS in 2003," he wrote on his blog.
"In terms of internal factors, mainland visitors now account for 78% of all visitors to Hong Kong, a percentage much higher than 41% in 2002. In recent years, tourism accounts for 32% of Hong Kong's total service industry output, which is higher than 21% during the SARS period. Therefore, if the tourism and retail industry continue to weaken, there will be a more significant impact on our economy."
6:25 a.m. ET, February 9, 2020
Spain confirms second case, Brazilians flown out
Spain's National Center for Microbiology has confirmed the country's second case of Wuhan coronavirus. The person is one of four who had been in contact with an infected French national. All four were put under observation by Spanish authorities.
"The National Center for Microbiology analysed samples from these four people. One of them tested positive for coronavirus while the other three tested negative," the Spanish Health Ministry said in a statement on Sunday.
While the vast majority of cases are in mainland China, the virus has spread as far as Europe, North America and Australia.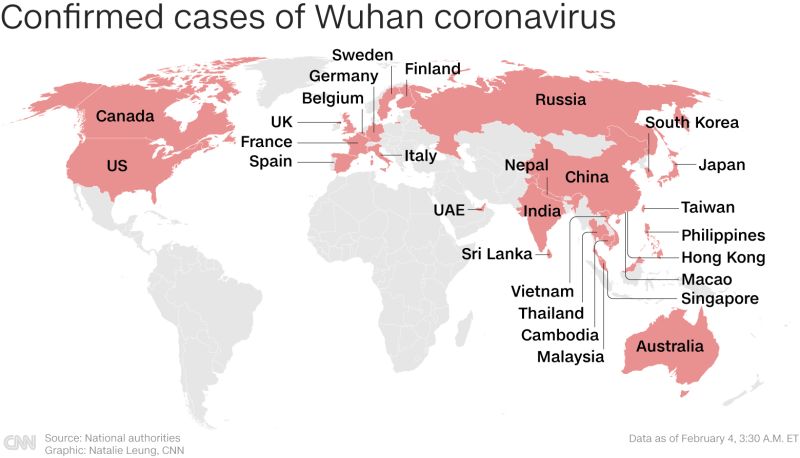 Two planes carrying Brazilian citizens from Wuhan arrived in the Brazilian city of Fortaleza after leaving Wuhan on Friday.
The planes carried 34 Brazilians, four Polish citizens, one Chinese and one Indian person. The Polish and the Chinese national were dropped off in Poland during a planned stopover, according to the Brazilian Air force. 
The repatriation comes after a group of Brazilians in Wuhan released a video on YouTube, asking the Brazilian government to evacuate them.