February 1 coronavirus news
9:27 p.m. ET, January 31, 2020
First case of coronavirus confirmed in Spain
A person in La Gomera, one of Spain's Canary Islands chain, has been diagnosed with Wuhan coronavirus, the country's national health ministry announced Friday.
The patient was part of a group of five people who were in contact with a person infected with the novel virus while in Germany, the ministry said in a statement.
Twenty-one Spanish citizens who were evacuated from Wuhan on Friday were under quarantine at a hospital in Madrid. Health officials said they were not reporting symptoms of the virus.
9:10 p.m. ET, January 31, 2020
Coronavirus cases in China jumped by 2,000 in one day
The number of novel coronavirus cases in mainland China jumped by 2,102 on Friday, said the country's National Health Commission on Saturday.
That makes the nationwide total 11,791 cases, including 259 deaths.
We've been seeing dramatic day-by-day jumps in numbers in recent weeks. From last Sunday to Monday, the number of cases confirmed in China had jumped by 65% -- and again by more than 30% from Monday to Tuesday.
What this means: It doesn't necessarily mean that the virus is spreading faster -- the timing of cases confirmed could be impacted by a delay between patients being infected, noticing symptoms, seeking medical care, and labs confirming results.
It's also dependent on the technology being used to test for coronavirus. Wuhan's Communist Party chief said this week that more efficient testing methods meant they could now confirm many more cases than before.
1:46 p.m. ET, February 4, 2020
There could be many times more coronavirus cases in Wuhan than reported, researchers say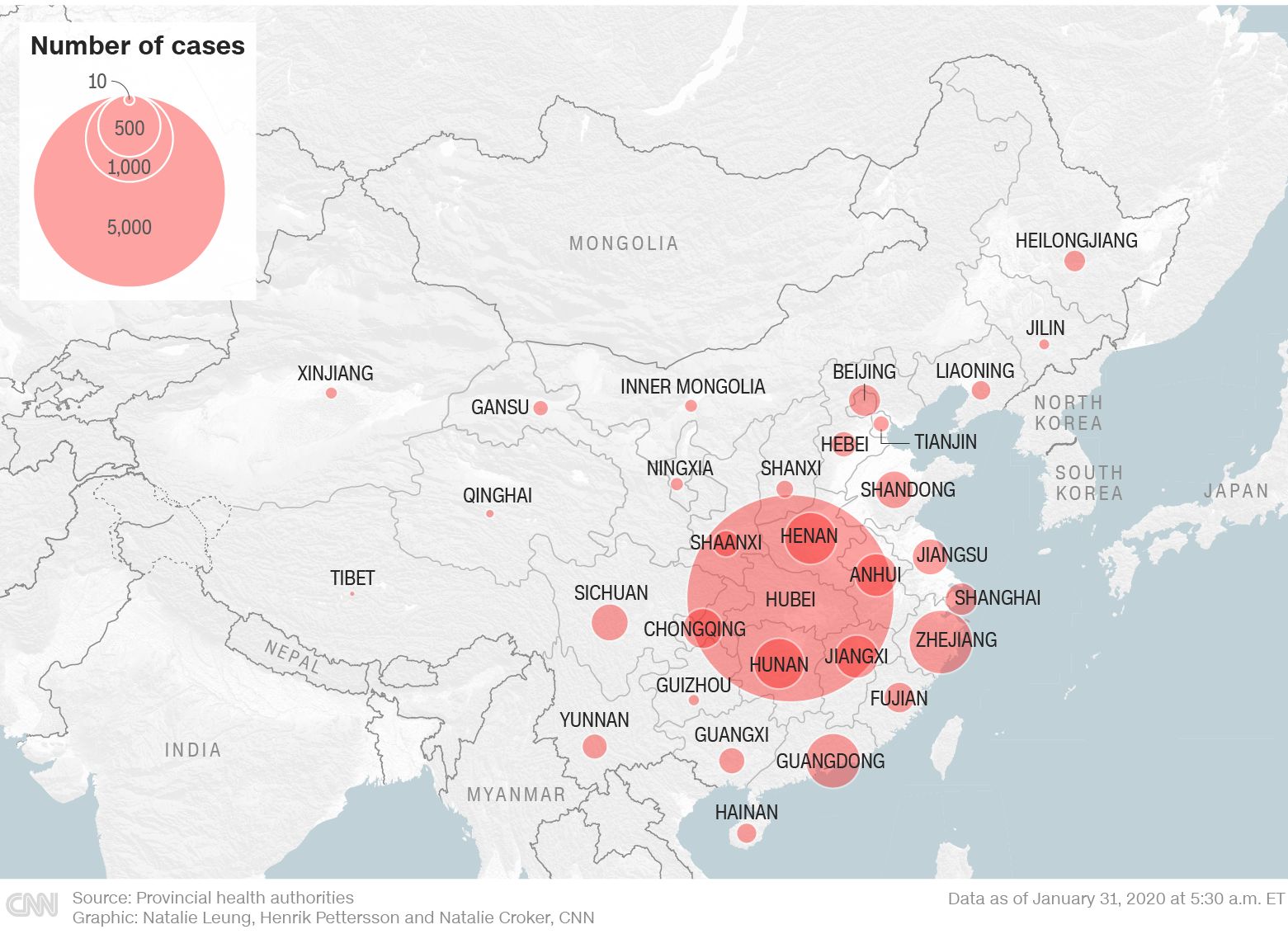 An estimated 75,815 people could be infected with the coronavirus in Wuhan, China -- far higher than reported numbers, said Hong Kong researchers in a study published Friday.
Using mathematical models, the authors estimated that the number of people affected in Wuhan ranges from 37,304 to 130,330.
The estimates could be much higher than the number of confirmed cases because "not everyone who is infected would require or seek medical attention," said Gabriel Leung, one of the authors of the study.
It could also be higher because of a delay between when someone gets infected, when they show symptoms, and when a lab is able to confirm results.
The study cautioned that "given the lack of a robust and detailed timeline of records of suspected, probable, and confirmed cases and close contacts, the true size of the epidemic and its pandemic potential remains unclear."
Correction: A previous version of this post contained a map that misattributed the source of provincial coronavirus case totals. The data comes from each province's health authority, not China's National Health Commission.
8:44 p.m. ET, January 31, 2020
Here's what you need to know
The novel coronavirus outbreak began in Wuhan, China, in December 2019. Now, it has killed at least 259 people, all in China, and infected close to 12,000 globally. Here's what is happening:
Accelerating spread: There are more than 140 cases confirmed outside of China across nearly 20 countries and territories, spanning North America, Europe, Asia and the Middle East. Some of these cases are people who haven't visited China -- indicating human-to-human transmission.
China under lockdown: Nearly 60 million people are under full or partial lockdown in various Chinese cities in an attempt to contain the spread. Shops are closed, the hospitals are full, and the streets are eerily empty.
Travel restrictions: Many countries are advising citizens not to travel to China. Some governments and airlines have suspended flights to mainland China entirely or to select cities.
Global response: Multiple countries, including the US, UK, Japan, and South Korea have sent planes to evacuate their citizens in Wuhan. International scientists are racing to develop a vaccine, as authorities struggle to contain the disease.