January 30 coronavirus news
12:19 a.m. ET, January 30, 2020
Ikea closes ALL stores in mainland China
Ikea has announced it is now closing all of its stores in mainland China effective from January 30, amid the Wuhan coronavirus outbreak.
In a statement shared with CNN, Beth Ze of the Ikea China Communications Department said that stores will be closed until further notice.
"The recent outbreak of novel coronavirus pneumonia touches everyone's heart. IKEA China has been continuously and closely monitoring the epidemic situation of Coronavirus 2019 n-CoV. IKEA always care the health and safety of our customers and co-workers", the statement said.
It ends by saying "we encourage people to stay at home, the most important and safe place in the world."
Ikea had closed some of their operations in China earlier in the week.
12:08 a.m. ET, January 30, 2020
There are more than 100 cases of Wuhan coronavirus in 19 places outside mainland China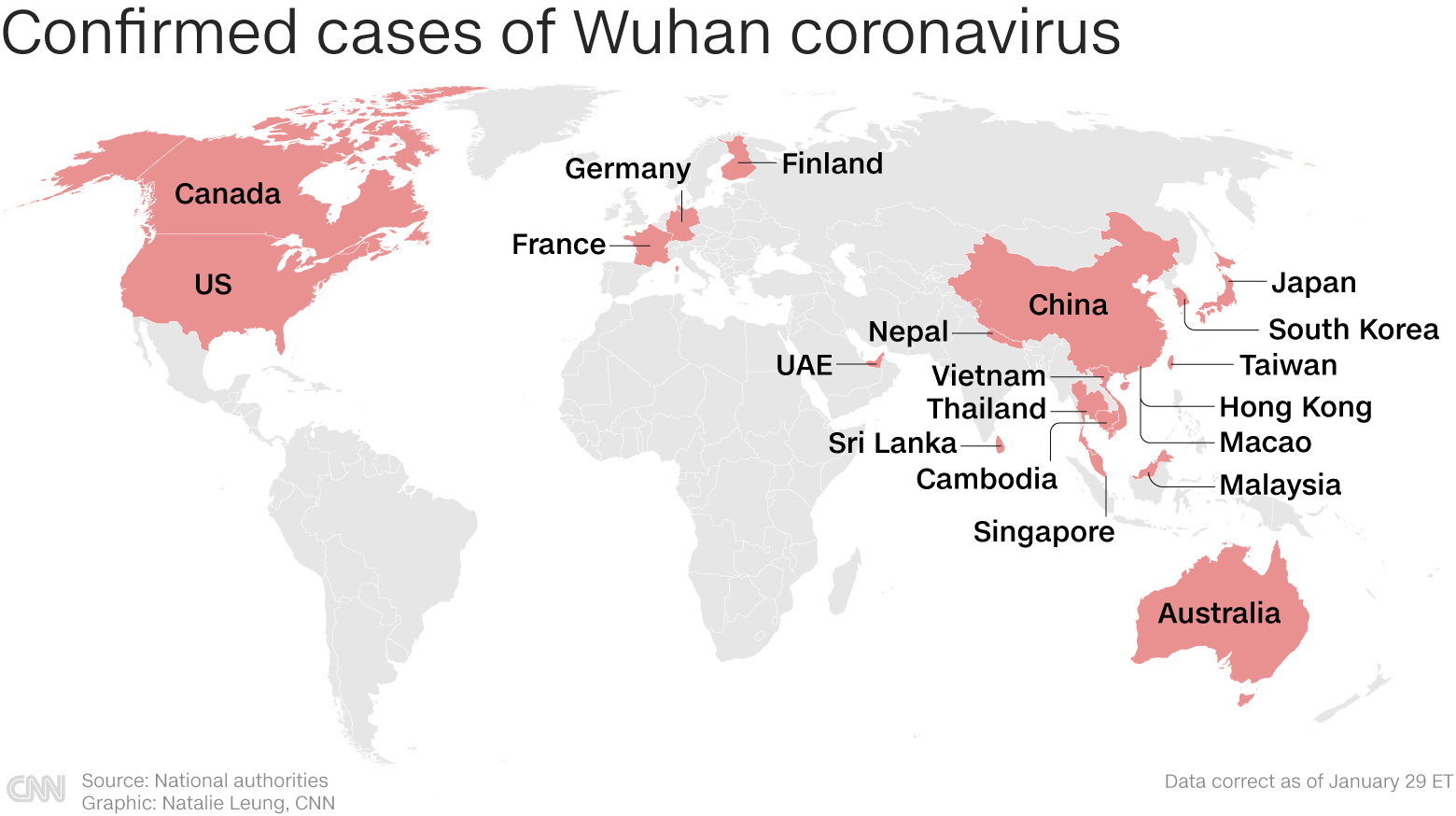 The Wuhan coronavirus has spread throughout the world since the first cases were detected in central China in December. At least 170 people have died and more than 7,700 are fighting symptoms including fever and breathing difficulties. 
China's National Health Commission has confirmed the virus can be transmitted from person to person through "droplet transmission" -- where a virus is passed on due to an infected person sneezing or coughing -- as well as by direct contact. 
There are more than 100 confirmed cases of Wuhan coronavirus -- but no deaths so far -- in 19 places outside mainland China.
A number of countries, such as the United States and Japan, have evacuated their nationals on flights from Wuhan, capital of Hubei province. 
At least three of the Japanese citizens evacuated from Wuhan on Wednesday have been diagnosed with the novel coronavirus, bringing the total number of cases in Japan to 11.
Read more here
11:51 p.m. ET, January 29, 2020
Tesla Model 3 production delayed in Shanghai because of coronavirus outbreak
Elon Musk's Tesla factory in China just got up and running. Now its vehicle production there will be delayed because of the deadly Wuhan virus outbreak. 
Beijing has taken extraordinary measures to try and contain the outbreak, including placing major cities on lockdown and extending the Lunar New Year holiday. Officials in Shanghai, where Tesla's China factory is located, extended the holiday period from January 30 to February 9.
"At this point, we're expecting a 1 to 1½ week delay in the ramp (up) of Shanghai-built Model 3 due to a government-required factory shutdown," Tesla's chief financial officer Zachary Kirkhorn said during an earnings call Wednesday.
Kirkhorn said the hit to Tesla earnings will be limited because profits from the China-made cars are still in the early stages. He added that the company is also keeping an eye on whether there will be supply chain disruptions for Tesla's California-made cars.
Read the full story here.
11:38 p.m. ET, January 29, 2020
New Zealand charters Air New Zealand aircraft to evacuate citizens from Wuhan
The New Zealand government has chartered an Air New Zealand aircraft to evacuate its nationals currently in Wuhan, according to a government press release.
The statement says the aircraft will have capacity for 300 passengers.
"This is a complex operation as we work through all the necessary requirements but we are working to have the aircraft depart as soon as possible," said Deputy Prime Minister Winston Peters.
"We encourage all New Zealanders in the Hubei region to register on Safetravel and ensure all their details are accurate and up to date. This will give us a better understanding of the level of demand for this flight," he continued.
Any spare seats on the flight will be offered to Pacific Island and Australian citizens "as a matter of priority."
11:31 p.m. ET, January 29, 2020
Hong Kong Customs crack down on stores selling fake surgical masks
Hong Kong customs officials are carrying out a large scale city-wide special operation to crack down on stores selling fake surgical masks amid the Wuhan coronavirus outbreak.
Officers with the Hong Kong Customs and Excise Department have conducted spot checks on almost 200 stores across the city, including pharmacies, chain stores, and other shops that sell the face masks.
"The spot check operation focused on three aspects of surgical masks, namely false origin claims, non-compliance with consumer goods safety standards and false trademarks," a statement from the customs department said.
The operation, codenamed "Guardian," is to ensure masks sold in Hong Kong comply with consumer goods safety standards.
"Immediate announcements will be made if any irregularities are spotted during the operation," the statement said.
The crackdown comes as supplies of face masks are running low in Hong Kong. Long lines of residents queueing outside pharmacies and stores are a common sight around the territory.
Hong Kong has now confirmed 10 cases of the Wuhan coronavirus.
11:25 p.m. ET, January 29, 2020
Three Japanese nationals evacuated from Wuhan have coronavirus
At least three of the Japanese citizens evacuated from Wuhan on Wednesday have been diagnosed with the Wuhan coronavirus. 
Only one of the patients has a fever, while the other two are not showing any symptoms, Japan's Health and Welfare Ministry announced today.
They are currently quarantined in Tokyo.
Two flights carrying more than 400 Japanese citizens arrived back in the country from Wuhan on Wednesday and Thursday.
11:12 p.m. ET, January 29, 2020
Huge queues outside Hong Kong pharmacies as residents scramble for face masks
Footage taken in Hong Kong's eastern Tin Hau district shows hundreds of people queuing to get their hands on face masks, as fears grow around the continued spread of the coronavirus outbreak.
Supplies of face masks in the city are running low and many pharmacies or drugstores have put up signs saying they've sold out of masks and hand sanitizer, as people scramble to stock up.
The line in Tin Hau shows people outside a pharmacy on Thursday morning -- the line can be seen stretching around the block, up a flight a stairs, and down another street.
Similar scenes are playing out across the city as people hear that a store has received a new shipment of masks, or wait before opening time in the hopes of new stock.
Hong Kong has now confirmed 10 cases of the Wuhan coronavirus.
10:58 p.m. ET, January 29, 2020
Wuhan coronavirus has now spread to every region within mainland China
Tibet has now confirmed its first case of the Wuhan coronavirus, Chinese health authorities said Thursday.
Tibet was previously the only region administered by the Chinese government to have avoided the virus. Now, all provinces, autonomous regions, special administrative regions (Hong Kong and Macao) and municipalities have confirmed cases.
Cases have also been confirmed in the self-governing island of Taiwan.
The spread to Tibet, a remote and mountainous region, will renew concerns about how easily the virus is transmitted, particularly when people are asymptomatic.
On Tuesday, Tibet announced the indefinite closure of all tourist attractions, state-run newspaper People's Daily reported, citing the regional Communist Party committee.
All travelers, including tourists, entering Tibet are now required to register with authorities and be quarantined for 14 days.
There are now 7,711 confirmed cases in mainland China, with 4,586 in Hubei province, where the outbreak originated.
10:24 p.m. ET, January 29, 2020
Chinese state media is going big on the Wuhan virus ... a week after lockdown began
China's largest state-run media outlets are belatedly going big on the Wuhan virus Thursday morning, a week after the city at the center of the outbreak was placed under lockdown.
Both state broadcaster CCTV -- known as CGTN internationally -- and news agency Xinhua were leading their websites with multiple stories about the virus and efforts to stem its spread across the country.
The top story on both was President Xi Jinping ordering the military to aid in containing the virus.
While the Wuhan virus has been headline news around the world for weeks, its coverage in China has been more mixed. More independently-minded outlets, particularly Caixin, The Paper and the Beijing News, have been dedicating significant resources and space to the virus, but state and Communist Party outlets have been more restrained for the most. (Though some internationally focused publications, like the English-language Global Times, have been covering it extensively.)
For much of the crisis, the Wuhan virus was not the primary story on Xinwen Lianbo, CCTV's main daily news broadcast, watched by hundreds of millions of people across China.
Last week, as Wuhan was being placed under lockdown and cases of the virus were spreading worldwide, the People's Daily -- the official mouthpiece of the Party -- was still playing it well below the fold.
"The report that gets top billing at the site today is about a gathering yesterday of former senior officials ahead of the Spring Festival. It is essentially just a list of names, including Jiang Zemin, Hu Jintao and Zhu Rongji, that ends with expressions of support for Xi Jinping," wrote David Bandurski of Hong Kong University's China Media Project last week.
"Why would such a story be emphasized over a national health crisis? The reason is not necessarily distraction, though the leadership certainly wishes everyone could look away. This story is there to serve the paramount purpose of reiterating Xi Jinping's power and status, one of the primary roles played by Party media."
With the Wuhan crisis expanding even more in the past week, and Xi taking personal control over the response, the approach to covering it in state media appears to have shifted -- we can likely expect more banner headlines about Xi's orders in the days to come.