January 29 coronavirus news
3:24 a.m. ET, January 29, 2020
Tibet reports suspected case of coronavirus
Authorities in China reported the first suspected case of the Wuhan coronavirus in Tibet, the only region to have avoided the virus so far.
The potential spread to Tibet will renew concerns about how easily the virus is transmitted, particularly when people are asymptomatic.
On Tuesday, Tibet announced the indefinite closure of all tourist attractions, state-run newspaper People's Daily reported, citing the regional Communist Party committee.
All travelers, including tourists, entering Tibet are now required to register with authorities and be quarantined for 14 days.
Tibet is a remote and mountainous autonomous region of mainland China that is often referred to as the "the roof of the world."
Read the full story here.
This post has been amended to clarify it is a suspected case in Tibet.
11:18 p.m. ET, January 28, 2020
Hong Kong suspends trains to China as borders close
The semi-autonomous city of Hong Kong, which borders mainland China on the country's south coast, is just one of several places around Asia placing restrictions on travel in an attempt to contain the spread of the coronavirus.
In a press conference yesterday, the government announced that it will "temporarily" close some of its borders with China and stop issuing travel permits to Chinese tourists.
Trains to China suspended: Today, the MTR -- Hong Kong's subway operator -- announced it would also be suspending services for the high speed rail that connects the city with the mainland, as well as trains to Guangzhou, Shanghai, and Beijing.
"The MTR Corporation has been closely monitoring the latest situation regarding pneumonia cases from the novel coronavirus infection," said the company in a statement, and apologized for inconvenience caused.
1:31 a.m. ET, January 29, 2020
Australia lab grows Wuhan coronavirus from patient sample
A laboratory in Australia has grown the Wuhan coronavirus from a patient sample.
The development "will provide expert international laboratories with crucial information to help combat the virus," Mike Catton, director of the Victorian infectious diseases reference laboratory said.
"We are proud to have grown the virus in such a short space of time," Catton said, adding that they will "share this with international colleagues" to help with the developments of vaccines and medicines.
The successful growth will help scientists to "understand the epidemiology of the outbreak," Catton said.
A clinical professor at Hong Kong University, John Nicholls, told CNN that his team in Hong Kong has also been able to grow the virus a few days ago during Chinese New Year.
Since the first case was identified in early December in the Chinese city of Wuhan, more than 6,000 people have become infected worldwide.
This post has been amended to include the Hong Kong University team.
10:49 p.m. ET, January 28, 2020
Number of Wuhan coronavirus cases exceeds SARS inside of China
The number of confirmed cases of the Wuhan coronavirus in China has now officially exceeded that of the severe acute respiratory syndrome (SARS) outbreak in 2002 and 2003.
At least 5,974 cases of the coronavirus have been reported in mainland China to date, whereas there were 5,327 confirmed cases of SARS on August 16, 2003, the last time the Chinese health ministry reported such data.
The government stopped reporting SARS cases after that date, saying there were no more new cases nationwide.
In total, there were 8,098 confirmed cases of SARS worldwide from November 2002 to July 2003, with 774 deaths.
While the current coronavirus outbreak does not appear to be as deadly as SARS, it may be spreading more rapidly. That could be due to being more contagious, or the increased interconnectedness of both China and the world than in 2003.
10:39 p.m. ET, January 28, 2020
Cases of coronavirus in China jump by 30% overnight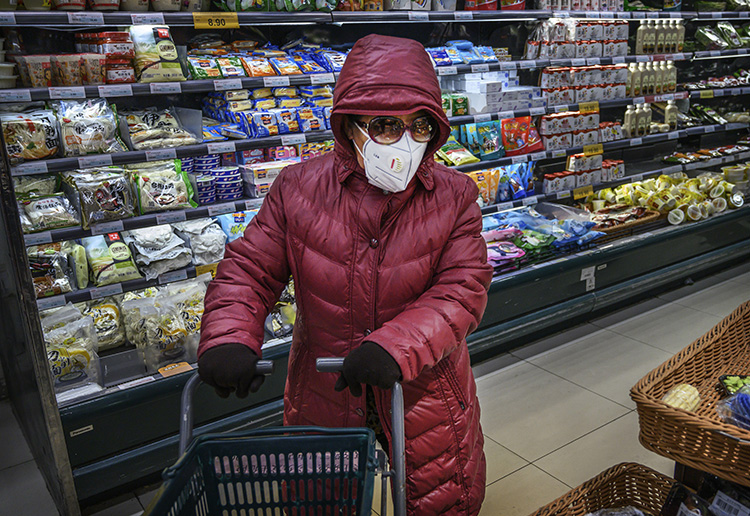 As of Wednesday, there were 5,974 confirmed cases of the virus in China, including 132 deaths, according to the National Health Commission (NHC).
The number of cases grew by almost 1,500 from Tuesday, a more than 30% increase.
From Sunday to Monday the number of cases confirmed in China had jumped by 65%.
With the number of confirmed cases increasing day by day, concern is growing over the global spread of the virus. Numerous countries, including the US, have stepped up airport screenings and warned their citizens not to travel to China. Some countries, including Indonesia and the Philippines, have restricted Chinese tourists.
Chinese authorities say they are throwing everything they have into containing the infection within its borders.
Wuhan's Communist Party chief Ma Guoqiang said in a press conference that the sudden increase in confirmed cases is down to more efficient testing measures.
Before January 14, all the testing for the Wuhan coronavirus was done by the Chinese Center for Disease Control and Prevention, which as a "very long process," Ma said.
"To confirm a case in Wuhan, (we) needed to send his sample to the national CDC," he said.
To speed up that process, from January 16 the Chinese central government allowed the Hubei provincial CDC to conduct the tests.
"So our samples are no longer required to be sent to Beijing, and can be tested at the provincial CDC, with a capacity of testing about 300 cases (per day)," Ma said.
The rate of testing also increased from January 24, as nine hospitals could test the samples, "which drastically increased our testing capacity and efficiency."
This does not mean the speed of the disease has increased drastically," Ma said.
10:35 p.m. ET, January 28, 2020
Australia to evacuate its nationals out of Hubei
Australian Prime Minister Scott Morrison has announced that his government will be "evacuating all Australians out of the Hubei province" amid the Wuhan coronavirus outbreak.
Morrison said they'll be "focusing on the young, especially infants and the elderly" for repatriation.
There are more than 600 Australian citizens in the province of Hubei, including its capital city of Wuhan, according to CNN affiliate Nine News.
"This will be done in a last in, first out basis," Morrison said, adding that they are looking into "those who have been there who do not have established support infrastructure in where they are living."
The operation, which will be aided by Australian flag carrier Qantas Airways, is still tentative, however.
"I want to stress that we cannot give a guarantee that this operation is able to succeed," Morrison said. "I also want to stress very clearly that we may not be in a position if we're able to do this on one occasion to do it on another."
The move comes as Australia raised its travel advice to "reconsider all travel" to China, due to concerns over the coronavirus. 
Controversy of Christmas Island used as a quarantine
Morrison said that "Christmas Island will be used as a quarantine area," for returning Australians from Hubei.
While the Australian citizens will wait out their quarantine on the Pacific island before heading home, the use of Christmas Island to house them has drawn uneasy comparisons with the plight of refugees who have been detained there.
Australia has a strict border protection policy and sends all asylum seekers arriving on its shores by boat to detention centers for processing -- Christmas Island houses one such facility.
There have been repeated allegations of abuse and even torture of those held in Australia's offshore detention centers.
Morrison said that Australian returnees who do arrive on the island, "would be there, we envisage, for up to 14 days. But that will be subject to the medical advice we receive."
He said that measure would be put in place to ensure support is "provided directly to the Christmas Island community completely separate and quarantined from the support that is being provided in the quarantine zone."
9:50 p.m. ET, January 28, 2020
Japanese evacuee from Wuhan says they are relieved to be home, situation in Wuhan deteriorating
Two Japanese evacuees who arrived in Tokyo Wednesday morning on a flight from Wuhan said they are relieved to be home.
Speaking at a press conference after they landed, Takeo Aoyama and Takayuki Kato, both board members of the Japan Chamber of Commerce in Wuhan, said the situation in the city -- which is ground zero for the outbreak -- is rapidly deteriorating, and while they can still access food and other necessities, they cannot freely shop and work.
Both evacuees urged support for the Chinese people in Wuhan and spoke of their Chinese colleagues and other citizens who stayed behind.
The two were among 206 Japanese nationals who arrived on a chartered flight operated by ANA, according to Japanese officials.
The passengers are all quarantined on board and those with any pneumonia-like symptoms will be taken to a special medical center for treatment. Passengers without symptoms will be taken to separate hospitals for further screening. 
Japanese citizens who live close to the Huanan Seafood Market and highly-populated areas in Wuhan, were given priority on first flight. Chinese authorities have said the market is the likely source of the coronavirus.
Medical supplies for the Chinese government, including thousands of surgical masks, safety goggles and 50 protective suits, were also flown into Wuhan.
9:43 p.m. ET, January 28, 2020
Hong Kong stocks just started trading amid coronavirus outbreak. They promptly dropped 3%
Hong Kong stocks tumbled Wednesday as investors returned from a four-day holiday to weigh the consequences of an escalating coronavirus outbreak.
The city's benchmark Hang Seng Index dropped 3% at market open and was last down 2.7% -- its first day of trading after the Lunar New Year holiday celebrations. 
Elsewhere in Asia, Japan's Nikkei 225 and South Korea's Kospi both rebounded a little from losses earlier this week. The indexes were last up 0.4% and 0.6%, respectively.
Read the full story here.
9:14 p.m. ET, January 28, 2020
What you need to know about the coronavirus
The death toll from the Wuhan coronavirus now stands at 132, and authorities in China and across the world are working to contain the disease.
Here's what you need to know:
The casualties: 132 people have died, all in mainland China. There are 5,974 confirmed cases across the country, and more than 70 confirmed cases outside China, including the US, Australia, France and Germany.
Accelerating spread: The virus appears to be spreading rapidly -- there was a 30% jump in reported cases in mainland China in just one day.
Human-to-human infections: Germany and Japan have both confirmed cases of patients who tested positive for coronavirus, but who had not visited Wuhan. 
China's response: Some 60 million people are under travel restrictions in Hubei province. The provincial capital, Wuhan, is under almost complete lockdown, with no movement in or out. In several cities, businesses and schools have been closed for the next few weeks.
Hospitals under strain: Hospital staff in Hubei province are struggling to cope with the number of patients, and supplies are running low. China has deployed 1,800 more medical personnel to the province to help.
Global response: Numerous countries, including the US, have stepped up airport screenings and warned their citizens not to travel to China. Some countries, including Indonesia and the Philippines, have restricted Chinese tourists. Others have begun to plan for the evacuation of their citizens from Wuhan. Hong Kong is to stop issuing individual travel permits for travelers from mainland China.
WHO delegation goes to China: World Health Organization sending a team of international experts to China to investigate the coronavirus outbreak, and US health experts expect the country's Center for Disease Control staff to be among them.