January 29 coronavirus news
1:43 a.m. ET, January 29, 2020
Is Wuhan's mayor being set up to be the fall guy for the virus outbreak?
Since the outbreak of the Wuhan coronavirus became international news and a national panic across China, with millions placed under lockdown and travel restrictions and screenings put in place across the country, the city's mayor, Zhou Xianwang, has been prominent in state media coverage of the crisis.
While this could be seen as positive for Zhou, a sign of the central government's faith in him and his leadership on the ground -- it's likely the opposite. His appearances have all come since the central government and President Xi Jinping seized control of the crisis, and after intense criticism of him and other Hubei provincial officials' handling of the initial outbreak online and in state media.
In an interview last week, Zhou admitted that the city's warnings were "not sufficient." That followed revelations that Wuhan leaders had gone ahead with a world record pot luck dinner attempt involving 40,000 families, and had held a provincial Party congress after the first cases of the virus were detected.
Zhou has defended his decision-making somewhat, explaining that he did not know the situation was so serious, but recent findings have suggested that there was evidence of human-to-human transmission of the virus earlier than previously claimed, and Hubei has been criticized for not instituting screening until January 14.
"We understand that the public is unsatisfied with our information disclosure. On one hand, we failed to disclose relevant information in a timely manner; on the other, we did not make sufficient use of valid information to improve our work," Zhou said in an interview with state broadcaster CCTV this week.
"As for the late disclosure, I hope the public can understand that it's an infectious disease, and relevant information should be released according to the law. As a local government, we can only disclose information after being authorized."
He admitted that should they fail to contain the virus, Wuhan officials "might leave a bad name in history," and offered to resign.
"If it's conducive to the control of the virus and the protection of the safety of the people, Ma Guoqiang (the Party chief of Wuhan) and I can shoulder whatever responsibilities," he told CCTV. "We would like to be removed from the office to appease public indignation."
It's likely too early for Zhou and Ma's scalps to be politically useful, however. Were they to be fired now, any further crises down the line would fall directly on the shoulders of the central government and President Xi himself.
Faced with numerous other issues both at home and abroad, Xi can ill afford being blamed for the Wuhan outbreak, and may decide it's more useful to keep two obvious fall guys front and center in the public's imagination to soak up the opprobrium. With the virus expected to continue spreading for several months though, there will likely be more than enough to go around.
1:36 a.m. ET, January 29, 2020
What will it take to stop the Wuhan coronavirus from spreading around the world?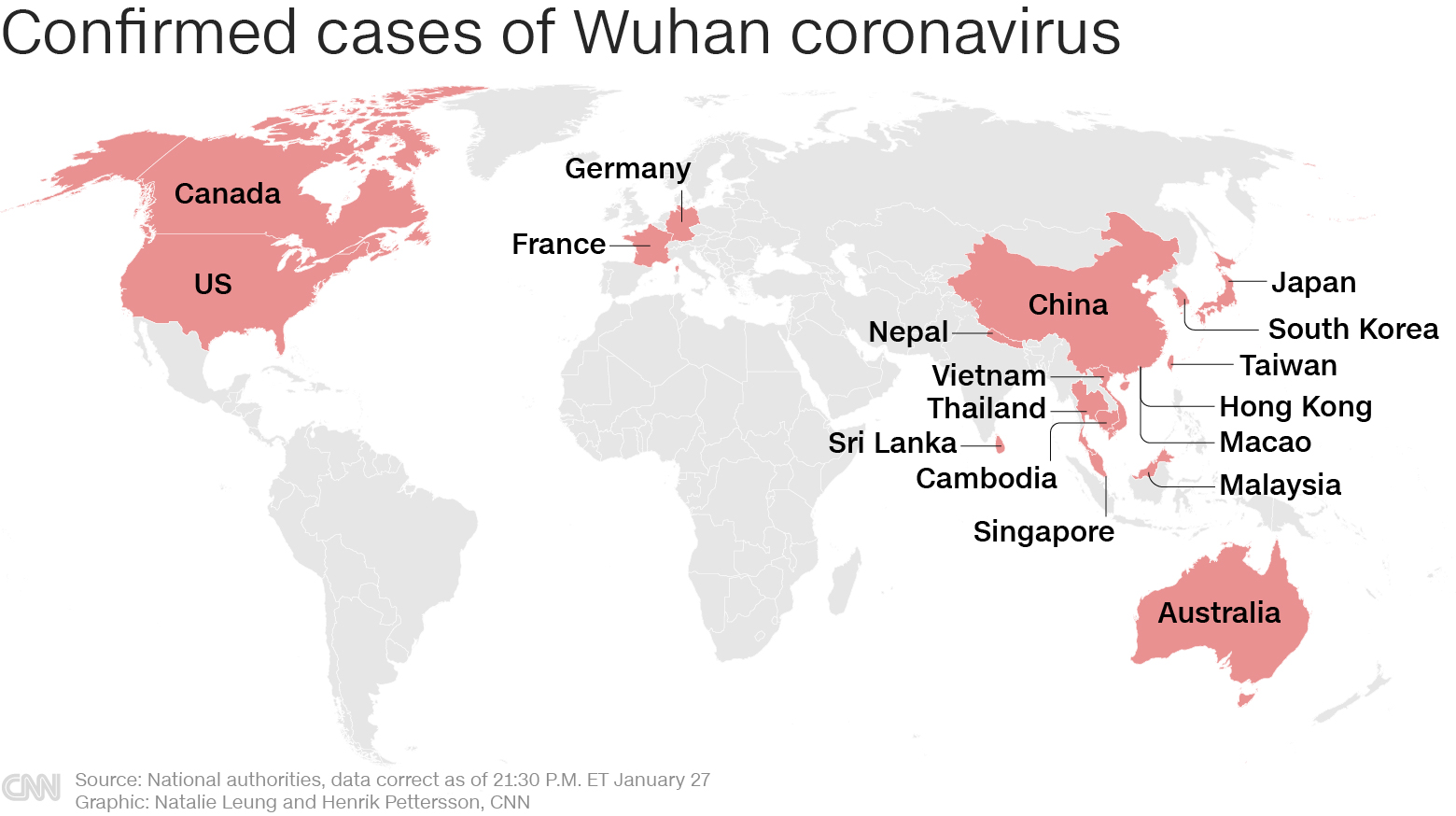 The outbreak of the Wuhan coronavirus has infected thousands and spread overseas. The world has never had more advanced medical science, but it's also never been so interconnected. So what can be done to stop it from becoming a global epidemic?
Early stages: There's still plenty we don't know about the virus but Chinese authorities believe that it is spreading from human to human, and that people can be infected before symptoms show.
How bad is it? The vast majority of cases so far have not been fatal, with a mortality rate of about 2.3%. But a large proportion of cases are considered "severe" and very few people have been released from hospital.
How are doctors treating it? There are no specific treatments for coronaviruses -- but just like the common cold, doctors can treat the symptoms. Keeping patients isolated in hospital also prevents them from infecting others.
What else can doctors do? The way to stop an outbreak is to work out who a patient has had contact with, and try to stop them from spreading the virus. If those contacts show symptoms, they are immediately tested and their contacts will need to be traced.
What about travel bans? Chinese authorities have shut down transport in and out of Wuhan and at least 10 other cities, effectively quarantining millions of people.
What can the public do? Experts have advised people use face masks as a precaution, even though it's still unclear how the virus is spread or whether masks would stop it. Experts also recommend washing hands with soap and water, sneezing into your elbow, and informing people about what to look out for.
Read the full story here.
1:15 a.m. ET, January 29, 2020
Supermarkets and stores in parts of Asia are running empty as people load up on supplies
As cases of the coronavirus continue to rise in China and abroad, people are flocking to stores to buy supplies and food.
With many schools and businesses in the region closing for the next few weeks, residents may be looking to hunker down at home to avoid infection. In one Hong Kong supermarket, shelves were mostly empty on Tuesday, soon after the city government announced increased measures to restrict the disease's spread.
Face masks sold out: It's not just Asia, either -- in medical supply stores in central Texas are experiencing a medical mask shortage after a Texas A&M student, having recently traveled to Wuhan, China, may have contracted coronavirus.
There have been reports of face masks being sold out in cities across China, with some residents being mailed boxes of masks from relatives abroad.
Wuhan hospitals are also running low on medical supplies as they struggle to cope with the sheer number of patients. Chinese authorities said this week they were sending additional personnel and supplies to assist.
1:08 a.m. ET, January 29, 2020
There's not an elevated risk of Wuhan coronavirus if you're traveling outside of high-impact areas, experts say
Much is still unknown about the Wuhan coronavirus outbreak, and health officials are urging vigilance.
That means travelers crisscrossing the globe should be aware of the virus, steer clear of heavily impacted areas and exercise some of the same kinds of preventive measures they'd use to avoid influenza and other illnesses.
But how worried should travelers outside the most impacted areas be about the Wuhan coronavirus?
In this era of global travel, you can never say the risk is zero of being exposed to something, says Dr. Yoko Furuya, associate professor of medicine in the division of infectious diseases at Columbia University Irving Medical Center.
But most of the cases so far have involved Wuhan and surrounding cities in Hubei Province.
"While the risk is not going to be zero, generally speaking there's not going to be a particularly elevated risk" outside that area, she says.
It's not a big concern for US travelers traveling domestically, says Dr. William Schaffner, a professor of medicine in Vanderbilt University's division of infectious diseases.
Travelers heading to China should be more concerned, he adds.
"As a matter of fact, I have heard colleagues say to a patient or two, 'Gee, do you have to go to China right now? Why don't you wait a little bit?'"
People who have traveled to Wuhan in the last few weeks and are feeling sick with fever, cough or are having difficulty breathing should seek medical attention right away and call ahead to inform providers of recent travel and symptoms, according to CDC guidelines.
1:04 a.m. ET, January 29, 2020
How does this coronavirus compare with other outbreaks?
The Wuhan coronavirus has sparked fears of a new global epidemic, as it spreads across Asia and around the world.
For those in China and Hong Kong, it's particularly reminiscent of the severe acute respiratory syndrome (SARS) outbreak that killed 774 people in 2003, more than 280 of them in Hong Kong.
Rapid spread: This novel coronavirus now has more confirmed cases that SARS did, suggesting it is spreading more rapidly -- which could be due to it being more contagious, or China being more interconnected than 2003.
Mortality: The coronavirus is far less deadly than SARS, or Middle East respiratory syndrome (MERS). The coronavirus' mortality rate is around 2.2%, compared to around 10% for SARS and 34% for MERS.
Instead, the coronavirus appears to be about as deadly as seasonal influenza, which claims the lives of thousands of people every year. A 2019 study by Chinese scientists showed that influenza in China has a mortality rate of 1.6% to 2.6%.
However, the mortality rate for the coronavirus may continue to change as more cases and possible deaths develop.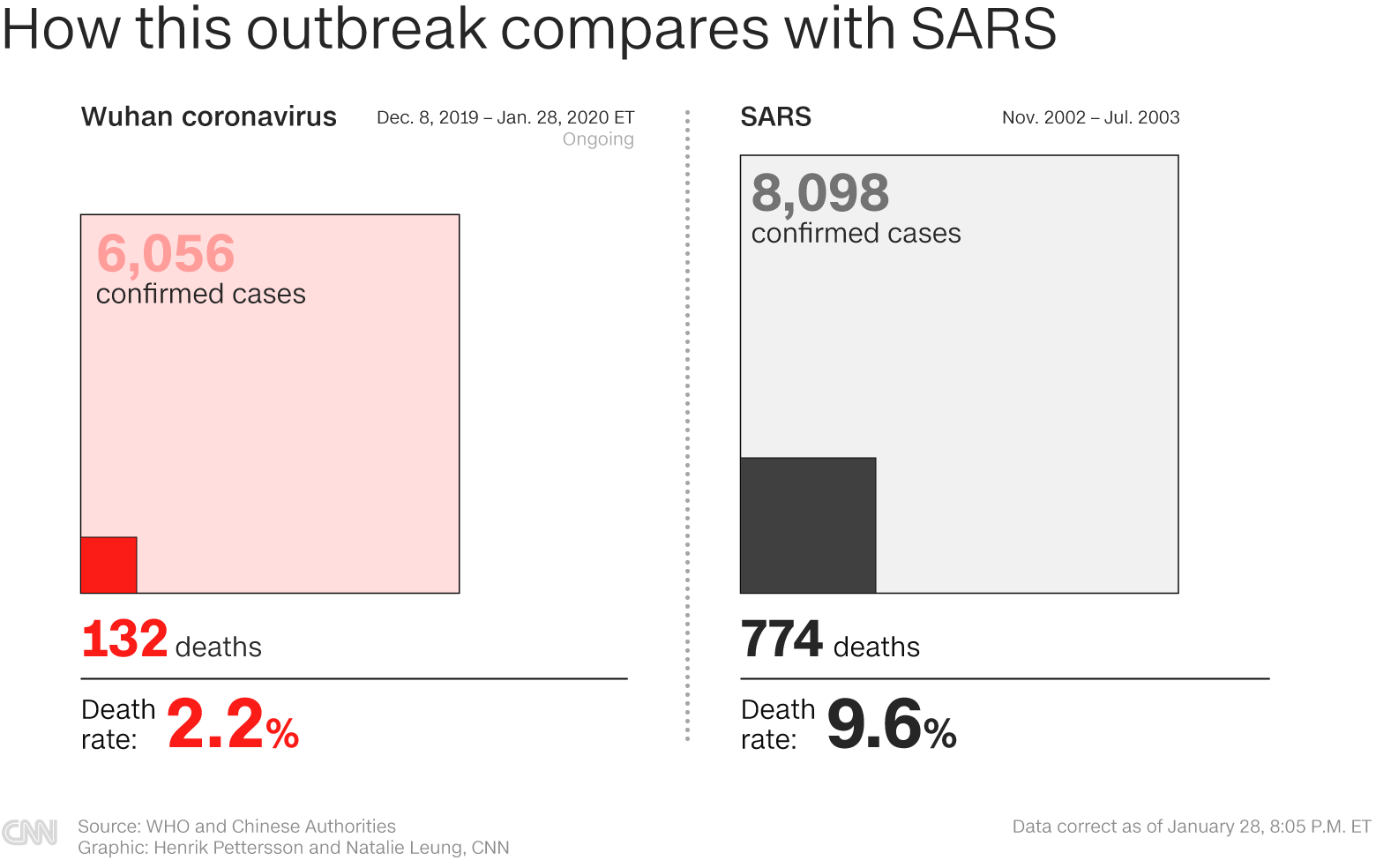 12:35 a.m. ET, January 29, 2020
There are more than 4,000 Wuhan tourists still overseas
As of Monday, there were still 4,096 Wuhan tourists overseas, according to the city's Culture and Tourism Bureau.
In an open letter online, the bureau said all tour groups were cancelled when the city's lockdown was announced last week. Groups that left prior to the lockdown are still slowly returning to Wuhan now, the letter said.
Those who are still overseas are expected to return to Wuhan in the coming days.
The lockdown: It was put in place last week as a measure aiming to limit the spread of the virus, effectively stopping all movement in or out of the city. Some have praised it as a bold and decisive move -- but it has also taken a toll.
Wuhan citizens like the tourists abroad have found themselves stranded, watching the death toll rise in the city day by day.
Meanwhile, foreign citizens inside Wuhan are now being evacuated out with planes sent by their home countries. Planes from the US and Japan have already departed with their citizens on board. Other countries like Australia, South Korea, and India are also planning evacuations.
For those inside Wuhan, there's no plane coming to rescue them. In desperation, many flocked to train stations the morning before the lockdown went into effect, cramming into the last trains out of the city -- a controversy in itself, with some Chinese citizens in other cities accusing the evacuees of potentially spreading the virus further.
12:30 a.m. ET, January 29, 2020
Foreign citizens are being evacuated out of Wuhan
As coronavirus cases continue to rise in Wuhan and wider Hubei province, several countries are taking action to repatriate their citizens in the affected areas.
Countries that have launched evacuations:
The US: A plane carrying about 240 Americans, including diplomats and their families, has departed Wuhan and is en route to Alaska, where it will refuel before arriving early Wednesday in Ontario, California.
Japan: 206 Japanese citizens were evacuated from Wuhan and arrived in Tokyo Wednesday morning local time. All those on board have been quarantined, and those with symptoms will be taken to a medical center for treatment. About 450 more Japanese citizens have not yet left Wuhan.
Countries planning for evacuations:
Australia: Prime Minister Scott Morrison said the government would evacuate "all Australians out of the Hubei province ... focusing on the young, especially infants and the elderly." There are more than 600 Australian citizens in the Hubei, according to CNN affiliate Nine News.
New Zealand: The New Zealand and Australian governments have discussed a "joint ANZAC (Australia and New Zealand Army Corps) assisted departure" of their citizens from Wuhan, though specific evacuation details are still being worked out.
India: The Indian government has begun the process of "preparing to evacuate" Indian nationals affected by situation in Hubei Province, a spokesman confirmed Wednesday.
South Korea: Four charter planes will evacuate South Korean citizens from Wuhan, said a government spokesperson today. Almost 700 South Korean citizens have applied to take the flight out.
France: A plane will fly French citizens back from Wuhan to France sometime this week, said the French Health Minister on said Sunday. There are around 800 French citizens in Wuhan.
United Kingdom: The UK is "looking at all the options" to help Britons trapped in Wuhan, said the UK Home Secretary after being asked about the possibility of evacuation flights.
12:19 a.m. ET, January 29, 2020
How to protect yourself as Wuhan coronavirus spreads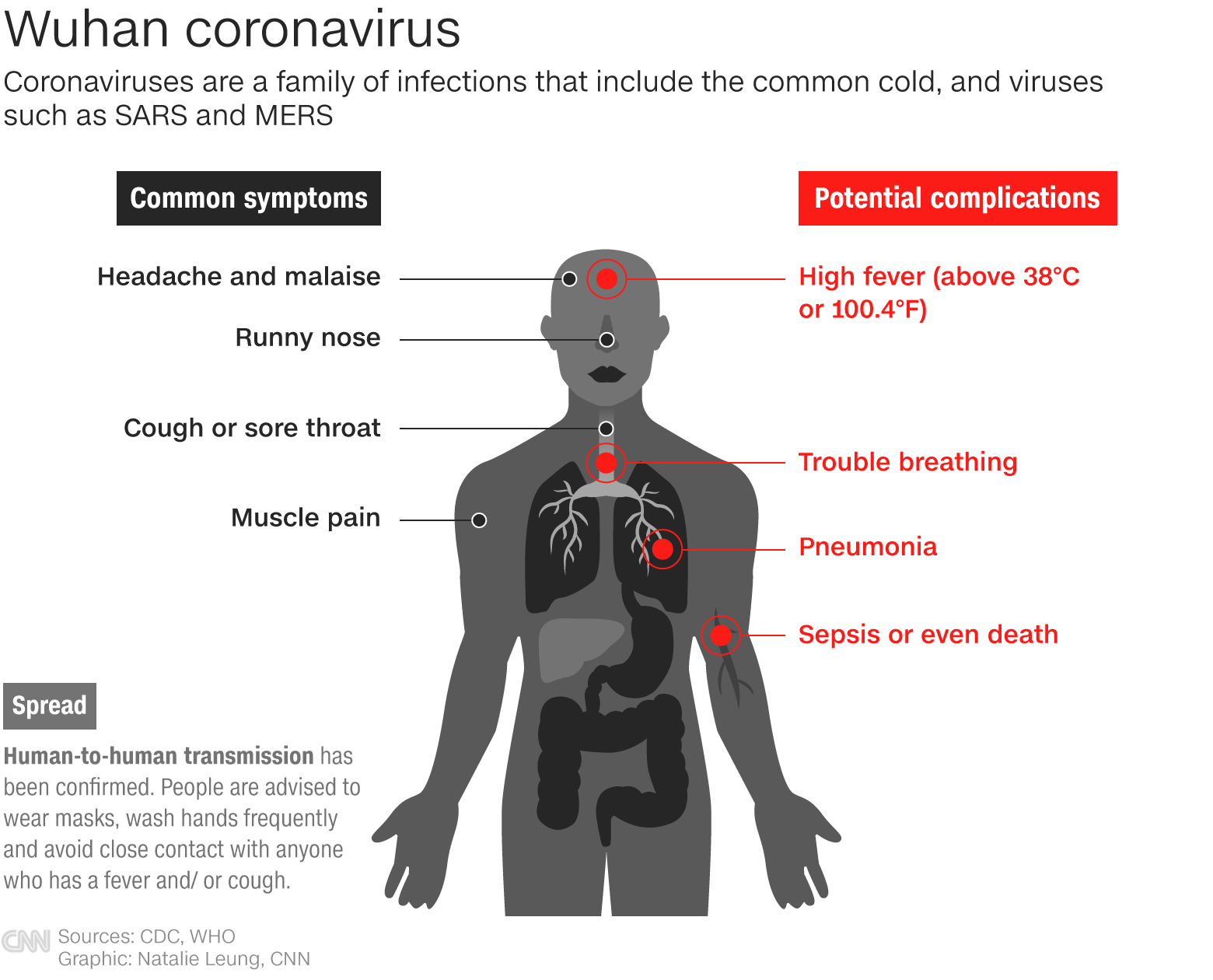 Nearly all of the confirmed cases of Wuhan coronavirus are in China, but the virus has spread across Asia and the rest of the world.
If you're worried, here are some tips for protecting yourself:
Know the symptoms: Other symptoms of this coronavirus include fever and shortness of breath. Severe cases can lead to pneumonia, kidney failure and even death.
About meat and animals: Scientists believe this coronavirus started in another animal and then spread to humans. So health officials recommend cooking meat and eggs thoroughly. Anyone with underlying medical conditions should avoid live animal markets and raw meats altogether, since those people are "considered at higher risk of severe disease," the World Health Organization says.
Take normal flu season precautions: In general, the public should do "what you do every cold and flu season," said Dr. John Wiesman, the health secretary in Washington state — where the first US case of Wuhan coronavirus was confirmed. That includes washing your hands often with soap and water for at least 20 seconds.
If you feel sick: If you're the one feeling sick, cover your mouth and nose when you cough or sneeze, and disinfect the objects and surfaces you touch. If you or your doctor suspect you might have the Wuhan coronavirus, the US Center for Disease Control advises wearing a surgical mask.
12:07 a.m. ET, January 29, 2020
New Zealand to evacuate citizens from Wuhan in joint operation with Australia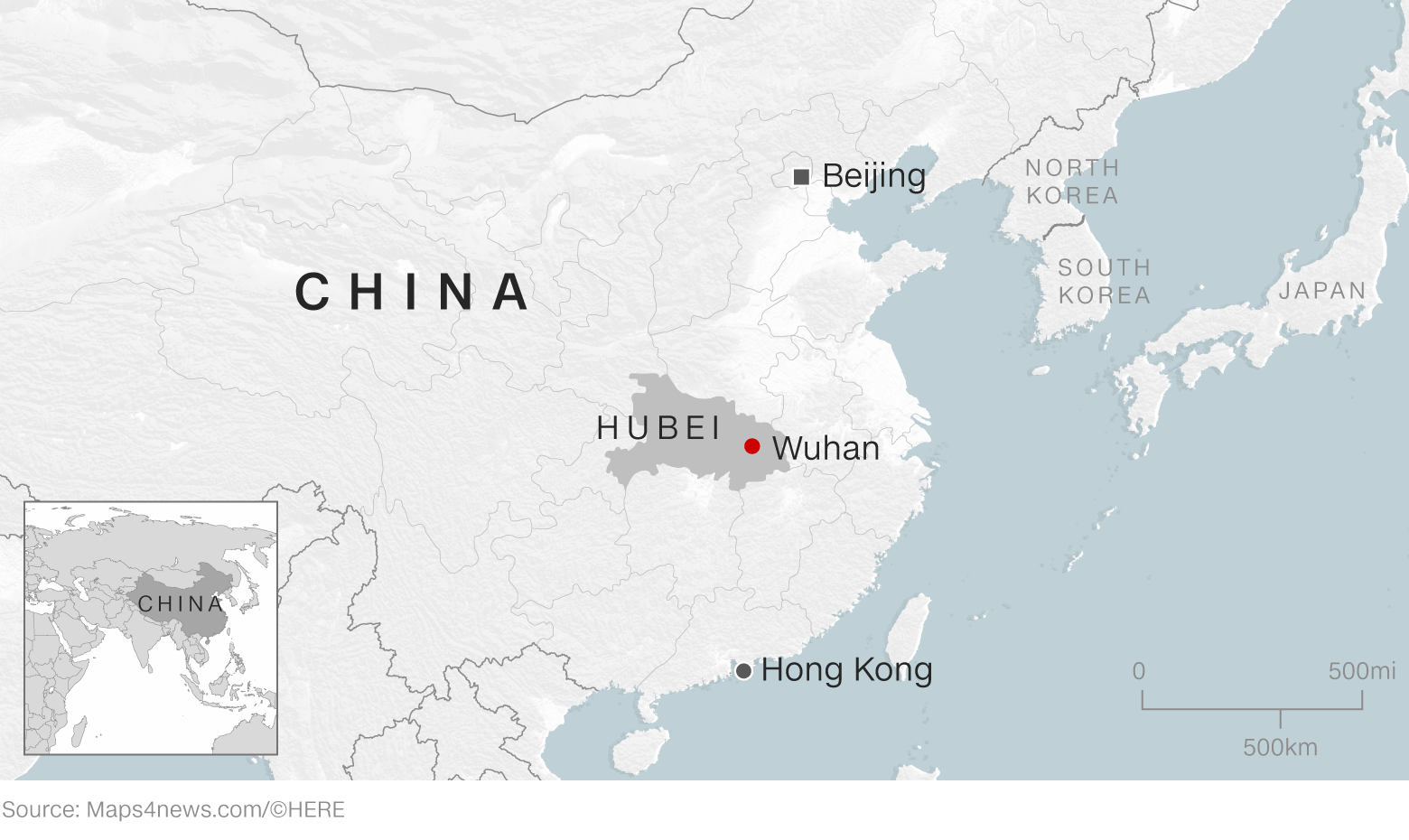 Australia's Prime Minister Scott Morrison and New Zealand's Prime Minister Jacinda Ardern have discussed a "joint ANZAC (Australia and New Zealand Army Corps) assisted departure" of their citizens from Wuhan, according to a press release shared by the New Zealand government on Wednesday.
Ardern said that "specific details of the evacuation plan, including the medical protocols that will be applied to returning New Zealanders and access arrangements on the ground in China are being worked through by officials." 
Earlier in the week, New Zealand's Health Minister said that the government had been "working closely with international partners and the government's Interagency Pandemic Group has also been convened to ensure New Zealand is prepared."