January 28 coronavirus news
5:39 p.m. ET, January 28, 2020
Starbucks closes more than half of its Chinese stores because of coronavirus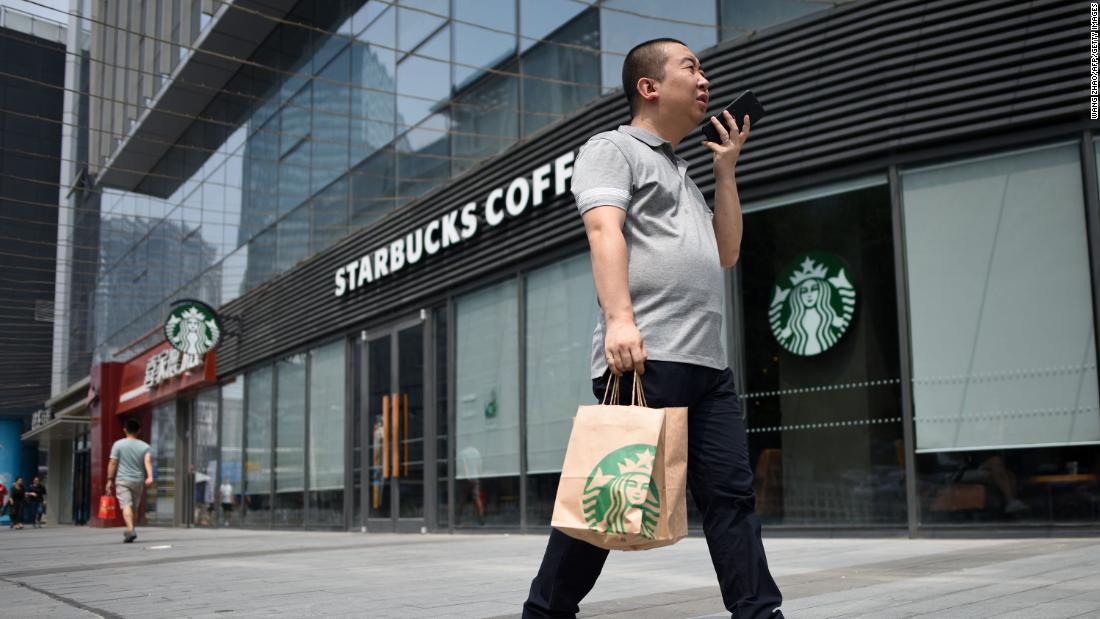 Starbucks has closed more than half of its roughly 4,300 Chinese stores, as the deadly coronavirus continues to spread in the country.
The company said Tuesday it is continuing to "monitor and modify the operating hours of all of our stores in the market," in light of the outbreak.
"This is expected to be temporary," Starbucks added.
Over the weekend, the company said that it was closing shops and suspending delivery services in the city of Wuhan, the epicenter of the outbreak, and the wider Hubei Province. It has since closed stores throughout China.
The Wuhan Coronavirus has so far killed more than 100 people and infected thousands. It has reached more than 17 countries. 
CEO Kevin Johnson promised transparency into the company's response to the "extraordinary circumstances," in a statement Tuesday.
"We remain optimistic and committed to the long-term opportunity in China," he added.
5:11 p.m. ET, January 28, 2020
Three patients in DC tested for novel coronavirus
Three patients in Washington, DC were tested for novel coronavirus, of which one tested negative and two are pending results from the Centers for Disease Control and Prevention, according to DC Health.
DC Health said there are currently no cases of the virus in DC and the current risk to DC residents is low.
About the virus: The novel coronavirus, which has sickened thousands and killed more than 100 people in China, belongs to a large family of viruses that mostly sicken animals. But this coronavirus, like SARS and MERS, "jumped the species barrier" to infect people on a large scale, the Centers for Disease Control and Prevention said.
4:59 p.m. ET, January 28, 2020
A plane carrying US diplomats has left Wuhan, official says
A plane carrying US diplomats and their families has departed Wuhan, China, according to a State Department spokesperson.
More on this: A California-bound flight chartered by the US State Department was expected to leave the city at the epicenter of the coronavirus outbreak in China, a department official said.
About 240 Americans could be on the flight from Wuhan Tianhe International Airport. It will stop to refuel in Anchorage, Alaska, before arriving early Wednesday in Ontario, California, about 35 miles east of downtown Los Angeles, according to Alaska Department of Health and Social Services spokesman Clinton Bennett.
About three dozen US diplomats and their families were expected to be on board, a US official with knowledge of the matter told CNN.
4:36 p.m. ET, January 28, 2020
His wife and daughters are stuck in Wuhan, China. He's in Wisconsin trying to bring them home.
Sam Roth's wife and two small children went to Wuhan, China to visit family. Now they are stuck, hoping to be evacuated by the US State Department.
Daisy Roth, 10-month old Adalynn and five-year-old Abigail boarded a flight to Wuhan, China on January 19. They were headed to visit Daisy's family for the Lunar New Year and spring festival; Abigail would even attend kindergarten there because they would be there until April 8.
Sam said he and Daisy knew about the coronavirus, but the risks looked completely different then.
Just days after landing, Roth said the lockdown began; Abigail was at a sleepover with a cousin.
"Her cousin's father drove her to my in-laws place where my wife and other daughter were," he told CNN. "They have stayed there since."
On Saturday, he heard about a potential flight organized by the US State Department that would evacuate Americans stuck in epicenter of the coronavirus. Roth also sent his congressional delegations emails asking for them for help getting his family on the flight.
Unfortunately, his family was not picked to be on board the flight. Roth is hopeful though; he will bring them home.
"Right now, it is a matter of when, not if," Roth said. "If we can get them out of there on an evacuation flight, we will."
2:25 p.m. ET, January 28, 2020
Taiwan confirms another case of coronavirus, bringing the total to 8
Taiwan Centers for Disease Control (CECC) has confirmed another case of coronavirus in Taiwan, CECC announced in a statement today.
The total number of confirmed cases in Taiwan is now eight, CECC says.
Here's the CECC statement:
"The Central Epidemic Command Center (CECC) announced the eighth cases of 2019 Novel Coronavirus infection (2019-nCoV) in Taiwan. The case is a Taiwanese male in his 50s who resides in middle part of Taiwan, is a family member of and lives together with confirmed imported case #5. The eighth case developed cough and was hospitalized on January 26. On January 28, infection with the novel virus was confirmed in the case after testing. The case was determined as household transmission. The case is currently in a stable condition."
2:10 p.m. ET, January 28, 2020
UK warns against most travel to mainland China during coronavirus outbreak 
The UK Foreign Office has upped its travel warning for China, now advising against all but essential travel to mainland China, and against all travel to Hubei province, amid the ongoing coronavirus outbreak. 
"The FCO advise against all but essential travel to the rest of mainland China (not including Hong Kong and Macao). The Chinese government continue to impose further restrictions on movement within China in response to the coronavirus outbreak. It may become harder over the coming weeks for those who wish to leave China to do so. If you feel that you may want to leave China soon, you should consider making plans to do so before any further restrictions may be imposed," the FCO statement says. 
The FCO is working on a plan to evacuate British citizens from Hubei province, the statement says, "due to increasing travel restrictions and difficulty accessing medical assistance."
2:02 p.m. ET, January 28, 2020
British Columbia is reporting its first possible case of coronavirus
The British Columbia's Minister of Health in Canada is reporting the province's first presumed case of coronavirus.
A man who recently traveled to Wuhan returned to Vancouver last week, where he had an onset of symptoms, according to Health Minister Adrian Dix and British Columbia Health Officer Dr. Bonnie Henry. 
The man, who is in his 40s, is in isolation at home, according to a statement on the British Columbia Government site.  He tested positive for coronavirus by the BC Centre for Disease Control public health lab.
The results have not yet been confirmed by Canada's National Microbiology Laboratory.
1:23 p.m. ET, January 28, 2020
US health officials expect CDC to be among WHO coronavirus delegation heading to China
Shortly after Chinese President Xi Jinping and the World Health Organization agreed on Tuesday that WHO would send a team of international experts to China to investigate the coronavirus outbreak, US Health and Human Services Secretary Alex Azar said he expects US Centers for Disease Control and Prevention staff to be among them.
"I've been standing on the stage, so I didn't hear that," Azar told reporters Tuesday after being made aware of the WHO announcement. "Obviously, if that is the case, [I'm] delighted with that news ... and assuming CDC personnel would be part of that."
Minutes earlier, Azar pressured China for more collaboration in addressing the coronavirus outbreak, saying, "We are urging China: More cooperation and transparency are the most important steps you can take toward a more effective response."
CNN has reached out to WHO to ask if CDC will be part of its delegation to China.
One question US health officials are keen to answer involves whether the virus can be transmitted before symptoms appear.
"The Chinese have reported evidence of transmission in the asymptomatic phase based on data that they have reviewed," CDC director Dr. Robert Redfield told reporters Tuesday. "CDC has not been given the opportunity to review that data."
"We would really like to see the data. Because if there is asymptomatic transmission, it impacts certain policies that you do regarding screening, et cetera," said Dr. Anthony Fauci, director of the National Institute of Allergy and Infectious Diseases, standing alongside Redfield and Azar.
But Fauci said that, even if patients are spreading the virus before symptoms show, that is very unlikely to be the leading contributor to the outbreak.
"In all the history of respiratory-borne viruses of any time, asymptomatic transmission has never been the driver of outbreaks," he said. "The driver of outbreaks is always a symptomatic person."
1:43 p.m. ET, January 28, 2020
4th case of coronavirus confirmed in France
A fourth case of coronavirus has been confirmed in France, according to the head of France's health department, Jerome Salomon.
The 80-year-old man is a tourist from China's Hubei province and his condition is "serious," Salomon said. 
He is currently hospitalized in Paris.