Migrant caravan presses north toward US border
6:28 p.m. ET, October 25, 2018
The caravan's journey to the US border could take months
Members of a migrant caravan that formed in Honduras are charting their movement daily.
Organizers have told CNN they still don't know exactly which route they'll take. Much depends on the Mexican government and what routes the caravan is allowed to travel, whether its members are detained or held in certain areas and whether the group is provided with buses to speed their journey.
There's a possibility some members will split off and try to make their own way to the US-Mexico border. Others have decided to stay in Mexico -- or return to their home countries.
Here's what we know about their journey:
The safest route would take them to Tijuana, across the US border from San Diego. A large caravan that crossed Mexico in the spring -- and also drew ire from President Trump -- took more than 30 days to reach Tijuana from Tapachula, Mexico -- a city this caravan departed on Monday.
Right now the closest border crossing to this caravan would be between Matamoros, Mexico, and Brownsville, Texas, more than 1,000 miles away from the group's current location. But heading that way is considered a more dangerous route.
To date, the caravan has traveled about 20 to 30 miles a day, trekking largely on foot and also hitching rides on passing vehicles when possible. If it continues at that rate, reaching Tijuana could take months, and reaching Matamoros could take weeks.
7:56 a.m. ET, October 24, 2018
The caravan is heading north, but at least 50 people are staying behind
Early Wednesday morning the migrant caravan continued their journey north, but travel conditions across three countries proved too harsh for some.
A small group of about 50 people stayed behind, some exhausted and with blistered feet. Others, with children too sick to continue, decided to wait for transportation from the Mexican government to help them return to Honduras. 
7:57 p.m. ET, October 23, 2018
He left Honduras to find work in the US to support his family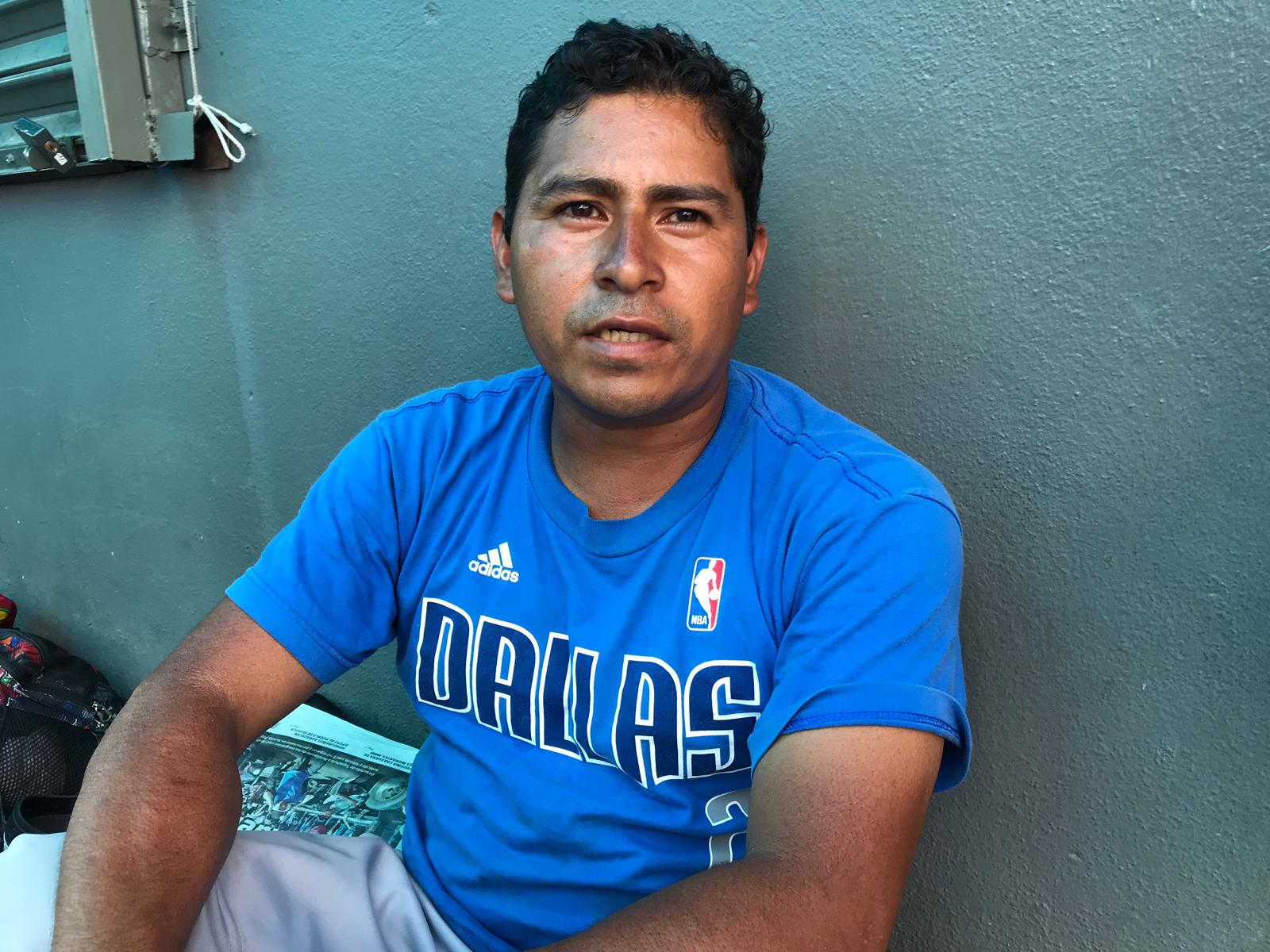 Neri Alexander Manueles, 34, left his family and two kids behind in Honduras to find work in the US.
"I just want to stay three years, enough to help my family" said Manueles, who once worked for the Honduran Red Cross.
Manueles owned a small convenience store but his investment money dwindled and he was forced to pay taxes to the MS-13 street gang, also known as La Mara Salvatrucha.
"You can't complain about them to anyone because they could be part of the gang. Even the police," he said.
"I know I'm risking my life but I see my poor family and having to pay the Mara or they might kill me is no way to live," Manueles said.
Asked about President Trump's remarks that there were bad people in the caravan, Manueles said: "I'm no delinquent. I've never even been stopped by the police."
7:32 p.m. ET, October 23, 2018
This father says he joined the caravan to escape Nicaragua's economic turmoil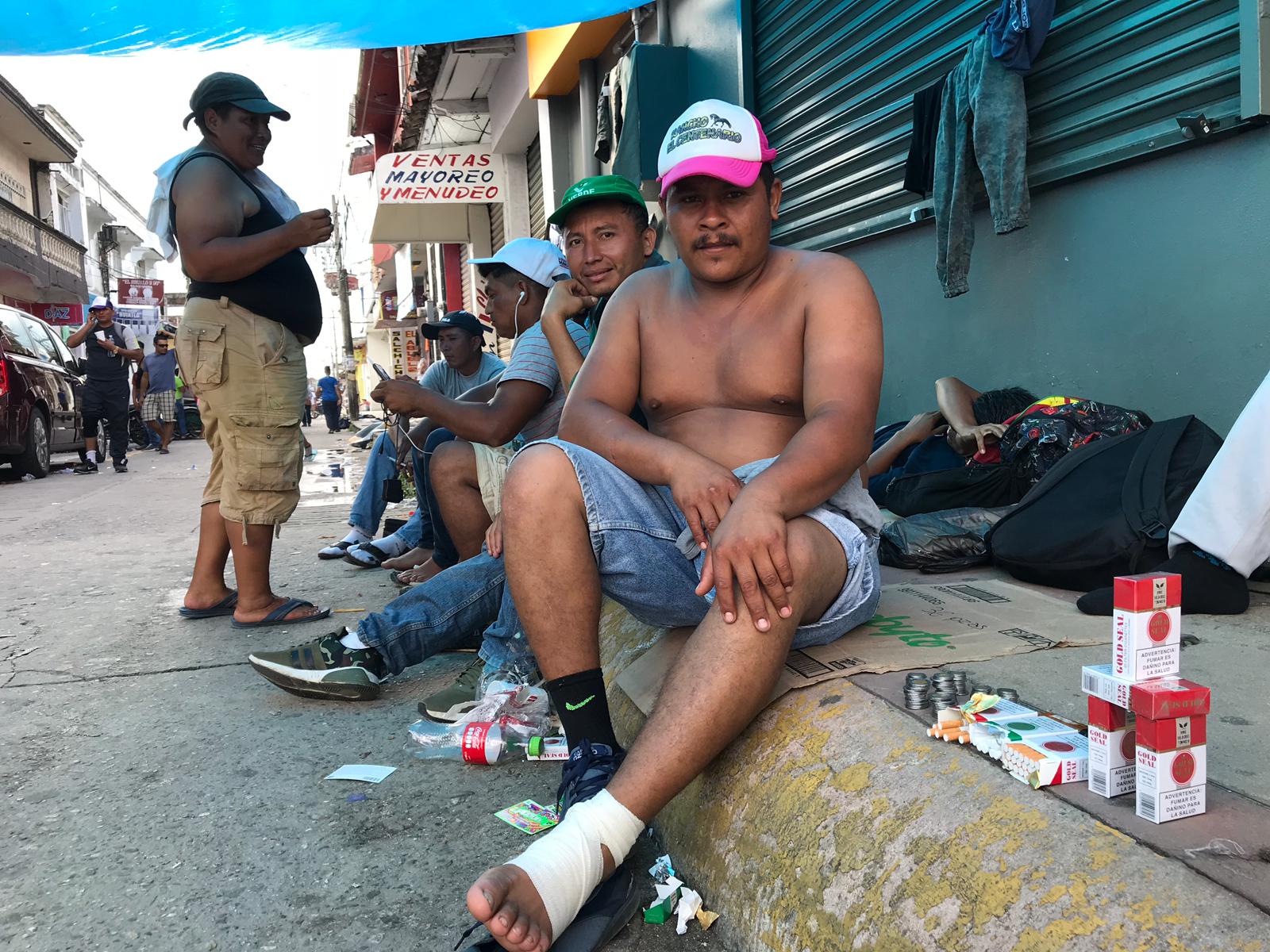 Sam Rivera Maldone left Nicaragua 26 days ago because of the economic turmoil and extortion, he said.
The 27-year-old father of 2-year-old twins said he has many friends who opposed the government and were detained, tortured and released.
Rivera Maldone, who has another set of twins on the way, is now one of thousands of migrants pressing north through Mexico.
He sells cigarettes to make some extra money during the trek.
"At least I'm not out there stealing," he said.
But the journey hasn't been easy. Rivera Maldone hurt his foot jumping a bridge as police approached.
"I put God first," he said of his journey.
7:04 p.m. ET, October 23, 2018
President Trump says he's considering military options to protect the border
President Trump, with senior military commanders in the room Tuesday, said he's considering military options beyond just deploying the National Guard to protect the US border.
"Thinking about everything, including the military — not just the National Guard," he said during a meeting with the military brass.
 "We're not going to allow these people to come into our country," he said. "You have to come in legally and you have to come in through merit."
Asked what legally could be done by the military, he said: "They can do a lot. They're the military. Right fellows?"
6:46 p.m. ET, October 23, 2018
Amnesty International will monitor migrant caravan's journey through Chiapas
Amnesty International representatives will travel to the southern Mexican state of Chiapas from October 23 to 26 to observe the migrant caravan's journey, the watchdog said in a statement Tuesday.
They will "document the situation of the migrants, refugees, and people seeking asylum" and observe the response of Mexican authorities, according to the Amnesty International.
"The Mexican authorities must respect everyone's right to claim asylum and avoid detaining them or using force against people who are only trying to find safety for their families," Erika Guevara-Rosas, director of the Americas at Amnesty International, said in the statement.
5:36 p.m. ET, October 23, 2018
More than 2,700 migrants file for asylum in Mexico
Mexican immigration authorities began processing asylum requests for 2,727 Central Americans who entered the country with the migrant caravan, according to a joint statement released Tuesday by Mexico's Foreign Ministry and Interior Secretary office.
Here's a breakdown of the asylum requests:
A group of 1,028 migrants, who were part of the caravan, registered for asylum with immigration authorities Sunday.
Immigration authorities registered 1,699 new requests for asylum in Tapachula, Mexico, Tuesday. Most of those registered were women, teenagers and children, the statement said.
Mexican immigration authorities also provided assistance to 495 Honduran nationals, who voluntarily agreed to return to their home country, the statement said.
The Mexican government estimates that 4,500 people are still part of the caravan. Caravan organizers and international aid groups, like UN Refugee Agency UNHCR, say more than 7,000 people are still headed north.